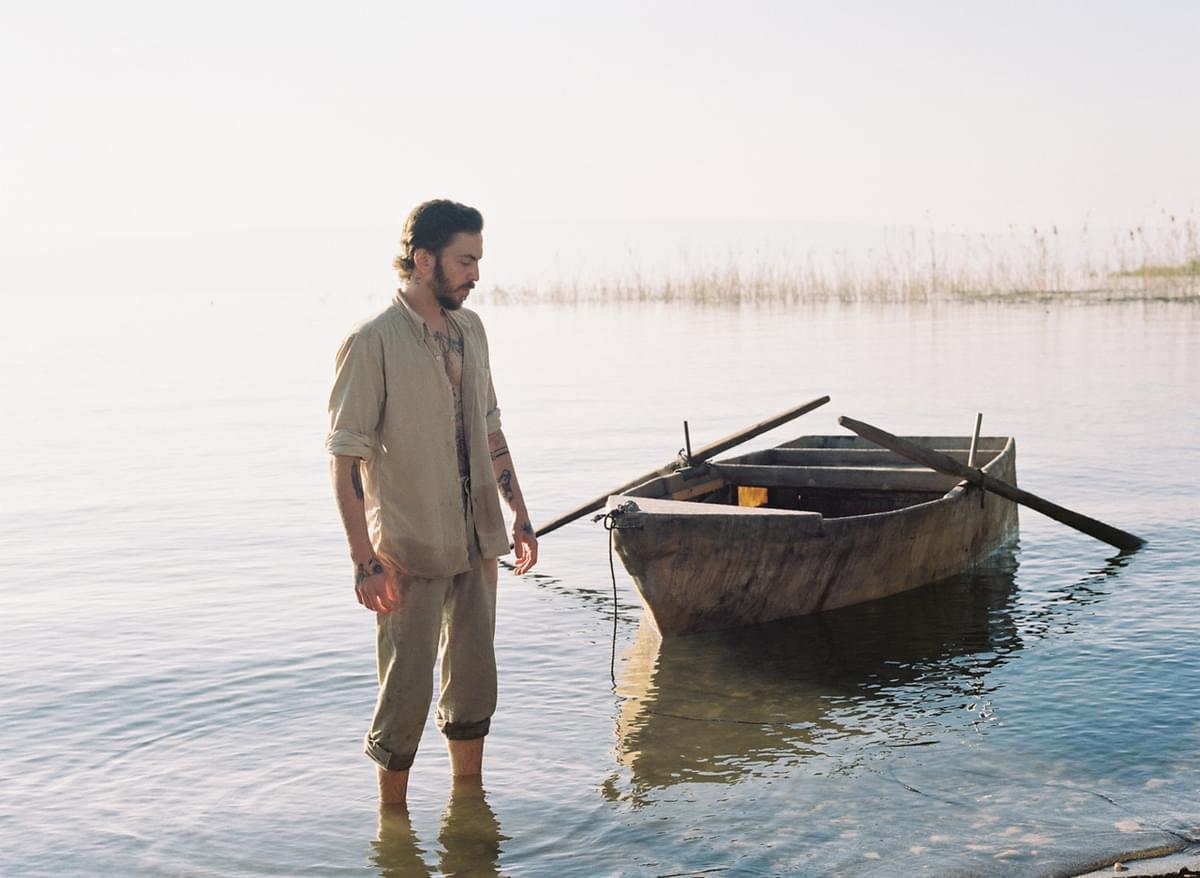 Go Your Own Way
02 July 2021, 07:30
Ahead of the release of his debut album Some Days, and with the benefit of hindsight, Dennis Lloyd is embracing self-sufficiency.
After one of his tracks blew up on Spotify, Dennis Llloyd was thrown onto a rollercoaster of industry politics and runaway success, an experience that only reinforced his DIY ethics.
Born and raised in Tel Aviv, Lloyd (real name Nir Tibor) was influenced by the music which surrounded him, as well as the alternative rock and rap metal that travelled to Israel from the US. "I grew up listening to a lot of rock music, especially Nirvana, Audioslave, Soundgarden. Linkin Park, for me, was a really special band because of the mixture between rap, hip hop and rock music," he smiles from his home studio across a video screen. "Here in Israel, in Tel Aviv specifically, the music scene is so diverse. You have Oriental music, which I love. You have jazz music, which I love. You have reggae, rock... so many different genres here."
Lloyd's musical journey began rather humbly with recorder lessons in year three of school. At the age of eight he heard someone playing the trumpet and was immediately gripped by the majesty and power the instrument held. He took up lessons and began to learn. "Sorry for my parents," he jokes. When he was thirteen, his sister was given a guitar for her birthday. Inspired by his childhood heroes like Cobain and Cornell, Lloyd stole her present and began to teach himself. "I just started playing a few chords. And once I had my first like, three, four chords, I could write a song and start having melodies," he explains.
A year later he bought his first studio microphone, which came with its own software for recording. "The software that came with the microphone was Sonar by Cakewalk. Nobody knows it," he says. "I started to produce, just learn the basics of how I can bring what I have in mind to my computer, you know? Have it translated into something that I can hear."
Once he'd gotten to grips with the basic concept of DIY production, Lloyd began to test different studio software, trying to find one that spoke to him. He stumbled upon Fruity Loops, or FL Studio as it's since been rebranded, a programme favoured for its ease of use, especially in hip hop and EDM communities. "First, it's called Fruity Loops, and I fucking love this name," he laughs. "It's super easy to make a beat and just start recording and everything and I fell in love with the software. For me, what really captured me, in the software they have a plugin of a dancer, like an animation that fits the tempo and just dances to your music. I was like, that's my thing."
Although FL Studio has been used by artists like Avicii and deadmau5, it's not what you'd usually expect to find on the macbook of a multi-million streaming producer. But that's not the only surprising thing about Lloyd's software proclivities. "I think for people, what's really weird is when I open my Mac and I have Windows on it," he laughs. "I don't know how to use a Mac, but I like the Mac hardware, so I just mix between the two."
As he progressed as a trumpeter, Lloyd was accepted to the Thelma Yellin High School of the Arts to continue his studies. "Really, it's kind of like Whiplash," he confirms, with an understandably pained expression. In the movie, an aspiring jazz drummer attends a music college where he's physically and verbally encouraged to the point of assault by a domineering, perfectionist tutor.
"That's one of the reasons why I wrote "Alien". It was about a childhood memory where we had jazz history class," continues Lloyd. "I'm talking, first year in Thelma Yellin, and I'm sitting in a class with twenty kids, all professional jazz players, learnt how to play jazz their entire life. The teacher asked, who are you listening to? People were like, name dropping Coltrane, Parker, Miles Davis, Armstrong, Ella Fitzgerald, and I'm like, Nirvana, Audioslave. And everybody, like in the movies, everybody turned and looked at me like, who the fuck is this guy? And what is he doing in a jazz major?"
On last year's single "Alien", Lloyd narrates on isolation and a polarising loneliness across acoustic loops, contrastingly bright melodies and a buoyant beat. Even as his years at Thelma Yellin progressed in tandem with his musical capabilities, he never felt comfortable, "I don't think I ever felt like I really fit there. Because I felt what I wanted to do, make my own music and produce, for jazz players, they don't like computers so much," he explains. "We had a class for production, and I was the only one in class. Everybody stood up every time, like, not interested. For me, this was the most exciting class."
However, it wasn't just the production work that was drawing Lloyd's eye away from trumpet practice. Behind the brass, he had a desire to sing, but one he never felt he could properly exercise. "I came as a trumpeter, not as a singer. Nobody knew that I wanted to sing, and I love to sing," he says. "I was really, really shy. And sometimes when I sang or played a few songs, it was mixed, you know? Some kids were supportive, but some kids were like, what the fuck are you doing? Don't sing, just play the trumpet. As a kid, it really affects you when you get bad reviews and people criticising you."
After his graduation, Lloyd had a choice to make. In Israel, military conscription exists for citizens over eighteen based on their ethnicity, and Lloyd was required to serve for three years. He had the option to continue playing the trumpet, but instead chose a fresh start. "I could choose to go to the army orchestra, which is really close to my parents house. Go for two, three hours, go back home, just keep playing," he explains. "But I felt I shouldn't go the comfortable way, you know? I chose to do something that I've never done before, not related to music, just to do something different."
He joined the Navy, where nobody knew him, his past or his aspirations. In Lloyd's head, he could pursue whatever passions and career he wanted. He used those three years to focus and follow his heart. "I started playing music when I was seven, eight. So for ten years, that's all I'd done. Just like, music, music, music, he says. "I always give this example of driving on a highway. And when you drive for so long, and everybody's driving around you, sometimes you forget where you headed. Sometimes you just need to stop at a gas station and have a coffee break and think about where you're going and make sure that that's where you want to head."
Lloyd joined the Navy to prove a point to himself. "I said before I joined, if after three years I still want to make music, that's probably what I'm gonna do for the rest of my life," he smiles. By the time his conscription ended, he was adamant that music would be his future. But first, he needed to find his sound. "The most important lesson I learned from school was this class, jazz history," he explains. "In tests, a teacher would play a couple of songs, and you've got to recognise everyone. Like, who's playing the trumpet here? Who's playing the saxophone? Sometimes you can listen to a vocal and say, that's this guy or that guy. It's just like someone playing an instrument? That's crazy to recognise by ear. Then I realised the importance of having your own sound, you know?"
In order to focus and experiment, he moved to Bangkok and rented a small apartment without wifi. With his laptop and a microphone, he worked day in, day out on music. "It was really about finding a place where I can just focus on making music and finding my sound with no distractions at all. I didn't want to be close to friends, family, anything," he says. "I wanted to be my own radio station. In order to find my sound I had to experiment with everything, every genre that I could think of. I love so many genres of music from rock, reggae, jazz, hip hop, EDM, house, deep house, techno... so many genres. It inspired me to find my own sound."
Across his early singles, some released prior to and during his self-imposed secondment, you can hear his sound change and refine. Like a generic magpie, he stole and selected elements and styles from the different types of music he felt were the sum of his parts. "I like the Latin beats and the shakers and the drums, so I take it from there. I like the guitar from rock music, so I take it from there. I take drums here and this sound and this sound and that one," he says. "That's like the secret for me, just mix what I love."
After a year away, Lloyd returned to Tel Aviv to continue creating and releasing music. Just before travelling back he'd released the single "Nevermind", a sparse, piano-led, harmonious pop track with a light and hooky melody. Back home and catching up with his family, his mum showed him an article about a DJ who'd found success remixing his own music. "I was like, maybe I should try and make remixes. I've never done it before," he smiles. "It was all very natural. It took me like, two or three hours to finish. I just had everything in my head and I just had to translate that into Fruity Loops."
Lloyd uploaded his remix of "Nevermind" to a digital distributor, just as he had his previous singles, and carried on readjusting to life back home. At the time, Spotify didn't have an agreement in place with Israel to operate in their territory. While Llody's track was racing up the viral charts, he didn't even have a login.
News of "Nevermind"'s success came to Lloyd in the form of email after email from labels, agents and publishers, everything happening at breakneck speed. He signed a record deal and hit the road, as his track continued its global ascent. "I think I only processed it like last year," he says, shaking his head. "For the past five years, I was always living towards something. You never have the time to process what you're doing when you're just full on stepping on the gas and working, working."
However, for all his outward success, on the inside Lloyd was going through hell. He quickly realised that the label he'd signed with wasn't the right home for his artistry. With a new single written and ready to follow "Nevermind", the label refused to release it. "I wrote, 'Never Go Back' and the moment I wrote it I was like, this is the next single. For sure. This is the song. I believe in this song. This is what I want to release. They didn't want it," he explains. "You build the momentum. I was like, top 100 artists in Spotify. I was like, this is the moment to drop more music, but I couldn't. Everything was ready for so fucking long. And I couldn't release anything. And worse than that, I couldn't tell anyone that that's what I'm going through."
Instead of releasing new music, Lloyd found himself locked in a legal battle. "I remember, we had litigation in London and I was like, what the fuck am I doing here? I need to be in the studio. I need to be on the road. I need to make music. I was like, is that what I'm doing now, just negotiating my life, my freedom?" He says. "This was the lowest point in my life, to be honest. "Nevermind" was blowing up. Everyone is like, oh man, you become a superstar. People are so happy everything is going on. And I was sitting in bed crying because I can't drop more music, and I couldn't talk about it back then. It was really, really depressing. This is the first time I experienced a panic attack."
Eventually he cracked, telling all to a crowd of festival goers at Zürich Openair. After playing "Nevermind" he was presented with a fake gold disc, smashing it and letting rip on his story. "I started talking about what's going on. Like, that I'm stuck and I can't release music and everything. I felt like fucking Che Guevara. Think about eight-thousand people screaming 'fuck the suits', middle fingers in the air, super loud," he smiles, before conceding, "The label was there and yeah, we got some phone calls after that."
Having negotiated his way out of the contract and signed a subsequent deal with Sony, Lloyd has learnt from his past experiences and tries to keep control over his artistic freedom and creativity. A license he even extends to the naming of his own imprint, MTFKR Ltd. "When you hear all the lawyers and accountants having to say that, it's super funny," he laughs. "And my credit cards say motherfucker and I'm like, yeah. I'm gonna pay with that. It's fun. I love these stupid things."
In 2019 he embarked on his biggest tour yet; twenty shows in thirty days across seventeen countries. "After the tour, it was too much, too many shows, too many cities. Everything was really overwhelming," he explains. "It took two or three months just to recover from it, physically and mentally. I was always a shy person, I was never too popular. And suddenly to be the frontman and have fans and people like waiting for you after the show. I don't know, it can get really, really, really, really intense."
Just as he was beginning to start working again, the world stopped. In February of 2020 Lloyd was in LA for his first ever writing sessions, an experience he loved for the catharsis and kinship of working with artists who could empathise with his trials. He was due to travel on to New York, but instead flew back to Tel Aviv for fear of being stranded Stateside.
Once home, he took the tracks he'd begun, alongside ones he'd started to work on years before, and set about creating his debut album Some Days. Lloyd discovered he had a lot to say. "This album, like these years, I really feel like I grew up. I'm more mature now than ever," he explains. "This tour I think was the trigger to deal with topics that I've never dealt with before, you know? Like talking about anxiety, talking about bad thoughts that I had, bad moments, and stuff that is only related to me, not anyone else."
Side A is more like the questions and doubts that I had inside me, starting with "The Way", finding things and realising things about how I want to live my life. For me, life is really about trying to find the right balance. Ending with solutions and realising how to find the right balance."
Released today, Some Days is a personal and multi-faceted record. Tracking Lloyd's rise to fame alongside his darker moments within the industry and on tour, it's a deeply personal account of a journey which takes in adrenaline-fuelled highs and devastating lows. Opening with "Changes", a flurry of news samples, statements and interview clips conspire against galloping breakbeats and slick guitar solos. "Life is changing, but I feel the same," sings Lloyd with emotion. On recent single "Anxious", a track he credits as being his most open and honest to date, he details the panic attacks he suffered during his ongoing litigation. Against the backdrop of pacy and optimistic production, it's difficult to close in on the anguish detailed in his lyrics. It's a game Lloyd plays across the album, drawing you in with instant choruses and bright harmonies, only to discover the darkness in his words.
The production balances latin influences with hip hop and EDM stylistics, the kind of genre fluidity that lends itself to a broad audience, while Lloyd's mix of studio elements with the crunch of textured digital samples adds another juxtaposition within the tracks. "The Way" is rich with energy and summertime hooks, equally euphoric and sentimental, Lloyd's storytelling carrying the song across drops and crescendos, while "27 Club" feels like therapy. An instrumental rush acts as a release, trauma thrashed out through an exquisite guitar solo.
Album closer "Leave It All Behind" wraps up the record with a triumphant trumpet solo, a nod to Lloyd's beginnings. It's a record of dynamic contrast, the past and the present, joy and heartache, the organic and the synthetic. Similar to the way Lloyd creates, he draws opposing elements to make something personal and unquestionably his own.
Independence, control and a DIY ethic are values that Lloyd carries into his everyday life too. "I think it's super important to be self sufficient in any terms," he explains. "I started growing stuff. I have onions and potatoes and microgreens. It makes me super happy to get dirty with mud and everything. I love it."
But his beliefs aren't simply rooted or reinforced by the troubles he went through in his early career. The conflict between Israel and Palestine is something that affects Lloyd just as directly. "I think it's super important to have this ability because I cannot rely on any government. We just had a war. It happens every few years, for like two weeks. A few hundred metres from my house, a rocket landed. You just think, what the fuck is that? Why am I at war? What's going on?" He explains.
As the world has watched the fighting continue, Lloyd is aware of the impact reporting and personal opinion can have on how he is viewed as an artist. "I always knew that this might be an issue and that's one of the reasons why I chose a name like Dennis Lloyd, that is neutral," he explains. "I want people to be captured by the music, and afterwards if they want to read about who I am, where I'm from, and start talking about politics, that is for them. I love my people, for sure I grew up here, but I have fans on both sides of the border. This shit, it's been here for so long. You don't choose where you're born. I hope one day everyone will live in peace, and I hope it will be soon. I have no fucking idea what is going to happen. I can only pray for peace. That's it. That's all I can do."
Some Days is out now via MTFKR
Get the Best Fit take on the week in music direct to your inbox every Friday