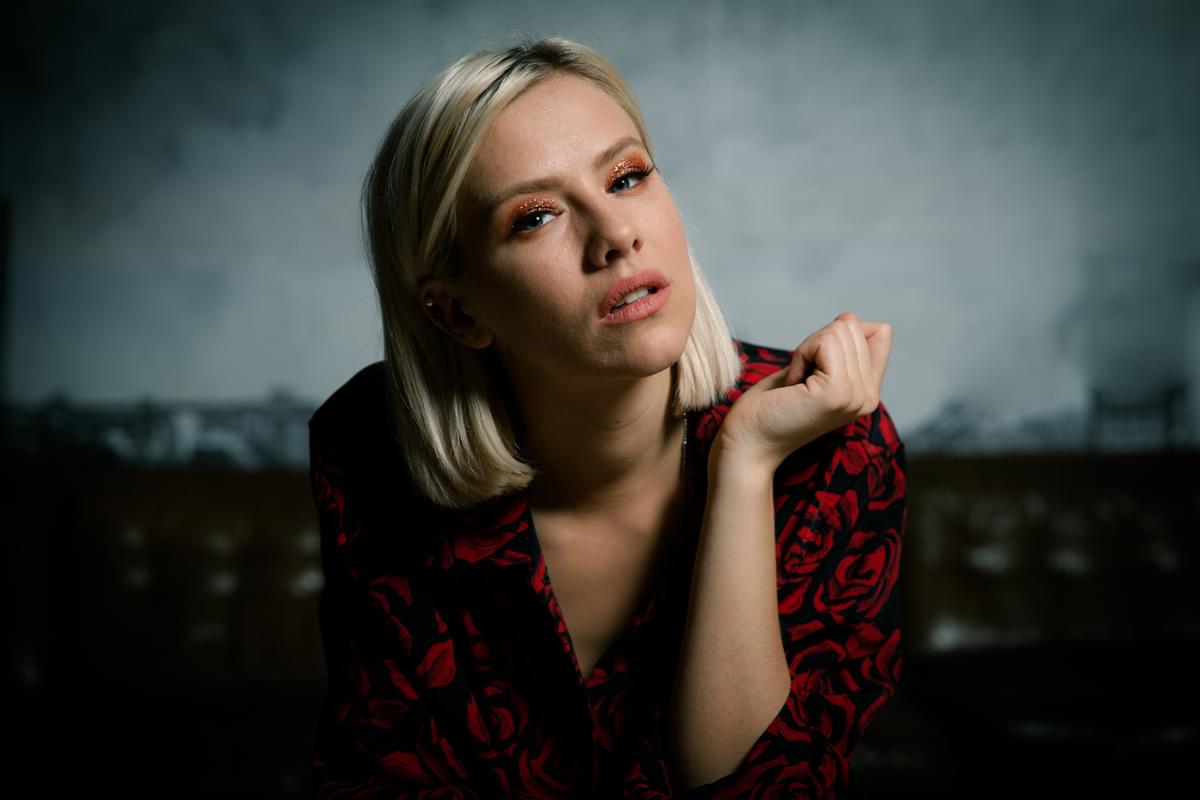 Life Affirming Pop
05 January 2017, 08:00
Grabbing the pop torch from Robyn and Annie, rising talent Dagny offers more evidence of Scandinavia's pedigree for euphoric, danceable bangers and is our fourth One to Watch for 2017.
When a song has you air-drumming in the street, you have to know you're onto a good thing.
That was exactly my reaction when Dagny's "Backbeat" hit the airwaves back in September 2015.
Those boom-clap drum beats, that delving piano melody, those moreish vocals … how could the world resist? The track premiered on Zane Lowe's Beats 1 show, and first appeared online courtesy of yours truly. Since then, it's racked up a ridiculous 363K plays on SoundCloud and the video (which followed in May 2016) has been watched over 451K times.
Check out the full list of artists we're tipping for big things in 2017.
If "Backbeat" signified the Tromsø-born artist's move from folk music into the pop sphere, then her co-writing stint in LA and subsequent EP Ultraviolet cemented her trajectory to the pop stratosphere. Every song - from the rhythmic throws of bass driven "Fight Sleep" to the rockier title track, the dance floor filler "Too Young", and the Børns-featuring "Fool's Gold" - has this sense of euphoric abandon. It is escapism in its purest form.
Ultraviolet revels in hopeful defiance. It indulges, but doesn't get lost, in the throws of nostalgia. It's the sound of spinning on the dancefloor so much that you feel dizzy. It's ripping off the rags of a past life and running wild, the weight of the world lifted from your shoulders. If only for a sweet, short moment. Which, as we head into 2017, seems like it will be crucial for our collective survival.
I meet Dagny Sandvik in a quiet unassuming cafe on a wintry London, her bright and infectiously enthusiastic character the perfect contrast to the world outside. Looking back on her rise through the pop ranks over the last twelve months, I find her all fired up about the future.
***
What turned you from folk to pop?
I think that I've always been a massive pop girl, whether I've liked to admit it or not. I've had those years where I started expanding my own musical vocabulary, trying to find different things to listen to. Folk music, or more like Americana, was the first real music I started discovering completely on my own, without radio or the influence of family or close friends. It was my own thing.
After a while, you realise the interesting thing about folk music is that that kind of storytelling is so different to everything else. I think you either have it or you don't. I think I had it to a certain degree, but it just came to a point where it didn't feel fulfilling enough anymore and I definitely had a more energetic side that I wasn't getting out so my gigs started feeling sterile.
Then I took some time, I think this was in in 2014, where I was like okay I've done a lot of co-writing now and I think I just need to go back to writing on my own and figure out what happens. Then I sat down with garage band and started playing around with drums, then I plugged in my electric guitar and just started making sounds that I'd never really made on my own before. I think that inspired that slightly punchier pop that "Backbeat" was, and those first songs that came out of that.
Once you start gliding back into pop again, it's so easy to just let everything become more and more pop. So the whole EP is extremely pop, maybe even more poppy than I thought it was going to be.
You've spoken before about how the EP is a representation of the more assured you. Did you find it quite liberating, to mess around and have something come out of it?
Yes, it was good to take control on my own again. When you create music yourself it's very different from when you're in the studio. In the studio, you have like 7 hours and you're with people that you've maybe not met before so you don't sit down and experiment as much. It's more like they play a little bit, you suggest a little bit … it's more like throwing the ball back and forth.
The music I started creating on my own, it felt more satisfying for my personality. The more you stop excusing pop music, the more you feel like you can just fucking do whatever you want and it's okay.
Did you deny how much you liked pop music growing up? Was it not a cool thing to like?
At least not in those teenage years. I do love Americana still and when I listen to music it's not necessarily chart pop really, though I do occasionally falling in love with some song that is just like banging. I'm very particular though, I either fall in love with a song or I just don't.
Nothing is ever just "okay"?
I'm just not that interested in those songs that don't give you that stomach feeling that you want. I want to hear a song that makes me want to fucking hear it a 100 times. Then I know it's my new favourite song. Of course, there are things I enjoy listening to but I think I have a strong instinct with music - what I like and what I don't.
What do you think is the key to writing a successful pop song?
I have a lot of theories but part of what is so magical about it is you don't really know, like you don't always know what is going to hit people. I think if we all knew then we'd all just be making loads of big pop songs. I do think there are a few things though - I mean hooks are a massive thing. I love hooks … Ooooooh ohohohohohoh [she laughs and sings "Backbeat" as if to say, isn't her love of hooks obvious?!]. I love hooks.
What's your favourite hook in pop?
I mean it could be an instrumental hook, it could be like me with that oohing – though I've done so much oohing in songs myself I'm kind of over that for a while. I love group hooks. Chanting, I'm a sucker for that, I openly admit that.
But anyway, what makes a successful pop song – good melody. Lyrics are important - that kind of theme of a song, that little one line that just like explains everything, when you invent a new way of saying something. But being Norwegian - I read someone that where American's have like 90% lyrics, 10% everything else and UK is like 60% lyrics, Norwegians are like 15% lyrics – it's not the first thing I personally think about but I do realise how important they are, especially in America.
I also think a good foundation is key, you know - good chords. I think the beauty of pop music, and also what sometimes makes it very difficult to make, is the simplicity of it. I mean, it's not necessarily very complicated but that makes you try new ways of using chords, or new ways of saying things. You can mix kind of sad songs with something that sounds very uplifting. You can have really pretty chords but sing something that is quite badass. You try all these things but sometimes the beauty is in the simplicity.
You touched upon it just now, but this kind of happy / sad thing that exists in pop music: your EP definitely has a lot of that going on – its euphoric beats kind of also revelling in this melancholy. How do you think you arrived at that kind of sound?
I guess that's just what naturally resonates with me. Again, coming back to that instinctive gut feeling when you're in the studio - people are just throwing ideas around so it's like, what do you react to? And actually, someone in an interview bought it up and made me consciously aware of it. And I think that's just me. In every way. That's just a big part of me. I felt like the EP was actually happier than a lot of other stuff I've done, but then I guess that's why the contrast is even bigger with the melancholic and uplifting stuff.
And also, if you want to dig deeper, there is the whole thing of coming from Norway and everyone talking about that Northern melancholy and that Northern sadness or whatever. I don't know how much of it I believe.
I've noticed that is something present in lot of successful pop music, or at least pop music that I love, and if it resonates with you then I imagine a lot of what you love. Do you think that's maybe a key ingredient?
Maaaybe, I mean there's definitely something to it. Again, you want to try and hit people's emotions with a song? That's what makes people listen to it and that's why you don't always know whether it's going to be a big song or not. It might be a great pop song but nobody feels it.
I personally love music like that too but there are a lot of different roots you can take that resonate with people in pop … you have that kind of sassy badass thing which I love. You look at a lot of pop bands that are slightly left field, just a touch, a lot of them have that.
I think there is a defiance in it, if you're listening to something that is sad but you can be happy doing it then you own it, you own your sadness?
It's like a hopeful thing, yeah. That's really what it is.
It becomes that kind of song that you strut down the street to, feeling invincible.
I love that stuff. That is a very good way of explaining it. I always talk about driving down the highway in an open top car feeling like you want it celebrate life but the invincible thing, I love that.
So there is of course that, and the whole Nordic sadness thing you touched upon which brings me to the music of your contemporaries, particularly Nordic contemporaries like Robyn, Tove Lo etc. Do you identify with them particularly?
Absolutely, more and more. Tove was kind of a recent thing actually - being out in LA writing with a lot of people that work with her. She is an extremely, massively talented writer and I'm very intrigued by that.
I think it's exciting that there is so much ... pop music. And, can we just say it, especially a lot of female pop music? MØ, Zara Larsson, Robyn, Tove Lo, Aurora – there a lot of female badasses right now. There is so much coming out of Scandinavia right now.
If you go back to the 90s, a lot of the inspiration I take from the slightly punchier pop music sound is a lot of those female fronted 90s bands like No Doubt, Cardigans, Cranberries and all these strong female fronted bands. Obviously, I have a band and the band are a very big part of the sound.
You weren't expecting "Backbeat" to be as big as it was, were you? What was that period of your life like? What do you remember feeling?
Just extremely excited, and kind of relieved. I know I've mentioned this a lot before but I'm so much happier when I'm using my full self and getting challenged, so I just felt like finally I was doing what I wanted to do.
There is also that whole thing of creativity creating creativity - so the more you're doing, and the busier you are, the more you get done and the more you start thinking of different ideas and you start picturing things. There has never really been a lull, it's just been ongoing. It's been a fucking exciting year.
How did you adjust to life in LA, and can you tell me more about working with the likes of Tommy English [Børns, Tigertown, Ladyhawke], Dave Bassett [Elle King, Fitz and the Tantrums], Mattman & Robin [Tove Lo, Ellie Goulding, Taylor Swift], and Justin Tranter [Selena Gomez, Justin Bieber, The Knocks, KYGO]?
They're great. I think working with people that are just better than you is the best way to go about it, honestly. I remember so well a friend of mine, we were kids, who was drummer and he only ever played with people who were 10 years older than him: That's why he was so fucking good, so brilliant. So, I feel like I'm him right now. Just working with people that are 10 times better than me and just constantly pushing myself. There is definitely a vibe going on out in LA.
So why do write about what you write about?
It's stuff that happens. I'm really trying to push myself to be honest. It's maybe not as honest as someone like Taylor Swift, who is so honest, but I like to write about things I see – what I observe with my friends as well as my own experiences. Maybe, you know again going back to what makes a good pop song, I think honesty is important - because if you don't fucking believe it, no one else is gonna believe it.
We've spoken about the happy / sad thing but the EP also has this hugely nostalgic thing going on – not in an obvious way but it's so full of energy and kind of harks back to the messy emotions of teenage years. Do you think that's a fair comment?
I think a lot of subject matter is from that time, elements of that time anyway.
I'm not a super dramatic person, I don't like to create drama everywhere I go but – whether I like to admit it or not - there have been different stages in my life … like the years up until the early 20s were kind of messy, maybe because of boys and all these things like relationships and all that.
I think there is something still kind of innocent about when you were a teenager and that first experience with a lot of different emotions.
Sometimes I wonder whether you can ever fall in love like you did when you were 16. That kind of fucking head over heels thing where you don't have any – or like at least I didn't have any – common sense.
You don't think about anything like … "Do we have anything in common?" "Is he challenging me enough?" you just thought "Oh. My. God. You are so fine. I am so into you!" And there is something so pure about that: Remembering those feelings that were so strong in you.
Now, in my mid-twenties, it's more about becoming an adult and all the things that come with it. It has broader appeal, because hopefully on some level people will have experienced these emotions too, but it's also a bit of a diary for a mid-twenties girl.
You have said before that "Sometimes people from a very young age know exactly what they want, but I was never that person! I'm twenty-five and I'm still figuring everything out." Do you still feel like that?
I think I will always feel the same. I always thought when I was a kid that like 26 was so old, and that when I was 26 I would have it all together, be settled and have total control. And it's not like that but actually, how fucking boring would that be? I don't know if I'll ever have that.
Even my parents, who are like 60, have that very forever-young thing about them. I kind of hope I'm a little bit like that.
I have actually spoken to MØ about this very thing – that the biggest myth you believe as a kid that adults have it all together, and know exactly what they're doing, and that suddenly someone will flip this switch for "adulthood" but it's rubbish - no one knows what they're doing. So, I see a similarity between your attitudes
I love MØ. Maybe that's why I love her though right? That's so good to hear that though. I think you always think that – especially when it's people that you look up to – that they've got it so down. It's a really comforting thing. But yeah, you can tell your readers that I've got no fucking clue!!
We've talked about the whole nostalgic thing but it's almost like your songs are resisting adulthood. Especially in "Ultraviolet" there is a sense of ripping of the rags of a past life and running wild, the weight of the world lifted from your shoulders. Maybe that's the key to a good pop song? Escapism. What do you think?
That is a really nice thing to hear because I always wonder – "What is the purpose of my music?" "What is my music doing for people?" And if people get that feeling from my music then I'm really pleased. Sometimes for me it's as simple as sitting on a train and putting on a song that just makes me feel like I want to celebrate life … for those 3 and a half minutes you feel like there are no limits, that you can do this. If it helps them feel, helps them escape then that's amazing.
Fuckin' hell I love music, isn't that great!? I love that when you go into the studio that morning you have no idea what's going to happen. You create it from nothing. You don't know what it's going to do and then maybe 6 months later it's helping someone for 3 and a half minutes to just feel great … that's pretty cool.
You mentioned Taylor Swift earlier. I've noticed a couple of articles that have drawn comparisons between you too, what do you make of them?
Well, I can understand - especially now with this blond hair!!
What made me think of that comparison was more just from listening to your music and feeling like a lot of what it makes it really interesting is your use of negative space. And, kind of coming back to that simplicity thing you mentioned, there is not too much going on. Would you agree with that, or is it something you've thought about actively?
The space in the music? I do agree with that. The EP definitely became quite spacious; it does have a certain sound.
It is like that, and I think that was just something that happened during the recording process. I think there is something for making music that stands on its own. When you listen to a verse, the verse needs to carry itself as much as the chorus needs to carry itself. It's very easy to hide a melody that isn't strong enough in a massive sound.
Someone told me back in Tromsø, when I was living there, that if you can't pick up an acoustic guitar and play the song and still have it feel like a fucking good song then you're not doing it right. I learnt from a very young age there is a real truth to that.
So, do you keep that in mind?
I do. Maybe not consciously. I always just try and make the best music I can make. I go into the studio and all I want to do is make the best song I can make that day. Sometimes it goes well. Sometimes it doesn't. Sometimes you write half a song that is great and the other half is shit!
Your songs have a way of matching each word and each syllable to the drum beat, which kinds of adds punch to the pop – is that a conscious thing?
No! You should tell me more! I like stuff that is quite rhythmical. I've noticed that. And I think that comes from growing up with - coming back to my parents – we had Brazilian rhythms in our house since we were kids so I've been exposed to it from such an early age. I think if there is anything that has just naturally become a part of me it's that love and natural instinct for rhythm.
But that thing you said about Taylor Swift – was that because of the space thing?
Yeah, she uses silence in an interesting way – she has these little touches and sounds, little off-beats and stop-starts, and that's what made me think of her when listening to you.
Interesting … I've never been conscious of that before. I will be conscious of it now.
Sorry, I've ruined it!
No, no. It's all good. Next time I'm in the studio, I'll be like guys, guys "shhhh". [She laughs]. But do you think it's more in the melody, or more in the music?
It's more in the music-
Yeah, I think that. Also, because if you think about "Fight Sleep" - [singing] "You're looking at me in that way / Biting your lips till it bleeds" - that's a lot of melody going on. I have this thing where I try and cram a lot of words into the space, which is why right next to that we have [sings] "Why don't we fall asleep", because it's quite simple and the contrast makes it work.
Each track on the EP has its own unique character so what can we expect from your music in the future, what's next?
Coming back to that thing I said earlier, I just want to make the best song I can. It's important to have a sound but you want to do what's right for the song. Right now I'm writing a lot and I'm writing with a lot of different people so obviously each person will influence the outcome of the song, but it's down to me to make that feel like me. When you go into production, that's when you really begin to know what feels right and what doesn't.
I haven't 100% decided what the next EP or the next album is going to sound like. I still need to experiment a little bit. I definitely like big sounds and solid choruses but particularly for this EP it felt like I could have that space. I didn't need us to cram lots and lots of stuff in. And this is what is so interesting because I feel like the process of writing an album is so different from writing an EP.
So - you're working on your album now, can you tell us anything more about it?
Well there are a lot of really exciting things coming next year, a lot of new music releases … hopefully an album but a lot of other stuff.
The EP was like, okay here is an introduction I really want to like fire off this banging like bam, bam, bam – here it is, go! The EP feels like it really represents that time of my life, but doing an album you have the opportunity to be more experimental and creative you know? I'm constantly learning, and growing, and getting inspired by new things and it's so open as to how I fill that space. That being said, I do feel like that kind of band-y, energetic sound that's lightly punchy with that melancholia mixed with the hopefulness thing - that is very much me.
What are your hopes for 2017?
I hope that it's just going to be an extension and a bigger version of this year. When I think back to the beginning of this year and the amount the project has grown and gained confidence, it's just feeling like it's going to steadily continue. I mean if you saw us play a show like 6 months ago probably would be quite a different experience because we always try and push it a little – creatively, compositionally, the sound is in constant development and I think that's really exciting.
Going out of this year I feel like I have such a clearer vision than I had going into it. There is already so much exciting stuff lined up – like festivals in the summer and my tour. I'm going on tour in February and I'm releasing stuff.
What is the most important thing to you as an artist?
The music, the songs, playing live, and constantly developing. I don't want to know what my album in 2021 will sound like you know? I don't want it to sound like this album. I don't want to make another EP that sounds just like the last EP. Where is the fun in that? I want people to be able to listen to and be like that represents that time. Whether it was that year, or that age, or that stage in my career. I just want to keep getting to work with creatives and I find the people I meet are so inspiring and I love the – as well as I kind of fucking hating it sometimes – I love the unknown.
Get the Best Fit take on the week in music direct to your inbox every Friday