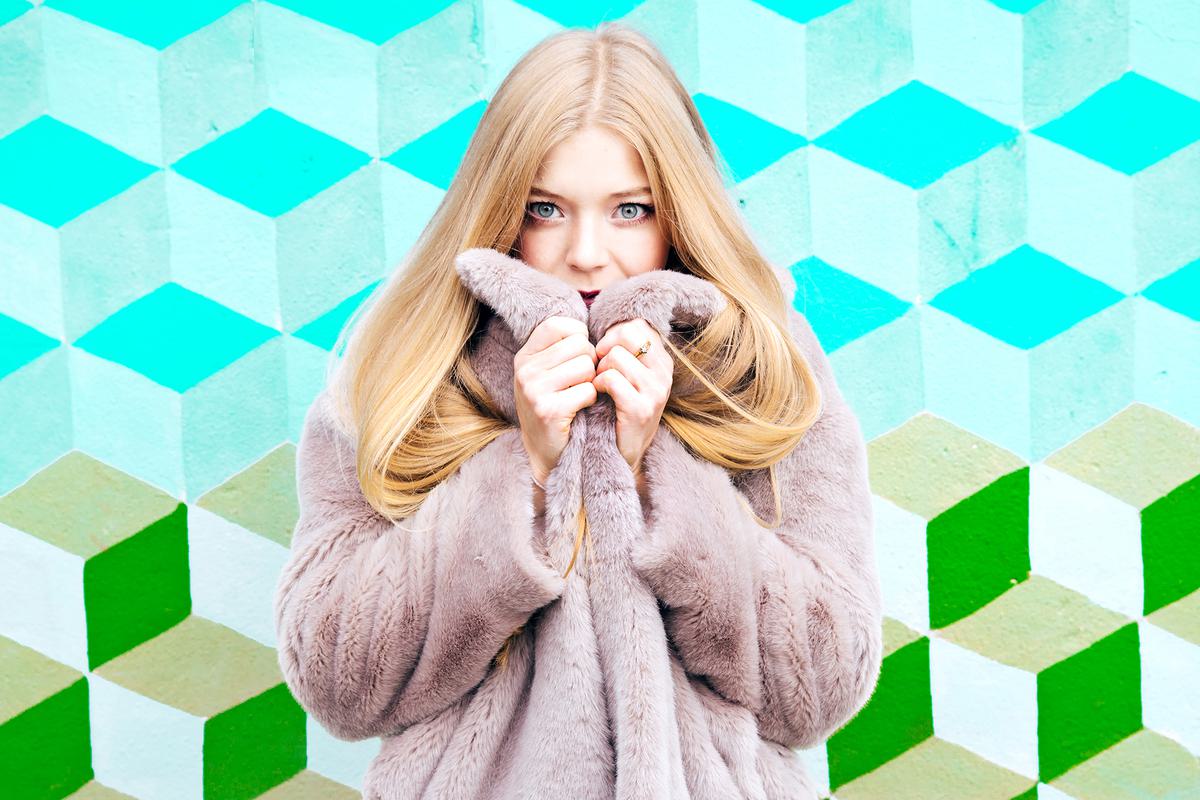 The Real Reality
17 March 2017, 10:00
Becky Hill doesn't want a TV talent show to define her. Pip Williams sits down with the chart-topping artist who's taken a backseat from fame in the fastlane to carve a genuine path to pop stardom
Credibility is hard to come by as a pop musician, let alone for artists who've cut their teeth on talent shows. Becky Hill is the only The Voice contestant to have achieved a UK number one, but things haven't come easy for the 23-year-old star
In 2012, Becky Hill auditioned for The Voice with a rendition of John Legend's "Ordinary People". It changed everything for the gravelly-voiced, introspective teenager.
Hill's song choices throughout her time on the BBC vocal talent show now seem somewhat incongruous. Covers of Beyoncé, The White Stripes, and Corinne Bailey Rae are at odds with the soloist's devastatingly to-the-minute pop music. It's little surprise, then, that Hill has made a conscious effort to disassociate from the show that gave her a leg-up to success.
"I was a bit of a music snob, so I wanted to be cool," she explains self-deprecatingly, sipping tea after apologising profusely for being late to the interview. "I knew that the show I'd come from didn't make me cool - there had to be X amount of time where I had to lay low and work out what kind of artist I wanted to be.
"When we did "Afterglow" (her chart-topping collaboration with drum and bass producer Wilkinson) I was so scared that if I put my name on it, people would be like, 'who's Becky Hill? Oh, she's off The Voice!'"
To those who have been following Hill's career, the distinctive power of her live vocal will come as no surprise. What might be more unexpected, however, is the work that's had to go into maintaining this.
Immediately after her stint on The Voice, Hill had to return from London to her hometown of Bewdley, Worcestershire. The experience left a bitter taste in her mouth after her brief glimpse of a career in the music industry. As her sixth form peers headed off to university, Hill struck out alone.
"A lot of people think that when you go on these shows everything's handed to you," she scoffs. "At 18, I was working behind the bar again. I had no money. I had to go down to London on my own, and have these interviews with 30-year-old men. It scared the shit out of me. I was terrified of London. With uni, everybody is out on their arse, so you kind of bond, but I was in work!"
"Credibility for me is so mixed up"
Relocating back home and adjusting to life out of the spotlight once again wasn't the only hurdle Hill faced en route to pop stardom. Her distinctive, raspy vocal - consistently praised for its individuality and potential - turned out to be her own worst enemy.
Between vocal nodules and poor technique, Hill found herself at risk of losing the one thing that had got her this far. Had she not realised the level of commitment needed to support and maintain her voice, her career could have ended before it had even started.
"When I was on TV, my voice was in such a state," she explains, sounding a little sheepish as she thinks back. "I had really bad nodules. I was actually talking in the wrong part of my voice, so when I was talking it was causing damage to my voice. When I was singing, it was even worse.
"What I love now is that I've worked on my voice so hard. I had nine months of speech therapy, I've had years of really high level vocal training - and I feel like I can step on stage and sing in key, and in pitch, and sound like the record, and do other things that people haven't heard on the record. And really wow people!
"I've had nodules since I was 16," she continues. "I started singing on an untrained voice. You should always use your diaphragm as a singer; sing from your stomach and push in your abs so you have a really supported sound. When I was 16 I was singing from my throat. Coupled with that, being 16, 17, smoking, drinking, and being a bit of a gobby bitch, and yelling onstage, I got damaged very quickly.
"[Now] I know how to work around it. A couple of years ago I had no head voice, and I worked really fucking hard to get it back. It's not the strongest of range, but fuck me, I can do it! I'm so grateful to have it back, because when your voice is gone, it's gone. That scares me.
"Shift K3Y said I'm one of the loudest people he's ever recorded - I'm louder than Stormzy!"
"If you look at Ella Eyre, or Jess Glynne, it's the same sort of thing. Jess did actually go and have surgery on her voice, and I know Ella's had loads of problems and had to stop smoking and all sorts - which luckily I can still get away with. I think if I hadn't've done that when I was 16, I wouldn't've had the quality that my voice has today.
"It's peaks and troughs - on the one hand, my vocal health isn't one hundred percent, [but] on the other hand, if it was 100 per cent, it probably wouldn't sound the way it does. It almost sounds like my voice is broken, and shouldn't be able to do what it does, and that is the joy of listening to it!
"You sit there thinking, 'she ain't gonna fucking make it!' and then it's like, 'woah, bitch, she can make it!' Someone tweeted me the other day, 'it sounds broken, but you can do it!' and I'm like 'yeah, bitch.' I think that might be it! A lot of people have said "you're really little, how are you singing like that?' I'm from a very loud household! Shift K3Y said I'm one of the loudest people he's ever recorded - I'm louder than Stormzy!"
Hill may have a new-found confidence with her vocal technique but her unconventional path to fame has left her feeling somewhat hindered by the mechanics of stardom. She remains vocally critical of her "awkward" demeanour, both onstage and in conversation.
"I feel like I waffle a lot," she admits. "In interviews I get quite nervous, and I giggle a lot. When I'm doing live interviews I'm fucked, but I really try my best! It's the same with videos, and photoshoots. It's not a natural thing that comes to me.
"I still feel like an awkward sack of potatoes onstage. That's something I'm working on. I'm always constantly working on being a live artist. As much as I want to be a recording artist, I want to be a live artist," she explains, gesturing passionately. "I want to be on point, I don't want to be one of those who sounds great on the record, not so great live. I want to have both."
Her own insecurities notwithstanding, Hill sold-out a debut show at London's Electrowerkz last year to rave reviews, going some way to sating the appetite of her already considerable fanbase.
"I want to create a body of work that represents me as an artist...music that you can hold to your name and bury with you, and go 'you know what? I was fucking proud of that.'"
It's no stretch to say that Hill is unequivocally The Voice's coolest alumna. She rattles off a list of artists who have influenced her catalogue of electro-pop – "Ellie Goulding, Robyn, La Roux, Passion Pit". In her opinion, artists like these have made pop cool, blending a similar range of leftfield influences to her own.
The names Hill lists have all been releasing music since prior to her appearance on The Voice. When asked about industry peers she admires - whose names have peppered our conversation thus far - her response is immediate and effusive.
"My collective of friends are fucking sick! Sinead Harnett, I'm a massive advocate of - K Stewart, MNEK, Shift K3Y, Leo Kalyan - all these people I'm very close with. I love being in my house, listening to my friends. Me and Sinead accidentally start singing each other's songs, I'm like 'babe, stop now!'"
Hill is a big fan of several other female artists outside of her friend group, citing Dua Lipa and Nao straight off the bat. "She's fucking phenomenal," she enthuses of the latter. "She is the definition of artist. She's very cool, she's very left[field]. It's not as poppy as the rest of the stuff, but I think she is amazing. She's friends with Kwabs and people like that who are not looking at anyone else, just focusing in her own lane.
"Credibility for me is so mixed up," she continues, as we discuss Dua Lipa's seemingly effortless balance of pop and cool.
"With my own projects I've always wanted to have [that balance]: making music, but not churning out hits. I want to create a body of work that represents me as an artist, that leads onto another body of work, that leads onto another body of work. You build up a portfolio of music that you can hold to your name and bury with you, and go 'you know what? I was fucking proud of that.' Everything I've released under my own name - 'Caution to the Wind', 'Losing', 'Back To My Love' - I've been so fucking proud of! I think that's the key."
Another name that comes up is that of pop titan Rihanna. It transpires that Hill's single "False Alarm" was originally pitched to the Barbadian star but Hill's team was reluctant to let it go. "I'm glad I kept it, 'cause I really like singing the song," Hill admits ruefully. "But I'm also disappointed that I didn't get a Rihanna cut! It's swings and roundabouts."
Whilst things with Riri didn't work out, she wasn't Hill's first brush with the big guns of the industry. On The Voice Hill had received mentorship from fellow gobby Brit Jessie J. Did they keep in touch? There's a pause before she delivers her measured answer.
"She was being paid to do a job on a show. When she was on the show, she went above and beyond what she was supposed to do. She bought us a load of shit - she bought us iPods - and I didn't hear any of the other mentors doing that, but she wasn't getting paid to be my friend. When I told her I had nodules, I've never seen a production company move so quickly. I got to Harley Street, I got an ENT - they filmed it, it was a bit weird - but she was so good on the show. I've met her since, and she came over and she was so lovely and we had a chat. We're not friends, but I still have a high level of respect for her. I think she's fucking great and I wish her all the best, and I've sure it's the same for her."
'I want a fucking friendship group of music people, who don't even have to work together as a musical collective but just fucking vibe with each other.'"
Fast-forward a few years and Hill has formed firm friendships within the industry, far removed from the show that catapulted her into fame. She describes her relationship with London-based singer and producer MNEK – who appeared on her number one single "Gecko (Overdrive)" and has produced or written on several of her tracks – as "inseparable". A writing session in their second meeting spawned Hill's single "Losing". Rather than discussing the track, she takes the opportunity to gush about their friendship, which happened to be the key to finding her feet in the big smoke.
"Before I met him I was lonely as fuck. I'd never worked with anyone who was my age or younger. Everybody else was in their thirties! We sparked off, and it was like a magnet. All these really cool people started coming towards us and we started this little collective. I was like, 'I want a fucking friendship group of music people, who don't even have to work together as a musical collective but just fucking vibe with each other.'"
Even if working together wasn't the intention, Hill and her friends regularly seem to end up in the studio. "I met Shift K3Y in Highgate," she mentions. "He was number three in the charts at the time."
The pair went on to write his single "Gone Missing" together, and Shift K3Y – real name Lewis Shay Jankel – produced Hill's recent track "Warm". "I've loved writing with MNEK and Shift K3Y," she adds. "I always describe my music as my little musical children! I feel like I've had musical intercourse in the studio, and then nine months later borne a little musical child with Shift K3Y, or with MNEK. It brings me and my friends closer together as well, I think it's such a special experience."
"Warm", Hill's final single of 2016, saw her back in the studio with Shift K3Y but she is quick to outline the many influences outside of the pair's friendship that played into the song's creation.
"I think it was our second or third writing session," she muses, taking a moment to reminisce. "I didn't really have an awful lot to write about. I was about 19, and I'd just been on a plane for the first time ever. I was very shocked that when you go up in a plane, you reach the clouds," she explains earnestly.
When asked for clarification, she continues, seemingly confused that no-one else present understands her revelation. "I just thought it was clouds all the way up to the moon! It turns out that there's a layer of clouds, you go through the clouds, and then it's a really nice day!
"I had that line, 'Behind grey clouds is blue skies and sunrise,' in my head. There was a situation where there was this guy I was really obsessed with, that I'd only bumped into twice. You know when you bump into someone, and you're like 'oh my God, this must be fate, this is gonna be it! God is pointing me towards this guy!' This guy was scared off immediately - terrified! He stayed the hell away from me, but I was like 'oh my God, this is supposed to happen!' It wasn't, but I managed to write a song about it! I've never seen him since - I don't think I would recognise him in the street!" She laughs, as much at her own naïveté as anything else, before adding, "Maybe I was supposed to be inspired."
As this experience only serves to illuminate, fate hasn't always been on Hill's side throughout her life and career, and it's not all rainbows and smiles. Despite an abrupt entry into the music industry at a young age, Hill was quick to realise that she was going to have to fend for herself.
"When I first joined the industry, I noticed how disjointed [it] was, and how everybody was out to get the other. Nobody had anybody else's back, unless you had a thumb in their pie," she says, her tone more one of honesty than cynicism.
"We all know the stress of releasing music, and we all know the joy of releasing music."
It's hard to imagine Hill, with her direct and earnest manner, playing any performative games of likeability. She describes herself as "as normal as they get", and openly admits to her lack of media training. This is where her crew of friends come in: acting as a safety net in a notoriously ruthless industry.
"We all have each others' backs, and it's proper genuine as well," she says. "I don't see that anywhere else in the industry. Some of us are signed, some of us are not. We all know the stress of releasing music, and we all know the joy of releasing music. What is beautiful about it is that we get to share that with each other, and really, truly understand it. MNEK was recently nominated for the Attitude Magazine Breakthrough Artist of the Year, which for a black, gay artist is a fucking massive thing! We were all so proud of him and what he's achieved."
Hill is adamant that there's no tension of competitiveness within the musically gifted group. "The only pressure comes from me," she asserts. "The pressure that I have to be of a certain standard, of a certain quality."
So where does she get her motivation from? "When you're from a reality TV show, people tend to think you're about nothing, and all the shit gets given to you. The pressure that I've had is to make sure that people know I can fucking sing, I can write my own music, and I have a story to tell. I want people to be involved with my journey."
What with her prolific peer group and hordes of adoring fans, we're certain many will join the ride.
Becky Hill plays London's
Scala
on 5 April