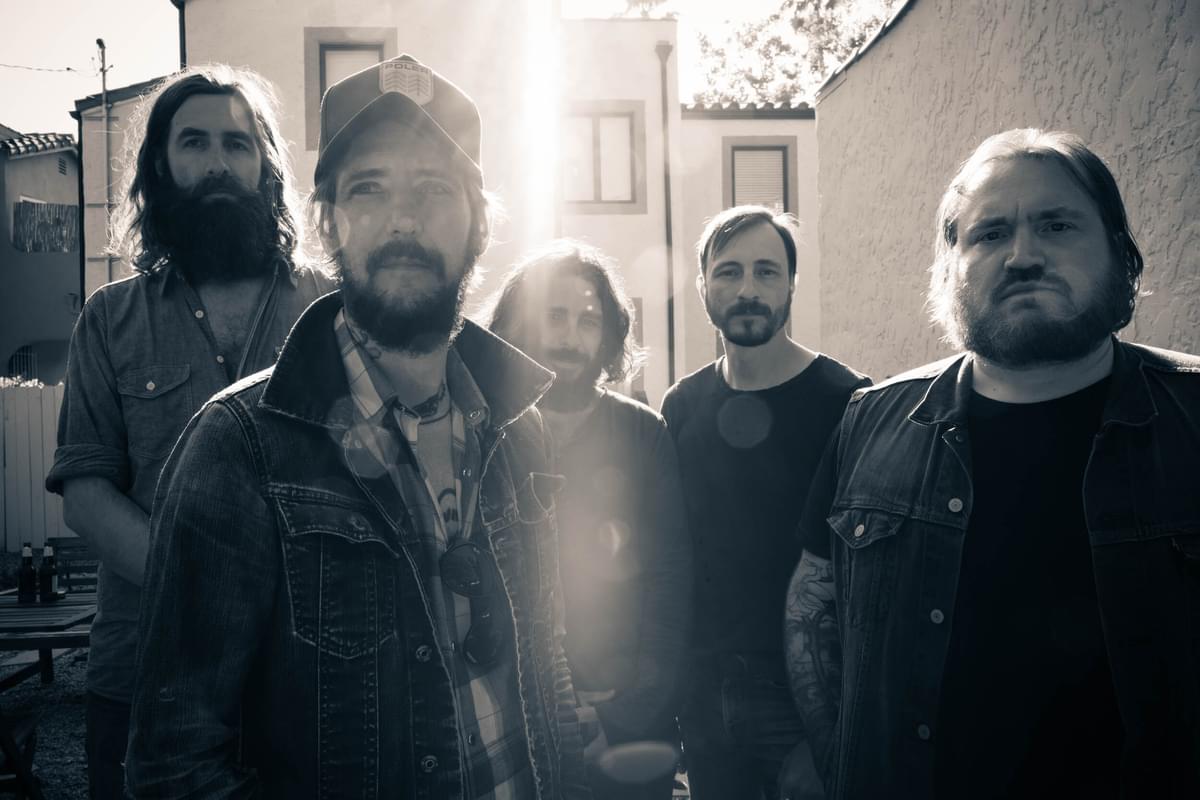 Friends, Family, and Life On The Road
27 May 2016, 09:30
Ahead of their fifth studio album Why Are You Ok?, Band Of Horses frontman Ben Bridwell discusses juggling his expanding family with Band of Horses and how keeping it simple works best.
Let's rewind back to 2007, when I, as an 11 year old, was yearning to find new bands to give me the same excitement and satisfaction as the Red Hot Chili Peppers. Whilst deciphering the alphabetical structure of CDs in a Copenhagen music shop, I randomly picked up Band Of Horses' debut album, Everything All The Time.
Let's rewind back to 2007, when I, as an 11 year old, was yearning to find new bands to give me the same excitement and satisfaction as the Red Hot Chili Peppers. Whilst deciphering the alphabetical structure of CDs in a Copenhagen music shop, I randomly picked up Band Of Horses' debut album, Everything All The Time.
It's now 2016, and, ahead of releasing their fifth album Why Are You OK?, I'm shaking with excitement at the thought of meeting Bridwell, who has played a huge part in shaping my music taste.
It's a few weeks to go before the release of their fifth studio album. Bridwell greets me with a humble smile whilst I struggle to even put a sentence together. His voice soothes quickly, and after regaining balance, we're ready to talk about the new album.
Why Are You OK? dips in and out of party songs and ballads, emphasising Band Of Horses' ability to provide anthems, as well as tugging at the heart strings with their softer tracks. They've developed their integral sound to become an impressive fusion of rock and folk, presenting intricate melodies and rough'n'ready riffs that will make you want to crush a beer can against your head. The words of Bridwell often give goosebumps, particularly when teamed with his bandmates in their flawless harmonies. Their first single from the album, "Casual Party", addresses the nuisance of being at a boring party with dull people having dull conversations.
"It's just the doldrums, and rigmarole of everyday existence," Bridwell says. "That plays a huge part in it. I tend to write in a very regimented fashion, and I always have, even if I get garbage all day, or all week, and maybe on the eighth day I finally get something, and all of a sudden those seven days were totally worth it. Even banging my head against the wall and being like 'ahhh this sucks'. That plays a huge role in the album, just sheer tenacity of loving the work."
"In my studio at home I have instruments hanging on the wall and a drum kit in the middle of the room," Bridwell continues. "I normally just walk around and pick up what I want. With guitar I guess I'm self taught. I just put my fingers on the neck where I think sounds good, and detune the hell out of the guitar." Bridwell's modesty is hard to come by. He emphasises the need to hold on to an authenticity - not knowing how to play guitar inside out. "What's the point in being the fucking best at playing guitar? I'd never learn anything new, and everyone has their own styles of playing, and I want to continue to learn, even though I sorta have a style."
The new album, Why Are You OK? has some big names attached, included J Mascis, whose vocals feature on the recently released "In A Drawer". The Dinosaur Jr. frontman's appearance highlights the respect earned by Band Of Horses, and their progression, particularly as two members of the band met through a Dinosaur Jr. song. "I met Creighton [Barrett, drummer] at a house party, a college party, even though we weren't enrolled, but our friends were. A Dinosaur Jr. song came on the stereo and we were both like 'YES!' at the same time, and we were both like 'ah brother' y'know? We connected over a Dinosaur Jr. song and we've been together ever since."
Some of the other names attached to their new album include the likes of legendary superproducer Rick Rubin (Beastie Boys, Public Enemy) and Jason Lytle, who is best known for his music with Grandaddy.
"I think it's a kinda murky role there," Bridwell says of Rubin's input. "Like what is an executive producer? We just gave him that title out of respect, y'know? His role in this was more of a mentorship. When I had questions about where to take the material or if the material should be included in the pot, then I would just go and hang out with Rick, play him tunes at his house and he was never gonna be like 'you should do this or that'. It's more of a 'I think you should absolutely submit that to the band and to Jason'. Having that kind of pat on the back or pat on the ass as you're out of the door," he chuckles continuously, "it's a confidence builder, and helped me to eliminate some self doubt." With Jason, Ben praises his producing, and emphasises that Lytle put his Grandaddy stamp on various songs throughout.
The beach shot on the cover of Why Are You OK?, while showcasing the aesthetic of Band Of Horses' sound, also relates to the little things in everyday life.
"We were sitting on some beach in South America, it was a day off, and Creighton and my friend Chris were enjoying the beach. It was a 'butts and boobs' beach too, " Bridwell laughs. "It was semi-nude, and I was like 'what the hell?!' I had never seen anything like this before. Everyone was just beautiful and free, and we were having a really great time."
The two people in the album cover cut a striking figure, and were the main reason why Band Of Horses used the beach as their album cover, "The sun was setting behind us, and as I looked out over the water we could see these two people doing this thing, like they had their hands over their eyes, it was like they were bawling or something. They looked sad in what's usually considered such a happy place, and I just grabbed my cell phone and started taking pictures of them. At times they would have their hands down, or in front of them; I think they were just meditating. They were like aliens or something."
Four years have passed since Mirage Rock was released, and since then, Bridwell's family has doubled. Now with four kids, the Band Of Horses frontman relishes the challenge of balancing family life with his music career.
"Yeah we haven't done an album cycle with this many children, so it will be interesting to tread those waters. I think my wife and I have a really good balance - we're a bit ambitious, we both have to work, we have to make sure there's enough money to keep the household rollin', and luckily we share that same drive. It's an ever-changing challenge, but I think I'm with the right person to get it right."
Nearing the final stages of his 30s, Bridwell never could have predicted his family size with the career he has chosen. Being a musician is never easy, and, when away from the comforts of your home and family, particularly if you're on the other side of the world, it can get difficult. "I try and support her in all that she does, not only when I'm at home but also when I'm away. I like to make sure that we're both equally getting attention. If she feels like she's always getting dumped on with Band Of Horses being busy then I have to find a balance there, and I've gotta make sure the kids have a balance as well. The oldest one has a huge heart, and is empathetic, so even doing a Facetime thing is good, but the younger ones are still learning to share."
Although Bridwell has been married to his wife and to music for a long time, he never thought he would be performing to crowds. He started off washing dishes in a rock venue, and, after being trampled on and being considered as what he describes as a "second class citizen", he decided that he would "show those motherfuckers". After stashing his tips in the back of a speaker, he eventually saved up $700 to get CDs printed for his friends' band. "I started a record label and that was my job. I never thought I'd be in the singing part or the playing instruments part at all. I just kinda fell into it after a member of the band I was pushing left, and they said 'we get along, we can go on tour together, we like you Ben', and y'know, it was slow enough and minimalistic enough to learn to just tap along and not be noticed. After that band broke up I loved the life of travelling and playing music for people, and when that band broke up I knew I had to at least try it myself, and I got very lucky."
Bridwell is extremely relaxed. He has his feet on the Park Lane Hotel coffee table, sipping a vibrant cocktail with ease, smiling between questions. This happy guy is quite possibly the most humble musician I've met. What would he be doing if he wasn't in Band of Horses? "Flippin' eggs. Nah, I don't think I'd have four kids. There's no way I could've been dreaming of something like that, like becoming a responsible parent that can afford four kids. I'd be doin' somethin'... I don't know, probably a bartender or something. I've got no life skills. I quit school very early. I can't imagine. Probably sweepin' the streets or somethin', or sleeping on them."
Whilst flying round the world, Band Of Horses will undoubtedly bring out the fan favourites from previous albums. At their intimate show at London's Strongroom bar the night before, their acoustic set list featured "No One's Gonna Love You", "Is There A Ghost?", and their most recent single "Casual Party". Does playing the fans favourite tracks get boring for the musicians who wrote that very track, playing it over and over? "It's another ever-changing process of rediscovering things about old songs as well, I'm always glad to learn new things about them. 'No One's Gonna Love You' is an easy one to tug at the heartstrings, and it can be done with very few elements. 'Is There A Ghost?' is fun, I just like playing that song, it's like a two-and-a-half chord song," he laughs.
Each gig presents a new crowd of faces, and various atmospheres and behaviour from the audience. The South Carolina native enjoys involvement at Band Of Horses gigs, "I like people screaming, I always have. I think it's cause coming into this thing late in life and never being like 'I'm the fucking best' or 'I got this' y'know. I've never been like that. I'm always glad for other people to create distractions, just to take away the fact that people might be looking at my face, it's fucking crazy." Gigs are often hailed the best part of being a musician in the limelight. Travelling around the world in any career is widely sought after. Bridwell is very thankful, and happy that his job can provide such opportunities. With this mindset, there's little for him to find irritating at live performances, "Shit like the odd bottle being thrown I think is sometimes hilarious. I don't care, I'm just glad to be there".
Band of Horses depart on their world tour this month, and return to London on 5 and 6 June. Why Are You Ok? is released 10 June 2016.
Get the Best Fit take on the week in music direct to your inbox every Friday