On the face of it the Canadians were not reinventing the wheel by any stretch of the imagination: the guitars were jangly, the vocals honeyed, the melodies infectious. To say that they wore their influences on their sleeve would be putting it mildly, and anybody with even a cursory knowledge of British pop music from the '80s would have been able to pick out the bands that Alvvays were taking their cues from at a hundred paces. Teenage Fanclub were one, The Smiths another.
They were obviously acutely aware that Kirsty MacColl was one of the finest songwriters of her generation – something that too many people are painfully ignorant of – and there were some more obscure role models, too, like Edinburgh's The Shop Assistants or Cambridge's Dolly Mixture.
Inevitably, memories of the legendary C86 compilation were evoked. It was strange to see people take this profoundly nostalgic band to their hearts in Britain, partly because the music press is obsessed with the new and partly because you're supposed to act as if you're over it when an overseas band rocks up excitedly with a clutch of their favourite UK records under their arm.
"I'm not all that huge on confessionalism...I have a sort of melancholic disposition, and that's the bit that weaves its way into the writing."
But take to Alvvays Britain did. Their last tour, a victory lap for their debut in the late summer of 2015, culminated in a show at the not inconsiderable Shepherd's Bush Empire in London. Perhaps it was just that Ben Gibbard of Death Cab for Cutie was right, and that everybody else had the same reaction as he did when he first heard "Alvvays' Archie, Marry Me", a track he'd later go on to cover. "I don't listen to them and go, 'aw, man, these guys are trying to sound like Teenage Fanclub,' he said on The Nerdist podcast back in 2015. Instead, I'm going, 'oh my god! These guys sound like Teenage Fanclub, and I love that band!'" Maybe that's how every other fan of Alvvays felt too, that they liked being reminded of old favourites in a new guise.
To assume that, however, would be to do Alvvays and their self-titled LP a hefty disservice. The real reason it cut through the cynicism and posturing on this side of the pond is simply because it had every ingredient that a wonderful pop album should. The melodies were bright and infectious, and the songwriting shone with genuine, hand-on-heart love for the heroes of theirs that they were nodding towards.
Molly Rankin's lyrics were by turns impishly witty and quietly devastating. She'd pick apart the lunacies of matrimony and domestic life with tongue firmly in cheek one minute (on "Archie, Marry Me") and deliver a crushing treatise on the day-to-day banalities of depression ("Dives") the next. The band's devotees came to realise that they weren't a bunch of posers trying to co-opt the same old British bands for the millionth time. Alvvays were a ragtag gang of indie pop geeks from the middle of nowhere, gazing over the Atlantic from Nova Scotia and pining for, you know, just plain Scotia.
Frontwoman Rankin herself seems to think so, too. Alvvays come from various parts of Canada's eastern seaboard including Prince Edward Island and Cape Breton Island but relocated to Toronto to ingratiate themselves in the city's music scene before the release of Alvvays.
The band are rehearsing in Toronto when Rankin calls. They have a new lineup that retains guitarist Alec O'Hanley, keyboardist Kerri MacLellan, and bassist Brian Murphy but drafts in Sheridan Riley on drums as a replacement for Phil MacIsaac who has gone back to university. "I was living in Prince Edward Island when I was writing some of the first record," Rankin says. "I was very isolated and spending a lot of time alone. That's why a lot of those songs are rooted in this kind of escape narrative – I was living vicariously through these cinematic journeys."
There are plenty of similar themes on Antisocialites, the band's sparkling second record, even if this time they're more personal than geographic. Rankin has described the album as representing "a fantasy breakup arc, and life very nearly imitated art."
Like on Alvvays there's a lot of daydreaming going on but she's a coy enough lyricist that you suspect these are fictional stories of love and loss that she's telling – from her wandering eye on "Dreams Tonite" to "Your Type", a bratty ode to incompatibility.
"I'm not all that huge on confessionalism, if that's a word," Rankin laughs. "It's nice to keep something for yourself. I certainly channel my moods and feelings into the narratives but I find it really gratifying to be able to escape into different worlds. And I do my best to leave out anything about my current self or my real life. I have a sort of melancholic disposition, and that's the bit that weaves its way into the writing. As you may have noticed."
A lot of the songs on Antisocialites won't be all that new to longtime fans, with the band airing them live before they had recorded them. "Hey" was showing up on setlists as early as 2015 along with "Saved by a Waif" (which was then "New Haircut") and "Your Type", which had been a live staple even before Alvvays was released. Overall, only four of the tracks on the new record – "In Undertow", "Lollipop (Ode to Jim)", "Already Gone" and "Forget About Life" – hadn't been played out on the live circuit before this summer. Perhaps this is why Antisocialites feels lyrically as if it's born out of the same headspace as the last album.
Still, you wonder whether that ended up proving to be its own pressure, to have to capture a definitive studio version of numbers that the group was already intimately familiar with.
"It really felt like each song deserved its own open mind and approach," Rankin explains.
"We had to start with a clean slate and just be open-minded about how we approached them. It wasn't all that daunting; it's fun to start from the beginning on things, especially when you have the opportunity as we did to spend as long as we wanted on them and make sure we were really happy with them. It didn't feel like the spectre of the live versions was looming over us or anything like that."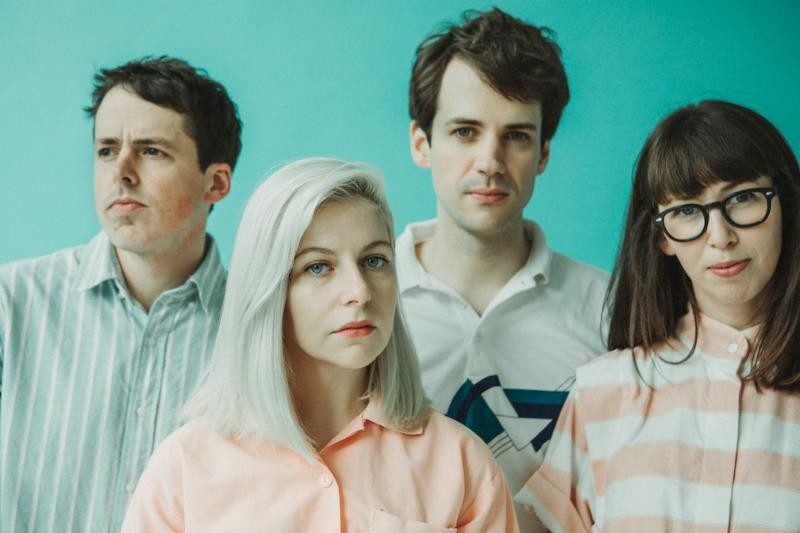 It's not just the band that knew these new tracks back to front. As the Alvvays subreddit proves, scratchily captured bootleg versions were being devoured by the diehards from the minute they found their way online. Bands often speak of refusing to run the risk of unflattering renditions making it to the ears of listeners before the real thing's been released.
"We were just excited to play them, and to be honest I've let go of a lot of that paranoia," reasons Rankin. "I didn't think people would listen that closely but it's flattering, and I think we've done a good job of translating those songs into live versions, so we weren't too worried. It's really not the era to be super precious about things like YouTube and people filming at shows. I don't think I'd ever get out of bed if I was really concerned about that sort of thing."
Some fans even seemed to have managed to derive what the lyrics were off the back of those covert recordings.
A few weeks ago one particularly crafty listener did enough sleuthing on the back-end of the website of the band's record label, Polyvinyl, to find a Word document sent to journalists that contained Antisocialites' words in its entirety.
Poring over them, the fan had doubtless have noticed that Rankin remains in the same sort of world as she was on Alvvays, despite how profoundly her life has changed in the intervening years on the road. "This is all new to us, still," she says. "There's a lot of the same feelings. When I left my job to go on our first tour, I really intended on going back to the job. I just became such a nuisance to my employer because my presence there was so sporadic, and then we were just so busy for a few years that we had to put real life on hold for a while. Eventually, you need to put the brakes on that and get back down to business, and what really fuels us as humans – creating melodies, writing lyrics, demoing, recording. Those are the things that make me most happy."
Rankin makes it sound as if the 18 months they spent on the road in support of Alvvays left them burned out. "Well, yeah. I think what we learned, perhaps a little too late, is that nobody will tell you to stop touring – it's something that you really have to do for yourself. Playing shows and travelling is quite a thrill but after a certain amount of time it's healthy to walk away for at least a little bit so that everybody can get back to normal, recharge their batteries, and feel like themselves again for a few months. It sounds ridiculous but we really could have gone on longer. You have to draw the line because otherwise it's perpetual."
Touring with Alvvays wasn't Rankin's first taste of travelling with a group of musicians. She's part of a bit of a musical dynasty in her homeland where various relatives make up the acclaimed folk outfit The Rankin Family. That particular road lifestyle was very different to the one she'd go on to become accustomed to with her own band. There's slivers of her own band's lifestyle that make their way into the songs on Antisocialites; the Jim that "Lollipop..." is an ode to is Jim Reid of The Jesus and Mary Chain, with whom Rankin performed "Just Like Honey" at a clutch of shows in Australia when Alvvays shared a bill with them.
"I initially went on tour with my family when I was 18 or 19," she recalls, "but we were on a tour bus and playing arenas so my glimpse of that life was a lot different to what we experience as a band currently where we're pretty much run-and-gun – load in, load out, maybe there's time for soundcheck, maybe not, so I think we really learned how to be compact and quick on our feet, and how to roll with different punches in real time.
"I still really like having a routine so I don't mind the groundhog day touring thing - having some structure in my life definitely benefits my own mind. Sometimes you don't always get as much sleep as you'd like but now we can sometimes have somebody else drive for us, which is huge!"
Rankin played the fiddle on those tours with the family band. She grew up listening to that kind of Celtic music "and anything that was on the radio", leading you to wonder how, when, and why she started to get into relatively abstruse British indie pop.
"I don't know if it's the reverence of the guitar or just the volume of everything that was coming out in the '80s and early '90s. I know I really like those pop structures."
On Antisocialites it's the lesser-known influences that really seem to seep through, especially on the faster tracks. The band covered a Motorcycle Boy song on the opening night of their first tour proper for the new album in Leeds recently, and you can hear The Pastels and The Primitives too – all seminal pre-Britpop fixtures.
Rankin, though, plays down this apparently encyclopedic knowledge of that era. "I'm still learning about the past and discovering those kinds of bands all the time; it's fun going back and finding stuff you didn't know about," she says.
What the particular appeal of British bands actually is, though, remains something that eludes her.
"I don't know if it's the reverence of the guitar or just the volume of everything that was coming out in the '80s and early '90s. I know I really like those pop structures. I think I'm drawn to some of the more abstract narratives in the lyrics, too. I mean, it doesn't seem as if sex was ever a big part of it for those bands, and maybe that's something that's more prevalent in British music. Maybe I should try harder to figure out why it is. Maybe you could tell me."
Alternatively, she could ask somebody who knows a thing or two about the matter from experience – Norman Blake, who is now officially an Alvvays collaborator. The Teenage Fanclub man has lived in Canada since 2009 in Kitchener, Ontario, about 100km to the west of Toronto. He was introduced to the band's music by his daughter, Rowan, and went on to strike up a friendship with them – hardly surprising, given that imitation is of course the highest form of flattery.
Still, from Alvvays' perspective, having one of the guys from Teenage Fanclub play on your record must be a little bit like if your favourite footballer agreed to line up for your five-a-side team.
"I think one of the first times we met him, we were playing 'Alcoholiday' with him on stage, which was surreal," laughs Rankin. "But, you know, he's shown us how important he is as a human, as well as a musician, with kindness. We didn't spend oodles of time with him but he swung by the apartment late last year whilst he was out in Toronto doing some Christmas shopping, and we hung out for a few hours. He just knocked the takes out, and I'm not sure if we've seen him since, but he's on there, some vocals on 'In Undertow' and glockenspiel on 'Lollipop'. We get notes from him here and there, and he's really encouraging and lovely."
That apartment in Toronto is where Antisocialites really began to take shape, though it began out in Los Angeles with the illustrious producer John Congleton who's cut records for everyone from St. Vincent to Blondie in recent years.
After Alvvays was made with Chad VanGaalen (who recorded Women's debut record) out in Calgary in the dead of winter, the Californian sun should ostensibly have served as a more fitting backdrop for the band's warm melodies. But ultimately, the sessions with Congleton only ended up providing the album's framework.
"We did a chunk of the recording at John's studio in LA for about two weeks, where he was overseeing everything. We got a lot of the beds recorded – a lot of the skeletal elements – and when we got home and listened back to everything, we realised that we wanted to go a lot further with what we had," Rankin says.
"Alec took over the reins production-wise and in terms of the mixing, and we did a whole bunch of overdubs and revisions – I would say that the record as a whole was produced by Alec. John got us off to a great start but we can be really fussy and I'm glad that we stepped up to the plate. Alec in particular had to learn how to do so many things and tackle so many elements of the recording process just to get it to where we wanted it to be."
Rankin's creative relationship with O'Henley effectively serves as the crux of the band. She brings him ideas for songs and he helps hammer them into shape.
It's a working partnership that extends to some of the more extraneous aspects of the music, such as the artwork, which follows in the same vein for Antisocialites as it did for Alvvays in that it incorporates images plucked from old issues of National Geographic. It sounds terribly hipster of them on the face of it but in practice it has produced one of the year's most striking sleeves.
"[A]fter my father passed away it was just my mom looking after us, which meant I'd inevitably end up with time on my own...I would always use that as creative solitary time where I'd conjure up ideas."
"We were looking for a very specific thing, Alec and I, and I felt that picture resonated with us and made us feel something," Rankin says of the photograph they ended up using (of campers looking out over Sebago Lake in Maine).
"It needed to be the right look for this collection of songs so we spent quite a bit of time in various libraries around Toronto combing through old magazines and archives, just cobbling things together," she adds. "There were a lot of runners-up, it should be said, and we ended up putting it all together in the wee small hours of the morning on the day of the deadline. It came down to the wire! But a lot of the process in this band is at the point where Alec's tastes and mine meet in the middle – we compromise, and give each other leeway. The artwork's very much a depiction of that overlap."
In the end, though, Rankin seems to value her solitude when it comes to songwriting and that's not something she's likely to find a great deal of now that the band is back out touring the world in support of Antisocialites.
"Being alone has always been a big part of that outlet for me," she says. "I grew up in a very rural area with a ton of space and after my father passed away it was just my mom looking after us, which meant I'd inevitably end up with time on my own: when she was taking my brother to hockey practice or going to get groceries. I would always use that as creative solitary time where I'd conjure up ideas. When we were touring the last album I had to devise ways to isolate myself in order to write melodies and record them, and I'm going to have to keep doing that. As long as I do, then I don't feel as if the well's going to dry up."
Follow Joe Goggins on Twitter @slimjoegy.