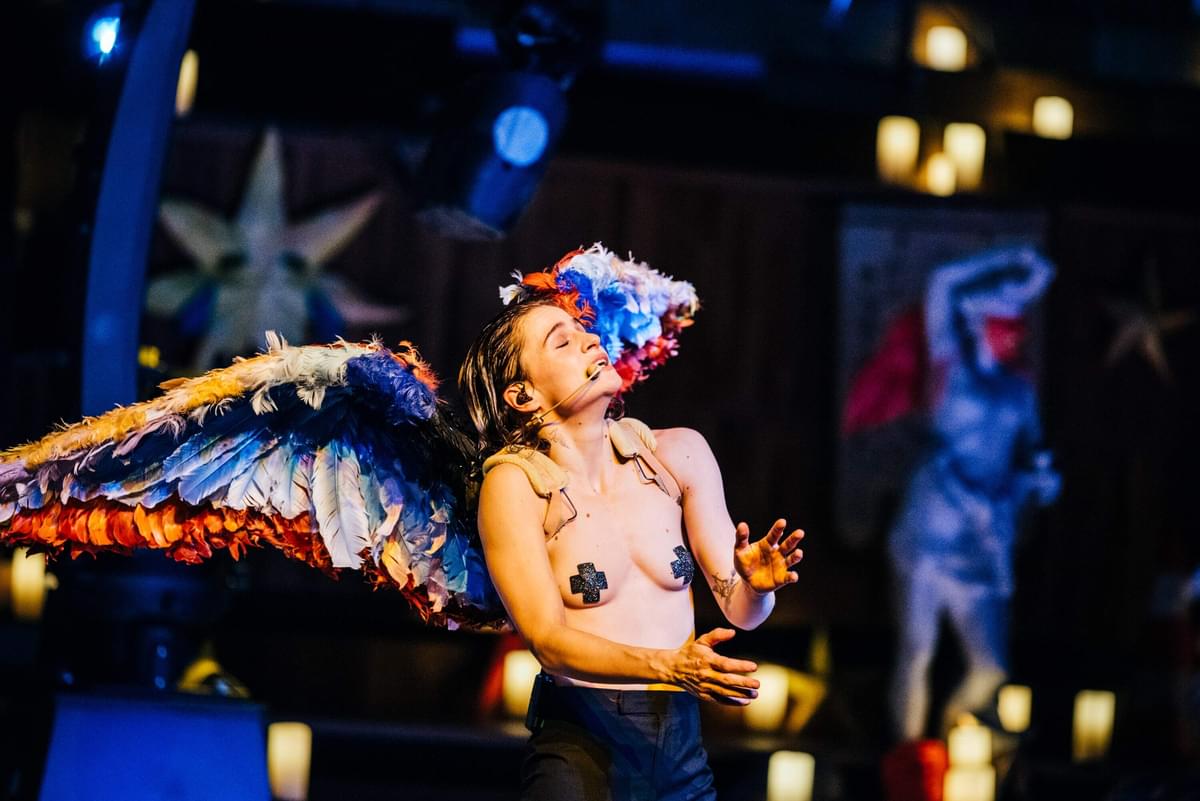 Redcar redefines the live show in hedonistic and dramatic strokes
23 November 2022, 08:00
It's easy to say that Héloïse Letissier is a world away from who he was on his last album cycle (for 2018's Chris), but his performance tonight at The Royal Festival Hall reveals that his new persona Redcar has always been there – he's just finding his feet after cracking out of the cocoon.

In the time he's been away, the Redcar character has been arousing. The name derived after the French musician kept seeing red cars following the sudden death of his mother in 2019, and is a blatant exploration of his galvanizing masculinity (earlier this summer Letissier announced on social media that he is a man and has been using he/him pronouns for the past year).

He struts onto his grand stage - a charismatic ringleader, a suave mid-20th century gentleman, a chauvinistic magician; a man. Cane and all, he's accompanied by a posse of fellow nonconformists who are all masked and dressed in black boilersuits, including a plague doctor and skeleton. The stage is adorned with fake candles, statues of angels and Mother Mary, golden stars and neon lights. Redcar's introduction is a Rocky Horror moment, a visibly queer declaration, preparing you for an evening beyond the tangible.

Note Redcar's first outfit for the bubbling 'Ma bien aimée bye bye' ('My beloved bye bye'). He is donning a scarlet red bra and huge, flowing pearlescent skirt. He peels the skirt off himself - only for it to be wrapped around his ankle, following him about the stage. He finally sheds the weight - a metaphor that doesn't need explaining.

Redcar tonight is not performing a gig, but a piece of theatre. A piece of art. Without his backing dancers of yesteryear, he's on his own and no one else is in sight (bar the aforementioned black boilersuit crew who are just stagehands). His props become his friends - a fountain of youth he is besotted by, an articulate and omnipresent camera crane which he refers to as an angel that curiously surveys his every move, and most notably a giant scaffolding blue crescent moon that dangles on the left-hand side of the stage, which he is so in love with. Redcar caresses the moon and incessantly presses a button on a sound pad that makes it croon 'I love you'. It's clearly a self-induced comfort, a distraction and a dream.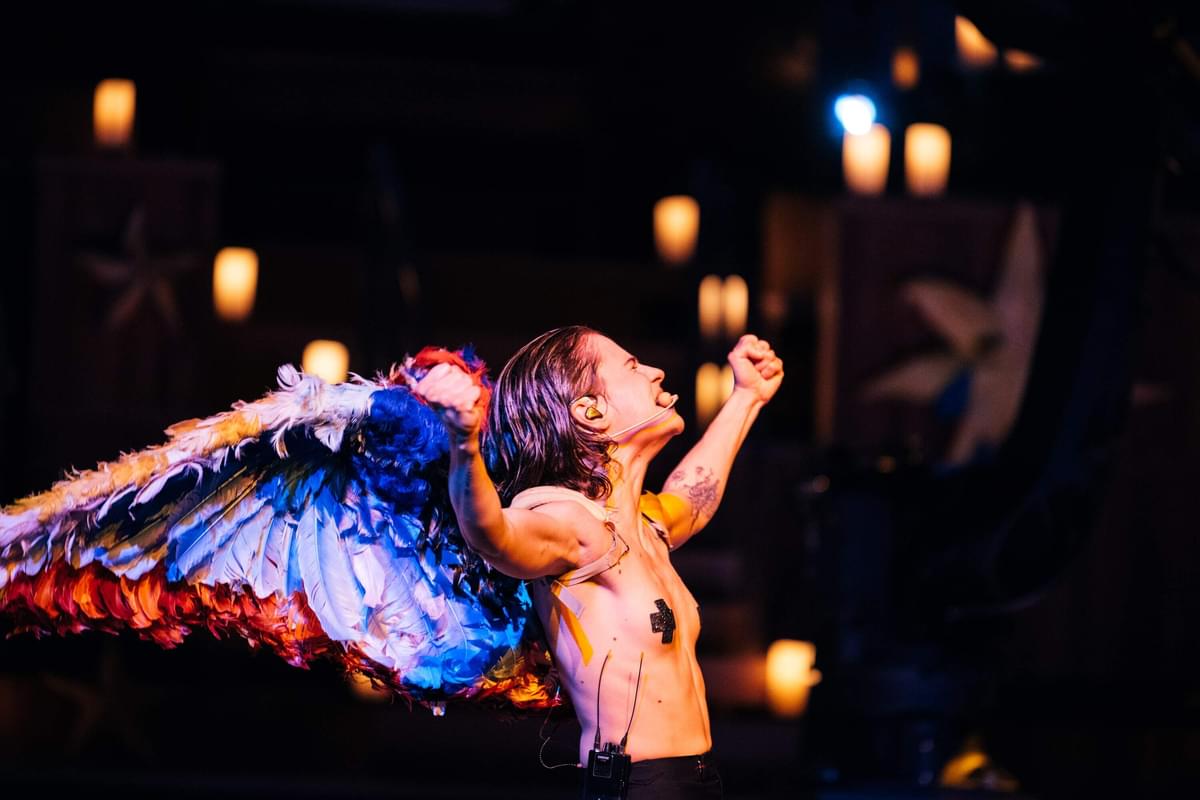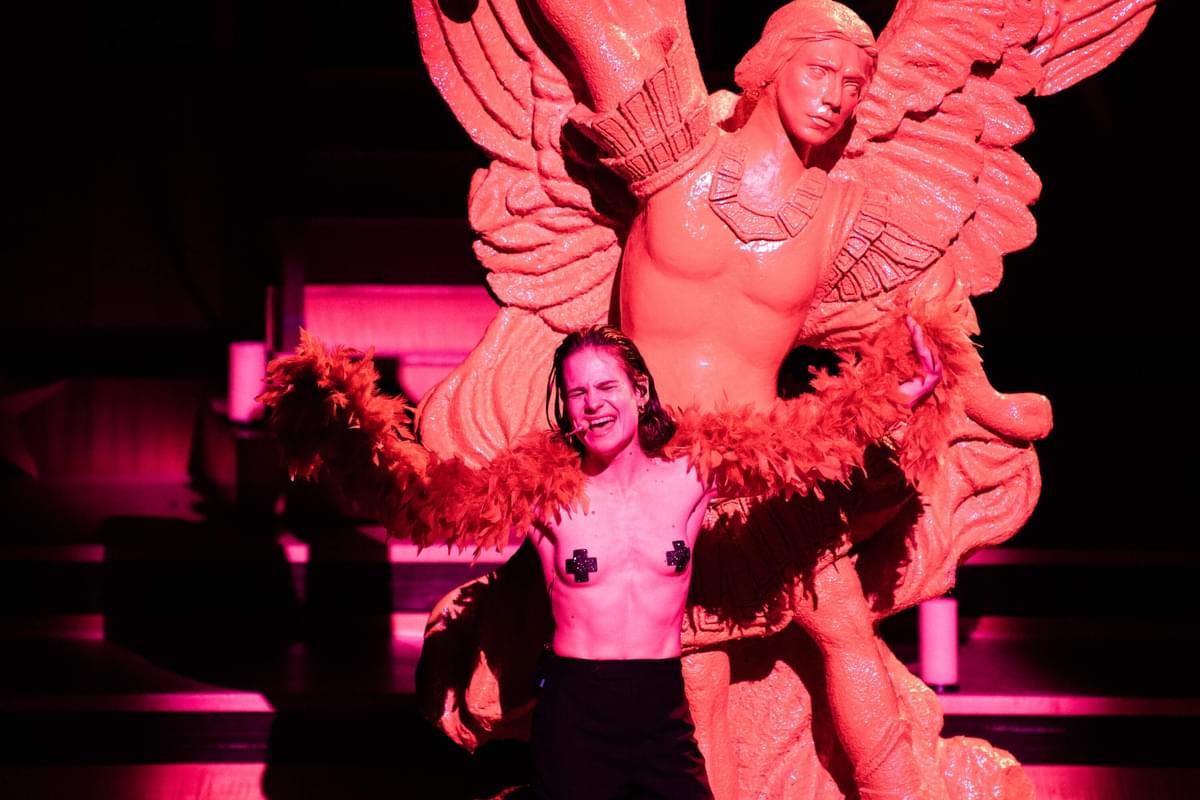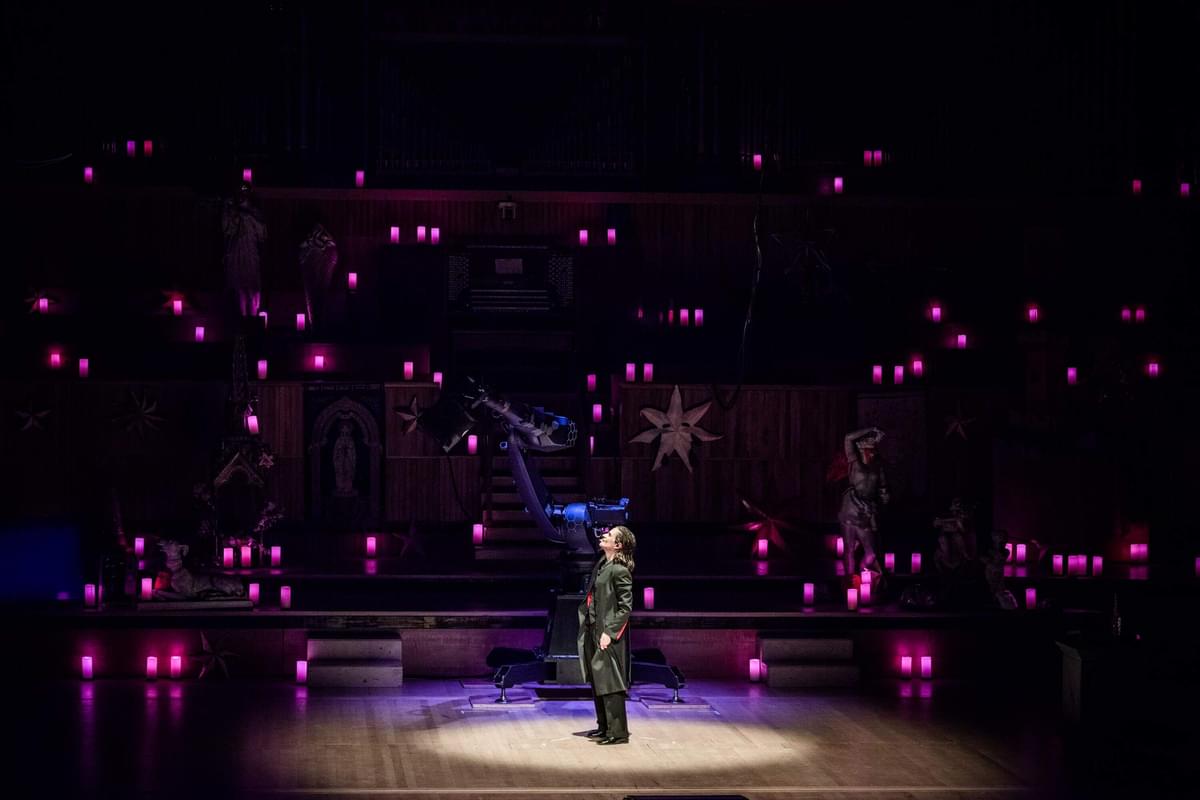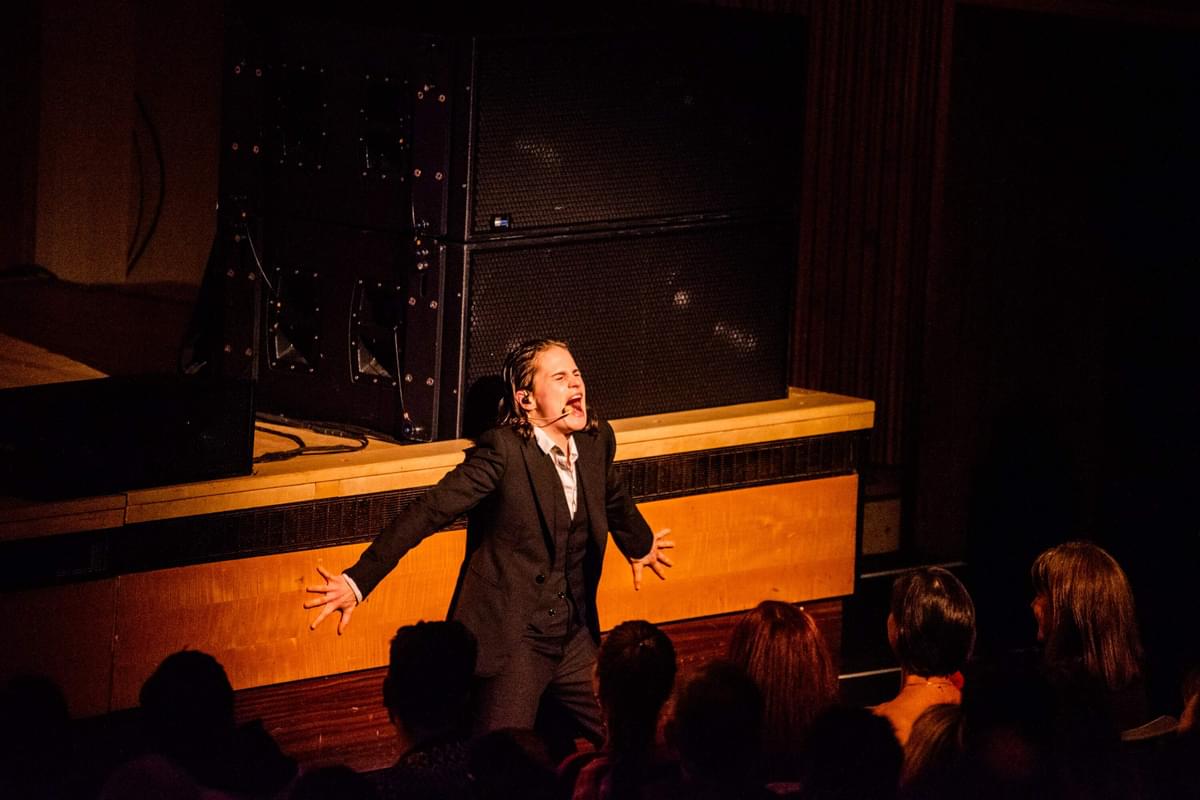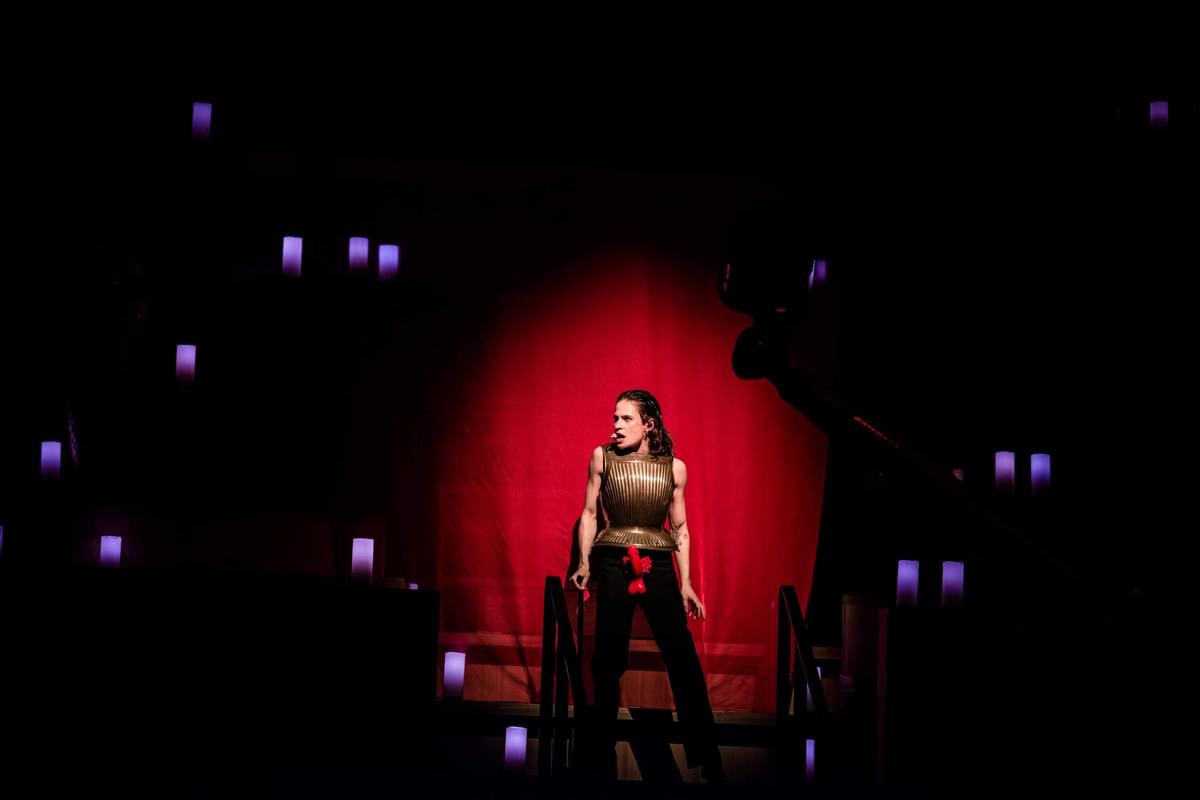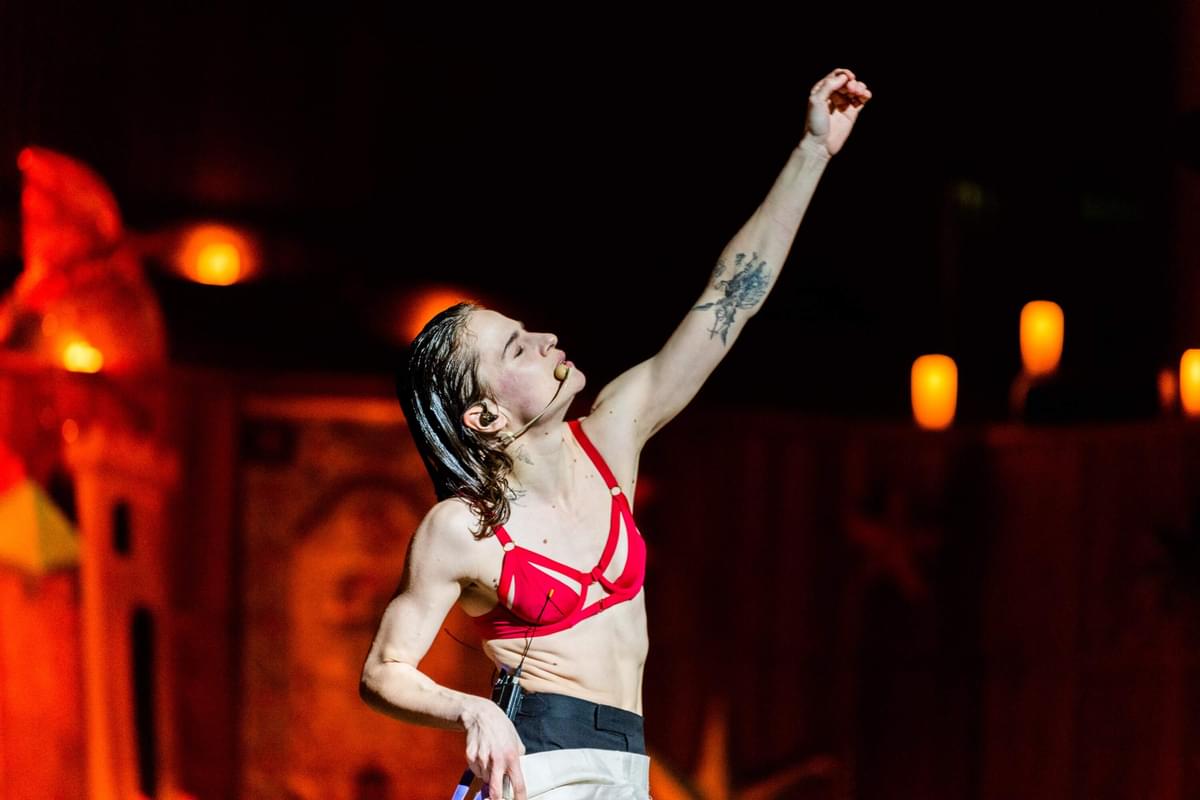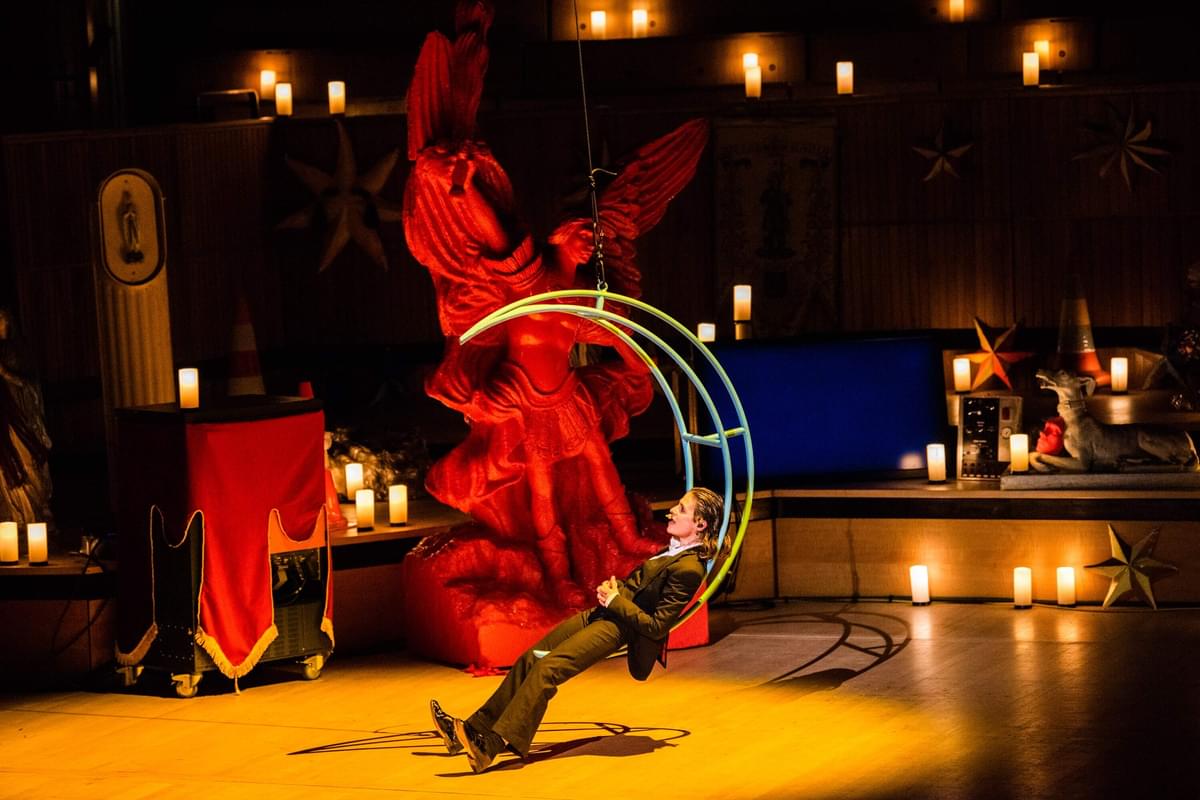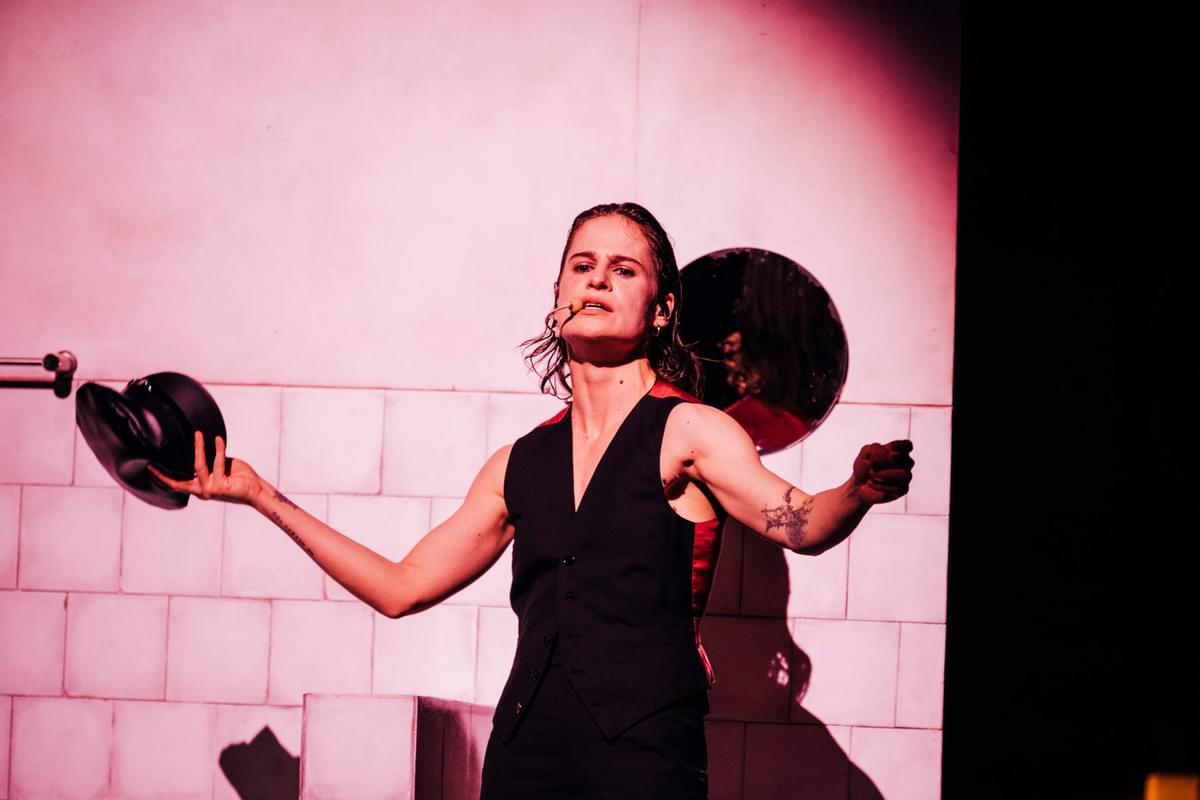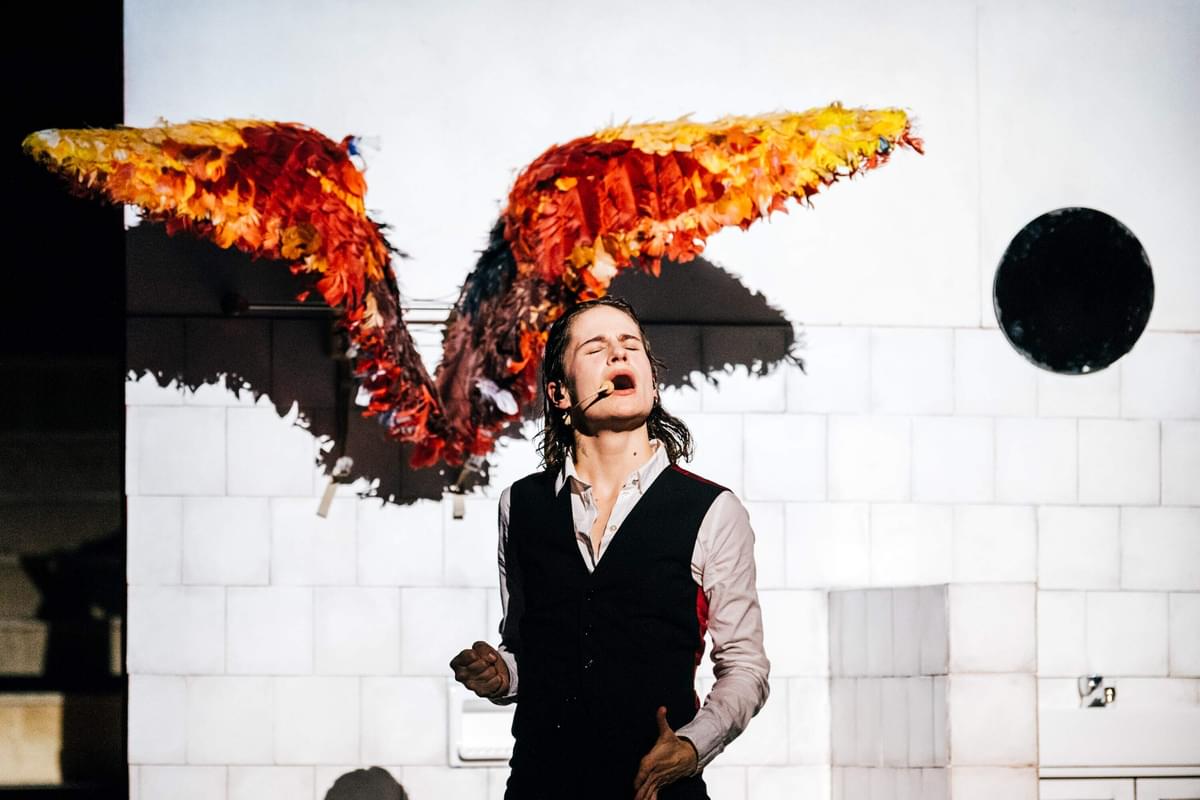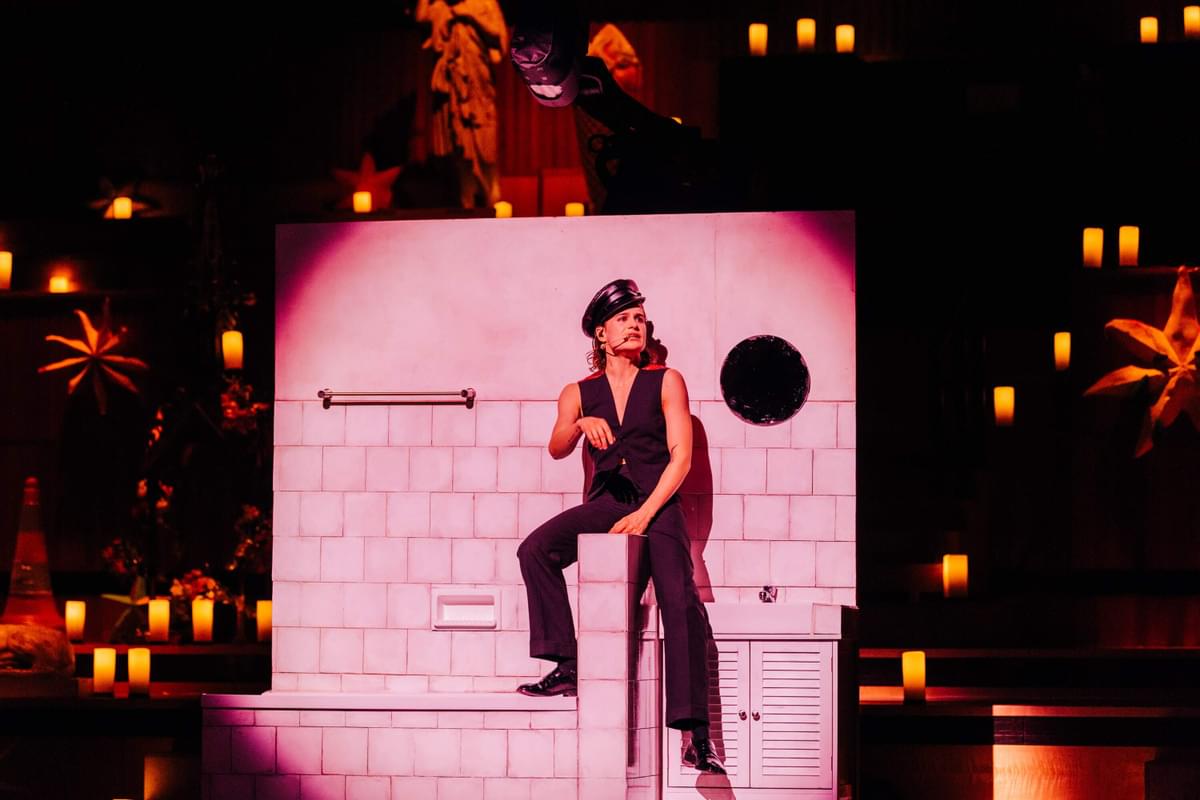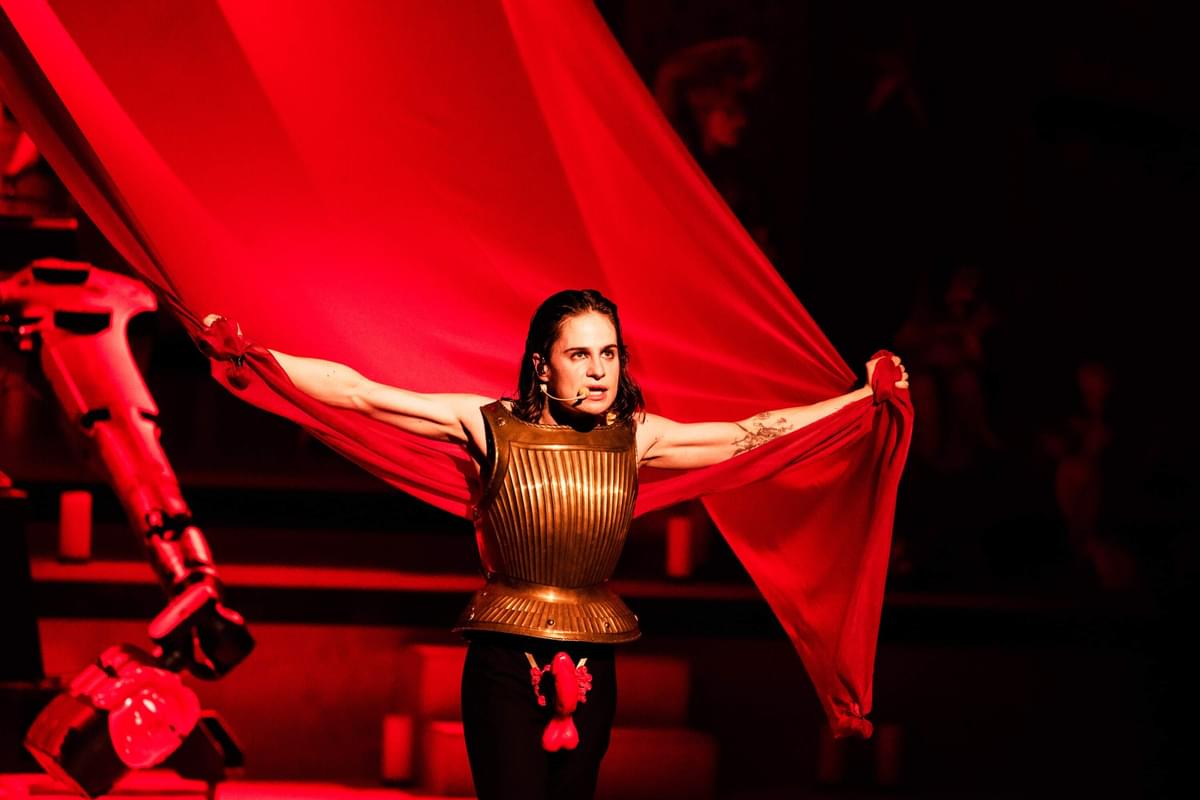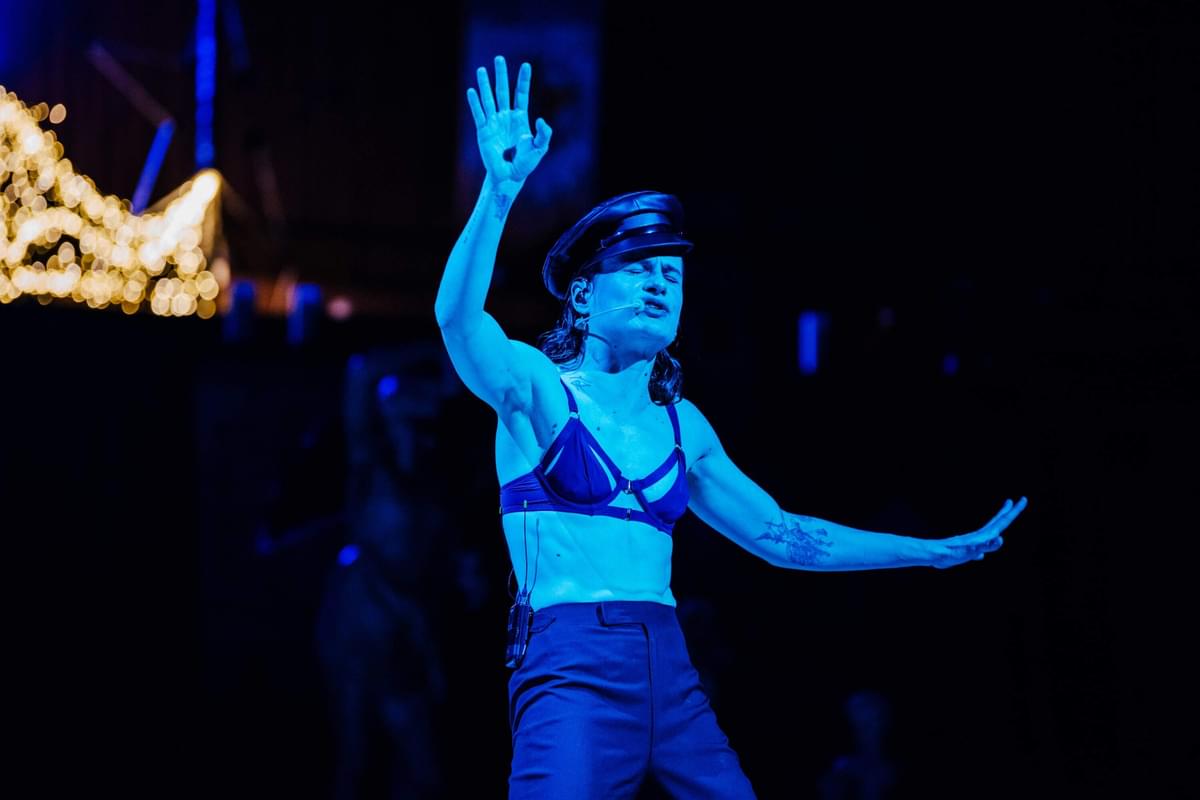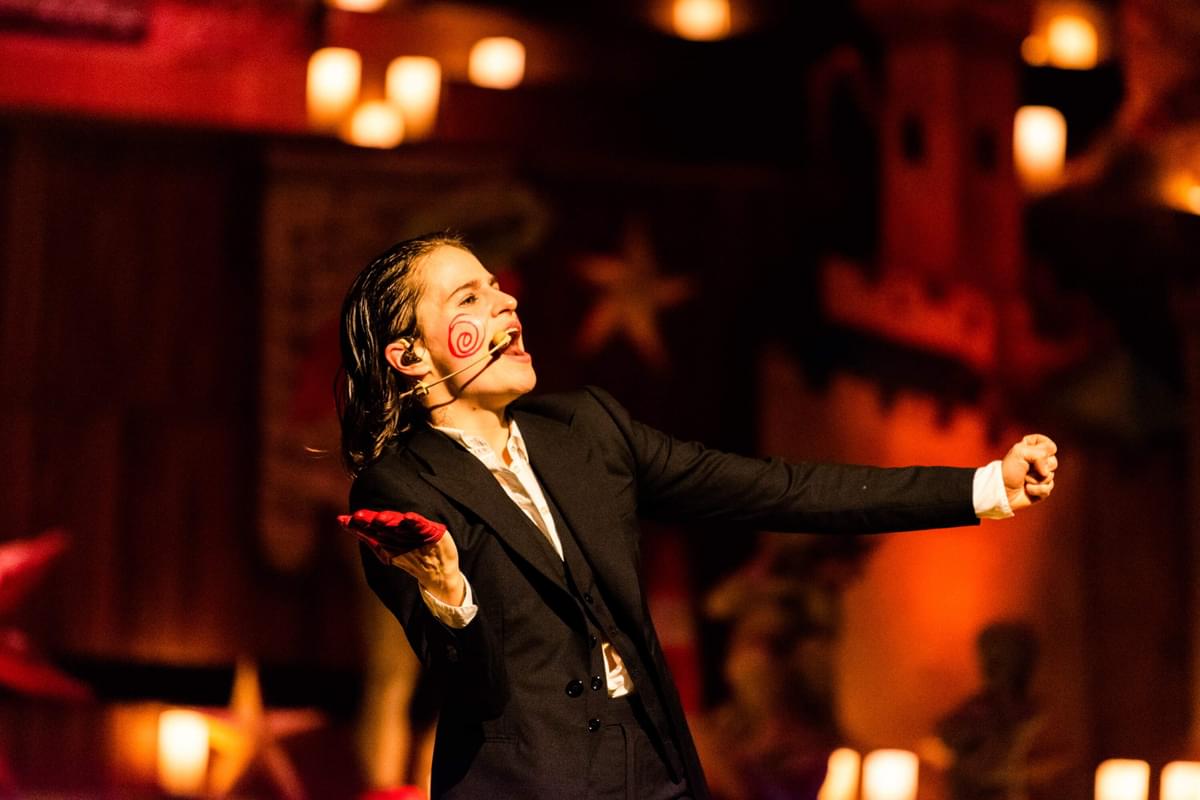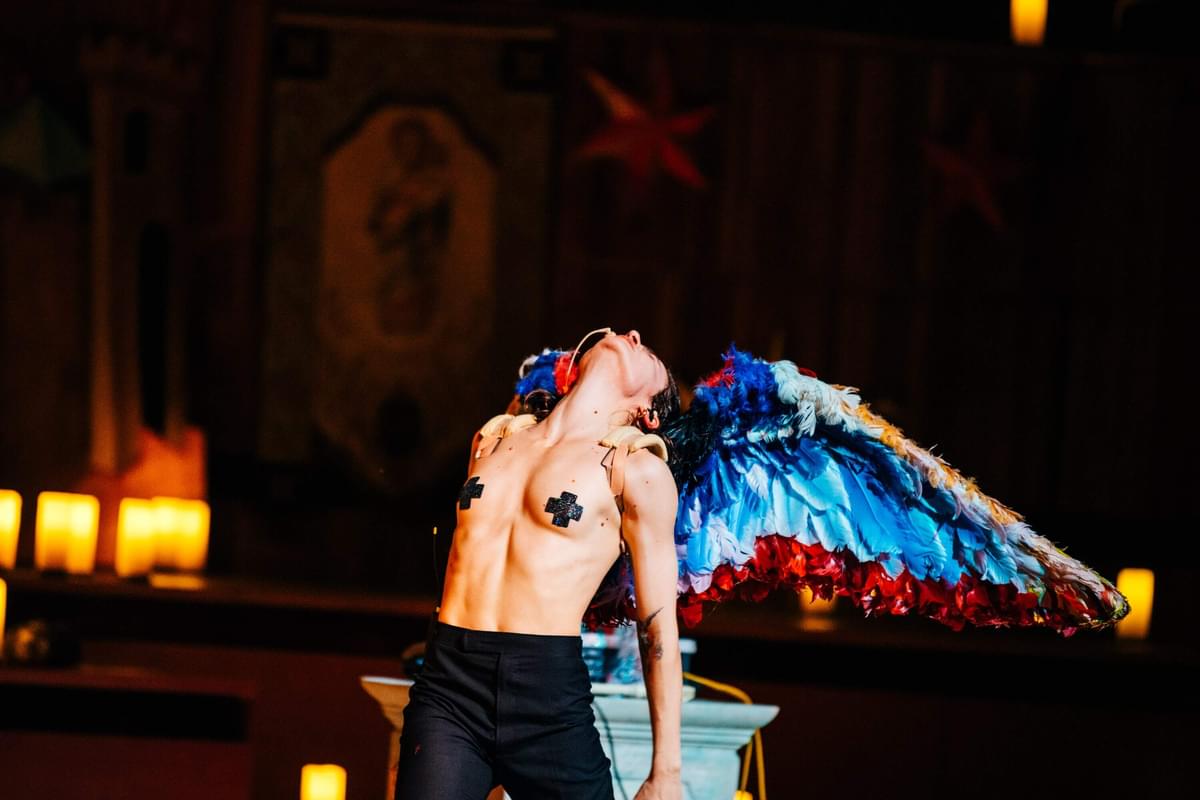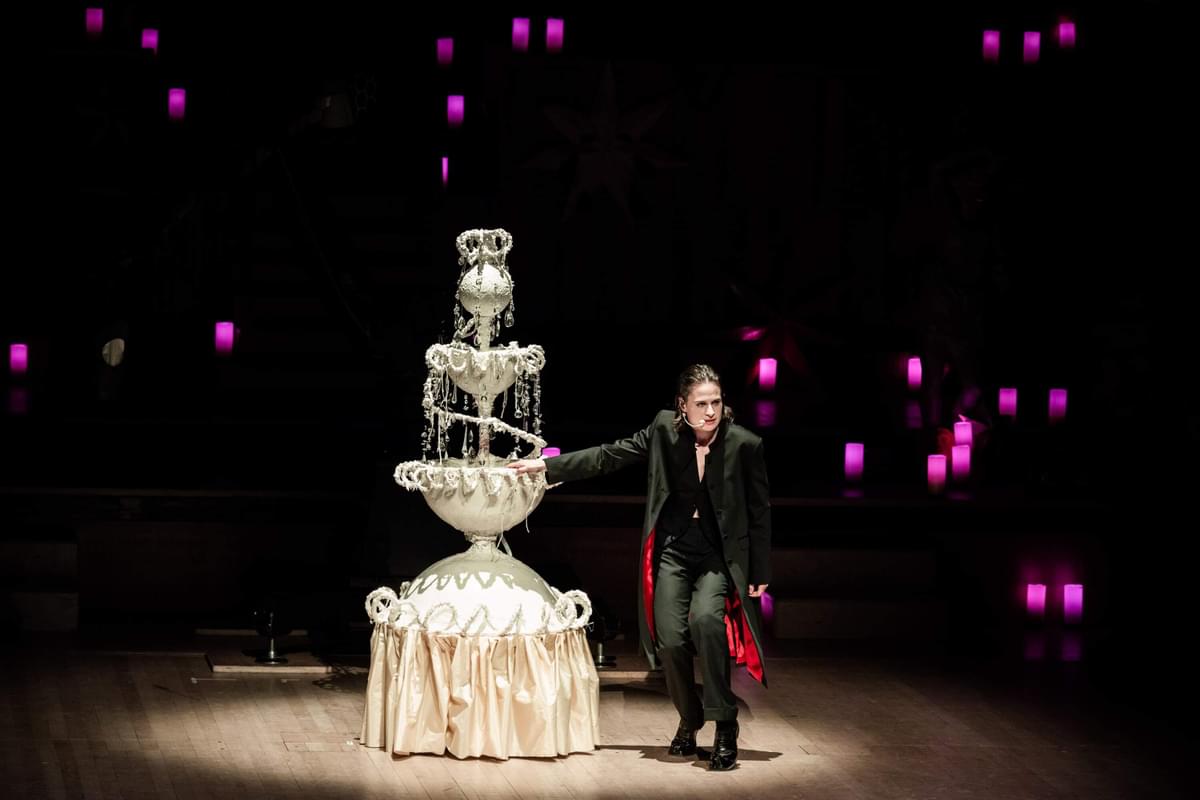 Hedonistic, interpretive, dramatic and excessive. Redcar contorts his body into passionate and loosely choreographed shapes, with his goosebump and almost tear-jerking vocal tone and range narrating the pop opera. The meticulous curation here is beautiful, amplifying the songs which are all taken from his latest album Redcar les adorables étoiles (Redcar the adorable stars). Even though there is no band present on stage (which wouldn't have been a distraction) you're able to hear the compositions to an intricate extent. The dark and glistening, 80s inspired 'Tu sais ce qu'il me faut' ('You know what I need') evokes the seductive and camp machismo of Prince. 'La chanson du chevalier'('The Knight's Song') is an enrapturing, uneasy, and ghostly ambient number, with 'My Birdman' standing out from the set with its sample led celestial hip-hop grooves.

Redcar wants you to get lost and explorative in the sounds and world he's creating, but any answer to what it all means feels plausible, and frustratingly so. He offers mere crumbs during the in-between monologues that also see him crack jokes with the audience (you could say he's breaking character - but is this even a character?) Religion and the divine, alchemy and magick, life and death, outward and inward identity. Whatever it may be, Redcar is on a soul-searching journey, and he's taking you on his ride.

Nearing the end of the show, for the driving yet pensive synth pop ballad'Je Te Vois Enfin' ('Finally I see you') with its chain-like drum beats akin to early Depeche Mode, Redcar is at the top of the staircase in the middle of the stage. He's under colour-changing lights, wearing a gold armour chest piece, and a bright red strap on. Earlier in the show, Redcar wants to reach heaven, and when he doesn't get there, he proclaims to the audience that it's okay because he has all the time in the world. When your imagination is as profound and boundless as this, surely heaven is a place on earth.
Setlist
Ma bien aimée bye bye
Tu sais ce qu'il me faut
La chanson du chevalier
Rien dire
La clairefontaine
Les étoiles
Mémoire des ailes
Looking for Love
My Birdman
Combien de temps
Je te vois enfin
Angelus
Les âmes amantes

Get the Best Fit take on the week in music direct to your inbox every Friday