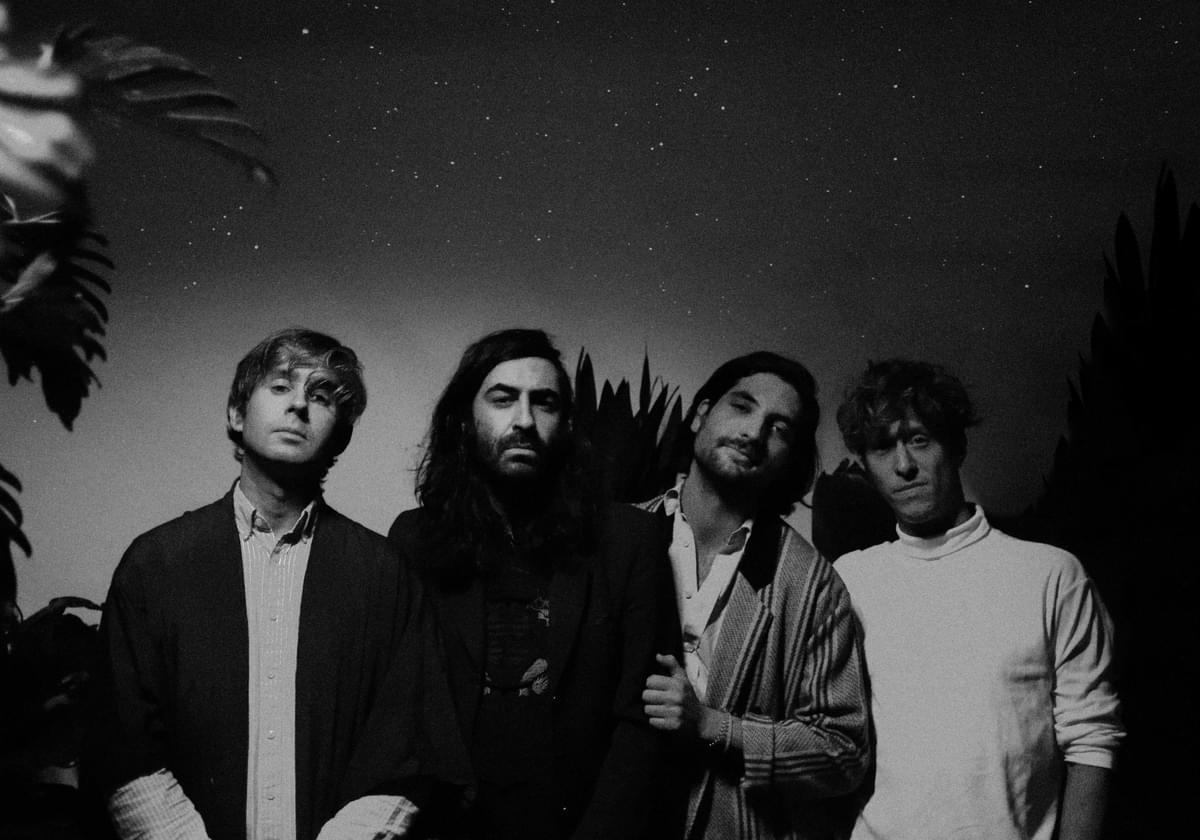 YĪN YĪN are embracing the cosmic energy
15 March 2022, 09:17
On the contrary, they're seasoned musicians who have all been crucial in uplifting Maastricht's music community in various ways. Having been involved in a wide variety of projects spanning different genres, over several years, the four musicians came together to form YĪN YĪN.
Their first offering, "Dion Ysiusk", was the result of a collaboration between drummer Berkers and guitarist Yves Lennertz. The two artists - and avid record collectors - started writing and recording songs in a ballet school situated at the foot of the Plateau of Doenrade in the Netherlands. "Dion Ysiusk" quickly cemented the YĪN YĪN style: a unique fusion of psych, disco, funk and Southeast Asian music from the '60s and '70s. This release was quickly followed by their debut, The Rabbit That Hunts Tigers, in 2019. Supported by the Geneva-based Les Disques Bongo Joe, the album quickly put YĪN YĪN front and centre, alongside psych-rock contemporaries Khruangbin and Altın Gün. Then came an explosive KEXP live set, and the addictive single "One Inch Punch", which continued to grab the attention of global psych audiences.
Despite their seemingly-quick ascent, Berkers explains how all four band members painstakingly learned their craft by organising parties...and plenty of crate digging. "In Maastricht, where we live, it's a little town that doesn't have a lot of discotheques, or nice bars. It kind of forces you to organise your own parties. I lived in a squat that's unsafe – it's an old factory building, and quite big – and I had been organising concerts and parties there more than 10 years ago…"
Explaining how Maastricht's limitations forced them to look outwards, bassist Remy Scheren believes that the internet and globalisation made it easier for them to discover Southeast Asian music. As Berkers puts it, the band is on an endless search for new obscure sounds. Particularly, music that makes people move: "As a DJ you're always digging for new sounds or making new ideas and mixes," he says. "Perhaps also because I played at some wild parties, you really can see which tunes work and which ones don't. So then you get a feeling for music [that] speaks to people, and you can make them move on a dance floor."
What started as an initial idea of doing a "one-off project, just a cassette tape" evolved into Berkers recruiting Lennertz, Scheren, and keys player Robbert Verwijlen who got together to form YĪN YĪN. With interest in the band growing quite quickly over time, they were able to realise their dream of playing Lowlands Festival in the Netherlands. Just as their momentum was growing, they were stopped by COVID-19. "Well, for the first few months, it was a relief," Scheren admits, "because we played so much that you thought we were going to give our bodies some rest, and so we integrated some structures and picked up all of the forgotten hobbies that [we] didn't have time for." However, like every other band in the world, the initial "moment of self-reflection" perspective soon turned sour. "It was really weird to predict this whole COVID process, because things kept getting postponed now it's two and a half years later," comments Scheren, while Berkers brews coffee in the background.
For YĪN YĪN, the experience of COVID-19 wasn't all bad. The multiple lockdowns gave them the much-needed time and space to create their sophomore album, The Age of Aquarius. Simply put, the album is a direct appeal to dance.
The working title was "In Space", and although the band decided to opt for another name, visions of alien parties, space travel, galaxies and space ships characterise the record. In songs such as "Chong Wang" and "Nautilus", there's strong electronic influence which showcases YĪN YĪN's impressive cache of musical knowledge. In "Shēnzhou V.", Italo disco, Harmonia-style electronica and eastern-inflected pop music create a melodious cacophony. There's also a party vibe throughout the record that contrasts with the lockdown-ridden time the album was written in. "I guess the idea started from the fact that we collected more synthesisers, and started to fool around with them – they just sound very spacey if you mess with them, and they also look like little UFOs or space platforms sometimes," remarks Berkers. "Remy and I bought some synthesisers. It's a little addiction, just like record digging. That started the idea to relate the album to the idea of union in space."
Both Berkers and Scheren agree that the limitation of recording from different homes resulted in more experimentation. As such, the album features more samples, drum computers and synthesisers than the debut. "We couldn't record drums, so that's why I programmed digital drums," Berkers explains. "Synthesisers are also easier to record than loud guitars. That was not the main reason, but it came in handy that we had this idea because you can make an album like that much easier at home instead of in a studio." "I think the reason why we went to the space topic is because it really correlates well with percussion," Scheren chimes in. "Usually, before I go to bed, I watch documentaries and stuff [about space] to fall asleep... For me, it was really nice to join [the two topics] because it's just so incredibly vast and three dimensional, and a lot of beautiful colours and stuff that it's easy to [capture] somebody's imagination... also dystopic because it's so mysterious, and yeah, it really does grip somebody's fascination."
Cosmic appropriations of time appear throughout the album. The album name itself, The Age of Aquarius – popularised by the 1967 rock musical Hair – symbolises the beginning of a new era. The astrological age is associated with harmony and understanding, compassion and trust. According to leading astrologists, 21 December 2020 marked the dawn of the age of Aquarius. For YĪN YĪN, it indicates the time when the record started taking shape. "Maybe it was also, unconsciously, a desire to run away from the whole COVID situation and go as far as possible in space," admits Berkers. The pair jokingly ponder, "Maybe you don't need to wear the masks on Jupiter!"
Sampling is an integral part of The Age of Aquarius. In addition to adding a cosmic touch to the record, it also expands the sound; adding a certain textural richness that signifies an evolution to YĪN YĪN's.
"On the first album, we sampled Bruce Lee," notes Berkers. "[Back] then, it was just an addition to the instrumental music. For this album, we really worked with a lot of samples – almost every kick drum and snare drum on there is a sample." "Faiyadansu" is a clear example of YĪN YĪN's sampling wizardry. "I first programmed a beat with 808 drums. Yves recorded guitars over that, and then we found some great vocal samples from a lady on YouTube who teaches the Thai language, using phrases and words that all have something to do with enjoying food." I wondered if this fascination with sampling is due to the fact that YĪN YĪN has no singer. After pondering the question for a bit, Scheren replies, "No, but I think it's very convenient for us that we can sometimes use vocal samples to tell a little story." Berkers adds: "It never replaces something different, but I see that it takes kind of the role of [the] vocal."
The sampling conversation quickly shifts to Italo disco: a music genre that originated in Italy in the late 1970s and gained popularity in the early 1980s. The genre evolved from the then-underground dance, electronica and pop before becoming its own genre. It's popularity is in-part due to its unique use of drum machines, synthesisers, electronic drums and vocoders. Berkers cites the American songwriter and record producer Man Parrish and Italo disco classic "Spacer Woman" as influences. "It's not only electronic music from Italy, of course, it's also German productions or American productions. [In particular] the old electronic vibes from New York and Brooklyn, from the early 80s."
The mid-part in "Shenzhou V." is a clear representation of the band's production prowess. It's also an example of how YĪN YĪN use production to create a quasi-visual metaphor. "It's just one tone, but I always get a vision that you're in a spaceship between rocks or meteors that come your way; you're kind of in a dark area and you finally get to some new planet or some new entity in space that you discover," says Berkers.
The Italo disco influence extends beyond production. It also encompasses the feeling that YĪN YĪN want to convey through the album: the sense of escapism through dance. Berkers explains how their collective experience organising parties led to music that wouldn't be out of place in a house party playlist. "We saw that people are really willing to dance at our shows now because before, we were playing and people were just standing still and watching. From playing in different bands, we discovered that people actually flipped out at some shows and from that idea, we started making the new album with the idea that we are going to perform it live and people [just] want to have a good time." Scheren nods and using "One Inch Punch" as an example, adds: "I guess it's because it's such a repetitive melody that is just slowly building up that it's kind of like a DJ track."
That last sprinkle of cosmic dust needed to finalise the record came by way of a close friend of the band. "We did the final mix with Gino [Bombrini] who is a very dear friend of ours – he also played percussion with us live – and he joined for the last mixing process. Then a good friend of ours in Mannheim, Germany, did the mastering. It's a very, very small circle of people," says Berkers. The theme of "keeping it in the family" also extends to their label, Glitterbeat Records. Although highly influential, the German label is relatively small. However, its specialisation in vibrant global sounds is what drew co-owners Chris Eckman and Peter Weber to YĪN YĪN.
Berkers mentions the band agreed to work with Glitterbeat Records after confirming that their values align. He notes, "There was no interference with the music. It's nice to see they're very enthusiastic and they work hard. They're super happy to release the album. Whatever it brings us, we have to see."
As for the future of YĪN YĪN? In addition to their current tour, which sees the band traverse the UK and Europe, YĪN YĪN will be heading across the pond next year. While mentioning the US, both Berkers and Scheren remember a story of how one of their American fans wanted to use one of their songs as a soundtrack to a screenplay. But it wasn't just any screenplay…
"She was envisioning a cowboy riding his horse in space!" exclaims Scheren. "So if we ever play in America, we would play "Pingpxng" [one of their earlier releases] in a screenplay." Jokes aside, YĪN YĪN's unique outlook is what makes their music so appealing. And if their previous work is anything to go by, YĪN YĪN's rapidly-growing fan base can expect more psych-rock escapist goodness for the years to come. Goodness known, we all need an excuse to dance!
The Age of Aquarius is out now.
Get the Best Fit take on the week in music direct to your inbox every Friday