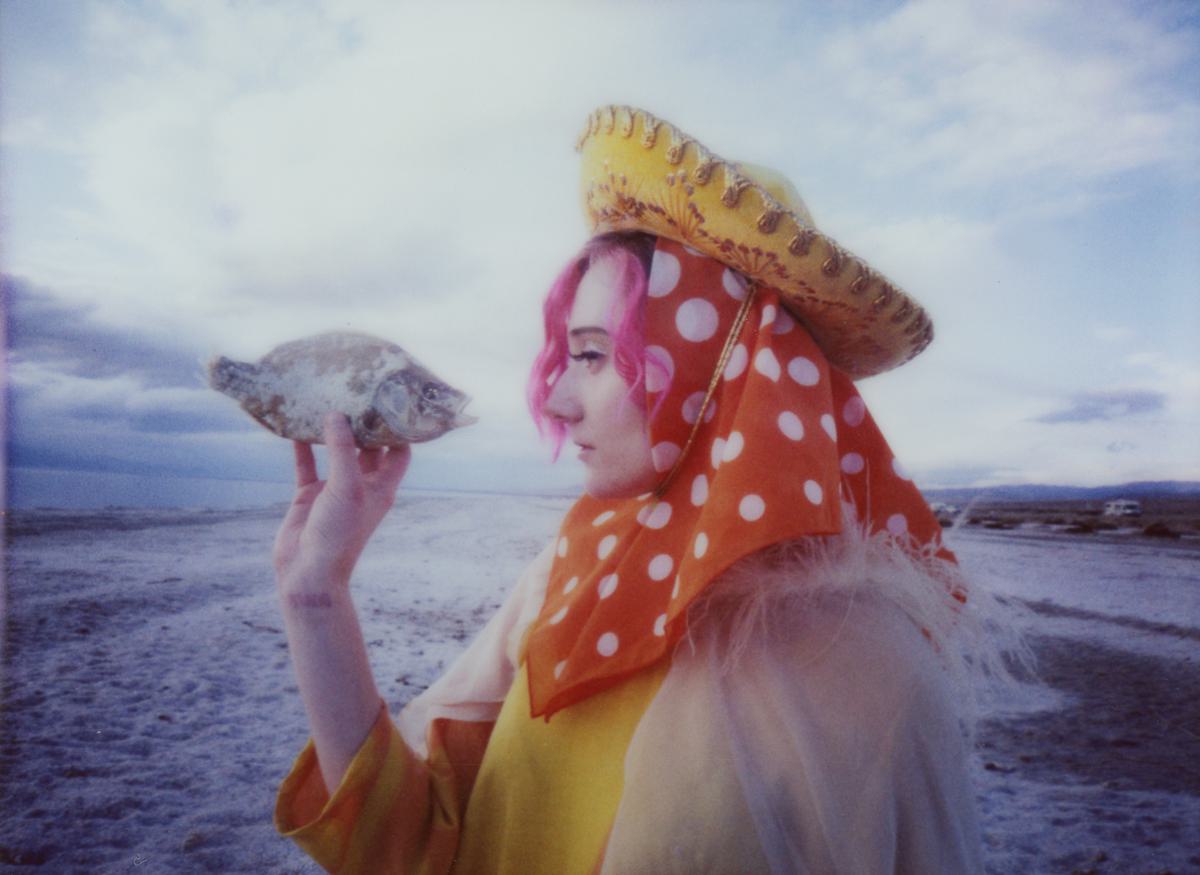 Why We Should Listen To Survivors And Jessica Lea Mayfield
06 June 2018, 07:30
"So, at this show the other day, I go to set everything up and then I touch my mouth to the microphone and I get electrocuted. Like, woah that just shocked the fuck outta me. I've never been shocked that bad. Then the guy goes, 'well maybe it's your pedals', so I bypass the pedals and then I get shocked again. I bypass a couple more things and keep getting shocked, and by that point I'm in tears. It's like, I'm not testing it anymore".
While she's telling me this story, Jessica Lea Mayfield keeps pausing to assure me "I'm not being dramatic". Her friend and drummer Chase makes sure to corroborate: "Seriously, I touched the microphone and I got shocked to shit, too".
"They didn't really take me seriously" Mayfield says. "Then the opening band, who were four or five dudes got shocked so then the organisers decided that they were gonna cancel the show. The electrocution was dangerous because men were getting shocked. A guy touches something, says 'ow' and then everything's over."
Mayfield tells me this as we sit drinking hot toddies on a busy sidestreet in Soho. She wears rainbow coloured Doc Martens and a pink, furry cossack with a patch that says "Don't Pet Me I'm Workin'" sewn onto it. We're also joined by two dogs that I brought along. The first, a Chihuahua-Daschund cross named Violet Chachki shakes with anxiety, and Mayfield takes a shine to her immediately. The other is a long haired Daschund named Biggie Smalls who is cool and debonair and who I would describe as 'sexy', though Mayfield disagrees. "The dog keeps giving me bedroom eyes, like he's saying 'come fuck me', but I can't because he's a little dog".
She takes strained tokes of marijuana through an apple as tourists walk past. Why the apple? "Well I'm not into potatoes and it's the easiest thing to carry around when you're touring. Plus if I had two of these [she gestures at the hot toddy] I'd be fucked all day, but weed isn't exactly going to make me beat my wife." Chase and I laugh a mixture of nervous and actual laughter.
The last time I spoke to Mayfield was sometime in August 2017, when she was preparing to move into the second house after leaving her abusive husband. It was also a month before the release of her fourth album Sorry Is Gone, a statement which celebrated her escape from her abuser as much as it admonished that what happened to her wasn't a sole experience. That in fact, domestic abuse occurs on a scale far larger than we care to know about.
The album is told with a persistent, unflinching sadness that is so rare in music written by women that there's hardly a narrative for it. While her heroes Kurt Cobain, Chris Cornell, Elliott Smith have been beatified as patron saints of sadness and gentleness, the women who were beside them are chastised. When these men touched their lips to the microphone it was all over, but when a woman does the same we don't extend the same belief and gratitude.
"I've had a comical amount of bad things happen to me. Like even my therapist has said 'why does this stuff keep happening to you?" Jessica says, laughing through the words. The responsibility for her pain has been put on Mayfield, and the men who have inflicted it upon her have mostly gone unchallenged. "It's down to the woman, they're expected to say something like 'I'm not gonna take it anymore, I'm gonna tell him to leave", and it's like, why isn't a mom raising her son not to do that in the first place?"
We're speaking during the so-called post #metoo moment, a time in which we've reified our popstars and victims of domestic abuse as bastions of resilience and empowerment. And that's the part we don't speak about - how the movement has put an increased pressure on women to consign themselves to this narrative. It's put the onus on the victim again, as though it's their responsibility to get over it, to write songs that derail the conversation, to sing only about the leaving and not the oppression; the staying.
"Yeah and that's not honest", Mayfield says as she cradles Violet Chachki in her arms.
"I mean, we are changing, we can talk all day long if we want to, but men are the ones who need to change their behaviours and their crimes against women, because most crimes are men against women. It gets really convoluted and the more you're in a relationship, whatever's happening, whether it's family or anything, you wanna protect them even if they're hurting you."
"The first abusive relationship I was ever in was with a guy who's now in prison for murder. That was eight months after I left him."
It's this fundamental lack of understanding from outside parties that has isolated Jessica and victims like Jessica in their deeply traumatic and oppressive situations. "People think that women just bring it on themselves, but leaving is a bit like cutting off your arm, walking away and just leaving it there. It's not an easy choice, and it usually takes women seven times before they leave an abusive relationship. It's as hard as the decision to never talk to your mom again"
To believe in someone else's pain at all is to strain the limits of empathy. To believe in women's pain is a radical act that is now more necessary than ever. "Are you crazy? That's what my friends say. 'Why do you go back to him anyway?" Mayfield sang on last year's "Too Much Terrible". It's the prevailing attitudes towards victims of abuse. Women who stay are punished as though it's a choice made of freewill. But even when your lover is abusing you "you still have that desire to protect them" she tells me "because you love them, and they're telling you they're not gonna do it again, that they made a mistake, but there it goes again and again, and everyone is telling you that you need to call the cops, that you need to do something."
It's a pattern that's been normalised for Mayfield. "The first abusive relationship I was ever in was with a guy who's now in prison for murder. That was eight months after I left him." She speaks without hesitance, in the same way that people describe the dream they had the night before. "People don't realise there's that manipulative stuff too. They say they love you but also that if you ever leave them then they'll kill your six year old nephew, or put your cat in a bonfire, which he also threatened to do. Actually, he said that he'd put my cat in a fire and then hid my cat from me."
Mayfield's terror was laid just as bare on her previous album Make My Head Sing. "Yeah, that album was just like 'heeelp meeee! Heeelp meeee!'", Mayfield titters as Violet squeals alongside her. "But when I recorded that I couldn't really talk about what was going on at that time, and I got really into playing the guitar, so I just started speaking through it. I wrote all of the guitar first and lyrics second, and those lyrics were definitely about domestic violence." In hindsight, the call for help beams brighter than a signal flare. But at the time, no one came to her aid. Her fans, including myself, didn't strain to hear the real root of her pain.
"Yeah, no one got it. I think lines like 'nothing's right, the ball and chain's been wrapped around my neck'... Those went under the radar a little bit! Y'know and, 'Do I have the time to clean the house before I kill myself?'"
For some reason we're all laughing. We're laughing at the lyrics, the ignored cry for help, the album cover which Jessica drew herself (a self-portrait of a hand covering her mouth as tears stream down from her eyes). "It's like when you look at children's drawings and analyse the problems at home" Chase says "'Aww these have a lot of frownie faces, what's going on there?'"
"The funniest thing in any language, in any culture is dogs in sunglasses..."
All the while Violet Chacki and Biggie Smalls yelp in the background, as though they're in on the sad joke. "Wanna know a fact?" Mayfield asks. Sure, I say, thinking it'll be a domestic abuse statistic. "The funniest thing in any language, in any culture is dogs in sunglasses...It's just SO whacky!" She says as she props up the dogs' paws, giving them her cheek to be kissed, sharing a secret language with them that no one else can comprehend. She starts to sing "The Star-Spangled Banner" and Ms Chachki join in. Her yipping is serene against Mayfield's baritone: "Oh say can you SQUEEEEE!"
"If the show doesn't feel good then I imagine the crowd is a bunch of dogs," Mayfield tells me, and whens she plays tonight in Soho, the crowd stands back like toothless houndogs. We give her everything we didn't when she needed it most. When she performs "WTF" (an acronym for 'white trash fighting') we chant alongside her, "Get out of my, get out of my, get out of my house!"
We're always on the side of the victim once they become a survivor, and that's what Mayfield is. I watch her with the dogs, I watch her up onstage, and she's not just surviving, she's really living. She's laughing, charming, caustic, hilarious. In fact, she's in the same league as her heroes. Now the world just needs to treat her in kind.
Sorry Is Gone is out now on ATO Records