Rarely do you read a review or interview with The Charlatans nowadays without it being preceded by the words "brit-pop legends" or, as Tim Burgess states here in this interview, "Madchester survivors". It would be more annoying if it weren't so true. Back with their eleventh studio album Who We Touch, The Charlatans still have more vigour and spunk after spending over 20 years in the industry than most emerging artists could ever dream of. Of course, there have been some misses and mis-judged releases over recent years – but can you name a single band that has spent the same amount of time working with each-other without releasing a few unfortunate stinkers. Doubtful.
The good news is that Who We Touch finds The Charlatans back to their creative best. Featuring the most refreshing set of songs the band have delivered in around a decade; The Charlatans are currently experiencing somewhat of a renaissance - both critically and musically. I recently spoke with the bands front-man, the Benjamin Button of the indie world – Tim Burgess – who seemingly gets younger and younger looking with every release. Now in his forties, Burgess talks about the inspiration behind the new record, the recent celebration of 20 years since their debut album and how they are still lumped in with the Madchester scene of old.
Hey Tim, congratulations on Who We Touch – it's a great set of songs, perhaps the bands strongest work in 10 years? At the time of writing this interview you're currently sitting pretty at number 8 in the mid week album charts. Good to be back?
Thanks, I'm really happy with it and yes, it's always good to be back!
Looking back over the past couple of decades, how do you think Who we Touch holds up against the rest of your back catalogue?
I am pretty optimistic it will stand up there with our best stuff… It's real! It's emotional and it's raw!
Throughout the 10 songs there really seems to be a reinvigorated sense of hope and joy pumping through the albums core. Perhaps even hinting back to the care-free nature of your mid-nineties output. Would you agree?
It's hard to tell! I felt the re-invigoration began with You Cross My Path which to me was our best album since Wonderland (2001). With this record I just wanted to make it more exciting and create more of a band feeling than that of You Cross My Path which was essentially a more electronic sounding record.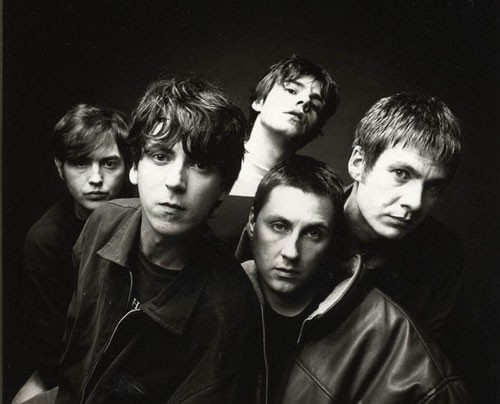 The Charlatans, circa-1995
With each release you tend to opt for a different style of song-writing. From the soul inspired Wonderland, the Dylanesque nature of Us & Us Only to the more recent reggae-isms of Simpatico and New Order-like You Cross My Path. As a band, is it a conscious decision to direct the record towards a specific path, to keep it more interesting and fresh for you as musicians or does each record tend to take it's own form, on a natural course?
I personally need to have an idea or at least an outline of an idea to get me going. This outline forms the very basic concept and shape the album will be. Loosely, You Cross My Path was a modern northern post punk album – or as you put it, our New Order inspired album. Wonderland was very much about letting the city of Los Angeles become the soul/vibe of the album. That was the outline. The Charlatans self-titled record was very much inspired by the film Pulp Fiction, or maybe Reservoir Dogs and became our imaginary grimey epic film. In hindsight, Simpatico was perhaps only half realised because of my dark period with drugs – I just couldn't fight for what I believed in…. Adrian Sherwood should've always done that record. If he had, it would have been a masterpiece.
What would you say was the main inspiration behind 'Who We Touch'?
The outline was european soul music but stylistically this record is all over the place…! It has elements of The Beatles, Eno, The Kinks and Cluster but my soul is at the centre of each track; yearning, vulnerable, powerful, angry….. I realised my responsibility as an artist and went for it.
You recently celebrated 20 years since Some Friendly was released by playing the record live, in full at Primavera and the Roundhouse. Obviously a couple of songs have been in your live set for your entire career, but how did it feel revisiting tracks like 'White Shirt' and 'Polar Bear'?
'White Shirt' and 'Polar Bear' were highlights along with 'Flower'. I expected to feel nostalgic but they all felt very powerful and of the present.
Did you ever think about revisiting some of the visuals of the Some Friendly years for these shows? The Clockwork Orange stills and oil lamp projections – to set the scene, so to speak.
The oils and the visuals were supplied by Captain Whizzo who unfortunately passed way mid nineties or else we would've got him along to the Roundhouse. He was an authentic cat – he was the shit!
The deluxe edition of Some Friendly really threw up some great bonus material. Those Peel sessions in particular were great. Can we expect the same treatment from the rest of your nineties output?
It's totally up to Beggars Banquet and 4AD…. I am into it!!!
Since you guys first started out, you've always retained a viciously loyal fan base – especially as a live act. Do you still get the same buzz after all these years when taking the new songs out on the road?
Yes, definitely!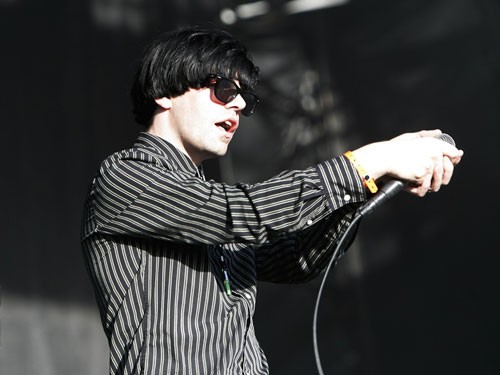 Speaking of live shows, you've stated on several occasions in the past that your personal favourite Charlatans show ever was at Trentham Gardens back in 1994. Is that still the case or has the mantle been passed over now?
Trentham Gardens was definitely an event, but Primavera is my favourite by far. In fact, it's just my favourite festival. I'm going to go there every year.
Throughout your career you've often been lumped into the Manchester scene of old. Considering you're from Cheshire and the rest of the guys (bar Mark) are from the Midlands, over the years has this been a help or a hindrance?
I'm from Salford (Greater Manchester) but brought up in Cheshire which is about 18 miles away from Manchester. I was always happy to be associated with the Manchester scene to be honest. Our old manager (Steve Harrison) was based in Northwich (Cheshire) so we based ourselves there. We used to sleep in his record shop (Omega Records) after gigs, that was our base. The only hinderence is the confusion… No one knows what to call when they do a run down of the best bands from Macnhester. They don't know whether to include us or not – which to me is dissapointing, especially when usally the first line of a Charlatans review begins with *MADCHESTER SURVIVORS*. I personally always think of us as a Manchester band.
Back to Who We Touch… You brought in Youth to produce the record. What do you think he brought the recordings?
He is great with arrangements and a cosmic guy. He gave us some great knowledge and I love him.
Lastly, what new artists can you recommend to our readers and why.
Tame Impala, Factory Floor, Blue On Blue, Flats, Toro Y Moi…. All very different but all highly individual… Like me!
Thanks for your time!
Cheers Rich.