It's been over two years now since Icelandic 20-year-olds For A Minor Reflection released their self-produced debut Reistu þig við, sólin er komin á loft… (Rise, the sun's up…) that was recorded in merely six hours. Since then the Icelandic economy has collapsed, a volcano has erupted and drummer Jóhannes Ólafsson has left the band. "Jói wanted to do something else. I think he wanted to focus more on his studies. We played our last gig together last night. It was really weird and surreal in a way, but he's still a good friend" guitarist/keyboardist Guðfinnur Sveinsson explains. Now FaMR have got a new drummer, Andri Freyr Þorgeirsson, and a sophomore album called Höldum í átt að óreiðu (Heading Towards Chaos). "Andri is a completely different drummer. He's a little bit more 'hardcore' than the rest of us – which we love. It's fun to play with him. He wears torn tops, he's hairy and always so sweaty," Sveinsson jokes.
Höldum í átt að óreiðu was released in Iceland on 11th June. This time around FaMR seem to have taken their time to record it and also hired a proper producer to do the job, Scott Hackwith, who's worked among others with The Ramones. "Our manager met Scott at a party. Then he came over to Iceland for the recordings, it was really fun. He guided us through the whole process and encouraged us to try out new things. We recorded so many different instruments: Hammond organ, lots of piano parts, and more guitar lines." The recordings started nearly a year ago, in August 2009, and took about four weeks: two weeks in Sundlaugin Studio and then two weeks in L.A. "We just wanted to go with the flow and expand our sound. Try and do more diverse stuff, which I think we managed to. We have quieter songs, rockier songs and less of the typical post-rock stuff. We spent more time thinking about song structures. We tried different directions and also some quieter passages," Sveinsson explains.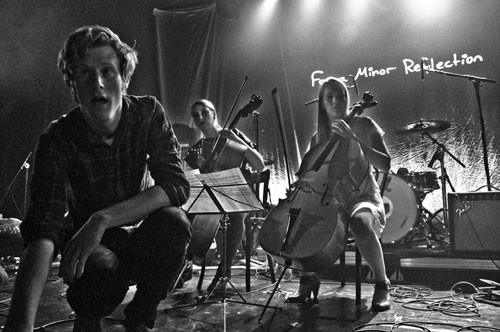 When asked if he's annoyed at the post-rock tag so often attributed to them, Sveinsson answers: "No, I don't really mind. On the other hand, I am not so keen on giving names to things. This is our music. This is For a Minor Reflection." Composing seems to be a rather natural procedure for FaMR. "Nothing was especially difficult to write and record. It came out instinctively. Some sounds were really fun to work on. One night we stayed up in the studio until 4am, just me and Scott. We were just fooling around. I took an acoustic guitar and recorded while playing and walking at the same time, like a marching band." 'Dansi Dans' with its trademark piano riff is one of the most emblematic tracks on the new album and very different to what FaMR have done in the past. "The basic riff was so fun to play. Now we have a pop song! Why not? We went all the way. We made a shameless pop song. It's more fun to do different things than always do the same," Sveinsson adds.
For a Minor Reflection participated recently in an awareness campaign called Inspired By Iceland and contributed a live performance video shot in the scenic surroundings of Hellnar. "We couldn't make it to the concert. We did this video instead," Sveinsson explains. Eventually things turned out better for them, because the concert that was meant to take place next to the Seljalandsfoss waterfall was moved due to heavy rainfall to a rather unexciting location in central Reykjavík.
In order to celebrate the release of Höldum í átt að óreiðu they played a gig at Iðnó, a beautiful old-styled Reykjavík house built in 1896, aided by their friends from the lovely Icelandic folk-pop act Rökkurró. FaMR collaborated with British visual artist John Rixon and Italian video director Lorenzo Fonda in order to create the visual backdrop for what turned out to be a memorable performance. Sveinsson modestly sums up: "We'd like to be remembered for good feelings. Would be great if people could remember how they felt at our concerts. It's all about good feelings and memories."
Höldum í átt að óreiðu will be released in the UK on 7th September.