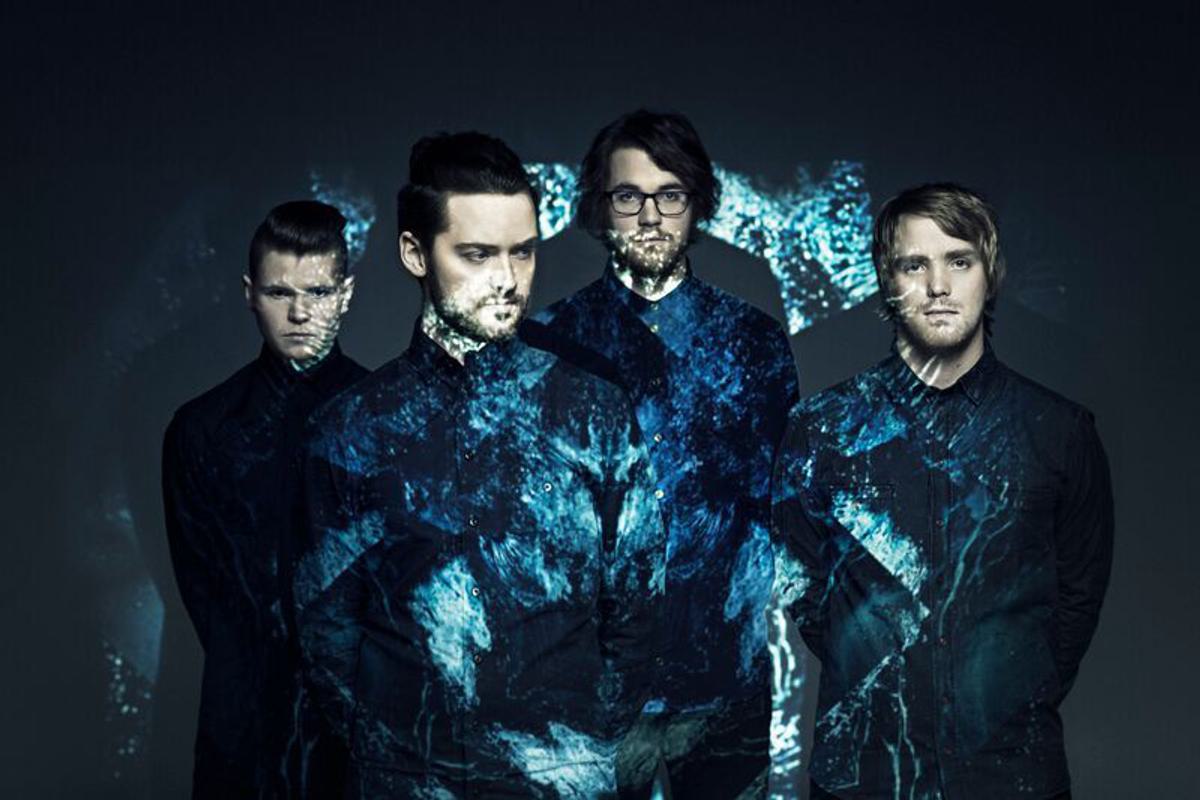 The Fjords' Petter Vågan chats ahead of his band's debut UK show at Ja Ja Ja
22 September 2015, 11:00
That name….you immediately think of imposing, grand beauty when you see the word "fjords". Ice, glacial wonders, steep magisterial inclines, shimmering lakes and seas for as far as the eye can see. So, if you're going to name your band The Fjords you had better bring the musical goods to live up to the natural beauty that pretty much defines Scandinavia.
Well, it didn't put off Petter Vågan, singer and guitarist for the Norwegian who took such a giant leap of faith a little over a year ago, transforming his solo work at Trondheim Jazz Conservatory into something grander with the help of Erland Elvesveen (synth, vocals), Bardur Reinert Poulsen (bass, synth, vocals) and Kim Christer Hylland (drums, electronics, vocals).
Those solo sketches became bold and powerful songs, with Vågan's voice pitched bang in the middle between Matt Berninger and Jeff Buckley, coolly gliding over epic guitars (often played Sigur Ros-style with a violin bow), loops and layers of synth ambience. Having witnessed the band play live at last year's Sorveiv festival showcase in Kristiansand, The Fjords already feel fully formed with the stage presence to match and their debut single "All In" completely captures the band's massive potential. With a debut album due next year these guys are ones to watch.
So it's with impeccable timing that the Norwegian foursome play their debut UK show – alongside Iceland's Axel Flovent and Denmark's CHINAH – at the returning Ja Ja Ja club night at the Lexington this coming Thursday, 24 September.
We managed to grab some words with singer Vågan to find out more about The Fjords and what they make of their music already being used in reality television.
So, am I right in saying this is the first UK show for The Fjords? How excited are you for Ja Ja Ja?
This is indeed our first UK show. We're super excited for Ja Ja Ja! When the underlying concept is for people to experience new music, they're more likely to have an open mind when they come, and hopefully find new music to invite into the soundtrack of their lives. We're also hoping to meet some people that could help introduce us to the audience that are still unaware they might like our music. I'm also looking forward to seeing Axel Flovent and CHINAH live.
How did The Fjords come together as a band?
It started out with me noodling around with electronic pop music, and after a while I felt like I found something worthwhile, so I put out a couple of tracks on Urørt, which is a Norwegian platform for unsigned bands. Things started accelerating pretty fast from there, got playlisted at NRK P3, and the music seemed to travel by itself. After that I started looking for the right people to help bring the same feeling out on stage, and then take it to the next level. We really lucked out there, feels like we're all pulling in the same direction both in terms of musicality and ambition, so we're in a good place now.
I first came across The Fjords at Sorveiv and then Trondheim Calling…you seemed to play anywhere at any time; it seems that hard work and constant gigging still pays off, so was this always the plan to get the band places beyond Norway?
I think every musician wants to be heard across the globe - and we're no different - so yeah, the original plan had two stages: make music worth making, and spread it as far as it'll go. I started out jumping up and down on the bed with a tennis racket pretending to be Angus Young, as did a lot of my childhood friends. The only difference is I never stopped doing it. Music always made everything seem possible for me; enchants reality in a way. We're set to go, and we're gonna ride this train as far as it goes.
The name of "The Fjords" evokes stunning natural imagery….so does the moniker suit the band?
I think so. It's full of ambivalent connotations, both on the sunny and shadowy side of things.
Who influences the band?
Hard to say, from the inside looking out. These days I listen a lot to Tame Impala, Jon Hopkins, Unknown Mortal Orchestra, St. Vincent, Purity Ring, Andre Bratten, Apothek, The XX, Sun Kil Moon. And have listened a lot to Radiohead, Bon Iver, David Bowie, Pink Floyd, The National, Frank Ocean, Aphex Twin, Arcade Fire, James Blake, Joy Division. The list goes on and on…
"All In" was your most recent single, can you tell us a bit more about it? And are you aware it made it on to an episode of the UK reality show Made in Chelsea?
Yes, our label delivered the good news! I had never seen the show prior to that, it's not on in Norway. But I saw the dramatic moment, with flying champagne and the works. Seemed to fit nicely! "All In" is a shameless love song really. About that feeling when you really, really want someone badly. When it permeates your whole existence, and you feel an inch closer to everything.
Can you give us an insight into the song writing process? How does it start….who takes the lead?
I usually start with a phrase, a musical idea of some sort, or a certain feeling I want to explore, then I just roll with it and see what comes out of it. It goes through different stages of evolution, and if it's still alive after that - it can come on tour. It's mostly a matter of spending time with the ideas, nourish them, weed out bad aspects, and not opt for easy solutions. Ecological song cultivation.
It still feels like early days for the band, but have you got songs in place for an album?
We have an ever-growing number of songs, enough to fill an album, but we're also still evolving - so we'll try to only include the songs that we feel will push us further in the right direction.
The video for "All In" is brilliant…where did the idea come from?
We were approached by Helmet, a film production company in Trondheim. And Øystein, one of the directors of the video got the idea after listening to the song. They're big Fjords fans, and we're huge Helmet fans, so it's a really good starting point for working together. I don't know how he came up with it, he's a brilliant man. We loved the idea, and ran with it. Øystein and Line, and the rest of the Helmet team for that matter, hold themselves to incredibly high standards. It's very inspirational.
Can you tell us about your plans for the rest of the year?
We'll be playing some more shows in Norway, making new music, and have started talking about making another music video with Helmet.
The Fjords, Axel Flovent and CHINAH play The Lexington on Thursday 24 September. Tickets are £5 in advance for Ja Ja Ja members (£8 on the door for non-members), and on sale now from Billetto.