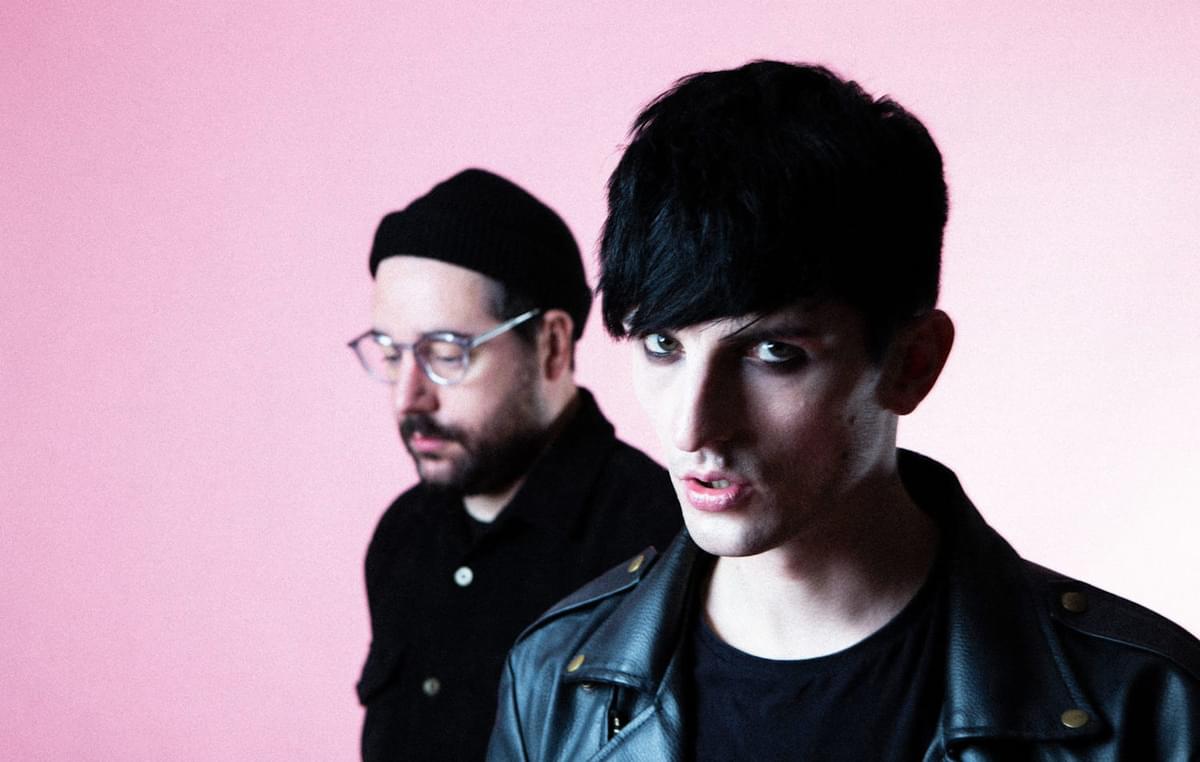 The Duality of Will Gould
22 October 2020, 09:28
At the peak of their fame, Southampton's horror-punk outfit Creeper disappeared for a year, but even flying across the ocean and hiding from the spotlight didn't provide much of an escape for the band's lead singer Will Gould. So instead, he created one. Meet Salem – Gould's comfort side-project fuelled by love, simplicity and spooky punk rock.
Gould enters our Zoom call surrounded by plush jack-o'-lanterns and skeletons; the wall behind him encouraging one to "hail satan". Just as Mariah Carey's energy grows more powerful in the run up to Christmas, Gould is in his element in time for Halloween. However, he promptly points out that none of these things are strictly Halloween decorations, he just loves "spooky nonsense".
Perhaps that would be a good term to sum up Gould's new band Salem—a punk duo named after the cat in Sabrina the Teenage Witch—who come complete with baby-pink aesthetics and a promotional video that questioned if the characters were "going to prom or hell".
"We were making the last Creeper record, which was really intense and difficult," Gould starts when asked about the idea behind Salem. "I had my head completely blocked up with the narrative and ambitions of that record. In the middle of making it, when I was back in England, I'd go for a coffee with my friend Matt [Reynolds], who's Creeper's guitar tech. I told him that I missed the simplicity of playing punk rock; the spooky punk rock we grew up with."
In an attempt to unwind and relax, the two got together and spent an hour writing songs that weren't loaded with Creeper's mystery and intricacy. All five songs on Salem's EP were written in one go and demoed at a studio in Southampton—the same studio where Creeper used to record their music before they upgraded to LA. Perhaps this little project might have forever stayed in Gould's Dropbox, considering he didn't plan on ever releasing it, but then the UK, along with the rest of the world, went into lockdown. "I thought that people needed an escape; some moments of happiness amid all of this darkness," he says, "so I decided to revive Salem because it's fun. With my friends' help, it turned into a big passion project. There's a lot of love in it."
Having gone through hell and back during the making of Creeper's Sex, Death & The Infinite Void in 2018, Gould now seems much happier and carefree, both on Salem's EP and in our conversation. "I was in a very dark place for a long time. I was an alcoholic, you know. I was extremely unwell," he says, recalling the year of recording Creeper's last album. "My best friend Ian [Miles, Creeper's guitarist] was sick, and there was a lot going on in my personal life. I was in America for months, my mum's partner passed away. It was a very unhealthy time." For over a year and a half now, Gould has been in a much better headspace, but he admits that it took some drastic changes to get there.
Having moved to Manchester, he reconnected with an old friend Charlotte, who inspired most of the songs on Salem's EP as well as starred in the music video for "Destroy Me". Love the central theme of the EP, and in the first song, Gould tells the listener to "save yourself, fall out of love" but it is clearly not on his own to-do list.
"I'm sure you've been in love as well, and you know that feeling of [the] hopelessness of falling in love," Gould replies when I ask him about the aforementioned lyric. "It feels like being sucked into a void, a vortex, or a black hole. Your life can be going completely fine; you'd be at a dinner with friends but in your head, you're somewhere else. You're falling in love and you can't stop it."
"Fall Out Of Love" sets the mood for the rest of the record: it is about a love so strong that it feels like it is going to consume and crush you. It offers a great piece of advice, but it is one that can hardly ever be followed. "You don't choose to fall out of love, just like you don't choose to fall in. Love is an amazing feeling, but those first moments are so deep and terrifying". Gould stops to think for a few seconds, shudders, and then laughs, "It feels weird to even talk about it— makes me feel all mushy— But that feeling is really like an all-encompassing crash. I still feel that every day but I don't ever want to fall out of love. I'm glad that I didn't. Even if I could have, I wouldn't."
Though the lyrics on Salem's EP were inspired by Gould's relationship, he is not worried about oversharing or letting the fans into his personal life. "This record is about my life but everything is multiplied by a million," he says. "It's an exaggeration of real life, but that's what music is anyway. You can't reflect anything to scale in music. As soon as you start singing about it, you're already being melodramatic." Gould admits that many people ask him about Charlotte on the internet, but he finds it endearing.
"Eyesore" was made up of tweets that she once wrote. "These songs are about our relationship, about being loved," says Gould. "There's a lot of reality in them, but if I told you that they're completely true, it would be a lie. Our relationship is not that intense, but there are moments that are fun to embellish. That's the whole point of art—making more of something than it is."
When it comes to Creeper, Gould is always in character. Every word he says on stage, every move – it is all a part of a role he plays. He is the leader of a ghost gang; a paranormal investigator; an angel in a doomed town; but with Salem, he can be a version of himself that has more in common with reality. "Performing as just myself is something I was never good at," the singer admits. "I find it awkward, and I'm terrified of what people would say. Salem is based more on myself, but I wouldn't say it's a crippling confessional record – it's just sexy punk songs."
"We had so much fun on tour with Waterparks but their audience isn't from our world. I'd spit in the air and catch it with my mouth again, and those girls would be horrified."
Salem are indeed a punk band, and whilst Gould's fans shouldn't expect the theatrics and drama of Creeper, he does promise "the same spooky nonsense" and a safe place for everyone. "The Rocky Horror Picture Show was so important to me when I was a kid working out my sexuality and identity. It empowered me to wear makeup, not just to perform, but to be myself in. I'd love for Creeper to become something like that. I want genderless bathrooms. I want a safe space for young people to be whoever they are without fear of bullying."
Salem has the same code of conduct, he says, just with more chaotic punk shows. "As Salem, we're gonna come on and fucking play, and I hope that both of these projects can have an important place in people's lives," Gould concludes.
He is looking forward to taking Salem on tours that wouldn't make as much sense for Creeper. "Sometimes a band wants Creeper to open their shows but I know that it's not gonna work," he explains. "Sometimes, people see Creeper without having any idea who we are, and they complain that it was very dramatic. We had so much fun on tour with Waterparks, but their audience isn't from our world. I'd spit in the air and catch it with my mouth again, and those girls would be horrified."
What Gould is most excited about, is playing small venues again with a new band. Creeper's occasional intimate shows sell out instantly, making the band appear somewhat elitist in its frontman's view. "The cool thing about Salem is that it's brand new," he says. "The first physical copy of Creeper's debut EP now costs so much money online that even I don't have it. But when the Salem EP comes out, it will be something that people can get a hold of for the first time ever."
It is not unlikely that Salem's upcoming EP will also someday become a rarity. The fans' enthusiasm for the new band exceeded everyone's expectations: the vinyl pre-orders sold out within days of the band's launch. "I didn't expect a thousand people to pre-order it on the week it was announced, off one song," Gould says, still in disbelief. "A band that hasn't played any shows! I didn't expect this cocky punk EP to do anything. It's just a romantic evil punk record!"
He admits that some fans have been worried that the singer might get too caught up in Salem and neglect Creeper, but he assures that it's not going to happen: "It is something I can do alongside Creeper. My fans give me the hardest time; they really like some of my stuff and really hate my other stuff. But no one has been nasty about Salem so far."
If anything, Salem is going to appeal to the fans of early Creeper. Before Gould's band blew up and started touring arenas with the likes of Babymetal, All Time Low and Pierce The Veil, they played punk music in tiny English bars. On the EP, Gould goes back to those roots. "I made so many crappy punk records that no one ever heard when I was a little shitty punk kid. There are elements of early Creeper on this EP because it's the scene we're from – goth kids playing punk rock. It's always been who I am."
Besides paying homage to his native scene, Salem also serves as Gould's escape from the chaos of Creeper. With five people in the band, every decision has to be discussed, and some ideas never come to life. Salem, on the other hand, allows Gould to be more in control. "There's no preconceived notion of what this band should be," he explains. "I can just do what I think is cool. There are so many moving parts in Creeper. One time, there were 30 crew members on tour with us — I don't even know what they did. But Salem is just me and Matt. Creeper are still gonna do amazing things, but because it's bigger, it's harder to make it personal. It can be such a headfuck. I constantly feel like I'm unravelling a piece of string which only gets bigger."
One of the ways he is going to make Salem more personal will be by running the merch store from his house in Manchester. "Charlotte and I love merch, and we want to make something just so we can wear it, so we will turn our spare room into a merch room and send out all the orders by ourselves. I used to do it in my early punk days but it wasn't much work because no one ever bought anything," he laughs.
Wrapping up our almost two-hour-long conversation, we ponder about how surreal it will be when someday people may discover Creeper through Salem and not the other way round. After all, some notable acts started as side-projects, so Gould's ambitions for Salem aren't out of reach."There will be emo kids who love Creeper and hate Salem. And there will be punk kids who love Salem and hate Creeper," he optimistically concludes.
Salem EP is out 23 October via Roadrunner Records
Get the Best Fit take on the week in music direct to your inbox every Friday