A Dave collaborator and Pisces through and through, British-Ghanian rapper ShaSimone has absorbed the scene around her and is bouncing off the male-dominated lines in London. Does her starsign have anything to do with it?
"I think so. Pisces is the last sign of the zodiac, taking on all the traits of the signs before. It's the most spiritual and intuitive sign. I'm a very spiritual person and very in tune with myself."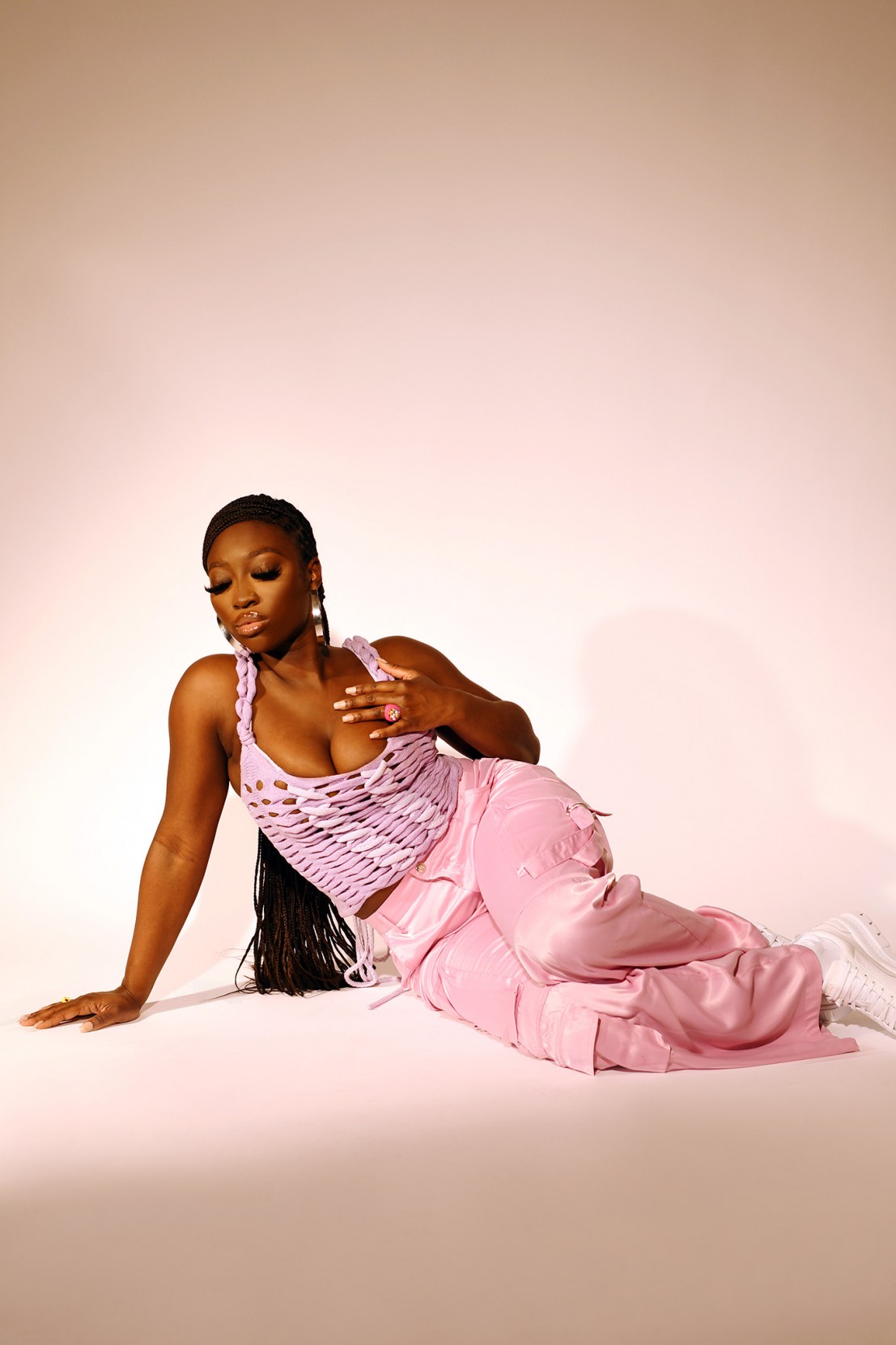 ShaSimone wears: Top: Selina / Trousers: Bershka / Shoes: Schuh x Puma Mayze / Rings: Kurt Geiger
Simone (her real name) has a spirit that is full and all-encompassing, much like her sound, which swings from in-your-face, icy grime to party-ready Afrobeats. Every laugh is infectious, her words are honest, and her burgeoning success has just been bolstered by a blinding display at Glastonbury. "My best moment had to be performing "LOCK OFF"," she grins. "If I wasn't wearing a skirt I would've jumped into the crowed. The energy was crazy — I'd do it 10 times over again if I could."
We recap over last year's break-out singles "HUSHPUPPI"', "No Chaser" and "'Back to Sender"' which demo Simone's fluidity and conversational flow. In the video for the latter, the Jamestown community of Ghana surround Simone and her laid-back beats. The filming, she says, wasn't the easiest.
"Those people are just the happiest people," she smiles. "But it was so stressful — I had make-up falling down my face, it was so last minute, we were out for my cousin's party and my manager just thought why not film there. But something is just in me to make African music and Afrobeat."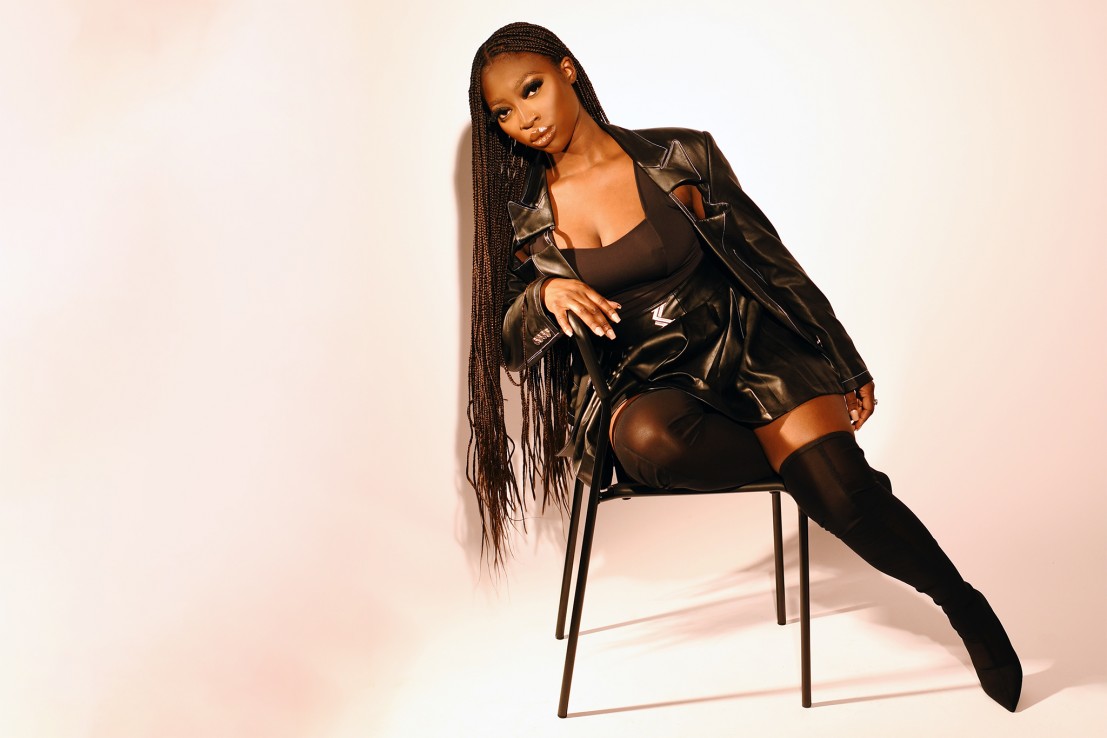 ShaSimone wears - Blazer: Leitot / Top: Tezenis / Skirt: Karl Kani / Shoes: Carvela
Simone's flow is playful yet in control — you know you are in safe hands in her company. "I'd say being true to myself is what makes my music. Me being me and translating that into my songs." She began writing poetry long before she was a rapper, with Tupac's book, A Rose That Grew from Concrete, encouraging her to spin her own web. "I read this book whilst in secondary school and was very inspired by it. I grew up listening to Tupac and I loved seeing a poetic side to him that I could also relate to."
But what motivates the rapper? "My environment, how I'm feeling and just life, in general, is what motivates me to rap. Rap is very similar to poetry and that's what I started out doing. It's very familiar to me. I love the ability to rhyme and express myself over a good beat." Simone agrees that her confessional lines are therapeutic, like diary entries with rhythm — "It's an outlet for expression."
"SCHWEET", the rapper's first single of 2022 with collaborator Suspect OTB, carries through her carefree ethos of living in the present, as well as being ridiculously catchy. "When people listen to my music, I want them to feel empowered and confident. I also want them to tap into some of the things I say so they realise they're not alone in this whether it be life is lifting or just being positive in general no matter the obstacles life presents."
ShaSimone wears - Top: Revival Ldn / Bottom: Revival Ldn / Sunglasses: Akila x Charli Cohen
Simone's freestyling sessions are where her personality comes to the fore and her flow takes on a whole new role. There is an effort in being effortless but her freestyles are never over the top — they are snippets of truth and vulnerability. "I enjoy freestyling because it's free speaking. I can say whatever I want whereas my music is a bit more calculated. I get to be as wild and flamboyant as I want." We talk about her recent spate of live performances and the firey freestyles she's dropped on 1XTRA and Capital. Does she ever get tongue-tied?
"Each show is different. Sometimes I get a little nervous or I'm buzzing ready to rock out. Funny enough, when I'm performing to a room full of strangers I feel way less pressure. When it's people I know I feel like the expectations are so much higher so it's harder." She laughs. "But you'd never tell 'cause I'm great at faking it!"
As an up and coming artist, it seems that the norm these days is to project yourself onto social media 24 hr a day, but that is exactly what Simone tells me she is trying to distance herself from. She's skeptical about TikTok and wants to ensure her music reaches a genuinely global audience. "You know, there are so many places in the world that don't have social media, so yeah, I just want to be able to reach all of these places." Creating a positive space around her and within her sound is what keeps the raps flowing. "I am someone who can sense negative energy. It's important for everyone around me to have positive energy. I meditate and I'm always reading into things. "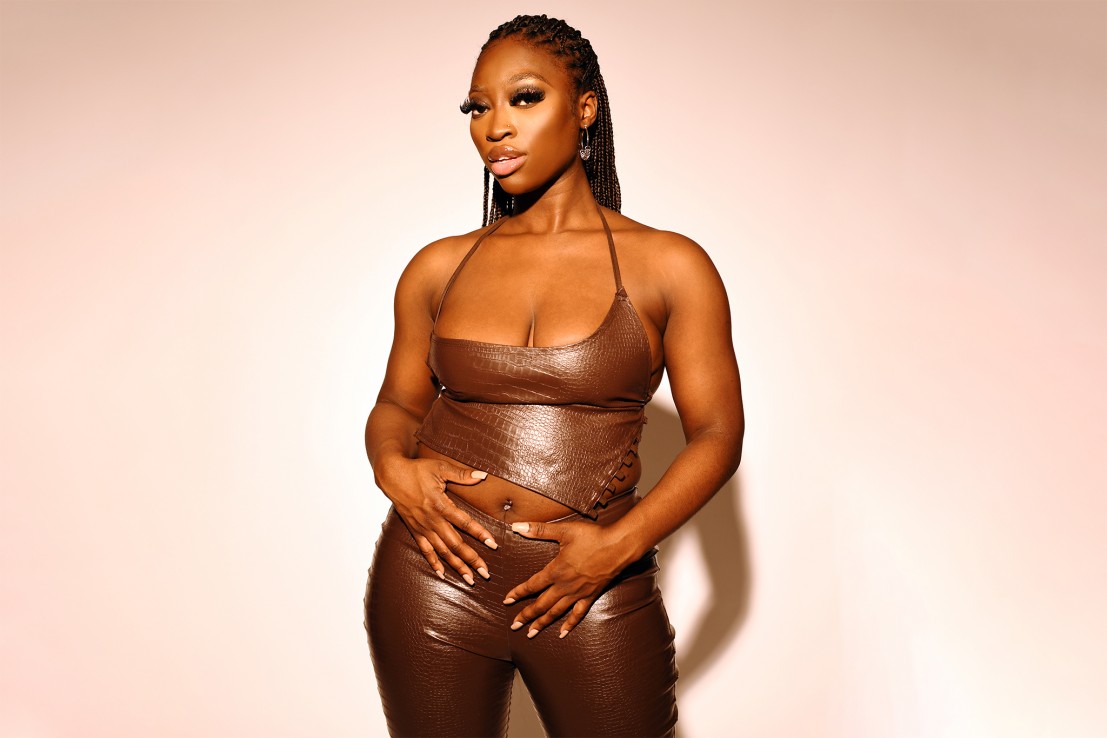 ShaSimone wears - Top and trousers: BlossömBad
Simone's spirituality is key to her focus and her genuine character gives depth to every word spun. I wonder whether she has any solid advice for young women looking up to her. "To unapologetically be yourself because that's all you can be, yourself. Also, don't be drawn out by the noise, you're in your own lane. I don't think I ever had a role model… I think I am my own role model — I've created my own path." I picture Sha Simone in the video for "No Chaser", standing on the back of some kind of three-wheel motorbike, "I do it for myself, I ain't looking for likes" — a gal I'd like to hang out with. Simone is building her own steps to success; if you don't see her on socials, you'll hear her laughter from a mile away.
ShaSimone's next single, "Thug Affection", is out 22 July.
---
CREDITS:
Photographer: Jack Alexander
Stylist: Felicia Brown