Second studio album Someone Out There is that new music; a collection of songs about love in its many shapes and forms. Not only does it vastly expand her sonic universe, but it's been the catalyst for her to get up from behind her keyboard on stage and to share some difficult, yet beautiful, stories through bursting, technicolour pop.
Retreating from the cold to a cosy pub in leafy Hampstead, a stone's throw from the heath, sat by a fire, drinking Guiness, the capital seems worlds away. It's a postcard, as if we've been transported home to our respective corners of the north, Morris' Blackpool and my Yorkshire and we've both got white fleece coats. "The North is for a treat now, which is so weird, it's your entire world and suddenly it becomes a couple of weeks a year" Morris admits.
Give or take a few days it's been three years since the release of her debut album Unguarded, which teased artistic growth throughout while remaining honest and true to Morris' craft - a piano ballad is never more than a few tracks away. Preceded by three singles and companion EPs, Morris was purposely building up to the release and sharing a vision through which the full length project could be fully understood. With Ariel Rechtshaid (HAIM, Adele, Brandon Flowers) at the helm, Unguarded featured additional production from Jim Eliot (Ellie Goudling, Halsey) and Fryars aka Ben Garrett who became Morris' lead collaborator on Someone Out There, and the duo subsequently found themselves falling for each other in the process.
"I do miss it a lot" she explains, "I think that's why I gravitate towards places like this", the call of the wild having also partly influenced her and Garrett's move to the greener climes at the other side of the heath. On her relationship, and on the matter of sharing all of this with the world, it was never really a question for Morris as she muses; "it would feel like I was doing a disservice to the listeners of the music if I didn't talk about what the actual subject matter was and [Fryars'] is such a big part of that". Having met six years ago and creating "Grow" one of Morris' most loved tracks, Garrett has been with Morris, as she describes as her "best friend and advisor" more or less every step of the way. When it came to starting Someone Out There the anchor point was Garrett's place in Borough, it was here where little ideas were turned into the tunes which make up the record.
"There are these little snapshots into life in the city and it's definitely wholesome and it's a happy record, but it's the north of England." Having spent years writing songs on the bus or in the shed at her family home, one of the biggest changes for Morris has simply been the place in which everything has come together this time. "This definitely feels like a London record and it feels like me being at the age where I don't have my parents around and I don't have any of those feelings of being a teenager, it's all very free and there's no boundaries."
One of the stories on the record is an introspective look at unbound freedom that oftens manifests into loneliness. As a young person living in a city, or wherever you are, things can be overwhelming at the best of times. Lighthearted at the surface ""Atletico" is about what happens on a night out", but moreover she adds "[it's about] how I feel guilty for not making the most of the fact that I live in this amazing city and I could be meeting all these amazing people, but I always end up back home on my own. I think that's something that all my friends have been through at one time and you just kick yourself." The new music has given Morris the energy to break free from her days behind a keyboard on stage and to have even more fun on stage. From dancing around to these tunes in the studio, she never she wouldn't be able to sit still while she performed tracks like "Do It". Go to a Rae Morris show and you'll see this for yourself.
"Someone Out There is a celebration of being happy and not being afraid to be happy"
The title track of the record also comes from a place of change. Over the past few years Morris' fan base has grown considerably, initially performing at pubs close to home and to loving members of her extended family, Morris' fans are now not just in Blackpool, they could be anywhere in the world. "Someone Out There" explores this relationship between artist and fan in a beautifully sincere way. The moment that sparked the idea? "Being sent these amazing handmade gifts from a really love fan, that I know and talk to, it made me think that people are so kind and will take time to listen to music and be connected by that. It brings people together. Especially when you may be so stressed to talk to someone on the tube, but you could meet someone and make great friends at a gig."
Talking about the record more generally Morris stresses that while a lot of its content is autobiographical, "it's a celebration of being happy and not being afraid to be happy" and that this is often something that's discouraged in songwriting. Aren't all great songs birthed from heartache, loss and suffering? Obviously not, or at least the ends of the tunnels and the light that is there after these hard times deserves to be heard as well.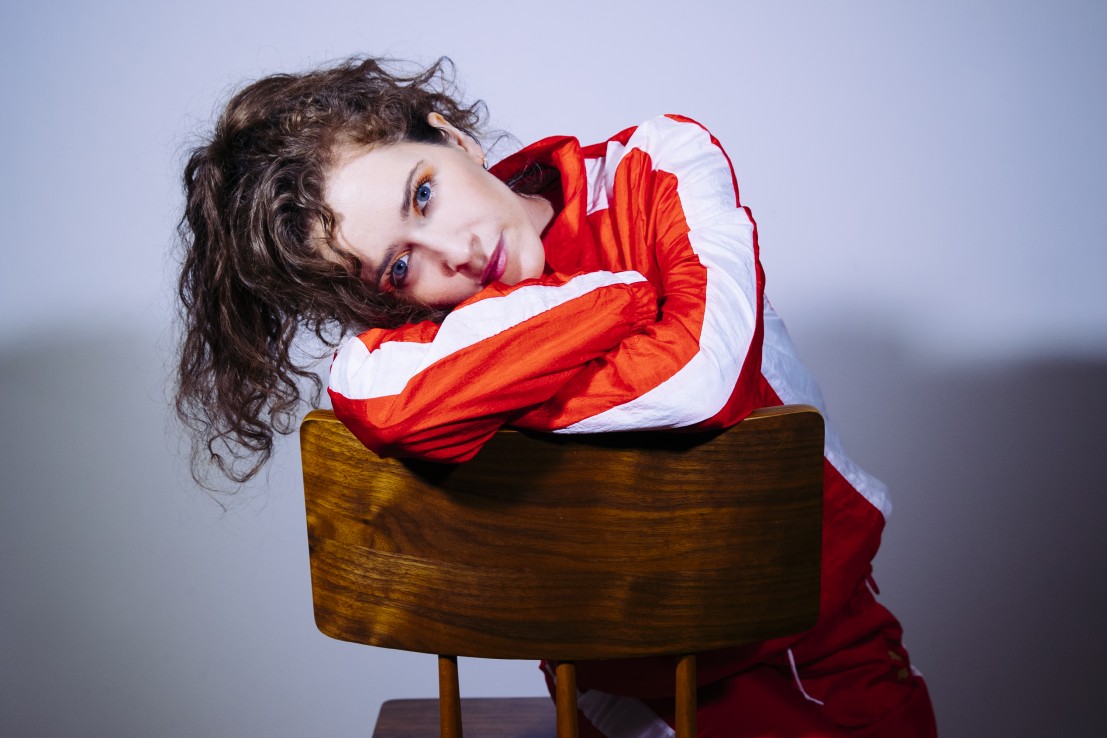 There are a handful of songs on Someone Out There which deviate from Morris being the character in her own lyrics, which is something she's done knowingly looking to gain perspective from looking outwards from herself and to the people around her, always asking permission before writing about matters such as these. Closing the record, Morris shares one of these stories, which in a way is a stark contrast to the happiness which she believes the record exudes, while heartbreaking, the track is still as celebration of love in a completely unexpected way. "Dancing With Character" as Morris explains is about her best friend's grandparents and the way her grandfather copes with loss and the changes happening in his life without his late wife by his side, dancing without her. "He's called George and she's called Hazel, and George stills goes to the dancing club pretty much every night and that's his way of connecting with reality. It's a habitual ritualistic thing which I think is special and beautiful and he's getting older and losing bits of his memory in a natural way and it feels like the dance is still a way of connecting to the past and making sense of everything." It's about old love, so its place at the end of the album marks the end of the chapter quite poignantly when much of the record is dedicated to an exploration of personal growth, change, learning to love and learning to be happy.
"Rose Garden" as Morris explains is perhaps the most moving song on the record "to me it's one of my favourite tunes, the production is a taste which I really love and the end section that happens, I really had to fight to keep that there. It's basically about a friend of mine who has lived with an illness for a very long time, it's inspired by her, but not written exactly about her. It's about the idea that as humans we can't really do anything to solve big issues, it could even be about health, mental illness, you want to help someone but you physically can't do anything to help apart from off support, be a good friend or be a good family member.
"It's a frustrating position to be in when the world is collapsing environmentally and you can do anything about. It's the song that summarises that feeling and the idea of planting a rose garden, because that's the only thing you can physically do to make a difference." Songwriting is important on a personal level for Morris, but for her to be able to tell these other stories, detail these frustrations and to be that voice to tell them is surely only going to develop as she works her way through the world's many issues.
Experimentation has been key in Morris' growth and another aspect of change with the new record has been working in a more visual way to explore different tastes and map out this new direction. "Recently I've been sharing bits of the moodboard on Instagram and bombarding people's feeds with these images, but I love doing it because they are the images and imagery that were there while I was creating." She's quick to note she doesn't have synesthesia, but did see the music as bright and vibrant which is reflecting in the album's artwork and sleeve design which features a concept shoot in which Morris is in a house, gazing out of a window, quite literally looking for that someone out there. This design element culminated with Morris defacing her own album billboard with some unique patterns, which just happened to be around the corner from the flat where the record took shape. In another nod to this new creative outlet, Morris adds that, "if you think of [an album] as a big tapestry, you wouldn't work on a separate tapestry at the same time, it's got to be the same thing."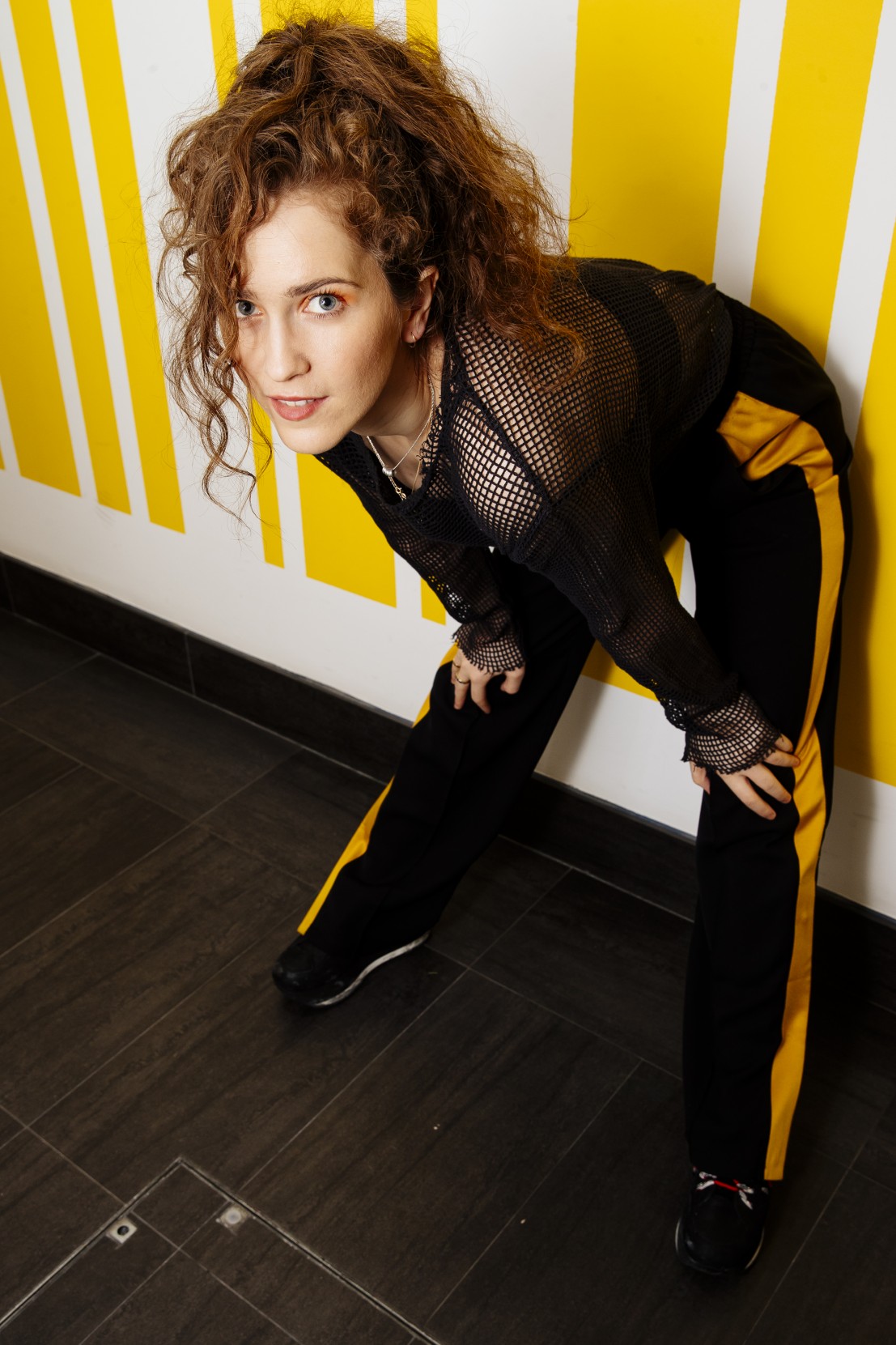 While not a direct influence on the new record, Morris does shout out Grimes as "a female who is creating pop music that is still very genuine and deep and musical." She also looks to the likes of Björk and Susanne Sundfør - leading producers who love to bend our ears using their voice as instruments in layers on layers of electronic ebb and flow - as inspiration for getting more involved with the inner workings of her own music for future releases. Having already guided the production, she has credits on every track and has plans to sit down on tour and really get to grips with the software. She completed one year of a two-year music technology course at college and as the only girl in her whole class she felt uncomfortable, as though it wasn't something she was meant to do.
Looking further into the future, Morris wants to speed things up despite the slow cycle of release. While being in full album promotion mode doesn't lend itself to a creative high, she's looking forward to getting some time to work on new music soon. Nodding to Charli XCX and her mixtape releases, Number 1 Angel and Pop2, she explains "there are loads of things from the process that haven't come to anything that I'd love to put out on an EP or a mixtape, so I'm tentatively thinking about that." Stressing the importance of doing this, making music and releasing music, for the enjoyment and the fun she laments that this aspect can often be overlooked as sometimes there is a need to separate the work element of it all and look back at songwriting in its most innocent form, rather than work, but as an escape from everything.
Someone Out There is out now via Atlantic