Rapp found fame in Sweden through televised singing competitions, first competing in My Camp Rock, then representing his country at the Junior Eurovision Contest in 2011, and finally making it through to the semi-finals of Idol 2013. From there, he signed with Universal Music and began his solo career.
Falck graduated from the Rietveld Academie, Amsterdam, in 2011 with a degree in fine arts and graphic design. He works across mediums from set design to artwork to video direction. His list of collaborators includes the likes of The Knife and Fever Ray, Björk, and Robyn.
Rapp and Falck met via a friend named Taro who runs the label Tanisawa Music through which Privat's debut album Natten Har Aldrig Varit Så Ljus was released. "He was like the guy that had the idea initially of doing a project around the queer identity, in the way that Arca and Björk and other artists have done internationally" explains Rapp. "But there isn't something in Sweden of the same sort of style and topic really, or in Swedish."
After two years being signed to a major label and sticking to the standardised path, working in sessions with other writers and producers and making music in a formalised manner, on Privat, Rapp was given freedom. He wrote and produced the album on his own, and on his own terms. "Working with a major label they expect pop music," he explains, "And I've been really into pop culture since I was a kid, but starting to listen to more classical music and more experimental pop I found an interest in doing that as well. So this was definitely something about moving over to a new style and genre, but I think I will at some point still make music under my real name as well. I'm not leaving it behind forever, but this is definitely something that is supposed to come from a new starting point."
The album is full of dramatic strings and slow builds, haunting highs and tender vocals. It's a dynamic journey that feels less like a collection of songs than one cohesive narrative. The production is elegant and the structure toys with expectation.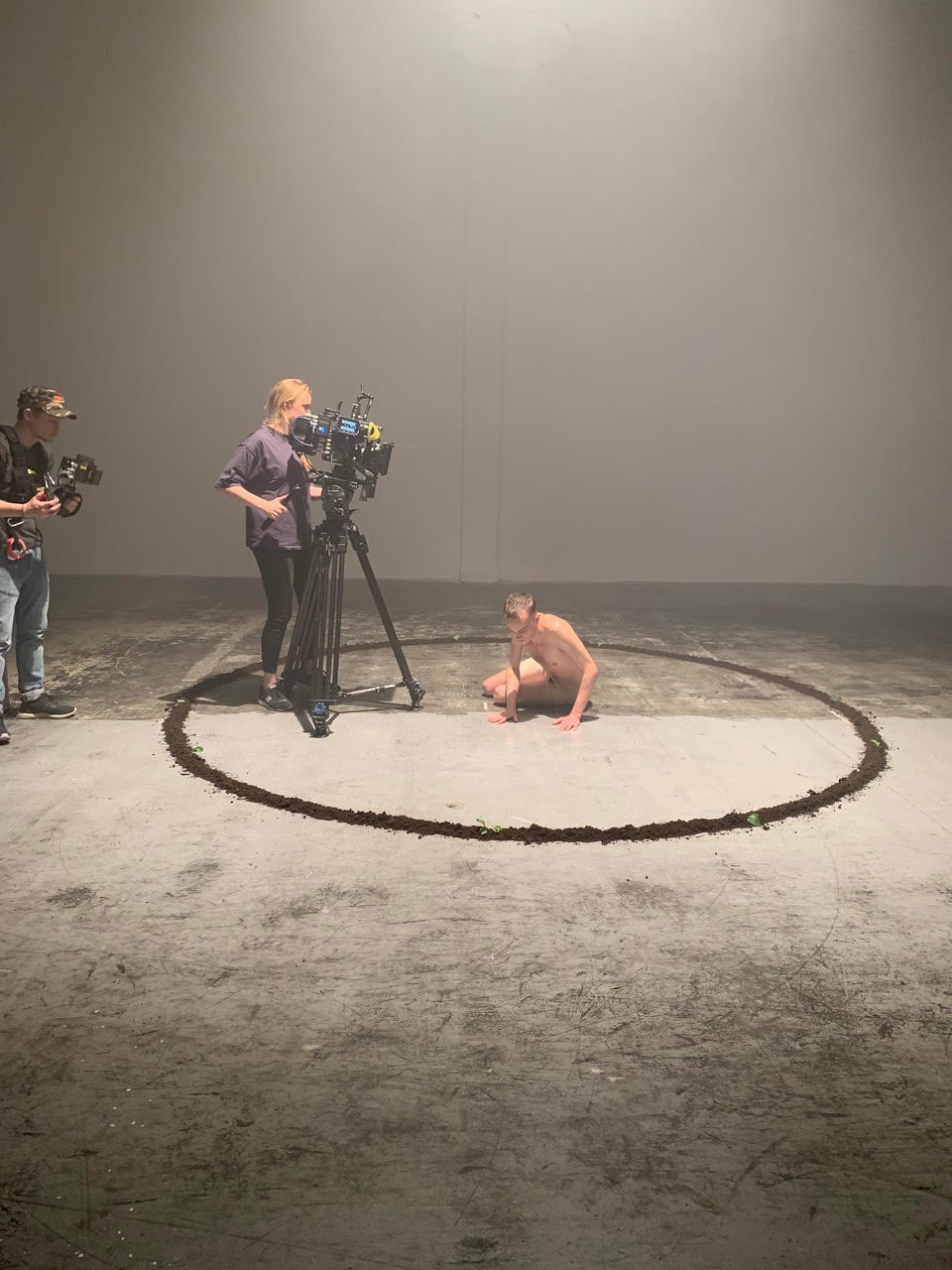 To an outsider, the music culture in Sweden seems vibrant, inclusive and progressive. From Falck's own list of credits you can pull out innovative creators who have shifted culture globally. "It's funny here in Sweden because there's a lot of big Swedish bands, but everything sounds exactly the same. They love Drake, they love Rhianna, and it just all sounds exactly the same," laughs Falck. "I think the bands who basically became big internationally, they're not actually that big in Sweden because they needed to look somewhere else for an audience.
"When I heard Erik's music the first time, it was really different from how usual Swedish bands and artists singing in Swedish sounds like. I feel like everybody thinks there is this really vibrant music culture in Sweden, but it's extremely mainstream and if you make something a little outside of the box it gets labelled and it's just too complex for a broader audience and it's so easy to just disappear."
As well as excercising his own creative freedom and making something a little different for the Swedish pop market, Rapp wanted to create a fresh commentary on what it is to be queer in modern culture. At a time where television, music and film are giving platforms to often unheard stories, can an outside culture be at risk of becoming homogenised under one title? Through Privat he has created a space that is his own. "I think a part of pop culture today is having something that you stand for in terms of identity," he explains. "And when pop culture takes up complex issues, then I think people narrow themselves to punchlines and simplifying themselves to make a point, and I think that's pretty sad especially when a lot of money that this generates doesn't go to the community itself, or the artist themselves."
"I mean, we already have Kylie. We basically don't need anything else," laughs Falck. "I guess it also has to do with the simplification, when money's involved. It's really annoying actually."
Working together through the record and discussing the themes, ideas and meanings behind Rapp's songs, Falck drew out visual strands that could be honed and translated into imagery. Falck compares the way Rapp spoke of his work to something like describing a short film, "You could feel that it was very defined - that you'd thought about it" he tells Rapp.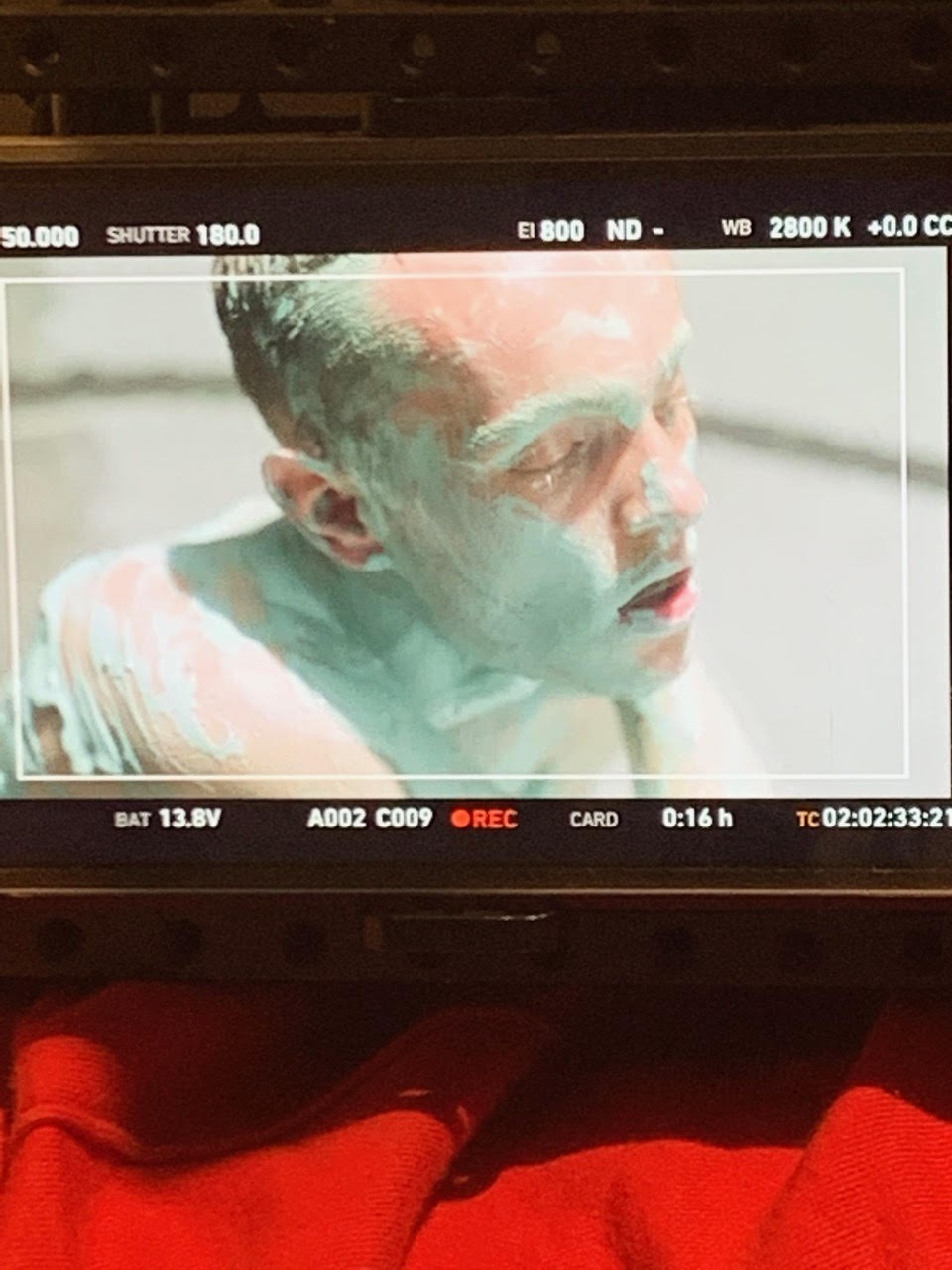 The lyrics also helped play a large role in Falck's creative process. "Even in Swedish, they're very poetic" he says. "I am also really fascinated with how he used the Swedish language. People use the Swedish language on a basic level, but with Erik, it's a really old but modern way of using it and the lyrics, you really feel they push how and what Swedish lyrics can be.
"It's got this weird nostalgia in them, but there's also something very morden to it. It's not very often at all that you feel that a Swedish artist who sings in Swedish also pushes the Swedish language, and it doesn't feel like it's translated from English to Swedish, which is often how it feels. It's really taken care of and poetic and uses a lot of metaphors, which also contributes to the imagery as well."
A back and forth begins between Rapp and Falck over whether the album should be translated into English. As an international listener there is an element of distance between myself and the work, and especially with a record that is so private, not being allowed in on the emotions behind the songs can make it that little bit harder to fall into them. But at the same time, the emotion is there in the delivery and in the atmospherics of the tracks, and the music is beautiful and captivating without having to be heavy-handed.
"I guess I want more people to hear it" smiles Rapp. "I feel like this is a unified album, it's cohesive and I think that the people who take the time to listen to it will find it the same way, I hope. It would be a good thing if more people could understand what I'm saying. But then again, I feel like doing the same thing two times would be kinda weird. So like, changing the language, then I would rather do a similar project but a new one in English. But maybe I should translate it. I'll have to rethink that."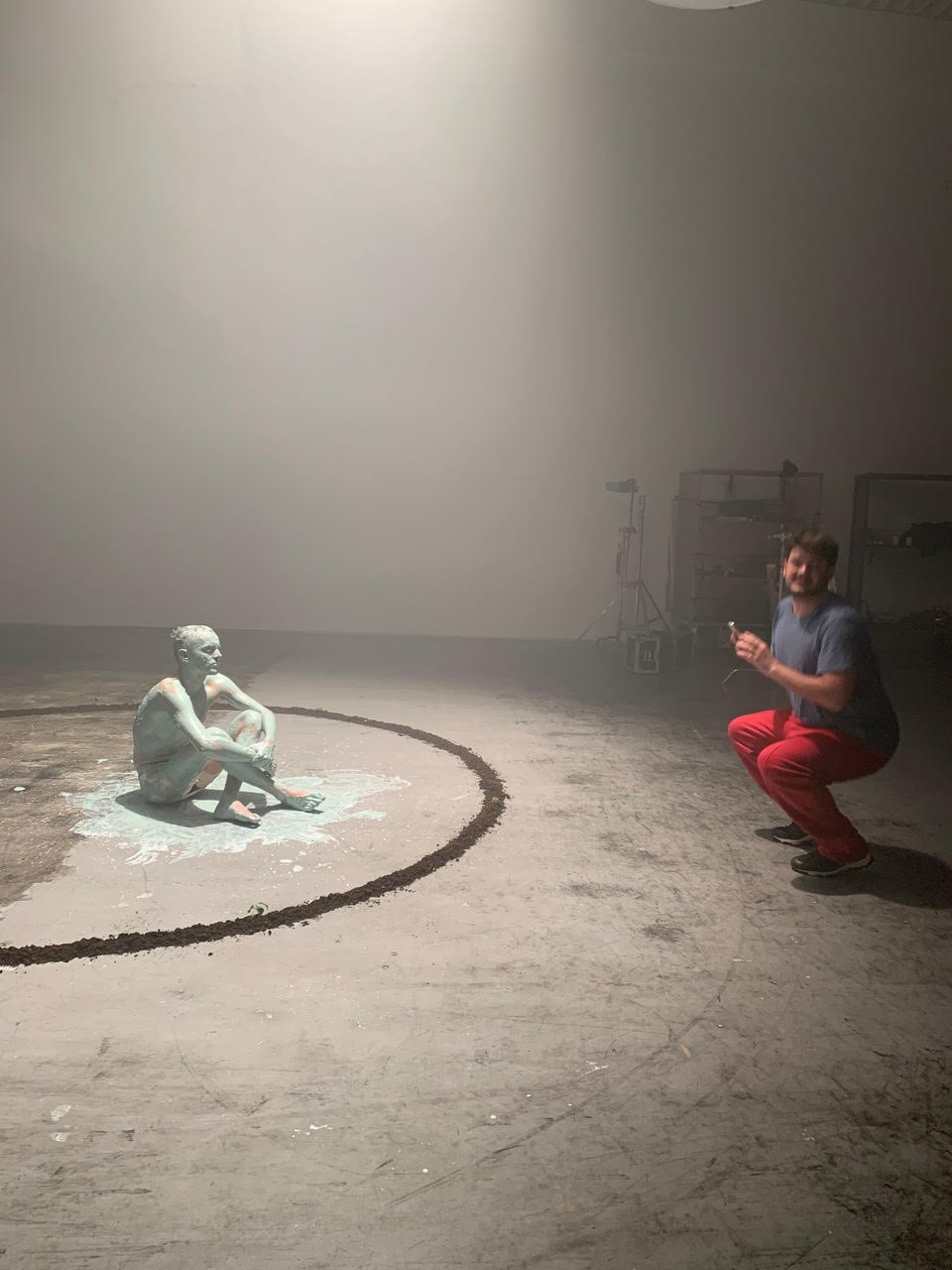 The imagery surrounding Privat is striking and adds a stark and spiritual dimension to the project. The artworks are taken from video shoots, the album cover showing Rapp drenched in paint, distorted and arresting.
Taken from the "Marmor" shoot, it's the second video in a sequence that's linked through Falck's aesthetic nuances and a loose storyline threaded together by himself and Rapp. "You had this idea that you were basically this character called Zero" explains Falck.
The first of these clips, for "Kropp och Liv", shows Rapp resting in a clinical water tank, surrounded by twisting nature as plastic gowned hands massage his shoulders and neck. "I think for me, it's basically finding your first love" he explains. "And since the whole album is a creation myth of identity and becoming someone, then "Kropp och Liv" is like the first part where you are drawn down to earth by somebody wanting to love you, and somebody you want to form a relationship with. You exist in some sort of paradise, or in the heavens, and you're brought down and get your body by existing with someone in a relationship. So it's like you exist in a dream, but you want your dream to be realised because otherwise it doesn't really exist. That's why I wanted the video to be like taking a body."
"And also, the lyrics, it's someone sort of I guess, falling in love for the first time," continues Falck. "That's how I sort of saw it - but then also realising (this is my interpretation of that song) that you can't just naively fall in love, you need to be strong within that and not lose yourself in it, and that's very much what I thought the song was about as well."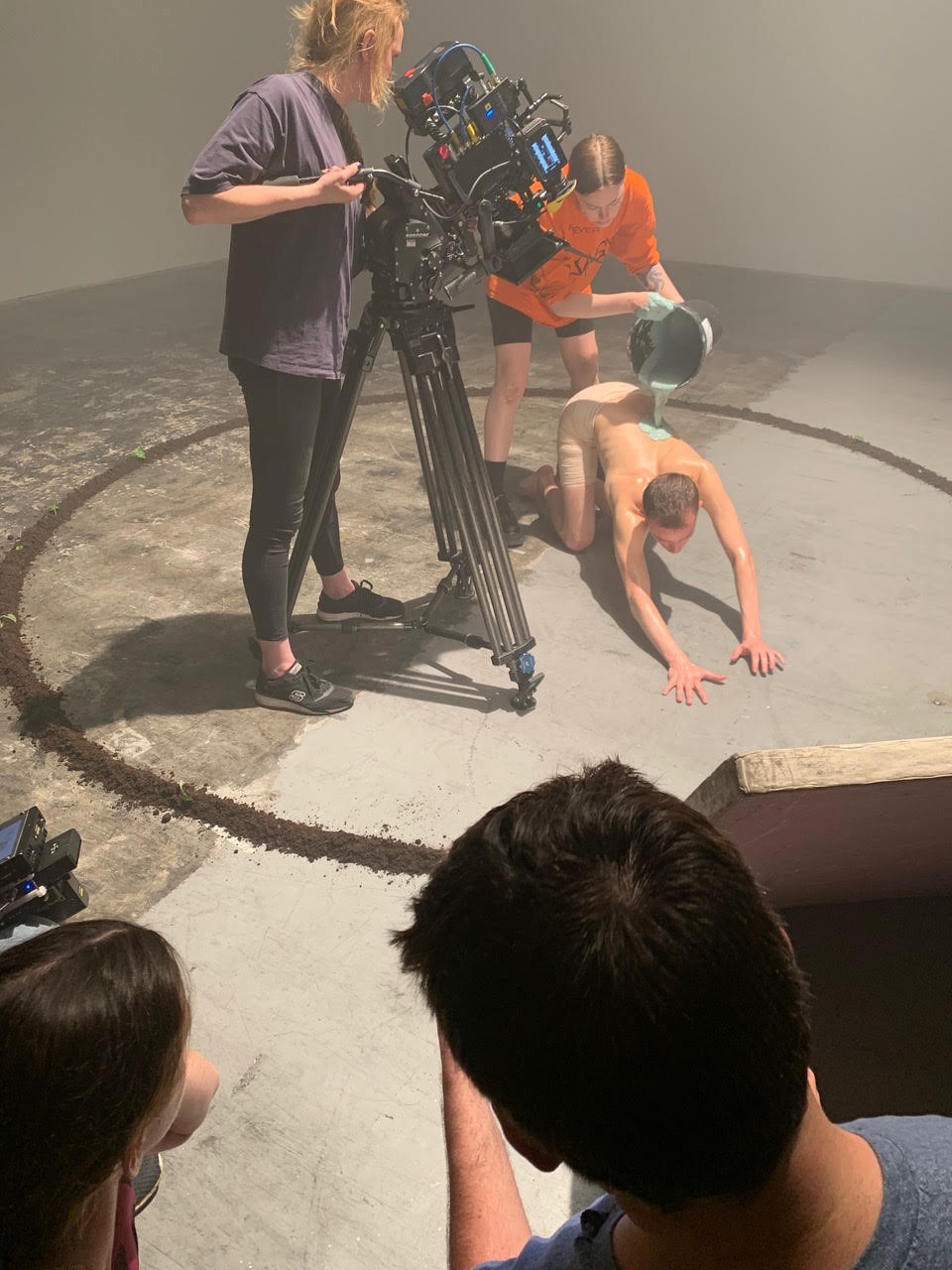 There is certainly something spiritual, if not religious, to the imagery in the video when you connect birth and the taking of a body to these Garden of Eden aesthetics, but still clinical and sterile with the plastic gowns and glass tank. "The dimension of the plastic gowns they were wearing are connected to scientists," explains Rapp. "Like being examined, being in somebody's view versus having your identity as something you just express for yourself. And since it's a story that stretches through time, I feel like part of being gay or being different in some sense is like being examined by the majority."
As well as in tone, the plastic gowns link both videos and begin to tell a story. "It's representing the outside world when you understand you have to toughen up" says Rapp. "I mean, maybe in your interactions with other people you have to adapt and change and grow this tougher skin. And maybe that's also the religious aspect that I sense and pick up on through the whole album, but I very much feel like it's about that - being alone or together with others and how you need to be different or you need to change to not be alone."
In the video for "Marmor" the plastic gowns sit in a circle around Rapp as he writhes between angular shapes and moments of peace, whilst being covered in a thick, toxic-looking paint. "I was actually so worried about Erik doing that shoot because it was really crazy and hell" laughs Falck, nervously. "It was so cold and it took such a long time and the stuff you had to do was really sort of insane. We worked with this choreographer, Eleanor Bauer, and she worked with Yung Lean and Matthew Barney, and I worked with her on a project before we did Privat and I just really felt that Erik and she would connect. I also felt like their themes that they were both touching upon were very similar."
"We met and then we talked about the theme of the song, like how it could be done, three states that I would take during the video," continues Rapp. "And then the day before we met and did this improvisation initially where she introduced her practice, which for me is like meditation meets dance. And then from that improvisation we took the movement and put it into these three shapes that she had prepared. One shape was marble, which is Marmor, and one was openness and the last one was... I forgot" he laughs.
And what comes next? "We really want to do one with bodybuilders, where Erik is lifting bodybuilders in a church" laughs Falck, and I'm unsure if he's actually joking. The two play off each other with a creative flair and unbounded imagination that promises however you define queer culture, it will always continue to defy expectations.