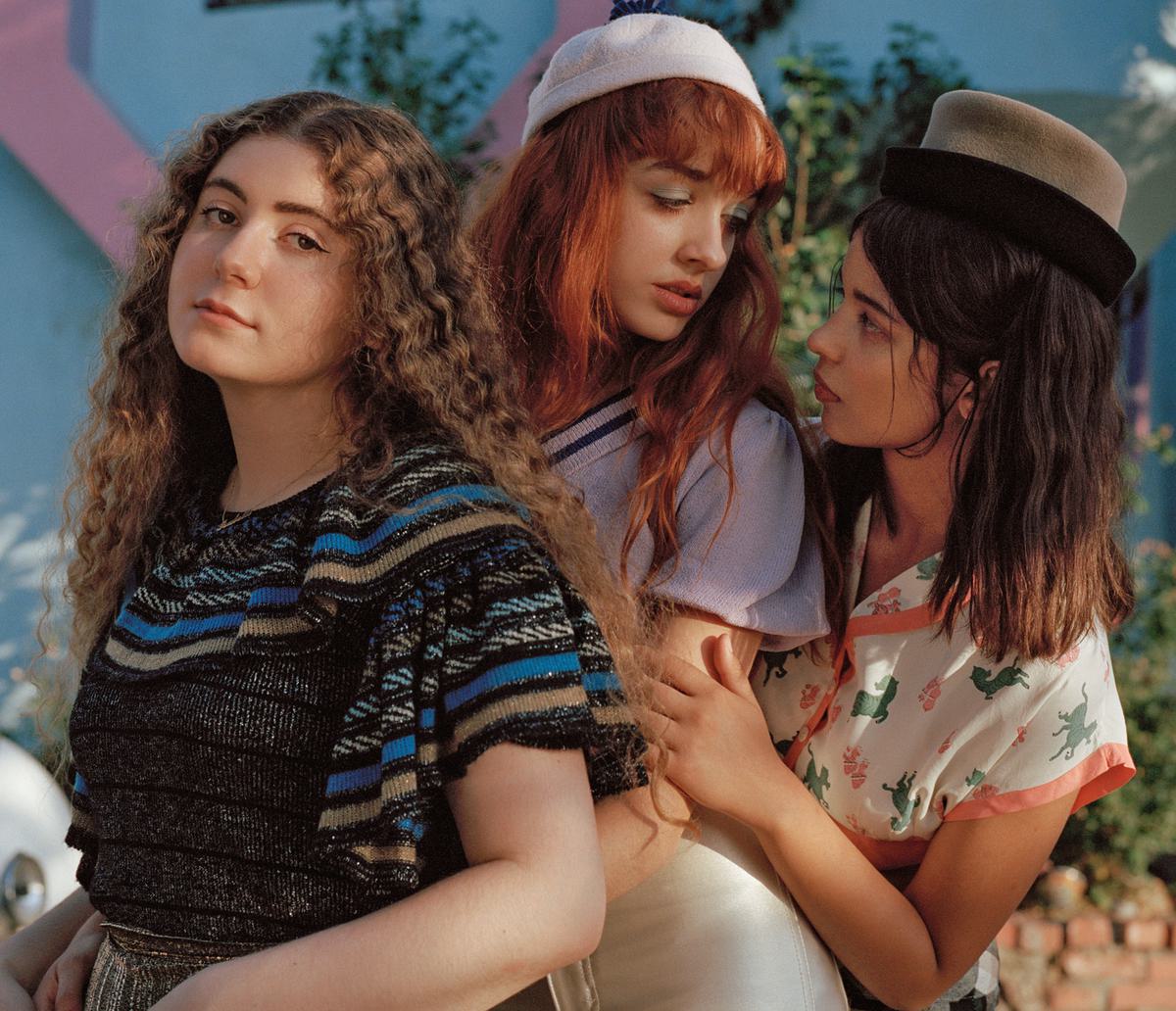 Pinky Pinky are pushing past scene culture
19 June 2019, 13:00
Leaving the plastic and the palm trees of LA behind, indie trio Pinky Pinky are ditching their Californian rock roots for their own carefully-curated universe.
Now add into this dilemma the setting of Los Angeles, a city more known for its fake-nature and sheen-white teeth, and musical history. Imagine trying to establish yourself with a homegrown authenticity while all of this chaos takes place - but then undertaking all of this in your teens. Because that's precisely what Pinky Pinky have been up against.
A trio who've grown up in the world of plasticity, Pinky Pinky have emerged unscathed by the all-consuming beast. The three of them - drummer Anastasia Sanchez, guitarist Isabelle Fields, and bassist Eva Chambers - fuse '60s garage rock, with oddball indie sounds, and just about every other genre-flourish you can imagine. There's not really anyone quite like them, well, anywhere. But especially LA.
In the sheltered grounds of a pub garden in Stoke Newington, the trio have just arrived in London after a weekend up North signalling the end of their debut overseas tour (and Sanchez' first ever time out of her home country). The three of them are visibly tired. They've arrived in the capital about twenty minutes ago, managed some lunch, and then made their way to our meeting location.
Taking their place opposite me on a haggard bench, the sun's just disappeared, hiding the brief welcoming Californian-esque heat, and now we're sat beneath stereotypical British clouds while pub revellers continue as if its thirty-plus degrees. This doesn't stop the lethargic three bringing an air of cool to the surroundings.
"Everyone's in a band when they're like fifteen in LA," Fields starts on their background. "So you're kind of surrounded by people that are also making music," Sanchez continues. "We grew up around people in creative fields, so it's inspiring, in a way, that we kind of grew up in a competition? It was easy to know what to expect because we were around it so much and, of course, coming from a place like that, we're gonna have a lot more leverage than coming from anywhere else."
"I think that's a thing too…" She pauses with the new thought visibly forming. "You're not aware of it at that age because every different neighbourhood in LA is so drastically different. It's like a bunch of really different towns in one city, and each town has its own charm or thing about it…I don't know; it's hard to see things so it's hard to say…it is so scene-y and cliquey…"
You can understand why Pinky Pinky wouldn't fit into any veritable idea of a 'scene'. They bounce with a happenstance between whatever mood they see fit, bringing the innocence of being a teenager along with seeming darkness that only time beyond theirs can bring. But all of this is used to their advantage and has seen them set sail around the world and to push themselves far more prominent than those scenes and cliques of home.
"When we started the band, it was more of an 'Oh, we all want to play music, let's just jam!' as kind of more of a hobby, but then it became, 'Oh shit! *This* could be something'." - Anastasia Sanchez
Being a band in LA might sound like the makings of a cliche, and for a good reason. The vast streets are laden with myth and truth - where careers can thrive or die and are the focal point for just about anyone that picks up an instrument or writes a song, around the world. "I don't think we ever tried to set ourselves apart really," Sanchez muses on Pinky Pinky's place. "When we started the band, it was more of an 'Oh, we all want to play music, let's just jam!' as kind of more of a hobby, but then it became, 'Oh shit! *This* could be something'."
The Pinky Pinky beginnings are rooted in their school years. With Sanchez and Chambers - who are currently suffering the most with a summer cold passed on from Fields, and removed from the conversation - meeting in middle school. For Fields, it became an escape from the monotonous nature of being somewhere she felt she didn't belong. "I really just didn't like my school and becoming friends with them," she gestures to her bandmates. "And all my friends were outside of school. I'd go and hang out with them right after I'd get out of my class, like go straight to where they were and hang out. And do music and stuff, so it forced me to look outside of where I was, and who I was."
While Fields' journey was a personal endeavour - a necessity to thrive - for Sanchez and Chambers, life was a bit more fruitful. "Our school wasn't very strict academically, so we had a lot of room to stay creative," Sanchez says. "At school, we'd just do visual, video, etc. and outside of school, we'd try to make music as much as we could. I think that was helpful, but it was just a hobby at first. We just thought we'd get together and write some songs for fun."
Fun is precisely the operative word that should be associated with Pinky Pinky. Everything they do is literally for this exact reason only. It's a core that runs deep throughout every song they've released - every video, all the artwork - it's all just, fun. And there's no better representation of this than their debut album. Turkey Dinner is the eventual result of a few years hard-work, a couple of EP's (2017's Self-titled, and 2018's Hot Tears), partnering up with songwriter and producer Hanni El Khatib and realising where they wanted to grow and how to make Pinky Pinky last - even if it has taken a bit longer than they would've liked.
"It's just frustrating because we wanted to record our first album," Fields begins. "We wanted our second EP to be our first album because we thought we were ready and Hanni and that were like 'Nawh, just put out another EP, and we were like 'aww', because we've wanted to put out an album for so long - years - so it's really exciting its happening." "We recorded our first EP in 2015, and it came out like 2017, so that took a long time to come out….wait, did we record it in 2015?" Sanchez says, trying to remember the course of events. "No! We wrote the songs in 2015, but recorded it in 2016…it feels like every project comes out as we're in the middle of the next one. We're excited for the album as it's the most honest sound so far…" "We're showing our true colours…" Fields adds nonchalantly.
The more obvious side of influence for Pinky Pinky comes from the likes of David Bowie, and classic rock sounds played to them by their fathers. But the twist they put upon these fast, steady jams stems from whatever the hell they're enjoying. For a brief period, the raw nature of their sound found them deeply-submerged in the term 'garage rock', but that's a world away from the Pinky Pinky of 2019. "We went through a lot of phases, of trying to be just one specific genre of music," Fields says. "And then once we started making demos with Hanni, during that period…once we became a three-piece, that's when we came to the conclusion that you can just do any genre. It doesn't have to be specific."
Chambers pipes up for one of just a few moments in our time together with genuine fire. "I don't know why we're still referred to as garage rock, because it was like the first EP we made was very garage-y, and sloppy, but it's nothing close to that." "Garage rock has such a specific sound and connotation that comes with it," Fields adds. "It's not just making music in your garage anymore. The first EP definitely sounds like that, but I think we want to break away from that because that's not what we sound like." "But can you ever break out of a label once it's put on you?" Sanchez muses wistfully, laughing. "It's just more of an eclectic group of songs" she continues. "We just went all out. We took ourselves less seriously this time," "…because we don't take ourselves seriously…" Fields once again piquing up, smirking.
Before you even get a chance to listen to the album, the striking artwork of a stereotypical American, suburbs, wholesome dinner grabs your attention. But beneath its colourful exterior lies a darker weirder side, much like the musical element to Pinky Pinky. The food is straight out of the 1960s, with jelly wrapped meats, peculiar looking treats and the trio staring in from a window behind the questionable feast.
"I saw this photo of someone looking in the window or whatever from some magazine, and was like 'Yeah, this is cool, we should do an album cover like this'," Sanchez explains. "And then Isabelle was saying we should do a dinner party, and then it added on, and we all started thinking of an idea, and then we were…bam…there it is just like the classic cookbooks with like funny, gross foods. It stunk up the whole fridge and kitchen and dining room - the kids, had stinky feet." "Everything we used to stick things with, we used like cheese-whiz, it was revolting…" "The kids smelt so bad like their feet stank. It was unbelievable. But my sisters on the cover…and some of her friends…" Sanchez says.
One of the critical components that brings the gritty realism to their jingle-jangle jams is the utilisation of the real world and the people they've encountered, both supremely close and from afar.
For instance, the album opener "My Friend Sean" directly relates to a friend, re-purposed into a dreamy crush which escalated through its idolisation. There's also "Lady Dancer", which Sanches wrote based upon her time working in a vintage clothing store. "there was this stripper that used to come in, she worked at the nightclub like a couple of blocks away, and I thought she as so fucking awesome!" One of the more intriguing characters that she brings up is "Mr Sunday", "a personal song about someone I'm very close to…being the other woman" she quietly alludes before changing tact.
While these characters are forming a part of a universe - they jokingly refer to it as their "Marvel universe" - they don't see being from LA as an advantage. A town that is certifiably filled with free-thinkers and big-dreamers doesn't strike the three as a unique opportunity. "That's the thing it could be normal for anyone. it's not just because like we live in 'LA… It's soo crazy'," Sanchez says with a Paris Hilton-esque accent, dropping in some final wisdom amongst the jokes and sarcasm. "I feel like every town has such a special charm to it, even if it's hard to tell or see."
Turkey Dinner is out now via Innovative Leisure.