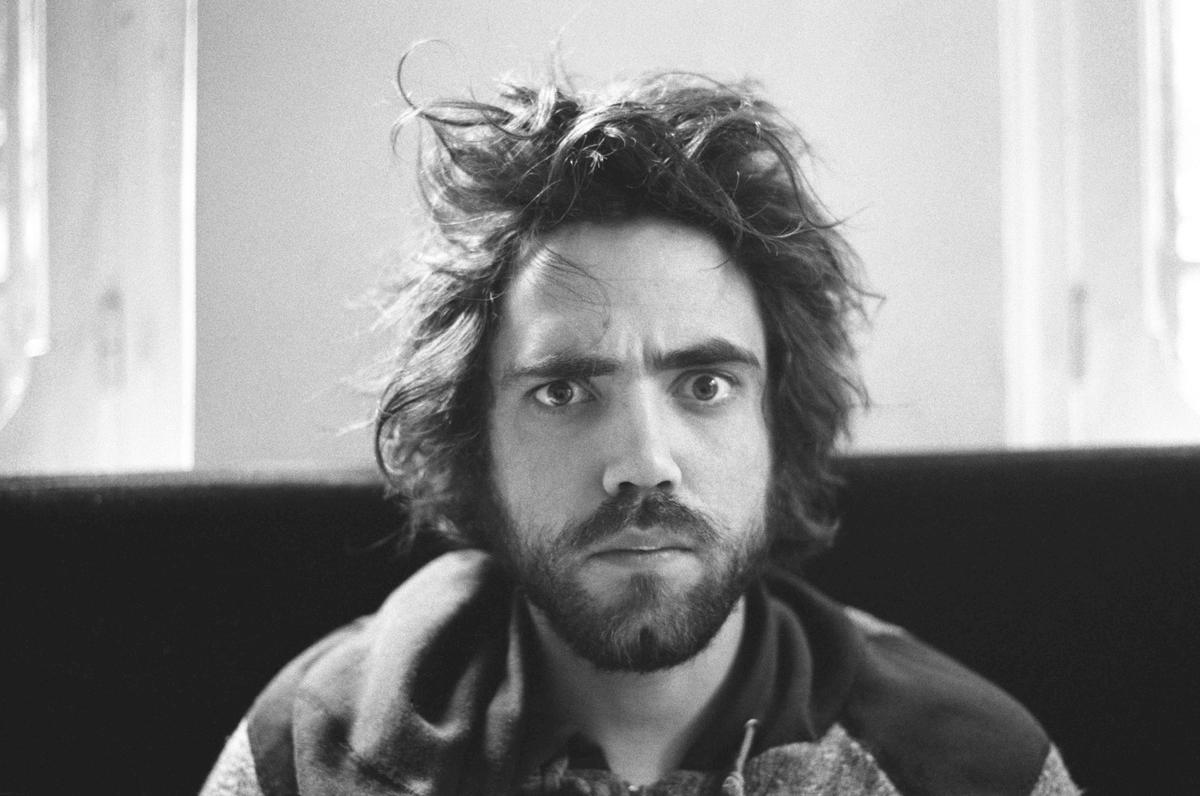 Patrick Watson: "You could look at music as an escape or as a way of colouring in your life"
30 November 2012, 14:55
As we're led through to the basement of East London's Village Underground, he's sat on a sofa between two members of his band, one with a guitar and the other with a saw, midway through a session for another media organisation. Around the room are more sofas and more band members, strewn amidst empty bottles, laptops and instruments. 'Words In The Fire' is the track being performed, and it sounds amazing, Watson's voice evocative, luminous and seeming effortless as he sits perched upon the edge of the cushion, his hands cupped around his face.
And then he stops suddenly, mid-line. "I'm flat – my voice is flat," he protests, despite it sounding pretty much perfect. "We need to start over." Immediately the room becomes an echo chamber of coughs and splutters, not least from me: five minutes I've been suppressing this and the force threatens to reorganise some vital organs. "You too, huh?" says Watson. "That thing's been following us around the world."
And they have, indeed, been around the world these last months. Tonight's show is the final European date on a tour that started in April and hasn't really stopped since: tomorrow they're crossing the Atlantic for another month of Canadian and North American gigs before Christmas.
"After a while they just kind of blur," says Patrick later, sat in a pub just down from the venue with a glass of red wine in one hand and an unlit cigarette in the other. "Being on tour is like a Friday that never ends." That could be worse, I venture. "Would it be fun for it to be Friday every day for four months? Sometimes you just really miss Sunday and Monday. And whilst you travel to all these great cities it's still the same thing, you know – you get off the bus, set the instruments up, and backstage just looks the same, you're with the same people – so it's kind of like this never-ending day that just keeps on happening. It's draining.
"Oh, don't get me wrong, sometimes you have these amazing nights on tour that you couldn't have any other way – living in the moment with everything else just disappeared, like a teenager instant-gratifying. And that's an amazing way to live, as an adult, but some days are tougher…"
All this is spoken faster than I can think, the pauses between Watson's words not so much spaces as mere bubbles of air. As he talks his words are animated by ceaseless movement, one hand drumming an ever-shifting rhythm on the table whilst the other slices the air, both feet tapping out a different beat. At first it's distracting, and then almost hypnotic: anyone who's seen the band live will recognise the nervous, infectious energy of its frontman, that unpredictability, evident in every twitch, that prompts him to leave the stage to balance precariously atop a chair within the crowd (as in one performance I witnessed this summer), or hang from a pipe running along the ceiling in another.
"I like to get people out of their roles. I don't like roles. It's tough for people to drop their defences – because they see so many concerts, it's tough for people in big cities to just let themselves go. Playing smaller cities sometimes we have much better shows because people don't see so much – in big cities in takes something like that to shift the mood, to get people out of the 'we're going to see a band, will we like it or not, are they cool or not' mentality – that's not really the point of music. The point of music is to go out and take a break from your life, not to go see a 'cool band' or whatever – the point is to fucking leave your head for an hour and a half."
Leaving your head is something that Patrick Watson's music assists with pretty well. Back in April I reviewed Adventures In Your Own Backyard, the band's fourth album in nine years, writing that they "appear indifferent to the world, their music dwelling in a half-light a little to the side of the everyday, wide-eyed and childlike and yet ever so slightly sad."
"Sure," says Patrick when I put this to him. "When I'm writing something and it's really good, everything just disappears: it's an out-of-body experience for me. Music brings places somewhere else: you could look at it as an escape, or as a way of colouring in your life."
Adventures In Your Own Backyard is certainly colourful, from the mariachi brass that textures its highpoints to the dreamlike rendering of suburbia that adorns its cover. But it's also a more focused album than its predecessors, warmer and more pared back where they leaned towards percussion and experiment. Was this purposeful, I ask?
"Definitely," Watson replies without hesitation. "It was getting annoying in all the interviews – people tended to be more interested in the arrangements and instruments than in the songs themselves, which told me we were on the wrong track. A good arrangement shouldn't necessarily stick out: you should just think that's a great song, you know – that means all the parts are doing what they're supposed to do."
They're much happier with this album, Watson says, having taken their time with it after their disappointment with 2009's Wooden Arms, which he feels suffered through a lack of time. "Yeah, we had a deadline," he sighs, the ceaseless movement pausing for a moment. "There were a lot of ways I could have improved that record. With songs like 'Beijing', I don't feel like we got the right arrangement for it at all. 'Big Bird In A Small Cage' is such a miss – it's such a good song, but we just didn't do it right. But we made sure we took time with this one."
When he isn't working on stuff for the band (Patrick Watson has always been a band, something they briefly attempted to emphasise with the suffix And The Wooden Arms, since quietly dropped) Watson works on film scores – around one a year – most recently for the Canadian documentary À St-Henri, Le 26 Août. His soundtracks are much like the band's songs, playful, escapist and musically adventurous – more so, perhaps, freed from the anchoring conventions of choruses and verse. Is this an area in which he'd like to work more? "Yeah, I love it," he replies. "With songs you have to place a story but with films you have a story there already – the film is your lyrics."
Asked what he would be doing if he wasn't in a band, Patrick replies immediately: "film scores." And he wasn't doing music? "I've thought about that a lot, actually," he says, pausing for perhaps the first time in our conversation. "Maybe a teacher – I'd kind of like to be a teacher." Which is interesting, as I work as a teacher – and I'd kind of like to be a musician. "I just imagine that it would be really fun. I could see how it would be challenging, but I'd get a kick out of it – the kids would have to be engaged, though." I briefly convey the reality of a modern comprehensive, and his enthusiasm visibly fades: for a moment it seems as though he, and everyone else within earshot, might begin to cry. "I'd want to have a job where something amazing happens and I get goosebumps, where there's special moments that make it all worthwhile."
Does he still get that from music, I ask? "Recently I've been thinking a lot about when we started playing music in Montreal and we'd just have these crazy parties at 1am and all sorts of musicians would show up – what we do all came from that. At some point on this tour I just thought, why don't I just do that fucking concept instead of doing shows – cause everybody comes to see a show and it's all structured and kind of this ta-da thing and everybody knows they have to clap. Let's throw the crazy parties again! We'd play all these weird fucking places in the middle of the night – I kind of miss that."
But there must have been some highlights this year, right?
"We played this one town in North California, forty people in a small little mountain town in a lodge, and after the show this guy says 'come to my cabin in the woods'. So we went to this guy's house, six of us, and there's an unlimited bar and a four-storey redwood forest around the cabin…" That sounds terrifying. "Oh yeah, totally. Listen, I still like shows, but it's about changing the rules, getting the goosebumps when special things happen. I just miss that: we do so many shows all over the place that you get stuck in this routine. I find it frustrating because it's hard to get the magic to flow – I'd like to take a year off from that."
After this final run of dates the band finally – finally - get some time off, the next thing being a clutch of European orchestra shows in the spring. It seems a pretty natural progression for the band, actually, a further enmeshing of the filmic and melodic elements of their sound. It's also, as Patrick stresses, a way to get away from the regimen of a touring band, to get away from playing shows towards something more like special events. "You can do some crazy things with orchestras. Especially with Wooden Arms, that's an album meant for an orchestra much more than a band. 'Where The Wild Things Are', when we did that with an orchestra – that's the only time I've heard it properly. 'Beijing' as well. Bigger's not the right word – it's just that there's something very special about eighty people making a noise."
Perhaps it's just late-tour ennui, but of all his characteristics it's Patrick Watson's restlessness that seems most pronounced right now, a dissatisfaction with the mundane and the everyday that extends, unsurprisingly, across the music industry and beyond. "There's a lot of music right now, let's be honest – there's too many bands. The filtration system has broken down, which is what labels used to do, and it's becoming more difficult for ordinary people to find stuff that's good." Ordinary people? "Listen, I've nothing against pop music, the mainstream – whatever makes people happy. The Lady… whoever the big stars are, but it's like eating fast food every day. There's no fucking vegetables anymore, it's all fucking sugar – all we're eating is cake for breakfast, cake for lunch and cake for dinner. And music's important because it has a big effect on people's lives, on how they think, and there's a lot of dessert without any fucking healthy food."
Is that the same in Montreal? "Well, Montreal's a very particular city: it's very different because of the French culture. It's an island in terms of culture. There's no big labels, it's completely sheltered because the French people are protecting the language. It's different to the rest of the world because of the politics – it's sitting in the middle of North America, but standing apart."
Ah yes – politics. Within my eyeline is a screen looping coverage of the U.S. Election, the graphics self-parodying and the editing pulsing like a strobe. Watson has previously been vocal that he doesn't think of music as being political: is that still the case? "Yes and no," he replies, his eyes momentarily fixing upon the TV's glow. "There's ways of being political without talking about politics. Music helps people to see the world differently, and that's my job – but it's not my job to tell people how to think. Politics is such a complex thing, and most artists aren't actually qualified to understand the areas they talk about: most people don't know shit, you know, and their opinion is kind of worthless."
So should artists be less politicised, I ask, less engaged with issues about which they have no direct experience? "I think we could do with less empty sloganeering from musicians, certainly. Israel, Palestine, the economy: we can't have an opinion on most of these. We can have feelings, but that's not the same thing…"
We're out of time, hurriedly grabbing coats and downing drinks and, in Watson's case, adjusting the peak of his hat so that it casts his face in shade. As we leaving the pub he says, his voice a near-whisper, "I woke up this morning to construction workers fighting at 3am, right outside my window. Two gangs of them. Is that normal here?" Before I can answer he's turned away and muttering, apparently to himself, "I hope it is."
Adventures In Your Own Backyard is available now through Domino.