Anina Ivry-Block, Lily Konigsberg and Nina Ryser, all grew up in New York, and knew each other peripherally through the local music scene but it wasn't until they attended Bard College that Palberta began to take shape. "The band started because Ani and I kinda knew each other from taking the same music classes at Bard", says Ryser. "Lily was living in the area, and I organised a show where Ani and Lily played, and I played solo. Lily was like "I'm applying to this school and if I get in we should jam", and she got in and then we jammed, and that's how it started".
Inspired by "all our friends", it didn't take the band long to start playing shows and building a local reputation for their wildly esoteric brand of post-punk. "I think once we'd started as a band we had a lot of connections in the New York music scene already from going to shows when we were young and that's how we started playing shows in New York - through friends, and people that we knew were gigging at venues and stuff", Ryser continues.
From day one, Palberta have been decisively influenced not just by scenes and experiences around New York, but also their relationships internally as a band. "It's intimate being in a band", says Ivry-Block. "Just as much as we've been working on our music we've been developing and building our friendships too. It's such an intimate thing to be in a band, more so than just showing your showing creatively to other people, but when you go on tour shit gets so emotional".
Often characterised by their close-knit friendships and musical arrangements, the obvious synergy was also expressed early on in their established template for writing and playing music, one which has survived to the present day. Rather than having a designated guitarist/drummer/bassist, the trio instead regularly switch between instruments, a system that allows them remarkable fluidity both live and on record.
"It started off because we all knew how to play each instrument", says Konigsberg. "I felt most comfortable on guitar, and Nina was most comfortable on keyboard, which actually isn't in the band, and Ani was messing around with guitar and she was really getting good at it and recording. And as soon as we had our first practice we ended up being like, "okay, I wanna do this, I wanna do that", so we just switched around and that ended up becoming the normal Palberta way.
There's this funny point where if someone is switching the drums, or if someone is switching guitar, there's one person holding the bass and the guitar at the same time, it's a very funny thing that happens often. So people will witness one person holding two instruments, and one's trying to fumble around, so that definitely adds to our stage presence. But that wasn't intentional at first, it just kinda happened".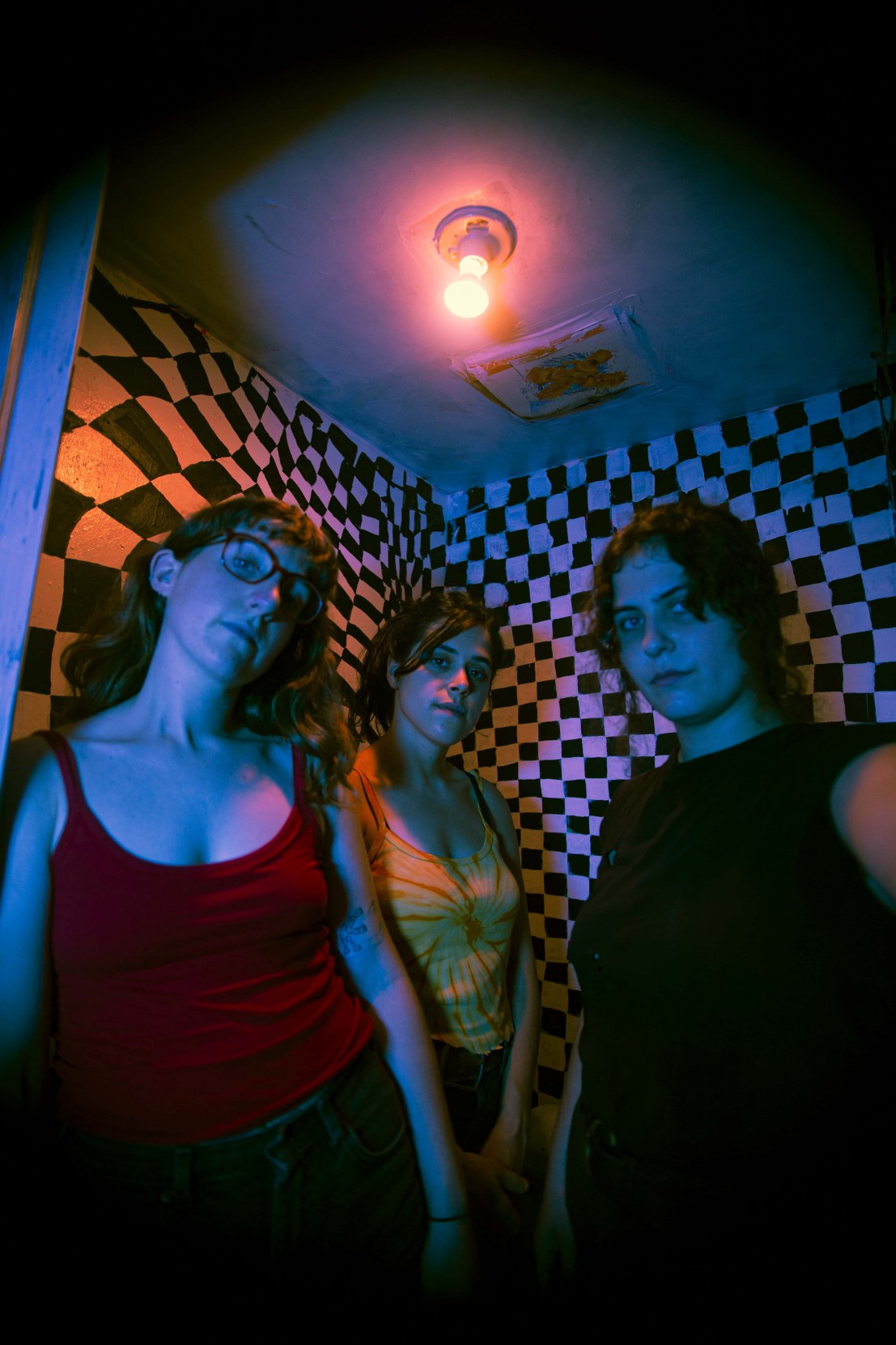 The appearance not just of three individuals switching instruments on stage but, god forbid, three women doing so while playing a form of rock music however confounded as much as it delighted early audiences. Seen as something of a "novelty", the upward battle to persuade a room full of people to believe in you as female artists is something unfortunately with serious precedent in the industry.
"We'd show up somewhere on tour and we'll get stuff out of the car and be like "what's up, we're the band", and there were so many times when people would be like "oh you're the band?", and then we'd play and they'd like it", Konigsberg recalls. Often derided by "random white guys on the internet", the trio point to their 2018 Audiotree session as a prime public example of the kinds of scorn they'd receive online. Called out for wearing "slutty outfits" (in reality dress-up for the Halloween date of the session), it was a ludicrous representation of baseless trolling with little reference to the actual music. "It was amazing how much people hated us", admits Ivry-Block.
Given the trio's increased exposure, have adverse reactions to the band's performances generally gotten better over time? "I definitely feel like we used to get more extreme reactions from people back when we were first a band", suggests Ryser. "A lot of people when we would tour wouldn't expect the sound that we'd make, they wouldn't expect us to rock like we would". Ivry-Block however remains unconvinced about any real signs of progress: "(They haven't improved) because people have gotten better. I don't really believe people have changed that much".
Palberta's first full-length, My Pal Berta, was released in 2013 to what, as Ryser remembers it, "more hype than any album we've ever released. People were so excited. I remember seeing it shared all over Facebook!". Despite definite tinkering and serious progress made on records since that debut, its 11 short, adventurous tracks of gyrating rhythms and writhing vocal harmonies formulated some of the trademarks which Palberta would come to be defined by. "It's such a raw album...it hits hard", says Ivry-Block, before qualifying "we've gotten a lot better since then"."We were figuring out our sound, and some of us were new to some instruments. Like I was new to bass. I feel like it has that first album, beginners style", adds Ryser.
Since My Pal Berta, the trio have released a handful more full-lengths and EPs, each with its own nuances but remaining largely faithful to the band's standard framework. They each also have put out music separately under various guises, Ryser under her own name as well as part of the band Old Maybe, Ivry-Block going by Shimmer and Konigsberg with Lily & Horn Horse. Needless to say, their cumulative output since 2013 has been prolific, a point worth making if but to highlight the formidable work ethic the trio clearly nurture.
With a freeform approach to writing their music ("there's not really a concept, but they always seem to fit together" says Lily), it's common for songs written and played live to not appear on record straight away, as tracks written at different times weave themselves into each release. While this particular habit has continued into their latest album, Palberta5000, the band did however decide to indulge in numerous amendments to their sound, most notably a closer association with pop. Often contorted, their vocals are instead more pristine, and their instrumental edges a little less gnarly. Not confined to their songwriting and performances, variations in approach also made their way into the studio.
"The recording process was different because we each got to do vocal takes on our own", explains Konigsberg. "Usually we just gang vocal all of the vocals. It's really hard to hear yourself when you're singing with three other people, as fun as it is, and as cool as it is. But we got to do that, and to think about the songs more, and we definitely elongated them. My dad was always like "the last song would have been better if it was a minute longer", and I think in some cases he was right".
While sacrificing none of their idiosyncratic appeal, Palberta5000 does indicate a turn in the road for the band. Whether the quirky joy of "Summer Sun" or the urgent whimsy of "Before I Got Here", it involves better playing and intricately constructed songs, as opposed to the thrilling sense of abandon often demonstrated on previous releases. Seeing some grand plan in this direction however is folly, their success rather a result of three close friends performing and writing music they love. "We're always evolving, so I can't really say what the next album will be like", says Ivry-Block. "But we're going somewhere".
Palberta5000 is out via Wharf Cat