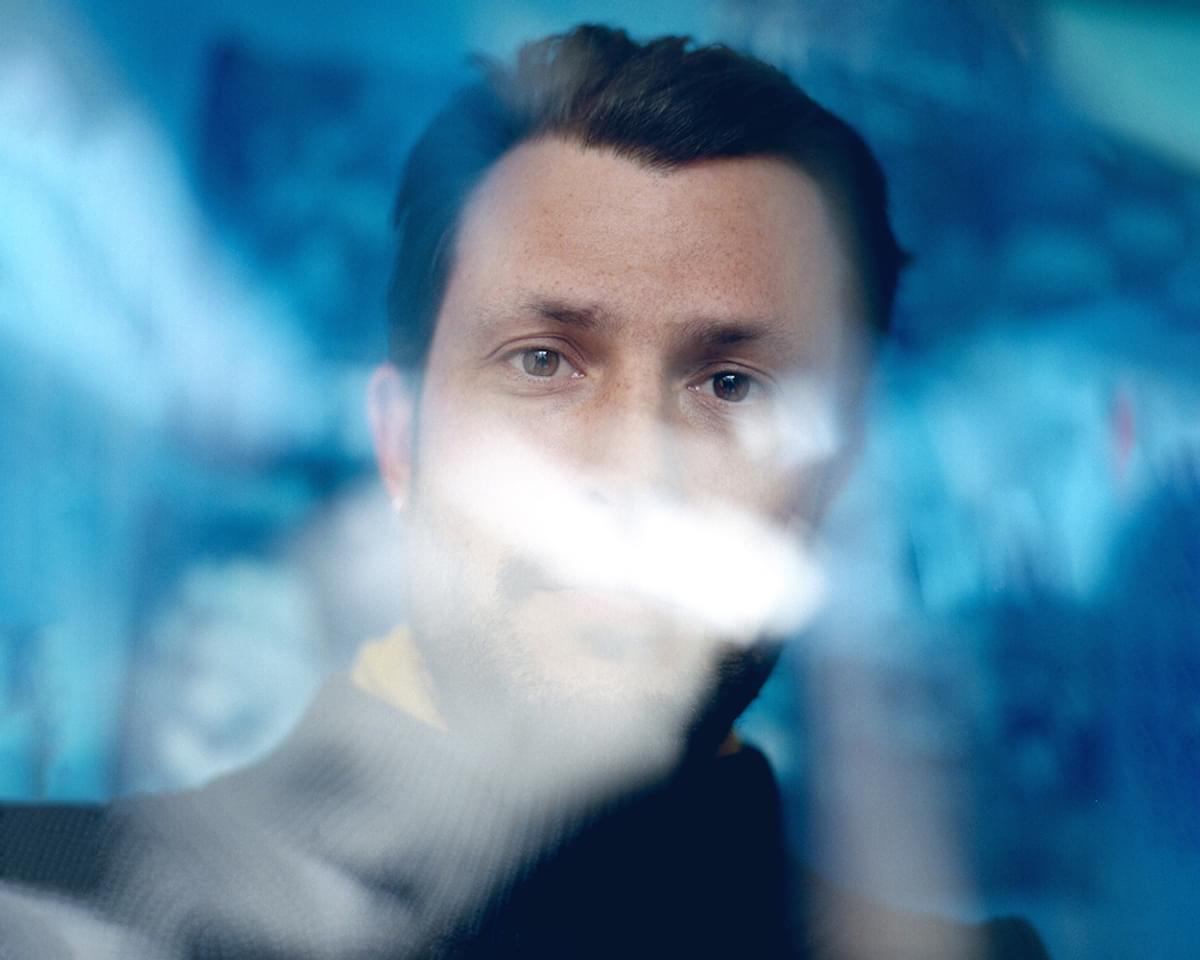 Orlando Weeks and the joys of parenthood
31 December 2021, 08:00
Before I could start talking to Orlando Weeks, his toddler was keeping him occupied. "The one night you have something on is when they're the most energetic," he says, speaking from his flat in South London before we could get into the details of his second album Hop Up.
But of course, his son didn't have a clue that we would be talking mostly about him and Weeks' voyage through parenthood.
Week's new album is curiously playful, acting as a soundtrack for his son's journey of constant discovery. His previous 2020 album, A Quickening, was comparatively tentative. Low-tempo tracks shone a light on the anxieties of the immediate arrival of a brand-new person and for Weeks, his firstborn child. The record focussed on the engrossing pleasure of how your present becomes more concentrated, your life centering around this fearful event.
"When I listen back to it [A Quickening] or when we play the songs live, I can feel how there's very little hindsight. I was very much absorbed, even though a lot of it was written when my son was over a year old," he says. "I think what Hop Up feels like is relief and celebration. I had the ability to look back on something and see more of it because you're not inside it anymore. I think [the two albums] are definitely linked. Hop Up started as me trying to make sure that I hadn't just written an anxious mess as my only recollection of Tomo's arrival. "
Retrospect was essential to Hop Up's creation and looking back added to the record's buoyancy. However, A Quickening was more suspenseful and saw Weeks capturing his role as a supporter: "I was trying consciously to not presume I understood the full experience. I didn't carry a child or bear a child. I was witness to someone that I was totally invested in and in love with. With [Hop Up], I feel like I've drawn a line under at least trying to explain that time."
Anxiousness cast aside, parenthood becomes a huge definer for Weeks: "It's all-encompassing. It's everything you talk about, it's everything you think about, you can't move out of it in a conversation, and you want to ask other people how to deal with something. It's full-on and great and exhausting."
Moving onto the writing process, we discuss the intricate musical arrangements which are Interspersed with the sounds of Crosby, Stills, Nash, and Neil Young. The harmonies and the influence of the West Coast feel play their part in creating a light and upbeat atmosphere. At the core of the album-making process was the rhythm: "from a writing point of view, I started every song with just a rhythm part, with a really crude drum part but with no melody or no melody information so I wasn't bound to anything." What followed from there was embracing marimbas, xylophones, and vibraphones; instruments that play such a large part in creating a whimsical and sprightly atmosphere: "even to teach a kid the letter X, you always say xylophone, they're linked, you can't take it away." Every choice on the album can be directly linked back to how Weeks wanted to capture parenthood. The conversation gravitates back to the fun of being a dad, making it clear as to why he's made two albums about it.
Heading down to a studio in an industrial estate in Peckham long after his son's head had hit the pillow, those long nights helped change up the writing process. "I'd just go there after everyone was in bed here and just work late and drink some beers and not be embarrassed about being loud or stupid or waking anyone up. I'd just have a really nice time and it changed the way I was writing."
"I wouldn't underestimate how important it was for me at that time to be making something that was such a pleasure to be making."
The two-week stint recording with Nathan Jenkins (Bullion) was the final piece of the puzzle in creating Hop Up: "At the end of every day, you had enjoyed it, felt lucky to be doing it and you go home flush with this sense of goodness. I don't think I want to make every record like that, but I wouldn't underestimate how important it was for me at that time to be making something that was such a pleasure to be making."
He continues: "Also, the biggest factor was that I knew that I was going to work with Nathan. I wanted to work with him because I love the music that he makes, and I thought there'd be no point working with him unless I was wanting to embrace the aesthetic that to my mind, he has such a handle on." Bullion's track "Blue Pedro`' is a great example of how the producer can pinpoint an exact joyous feeling and his stamp is all over Weeks' album.
"I was writing with some freedom and with a manifesto of up and jollity and pleasure and with a real eye on the fact that that's who I would be making the record with. When he knew what I was trying to achieve was a particular feeling, he would send me new pieces or play new records in the studio or find little things and say 'have you seen this? I think the freedom of making it, knowing we were getting to make a record when we were just snatching any time we could during the pandemic, we were so thrilled." A Quickening was written gradually, not being shared with anyone but Weeks' wife until it was ready to be assembled. Being careful with the tracks he was making aligns itself with his previous anxiety contrasting with Hop Up's fun-loving creation process
Hop Up gave Week's purpose and direction in the midst of a world that was incredibly child unfriendly due to the pandemic and inhibited his son in discovering the world. "The thing that I couldn't bear was obviously it's an age where you can really see intrigue and discovery and everything is new and everything is within reach especially if you've just learned to walk, you want to touch everything. In my mind, everything was contaminated as soon as you left the flat. Don't touch that, don't touch that," he remembers. "But then you're like 'I want you to touch that because if you don't touch that then you won't know about this,' especially since playgrounds were the only place that stayed open for most of it. I thought surely this is the hotbed, this is south London's petri dish that we're hanging out in for an hour."
Now as gigs become a regular part of a music fans calendar again, tours can be planned and be the full experience we all once enjoyed. Hop Up feels like the perfect music to be touring as the music industry emerges from a horrible period of dormancy. This time around, Weeks is expecting more of a buzz compared to his A Quickening dates.
"I'm asking a different thing from the audience. With the A Quickening shows that we did before lockdown, it was all about stillness. It felt like there were really attentive people there. With this, I want people to be wrapped up in it and feel the same way I do when listening to the rhythm tracks in Hop Up. It makes me want to move and I'm not sure since the really early days of Maccabees that I wanted people to jump until they fell over. I'm not sure that since then that I've wanted to play concerts and make music where that was a real purpose. It'll be interesting to see if it translates but I'll be really cross if it doesn't," he laughs.
The series of live dates in November saw Weeks travel up and down the UK but parental responsibilities kept it more regional than previous tours: "It's all venues I can get a train back to because I have family responsibilities during the day. I can't really stay over anywhere and miss parental bits and pieces."
Hop Up is released on 14 January via Play It Again Sam; Orlando Weeks tours the UK throughout March 2022.
Get the Best Fit take on the week in music direct to your inbox every Friday