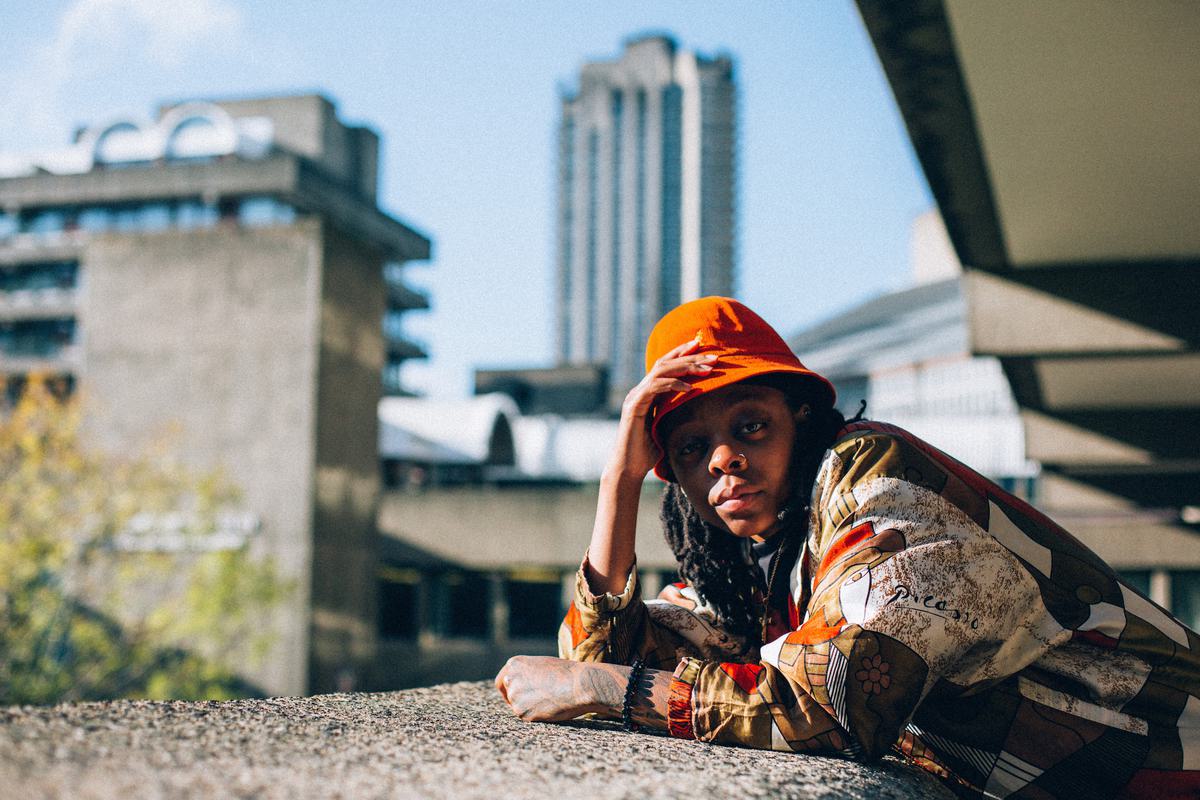 On the Rise: TrueMendous
26 April 2020, 11:04
The first woman to be signed to leviathan hip-hop label High Focus, live-wire Birmingham emcee TrueMendous is setting sparks flying.
Spend some time with TrueMendous's rumbustious, mile-a-minute brand of hip-hop, and you'll discover the obsession with storytelling she's had since childhood.
"Originally, I never used to write anything except songs that had a clear beginning middle and end," she says. "Back when I started writing, I had about 130 songs and they were all stories, exploring concepts like love, family dynamics, mother-daughter relationships, boyfriend-girlfriends relationships, abuse, romance..."
Little has changed in True's approach to lyricism over the last few years, but her profile has erupted. The first woman to be signed to UK hip-hop label High Focus, a new audience of bucket-hat connoisseurs have been introduced to her hyperactive flow – drenched in a heavy Birmingham accent, and now paired with the crème del la crème of British rap producers. New EP HUH? landed with a slew of high-octane singles, but has moments of fraught introspection ("Meerkatz") and cool, give-a-fuck irreverence ("Sumtymes"), demonstrating some serious range.
Born in Hansworth Wood, True had a pretty stable upbringing, in stark contrast to the tales of family drama and upheaval that feature on her early EPs. I say, from the titles alone – This Is Your Mother/Father/Aunty Calling – the unseasoned listener might assume she had it rough. "I'm just attracted to unusual titles," she explains. "And I had the idea of doing a series of records that were connected, and spoke to the 'average' person, to normal situations that people go through." True doesn't have any brothers and sisters, and displays a certain introspection you could attribute to growing up on your own. When I ask her if she's a classic only child, she chuckles. "Well, you would have had to duplicate me and then give me siblings so I'd really know if I would be any different... But I enjoy being alone. And now [during lockdown] I'm a recluse. Like, I don't really like going anywhere. I do have a closed set of about three or four friends, but I also love my own company."
Early on in our chat, True nixes the idea that any Birmingham rap 'scene' might have spurred on her career ("it was just a lot of old men with kids and stuff... I can probably count the hip-hop artists on one hand"). She also jokes that she "didn't really understand rap music" when she was younger.
"It was more singers that I appreciated," she says. "I think pace was easier for me, and I could understand what was being said." In her skippy, non-conformist flow you can hear the influence of the first rapper she fell for: Andre 3000. "He's probably my favourite lyricist to date. And Lauryn Hill. I love Big L, punchline-wise. But it's the lyricists that I appreciated. Like, it's cool to have a great song – but tell me something, y'know? I've always payed more attention what the person was saying as opposed to how they were saying it."
When True finally got into rap, it was almost by accident. At secondary school, everyone was trying to be an emcee on MySpace, and she was – in her own not-so-serious words – "a sheep": "I bought a Poundland mic and I had audacity on my computer so, I was downloading YouTube beats and writing different stories to them."
Telling stories is where True feels most at home. She's seems especially drawn to the persona of a sociopathic ex-partner: on "Childish Behaviour", for example, she describes stalking a lost love with threats of spiking drinks, attacks on their family and physical violence. It's difficult to reconcile this character with the thoughtful, mild-mannered emcee on the phone, and indeed, True confirms that none of these tales stem from personal experience.
"But I have friends who... even though they've not stalkers," she says "...will stay on their ex's page 24/7, making sure they're not getting with anyone new. I like to incorporate a sense of humour [on songs like that], but there's truth within it... and a lot of people can relate to it, because a lot of people low-key do that."
Does she perhaps have a slight aversion to talking about herself? She replies with a drawn-out "yessssss" – and laughs when I ask her to elaborate. "I find it much easier to embody the persona of a character," she admits, explaining that she's pretty sure she's autistic. "I think autistic people excel through words. That stuff just makes sense in my head. When I'm having a conversation with someone, and they're telling me something that's happened to them, I can feel myself extracting the information and turning it into a verse. Then I can roleplay as them in that situation, and it comes to life."
"But it's a lot harder with my own life."
About five years ago, True started busking on the streets of her home city. She admits it's not something a lot of emcees would touch – "... because a lot of emcees have egos, y'know". But she says, with pride, it's the reason she's been comfortable self-employed for some time.
"Busking's always 99% positive. I think the unfamiliarity helps too, being a young Black girl rapping on the street – it works to my advantage. People are used to accordion players and acoustic singers." In the spirit of traditional busking, True retains her lyrics but discards her own beats, preferring to rap over something more familiar. "I'll just throw in a Dr Dre beat or a Lauryn Hill beat, something that the crowd will know and gravitate towards." Is there an equivalent of Wonderwall or Hallelujah for rappers? "Maybe Dr Dre, "Explosive"? Because it's a classic. People like the smoother, summery kind of instrumentals as well. It depends a lot on who's walking past."
Practicing out on the street – for five or six days a week, and for five or more hours a day – is what True thanks for her technical precision: "Busking's improved my clarity, my stamina, my delivery, my diction. Without busking, my ability would have stayed where it was four or five years ago. And I was good then – but I definitely see the improvement vocally from then 'til now. And as it's in public space, it's really built my confidence."
It was also street performance that ended up galvanising True's relationship to High Focus. The label actually approached her many, many years ago, but she turned them down. "I just didn't feel like I was ready to sign to anywhere big at that moment in time," she acknowledges, with a slight apology. "It was a bit of the stubbornness in me as well – like, I wanted to find out what more could do by myself." But the label kept in touch, sending True encouragement every few months, until a prophetic day on the street made her decide to pick things back up. "While I was out performing, like, three, four, five people mentioned High Focus to me. So I just took it as a sign. I'd wrapped on the last few projects and... you can only put in that much effort [on your own] before it takes a toll, so... I called Zander [fellow emcee and label-runner Fliptrix] and they were still interested thankfully!"
There was another reason that True hadn't reached out to High Focus before then: she'd been suffering from "writer's block". Whether most artists would consider a few bar-free months – just after dropping a five-track EP – "writers block" is neither here nor there: for True, this brief pause was a bit alarming. "I'm not sure what caused it," she says. "It might have been me just being used to my surroundings. I think I just needed to change my environment, change my scenery. I think because I was so used to my day and my structure, nothing new was coming to me. I wasn't even listening to any music."
Luckily, it didn't last long. As True first started out recording over beats downloaded from YouTube, and she went back there for inspiration, eventually squeezing some out from a random project she "can't even remember".
"A line just formulated from what a person said and then from that to another line then a complete verse then a whole song. And then I started another one. So when I finally signed to High Focus I had a handful of songs done." Remarkably, over the course of about four months, she'd written around 30 new tracks and recorded the new EP.
Given that she's only a few months deep into her signing, True is still getting to know her labelmates. When I ask her in jest who she'd most like to be locked down with, she says she's only met a handful of them – and it felt a little unfair to chose. "It'd probably be one of Pitch, Zander or Verb T. I'd chill with all three of them... I don't wanna pick!" Of course, it might be a little while 'til she gets to make those connections in person, but True is eager to see what her new platform affords her. "This year is just about seeing where the High Focus journey takes me and what new music I can create," she says. "After everything I've put into this and my work ethic, I want to see what happens when I have a label behind me, the difference that makes. I'm excited about the future."
HUH? is out now.