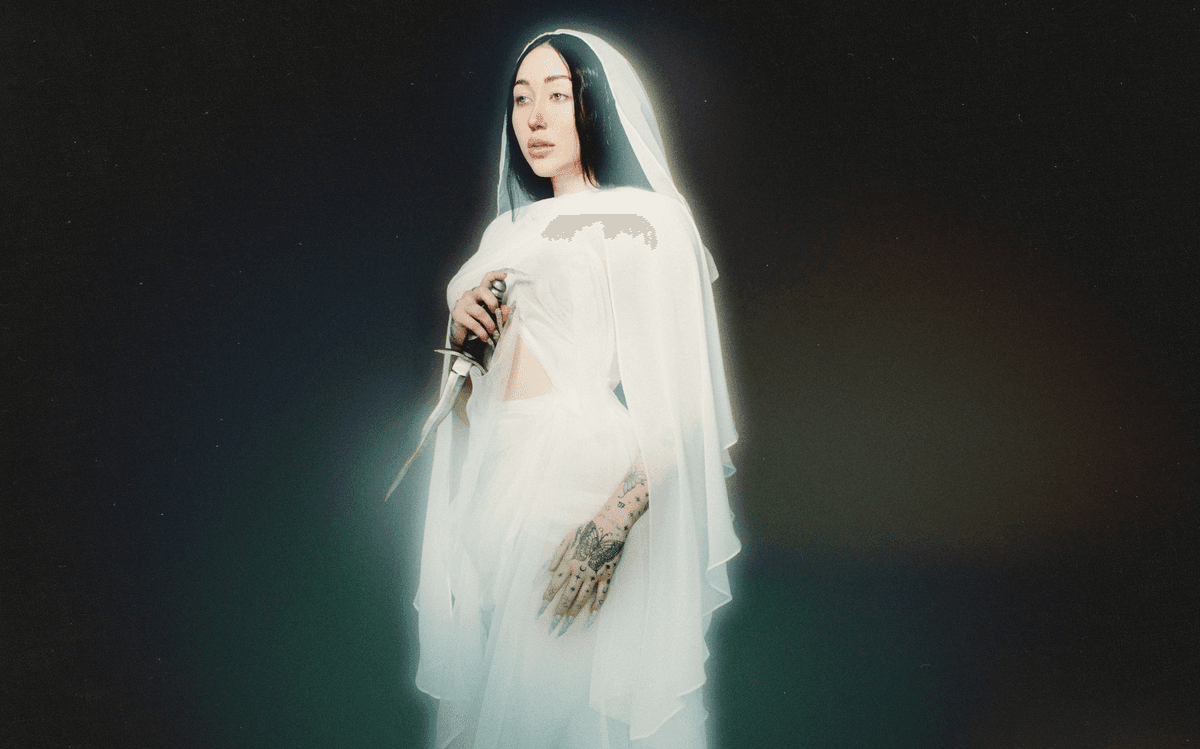 Noah Cyrus and the Delicate Art of Vulnerability
12 September 2022, 09:00
Original Photography by Walker Bunting
On debut album The Hardest Part, Noah Cyrus harnesses honesty as a superpower to overcome insecurity, addiction and grief.

Noah Cyrus is a striking presence, albeit through a cloudy Zoom call. The 22-year-old singer and songwriter is at her home studio in Los Angeles – the sun shining through the blinds behind her, giving off a white halo-like glow. Paired with her bare face and raven-black hair, the image can only really be described as ethereal. She pertains a graceful, other worldly aura in several facets of her being - a testament to her wise-beyond-her-years disposition.

Paired with her bare face and raven-black hair, the image can only really be described as ethereal. She pertains a graceful, other worldly aura in several facets of her being - a testament to her wise-beyond-her-years disposition.
Cyrus tells me it's her first week back home after being in Nashville for a month, where her paternal grandma recently passed away a few weeks ago. "It was a very long, emotional month [and] very hard for everyone involved," she says in her Southern drawl. "It was really difficult watching my grandma in that situation with being in the ICU for over a month. Leaving the state knowing that when I do go back she won't be there was also very hard for me to be okay with and accept, but things are looking a lot better. I've noticed I have a lot more peace knowing that she's out of this earthly body, without pain [and] without suffering, because she genuinely was suffering. I have a pretty good outlook on it all."

As she recalls the recent grief, Noah is solemn but strong – and that's a balancing act she's been implementing and delivering with understated poise throughout her entire life. The youngest child of Billy Ray and Tish Cyrus, Noah Cyrus' life has never been without archetypal all-American superstardom. Though she is extremely grateful, insisting there's never been a time where she's not thankful, Cyrus has always struggled with fame. "It's always been extremely difficult on me and I think that might just be me and who I am," she tells me. "I really relate when other artists speak out, like when Doja Cat spoke out that things were getting kind of hard on her on Twitter. I had just seen in passing of people reposting it, [and] I really relate because sometimes this is really hard. You feel like you just are not built for it. A lot of negativity and evil comes with it."
Coupling fame with the fact she's grown up with two siblings who have had global careers in music since their teens (Trace Cyrus and Miley Cyrus, both nearly a decade her senior) - it's almost as if Noah Cyrus was destined to follow suit. Cyrus is releasing her debut album The Hardest Part on Columbia, and appropriately titled, the record documents toxic relationships, addiction, and death. These are heavy topics whatever your age, but ever the more so when you're barely out of your teens.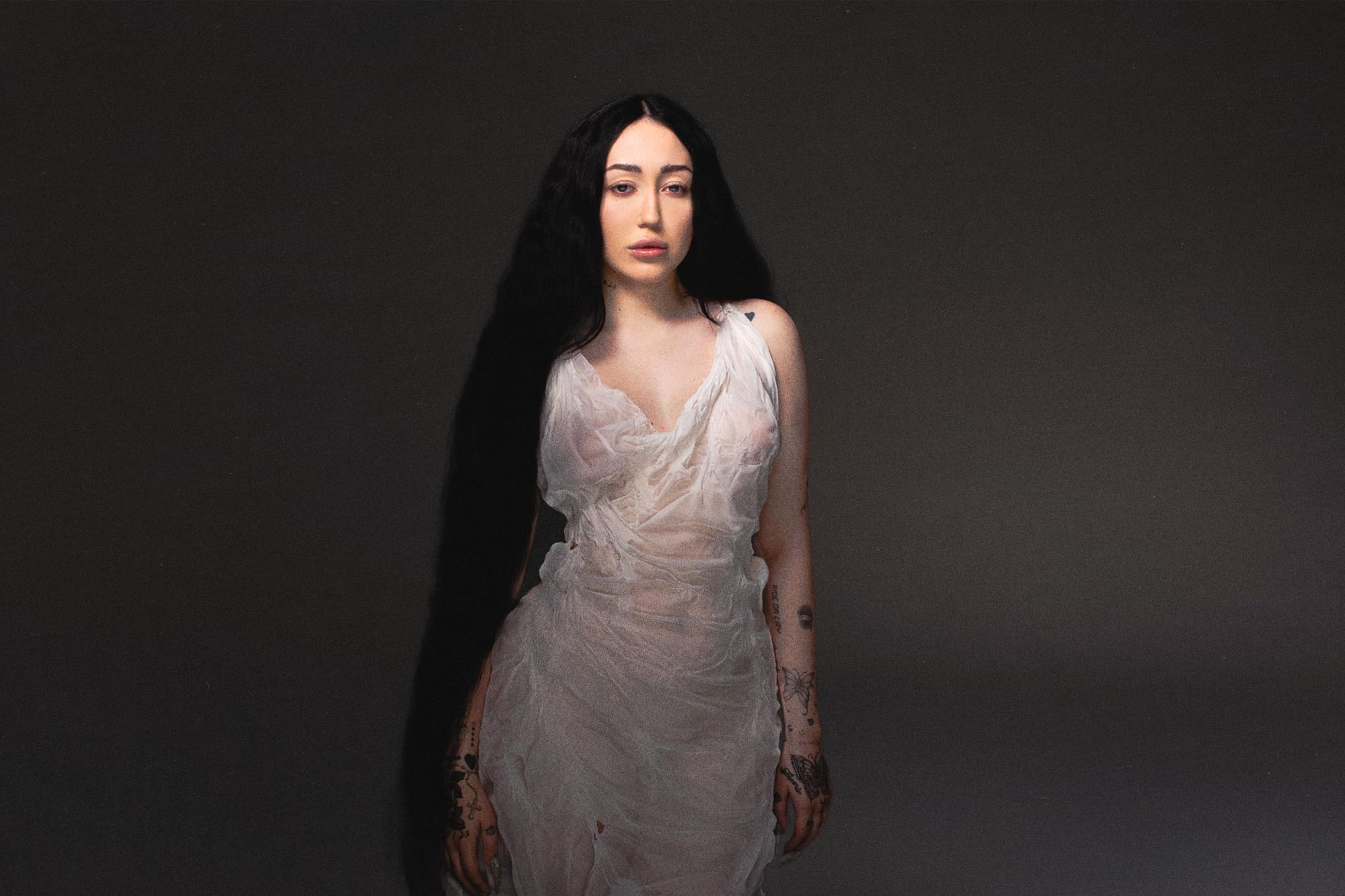 The beginnings of The Hardest Part started in 2021, when Cyrus met Northern Irish record producer Mike Crossey, whose credits include Arctic Monkeys, The 1975, Wolf Alice and Cyrus' own personal musical hero Ben Howard. "[He's] probably one of the reasons I am a musician," she says of Howard. "I adore him, and he inspired me so much that it made me want to start writing songs."

Cyrus' music stylistically isn't worlds apart from Crossey's credits of acclaimed indie songwriters who have a penchant for pulling at your heartstrings. However, they are a far cry from the scene kid electronic rock of her brother's band Metro Station, and her sister's bratty chameleon pop that needs no introduction. Noah Cyrus is in her own league, with a domain of dynamic and delicate sad songs that are more folk than they'll ever be pop – perhaps a partial credit to seeking comfort as a teenager in sad girl archetypes like Lana Del Rey, emo pop stalwarts such as Death Cab For Cutie, and older classic country artists (her godmother is Dolly Parton after all).
"This album is a completely elevated sound, where I've been able to experiment with live instrumentation and really find a cohesive sound that feels as if it's my own," Cyrus says with conviction. "There's this mix of country influence I haven't leaned into before. All of this music is organic, it's live, it's real and it's emotional. I think that sets a lot of it apart. A lot of my music had been created in pop rooms, which is great for those pop songs, but I really wanted to step out of that zone and I wanted to go into a more live sound."
"For me, getting in a room and even focusing more on my musicianship was such a change for this record; you really hear a lot of me within the music."
(N.C.)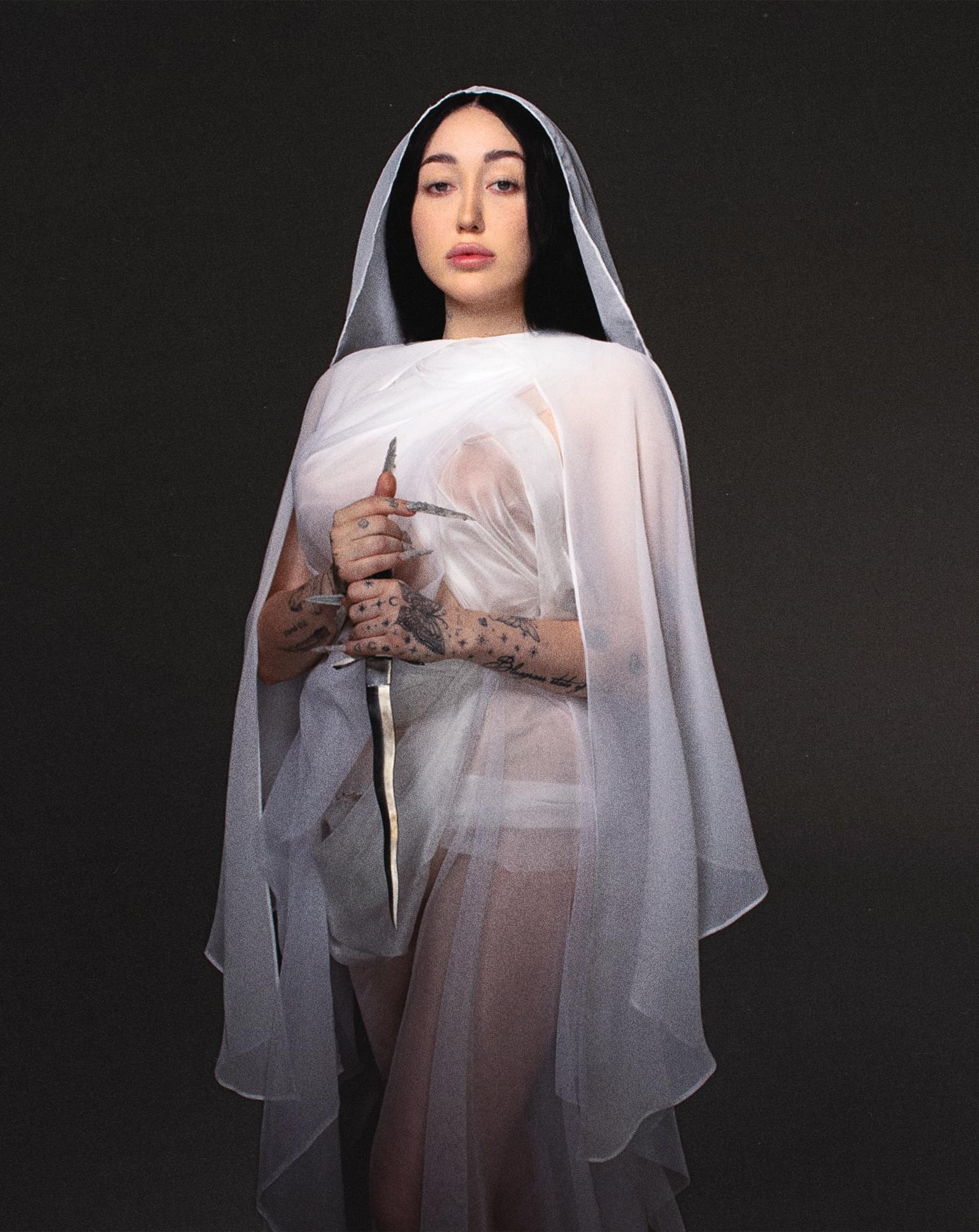 The Hardest Part feels intensely more alive than Cyrus' previous body of works, 2020's THE END OF EVERYTHING and 2021's People Don't Change. As an amalgamation of vast indie-folk soundscapes melted with pop compositions and country inflections, not only does Cyrus' music stand out from her own discography thus far, but even more so than music her Hollywood contemporaries her own age are releasing (her artistic ingenuity bagged her an esteemed nomination for Best New Artist at The GRAMMYS last year).
All of this considered, Noah Cyrus has never actually gone out of her way to be different. Explaining the reasoning behind her progressive new sound she says, "for me, getting in a room and even focusing more on my musicianship was such a change for this record; you really hear a lot of me within the music and the instruments. We've got so many incredible musicians on the album, whether it's two different drummers, pedal steel [guitar] players, fiddles, mandolin, banjo, strings, fucking everything that you can imagine is on this…[even] harmonica on this album. Mike and I wanted to see how big we could make this thing without it distracting from the vocals."
"There's not one thing that came off a computer sample sound," she says proudly. "None of that exists on this album [and] that was so important to me because I've just been doing it for so long. I've been making music for a long time, and it doesn't feel that way because I'm only 22, or it doesn't really look that way, because I'm only 22."

As an artist who is constantly writing and has, as she describes, "so much music that hasn't been out, it's crazy," The Hardest Part found its inception in a handful of songs that naturally found their way to each other from Cyrus' extensive library. She credits 'My Side of The Bed' and 'I Burned LA Down' as the two tracks that made The Hardest Part the full body of work that it is today.

"My writing process is not writing in a studio with something on loop, and you're just writing a verse or chorus," she says, delving more into how the album started piecing together. "I write very linearly, I write from the first line of the song. I'd rather not start with writing a chorus, because I feel like you're just writing the middle of your story without knowing the beginning. I like being able to write the arc when I'm at the arc."
Cyrus is not without her songwriting partner PJ Harding, who she has been working with for numerous years. Their connection can explain the confessional, memoir-like quality Noah's artistry has: "We have such an organic, cosmic writing relationship that once we sit together, we just start firing off ideas. It all comes so seamlessly because we are so close with each other that we're able to not have walls, and not have boundaries. [Within] that we get the most personal music that we [can]."

Although some of her immediate family have become household names because of their musicianship, a career within that world was something that only seemed possible for Cyrus when she saw Ben Howard in concert at The Shrine in 2018. "I had never really fallen in love with someone's musicianship and artistry before. I had seen it happen with people in my family, but I had never experienced that myself," she admits.
Following this, Cyrus ended up penning a song for a friend that was going through several personal struggles, and that gift had an impact Cyrus could never have predicted. "I was shocked. My family was shocked. She was shocked. We were all kind of shocked at the songwriting," she says of the experience. "From there, I wanted to start playing in coffee shops just for fun. There was this place called Crave Cafe down the street from my house [where] I just liked singing. My friend bought a ukulele and I was like, why don't we go sing 'Riptide' by Vance Joy down at Crave Cafe for fun. That night, my dad came as well and we played 'Could Have Been Me' off of one of his albums earlier in the '90s, it was one of my favourite songs that he ever put out. So I did a song with him and I did a song with my friend Sammy, and not too long after that it was on the internet, or I think even Ryan Seacrest put it on his show. People were telling us he had done it and we were like, well, that's pretty funny. I think a songwriter approached me in that room at Crave and I started realising that this could actually be a thing."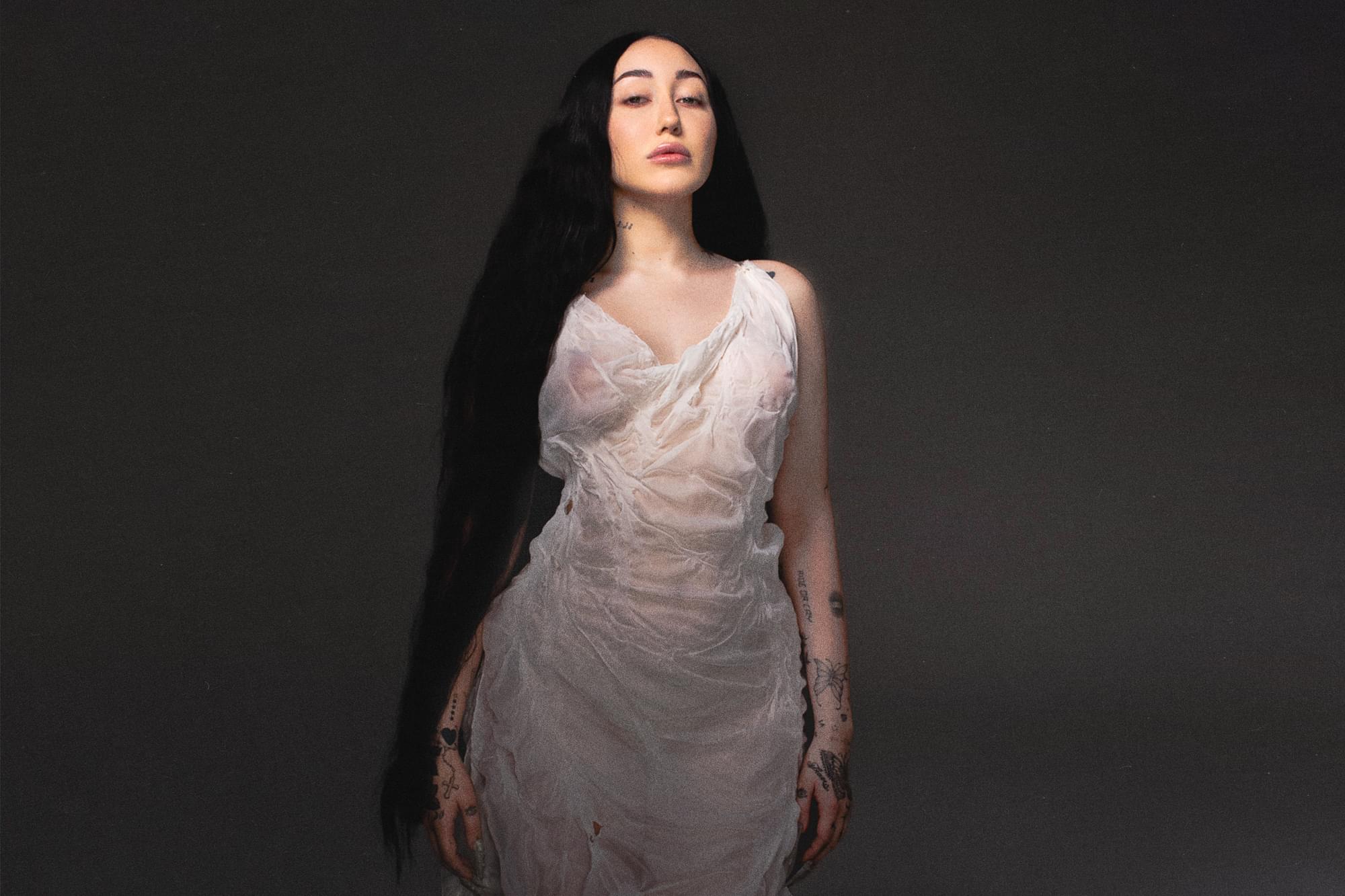 She may only be two years into her twenties, but Noah Cyrus is slowly mastering the art of songwriting since she began writing six years ago. "A lot of [my] songs I look back on and I'm like, these are really cute because they were my very first songs – they are the kind of [songs] that I would not put out now. I sometimes consider [pitching those] songs to people, there are some people that I could hear singing them, but it's a big catalogue. I always say [I] have to just sit down and go through it all one day, and gently put it into spaces so I know what we're gonna do with all of it." When asked if she's ever written or thought about writing for other musicians, she explains "whenever I write a really good song, I can't imagine wanting to give it to someone else. They're personal to me [and] it's more of an emotional connection I have with them, but I would totally be open to doing that…as a fun exercise."
Cyrus lays bare such intensely personal subject matters in her music, and tied in with her celebrity status and millions of social media followers, those feelings are amplified tenfold, almost beyond comprehension. She tells me "it's extremely healing to be able to hear it back and pinpoint exactly what I was talking about, [and] I feel like this was really the first time I'd ever fallen in love with music of my own. But sometimes it's a bit difficult for me to listen back to certain songs, especially with these songs specifically. I feel like they're a bit triggering to me at times."
While her subject matter leans on dark and difficult topics, she doesn't completely view herself as a writer of sad music. "I look at [my music] as very deep. I think it's sad, but a lot of sad songs don't make me sad, they make me really comfortable. I'm the kind of person that feels a bit uncomfortable around things that aren't sad. I think that's something that I'm actually working on… being more comfortable when I'm feeling happy [and] I can live in this moment right now and genuinely let myself be happy," she says, going on to tell a bittersweet story where her best friend told her to change the music when they were in the car because it was too depressing. They compromised on Tiffany's 'I Think We're Alone Now' instead.
"I know that in being vulnerable, it'll help people feel less vulnerable and less alone. I want to be able to be there for my fans like that [because] they've been there for me like that."
(N.C.)
"Sometimes I do get insecure about being so personal. This album and the topics are something I went back and forth with for a while, [because] even if I wanted to publicly be open, I was shameful in a lot of areas, and people [could] go back and identify when I was on the drugs. There's interviews, there's videos that I posted, there's things that I'm just not proud of, and I know the drugs had a big influence on my behaviour. I knew that if I had put that out [people] would pinpoint when and where. But [instead], I got overflowing amounts of encouragement that this would only help people, and only help connect with my fans and be able to help people feel that they're not alone in what they're going through."
On her honesty, she explains: "I think most people have seen it as a superpower. I think if people tried to take that away from me, my music would just be gone. I wouldn't be able to write songs. [Having] a team that's so supportive like the one I have now, it's just all encouragement, and that's really all you can ask for when writing stuff so deeply personal and true, is support and encouragement and reminders that this will mean a lot to other people."
In December it will have been a year since Cyrus sought help for her addiction issues. "There's a lot of people feeling the way that I've felt. So many people, more people than I feel like we can really even know, because some people are so secretive with their thoughts. Once you write a song, and you have it and you're listening to it and you're discussing putting it out, that's when you really start to think that being open with this story will really help people. I noticed that a lot with 'Mr Percocet'. Whenever it went up I originally decided to speak on Instagram about what had been going on with me the past couple years, [because] I know that in being vulnerable, it'll help people feel less vulnerable and less alone. I want to be able to be there for my fans like that [because] they've been there for me like that. There's a lot of people living in America dealing with drug addiction, and it's a big issue here, so I know that a lot of people can relate to this story."
The Hardest Part is just about as personal as an album can get, and though meticulously custom to Cyrus' own experience, she hopes her fans and the people that listen, can find a place within it that doesn't make them feel so alone. "I see so much growth in myself as an artist and as a human. I've really stepped up in a lot of areas and taken control of my life, my music, my sound and my career, and I'm extremely proud of that."
Get the Best Fit take on the week in music direct to your inbox every Friday