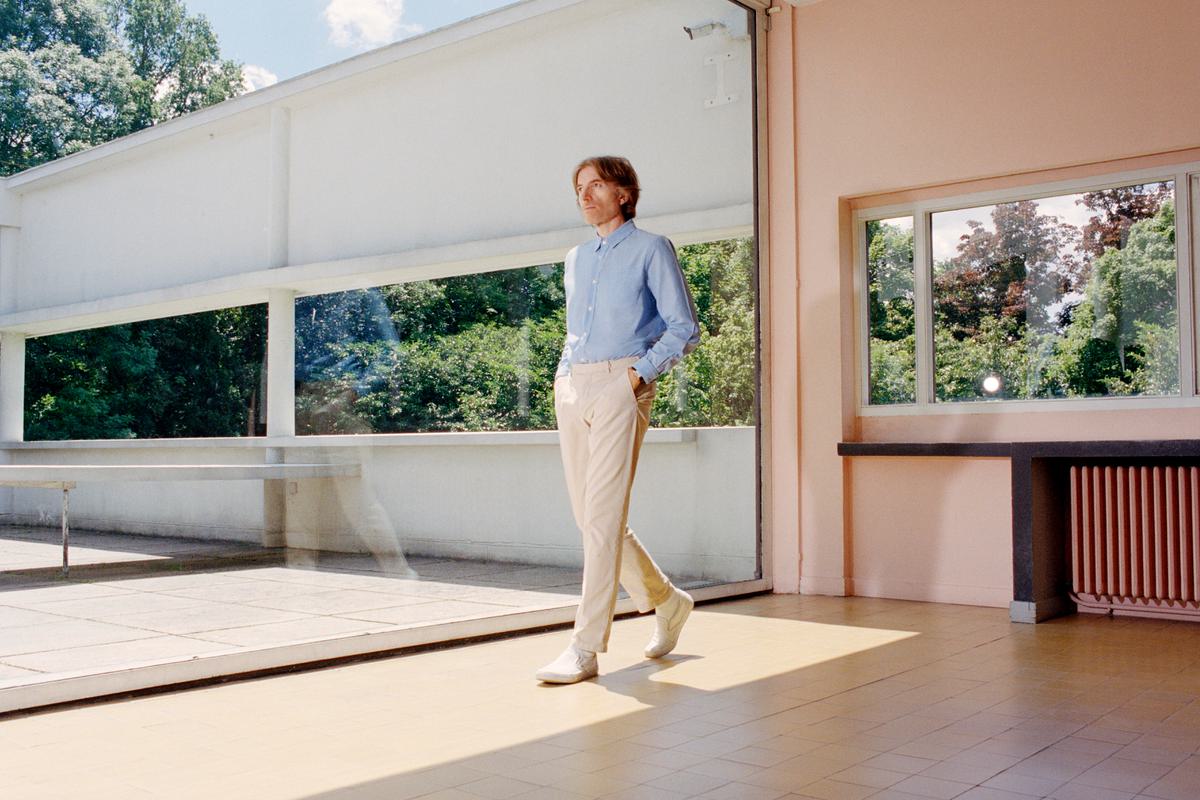 Life with Buildings
22 January 2020, 08:45
Galvanised by the release of new solo effort Concrete and Glass and Air's twentieth anniversary, Nicolas Godin tells John Bell about his ongoing relationship with architecture, and his long-felt isolation from the 'French touch' scene.
If there's anyone qualified to condense, however crudely, the trajectory of making it in music into one sentence, then Nicolas Godin is probably your man: "At first you're a newcomer, and then you become a classic band."
It's a fitting summary, at least, for the story of Air, the band that Godin formed with fellow Parisien Jean-Benoît (JB) Dunckel in the late nineties with a song dedicated to Swiss architect Le Corbusier, before rocketing to international fame thanks in no small part to the success of their debut record, Moon Safari.
Still, in 2016, after twenty years of expansive and influential work, Godin found that Air were in a difficult position within his own framework: "We were not doing anything, but we have not gone just yet."
The answer, he tells me frankly, was to embrace the landmark and return to touring – much to the pleasure of the packs of promoters itching to book them, no doubt.
"It felt like a new dimension for Air," he explains. "I could feel all that we had achieved over all these years. It was a really good feeling; the music is ageing well and we saw a lot of other bands and caught up with all the artists we know. I love touring, I think it's like cigarettes: hard at the beginning, but after you get used to it you get addicted."
But as well as getting their touring fix and enjoying the vista of their years, the experience prompted Godin to return to a simple but familiar setup. "I come from the home studio world, so I really wanted to feel like how I used to work before Air's success, you know? So I rented this little studio and started working on Concrete and Glass."
Inspired by a short project composing music for the artist Xavier Veilhan in his exhibition of famously designed houses, Godin's second solo album drops the grandeur of 2015's Contrepoint and its nod to Johann Sebastian Bach in favour of clean and ethereal aesthetic and a younger, more contemporary influence. Among his cast of collaborators this time around are Kadjha Bonet, Alexis Taylor, Cola Boyy and co-producer Pierre Rousseau.
BEST FIT: Salut Nicolas! The new album's a complete departure from Contrepoint, although there are idiosyncrasies that return in different forms, I think. It's far softer-edged and a little more meditative… why is that?
NICOLAS GODIN: I really wanted to do the opposite of Contrepoint, which is more of a live album. We worked with musicians in a studio, and I studied Bach on the piano, you know? But with this one I wanted to go back to my roots, to record loops and quantize everything with the computer. It's about architecture, so I wanted everything to be square and parallel, very clean. Like a building, you know? Contrepoint was like a wild animal with very complicated songs, but this one is minimalist.
I've been listening to "The Border" repeatedly since its release, often at night walking home in the cold and dark; there's something about it that makes it quite fitting for that setting. Why did you want to release it as the lead single?
Because usually the record company wants you to release a single that they think is the most commercial song on the album, but it's not always your idea of what you want to show of yourself, you know? And I suffered a lot of that with Air; we did albums that we thought were great, and then the label would be releasing a single that we thought was the weakest, and I really hated that feeling. So I said, "Do what you want, but for the first sound that people hear from this record, I really want a song that I love."
"The Border" is a very simple track, it's even the most simple track on the record in terms of composition. But for some reason I really loved it, so I said, "OK, let's just put it out, so the first thing that people hear from me in four years will be something that's really important to me, and then after that you can do what you want."
So yeah, it's a strange first song, but that was on purpose.
You studied architecture before your musical career took off, which itself started with a song dedicated to Le Corbusier. There's something beautiful about the fact that you were interested in architecture and JB was into the space and astrophysics, and that you would come together to be called Air. Why did you find yourself returning to the subject with this album? What happened when Xavier got in touch?
Yeah that's true! It was an accident, really. Xavier did this exhibition all over the world in famous houses, and he asked me if I had any ideas to work with him around it. I proposed to do some tracks for the exhibition and then that was that, it was finished. I was ready to turn the page. But then I had all this music and all these chords and melodies, and I wanted to try to transform them into pop songs. So the origin of the album is a concept, but the album itself is not, because I really want the songs to be listenable without knowing anything about the context.
It's exactly what I said to guest vocalists: "Well, this is how the song was born, but honestly, do only what the music inspires you."
Has architecture remained an interest of yours throughout the years?
Yeah, I read a lot and always try to keep in touch. My dad was an architect so I really grew up in that kind of environment, so it's natural for me. But the fire inside of me is music, you know? But I would say that my biotope is architecture, and it will be in me forever.
How did you go about translating physical space, or material and its relation to space, into musical form?
It's kind of funny, because the exhibition was based on these famous houses. Some of them were very well known, and when you step into these houses you're overwhelmed by a lot of feelings and moods. Each house had a special mood, so you just have to record the soundtrack of the mood you're in. Some of them are in Los Angeles, where I started the project, and some of them are in famous movies, and some of them I have a lot of emotions for.
For example, the building by Le Corbusier has a lot of mixed emotions, because the South of France means a lot to me, and I studied this building when I was younger. So I just had to close my eyes and listen to myself. Also to the construction, the materials they're made of, like obviously concrete and glass. The Le Corbusier is like little modules that are added onto each other up to the rooftop. The rooftop is genial, it's beautiful. The Mediterranean sea, the mountains!
Honestly, it was a beautiful thing to do, especially as I didn't have any pressure, because the first step of the music was just for this exhibition. I didn't have to write any fucking album, you know? It was just letting the music flow.
You soundtracked the series Au Service de la France not too long ago – was the process similar to composing for the screen at all?
It's not quite the same, but yes I'm very used to making music for other things than records, because I do music for ballet, fashion shows, TV shows. Since the beginning of my career, I've always been excited to have a side project.
When you talk about space in musical terms, or music in spatial terms, it's often in reference to acoustics. What was the setting for the recording?
You know, the only difference from when I started is that now I have some of the best keyboards in the world, ha! So I had eight of my favourite keyboards stacked around me. And then I had this bass, and this computer, and started on the first versions of each song. When each song was defined, I went to a professional studio with a drummer and I recorded it all in one day, and then took it back to my room and started to create loops. Once everything had finished I called up the singers, and then I recorded some strings with an orchestra. So basically, the drums and the orchestra was one day in a real studio, and all the rest happened in my small room.
That's interesting, because obviously the sound of the record is the opposite of confined, it's pretty expansive…
Yeah, that's my gift, I think. Since the beginning of Air, when I used to make music in my bedroom, I was thinking that I was somewhere else. I can make very spacey music with very little. That was my specialty, you know? So after all of these years I have this savoir faire.
As much as I keep referring to this ethereal sound, there's also a clear pop sensibility running throughout. I'm thinking especially of tracks like "Back To Your Heart" with the brilliant Kate NV, which has this classic Kate Bush-esque ballad feel to it.
Yeah? I'm a big, big fan of Kate Bush. Air took a lot of influence from her – there are some songs by Kate Bush that are free from any rules, and when we did instrumental tracks with Air we took from a lot from her in that way.
Similarly, that track with Kirin J Callinan sounds like it could be a low-key James Bond theme. How did that side of the record start coming through? Was it when you met with the collaborators?
Yeah, I think that's it. I had these great vocalists who had this energy, you know? They're all very young. For Kirin it was kind of crazy, it's was an uptempo song when we hung out in LA to work on the track, but then I came back to Paris... I have this problem. I always have to slow the track all the time, you know? I make slow music, I can't help it. So I divided the tempo by two, and now it's a slow song and everyone hated me – my record company, my girlfriend, ha! I just can't do uptempo music, it's not my style.
When I started all of my friends were doing house music, with this 'French touch', you know? I was the only guy who was doing slow music in the middle of Daft Punk or whatever. So it was very funny. I was kind of scared because Kirin liked the track when I left LA, and then when I sent it to him I was scared he wouldn't like it anymore.
How did you approach selecting your collaborators? They're an eclectic bunch...
Well you know, considering my age and my career, I know a lot of singers of my generation. But I didn't want to do a tour of my friends, I wanted to sing with people I didn't know and to have a new energy. It's like when you move to a new place to make a record to find a new vibe. It's the same with collaboration, it's good to get out of my comfort zone, you know? Kirin and I are two very different people and that's exactly what I was looking for.
You said earlier that the skeletons of the album started with the architectural concept, but by the end there was more of a human element to it. Did that happen when you sat down with your guests? Were you still talking to them about the concept at that point?
Yeah, I told them the origin of the track and what house it was from. The music written was inspired by the house, and the lyrics were inspired by the music, so it was like the second step of inspiration. It's kind of a chain, you know? Even if the songs don't talk about architecture. En Francais, in French, we say "Cadavre Exquis", it's like when you write something and then someone writes the following without knowing what you wrote. It becomes like poetry, the second step. What they sing, what they feel, is inspired by a track that has been inspired by architecture. So by accident, it still has something to do with the original concept.
What do you think Pierre Rousseau added to the production process?
Lots, because he is a real producer. I've worked with a lot of producers in the past and I can tell he's one of them, there's real talent. We created all the sounds of the keyboard together, and he had the distance that I don't have. He likes the stuff I did in the past, so I knew he would not let us do things that would be against my legacy, so it was very important that we could do something new but with my old talents. It's familiar, but it's new at the same time, and that's exactly what I was looking for.
You know, I really cannot make music by myself. When I started Air I did the first two tracks by myself, and then I called JB because I don't like to do it alone. I'm not this kind of artist completely obsessed by his own art, I need someone to give me feedback. Eighty percent of what I do I I don't even know if it's good or bad, I need someone to tell me. I don't even know the difference. But I felt very comfortable to work with Pierre.
It's interesting that you talk about the need to work with other people, because in an interview a couple of years ago when you were doing the Air tour, either you or JB said something about the songs being your children, and that you were just enjoying experiencing them live, and didn't feel the need to go back into the studio. Did it feel different without him? Did you feel like you had more room to move when it's your solo work?
Well JB and I compliment each other very well, so I miss that and never look for anyone to replace that. It's the same for him: sometimes he can do something amazing and sometimes he can do something bad, and I'll tell him. So I think he needs me as well. I think that's why bands are so interesting, because people are so different, and to make music together they are complementary. But because they are complementary, they are different, and because they are different they have personal issues.
If you make a band with your best friend, it's not going to be good, you know? You have to make bands with people that are different to you, and then it will be good.
It's been twenty years now, and you and your peers seem to be commemorating that, be it the anniversary tours, the Twentyyears LP release, or the book that your friends Phoenix are releasing. What have been the biggest changes you've felt as artists over the past two decades or so?
I've always felt isolated. Like, of course I was part of this French movement, but as I said earlier, I couldn't do the music that everyone was doing. When I was listening to the radio I would say, 'I don't know how to do that,' you know? That's why Air's music is kind of timeless and aging very well, because I didn't know how to do radio music. Even the Air songs that were successful were special, they were not following the rules or the sound of the radio.
Now when I listen to the new big names in music, I still don't know how to do that, but I didn't know how to do that at the time either. So I don't have any issues in terms of going on making music, because I was never into what was going on. I think I'm in a good position because I'm in my own dimension. So I think that I could do music for a long time. Even my voice, you know, I always sing with the vocoder, so my voice will never age.
Did you enjoy brushing the dust off the old vocoder for this record?
Yeah, it's the same from Moon Safari. I like to renew myself, and so at one point I thought maybe I've used it too much, but now with the years I can say 'Fuck it,' you know? I helped make this thing popular. If there's one guy who can use it I think it could be me.
That's a fair point. Do you think you learnt anything new from making Concrete and Glass?
Oh yeah, I've learnt so much from the people I worked with. I learnt so much about how to make a song without JB as well. It was a very interesting move from me, I had to learn to work without him.
Concrete and Glass is released this Friday via NCLS / Because Music