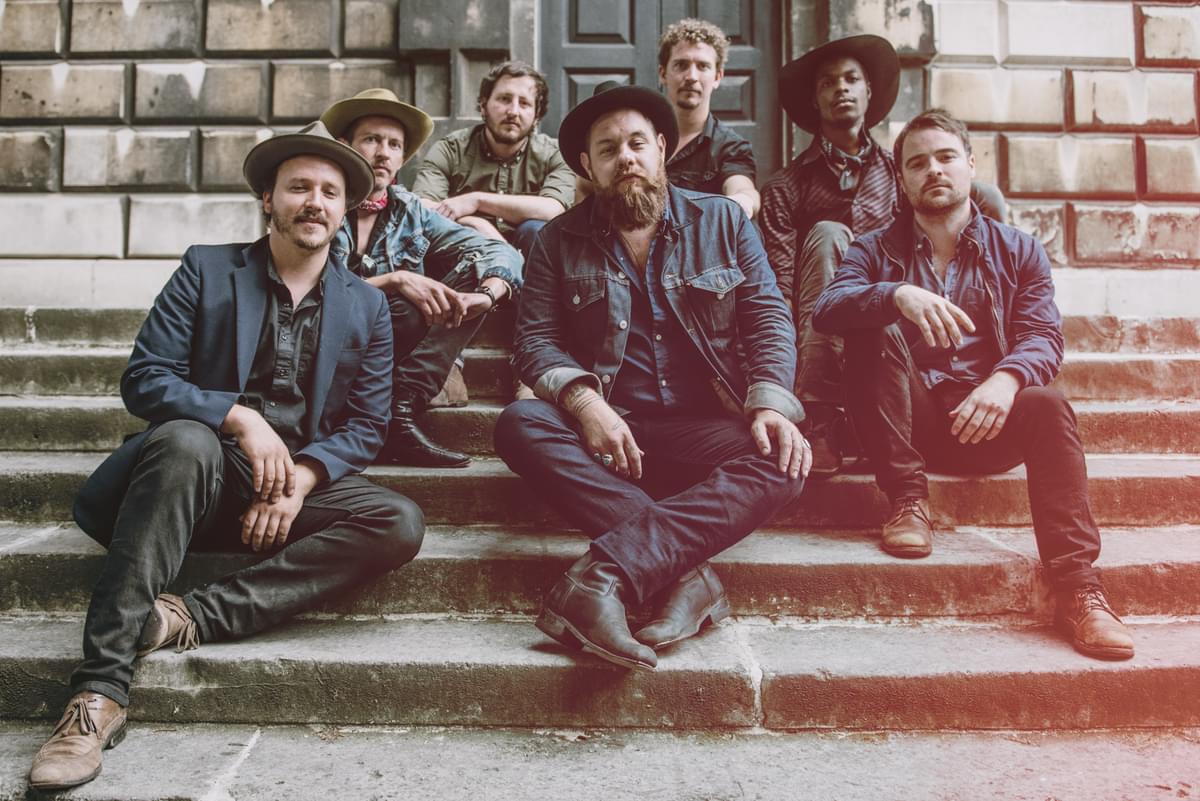 Nathaniel Rateliff: Chasing the real
30 September 2015, 12:30
If there's an aural equivalent of a double take, it's what happened when I heard the first cuts from Nathaniel Rateliff's new self-titled album with his band, the Night Sweats.
Was this the same man, now 36-years-old, who just a few years ago gave us the grim Falling Faster Than You Can Run, an album dealing in booze, loss and sadness and mainly played by Rateliff himself? It was hard to believe this music – the sound of Stax, the Memphis Horns, countless R&B and soul acts – came from the same place, the same person.
Yet it does, and Nathaniel Rateliff and the Night Sweats feels realer than anything the singer has given us in the past. Eschewing the grit and acoustics for a rich, horn and key-heavy sound, whether it's the riotous jam of "S.O.B." or the languid and soulful closing track "Mellow Out" this feels like a comfortable record for Denverite Rateliff to have made. To me, the music of ...and the Night Sweats record is a true representation of Nathaniel Rateliff now it's no longer dressed up in solo singer-songwriter clothes. In a search for authenticity, his decision to be (finally) true to himself has paid off big time.
There's going to be a lot of talk of authenticity here, and why not start with the Night Sweats' most recent US TV appearance where Jimmy Fallon excitedly promoted the appearance throughout the show, before almost combusting right before the actual performance. Of course TV hosts, radio presenters, PRs and whoever else are paid to look and sound like each and every new release is the best thing since sliced bread, but Fallon's unabashed glee appeared completely genuine and came as something of a surprise to Rateliff: "We were all pretty excited because we didn't know he was going to be pushing it like that throughout the show," he says, still fairly shocked. "It was very cool, and a really great opportunity for us."
Opportunity has taken a long time to come knocking on Rateliff's door. Not exactly new to the scene, it was back in 2007 that he released his first album as Nathaniel Rateliff and the Wheel, before following it up with solo albums In Memory of Loss in 2010 and Falling Faster Than You Can Run in 2012. All three albums were very much a study in singer-songwriter territory, particularly the latter which painted a picture of an authentic trad-folk sort of artist, singing these songs about loss and drinking and a higher power. Yet Rateliff seemed to embody what he was singing about, something of a loner, straggly beard and a constant drink in his hand, truly living out the world of his songs. At the time, I wrote of Falling that "loneliness is writ large: not the kind of loneliness from actually being along, but the kind that comes from being constantly surrounded by people yet unable to shake the feeling of complete isolation." There wasn't any doubting that these feelings were real, it was that – and I want to make it clear that there was nothing inherently wrong with the mostly acoustic songs – the music they were presented with felt forced at times, created to fit that post-Mumford avalanche of worthy, real music.
With the Night Sweats, though, something has changed in Rateliff and not just in terms of the loneliness dissipating thanks to having a gang of people to hang out with while making music. He might still sing of loss and booze, but Rateliff now brings some funk and soul to his songs. "It's funny; I think the material is definitely more upbeat but the content is still the same," he says. "I'm still writing about the same stuff. But it is a lot more fun to perform this way…dancing around and being a dickweed."
There's a lot to be said for having fun, and what you can say while having that fun. Rateliff's musical transformation puts me in mind of a couple of artists who have also undergone transformations; take a look at Josh Tillman's Father John Misty. For all that Misty is a character, what he sings of appears to be completely authentic. As the AV Club put it I Love You, Honeybear was "the best deconstruction of a real relationship by a concept artist" and if anything the record made all those – and again, brilliant albums – releases as J Tillman appear to be the inauthentic ones. Heading in the other direction goes Laura Marling, whose early work now seems side-lined in favour of a North American drawl and an attempt to live "the blues" that sullies the memory of the truly incredible Alas, I Cannot Swim and I Speak Because I Can.
Like Tillman, Rateliff now seems a lot more comfortable in his new (real) skin having a bit of fun with what he's doing: "I've been thinking about trying to write and record soul and R&B songs for years," explains the Denver man, "but it just took me a really long time to do it without sounding cheesy, y'know? After I'd finished recording Falling, and out of discouragement and having really nothing else to do at the time I started writing songs for this project." Rateliff had in his mind what he wanted the record with the Night Sweats to sound like, and he aimed high: "I wanted to do something that sounded like The Band and Sam and Dave, and I feel some of the songs are like that and some are quite a bit different to that too." The Band is a decent touchstone: although horns are present and instrumentation is a lot more ornate than on his solo records, Nathaniel Rateliff and the Night Sweats shares with Robbie Robertson's band of brothers a minimal, unfussy approach which only enhances the quality of the song writing. It seems that relying on old pals also helps. Rateliff explains that "Joseph Pope, who's playing bass with us, we've been playing together for twenty one years. Mark Shusterman on keys I've known for three years and Patrick Meese on drums I've been playing with for seven or eight years. The horn players are buddies from around town." Having that local, community spirit was important to Rateliff, having a bunch of dudes who believed in what he was doing: "Everyone's from Denver, it's not like went to Nashville and got the best dudes!" laughs Rateliff. "Which is good, because it's nice to feel like a family when you're out there working together…it's a big commitment of time and of your personal life."
One person outside of Rateliff's circle, though, is the glue that holds this record together. Producer Richard Swift gives a lush and airy sheen to Rateliff's songs, carrying on the good work undertaken as Damien Jurado's right hand man….not to forget of course that Swift's consummate production skills can be originally found on his own solo records – in particular the peerless Dressed Up for the Letdown. "Right!" exclaims Rateliff. "I just had an interview a minute ago with someone who was like 'so Richard Swift is mostly famous for playing with the Black Keys right?' Hmmm, not really…do your research! He's also a really great recording artist and he's made some of my favourite records with Damian Jurado." I mention that Brothers and Sisters of the Eternal Son is probably Jurado's best work, and Rateliff agrees, saying "the last three are amazing, and those are the ones Richard did. It's funny, after working with him and listening to Damian Jurado I can totally tell he recorded this!"
Getting that authentic sound is fraught with danger; any record that wears its influences on its sleeve is in danger of sounding retro or pastiche. Rateliff steers ...and the Night Sweats through these choppy waters with ease, but how does he avoid the claims of retro-ism? "Well there's still no guarantee that will happen, you know?" he says, cautiously. "I just tried to record the songs I was most excited about, and tried to write songs which are a part of me so it feels like it's authentic…hopefully it doesn't come across as being unauthentic." He goes on to tell me a story which centres on his old friend Pope, and how seal of approval a long time coming meant Rateliff knew he was on the right track with the Night Sweats: "Joseph said recently in an interview that when I first started sending him the demos, he was like 'you know, I've played with Nathaniel for twenty one years and when he played me this stuff it was the first time in all these years, after all these songs he's written, it really sounded like him. Which I thought was a cool thing to hear from my best friend, y'know?" It took twenty-one years to get there and, although I wrote the same words at the end of the review for Falling, this record is the one which is the real hard-earned triumph.
Rateliff is aware of the concern over authenticity; however the one consistent factor is the content of the song. Not afraid of laying it all on the line, he explains that "I guess it's just a part of me to share stuff like that; sometimes it can be a little too revealing but I don't really know what else to do at this point. I've been doing it a long time." Drinking plays a big part in Rateliff's songs, and that's one part of the writing which he definitely does live to the full. From "Three Fingers In" to the cries of "son of a bitch, give me a drink / one more night escaping me / son of a bitch / If I can't get clean I'm gonna drink my life away" during "S.O.B." on …and the Night Sweats alcohol is used to take the edge off of the loneliness and dark thoughts. It also suggests the booze might have been away to avoid making this music: "Well…..I might be a drunk," begins Rateliff, "so…I've been working on it and singing about it for a while. I quit for a while too, though, but I was just so miserable. I was six months sober, but I guess it's funny to be part of a drinking culture, in my circle of friends and even when you're touring and performing you're in a bar every night…so it's kinda tricky to not lose your ass every night!" Does drinking aid his song writing, in that classic writerly cliché? "Nooooo, I suck! When I write I do it sober…drinking gets in the way of my creativity, unfortunately."
When we discuss what's next for Nathaniel Rateliff, with or without the Night Sweats, there doesn't seem an urge to go back to the sound of the previous solo material: "I feel like, with some of the solo stuff for a while, and as far as even trends go it's hard to not feel…." He tails off, so I finish the sentence by suggesting it's a sound that's a little played out, a little tired…especially if all of the artist isn't completely invested in it: "I just don't want to be another dude with an acoustic guitar," agrees Rateliff. "I want to continue to be a song writer and I feel like this thing, what we're doing now, for the next record and the future there's more room to expand stylistically – not just play R&B and soul, do more things like what The Band did, try to craft more songs." And he leaves me with one piece of advice about how Nathaniel Rateliff and the Night Sweats plan to keep going: "Our motto is listen to each other, love each other….and try to have a good time!"
Nathaniel Rateliff and the Night Sweats is out now on Caroline International in the UK and Stax in North America. The band's UK and European tour begins tonight and continues throughout October.
Get the Best Fit take on the week in music direct to your inbox every Friday