"I don't need your validation / on my Jays I rock the whole nation / show you details and dedication / hustlers' ambition, young African chick on a mission / you know I got that 20/20 vision / what you telling me!". The pair dissolve into laughter. "I love bigging up the fact I'm African." Banks states. "'Cause I feel like in school [students] used to get bullied for being African. All that's important to me – the Black girl magic bars, talking about my skin colour, it's important." A pause. "I genuinely feel like I don't need validation from the outside world, I'm good by myself, I water myself."
It's been a busy year already for the rapper. In May alone, Banks launched a clothing line with Pretty Little Thing (also featuring emcees Lady Leshurr and Lioness) and penned the official FIFA Women's World Cup song. There've been tours with Nicki Minaj and Cardi B, and collaborations with major pop artists and high profile brand sponsorships. The desire to take her music "global" has remained a core motivation for Banks. "I've always had it in me." She says. "Seeing the women before me do their thing and really taking it far, that made me want to do it even more. Watching other artists do it big inspired me to want to be to global – to have a powerful message and something uplifting."
Although Banks could be forgiven for worrying that more commercial collaborations may cost her some 'underground' cachet – she's been a fixture on London's rap and grime scenes for years – she's wholly unfazed by the idea: "If it comes naturally, I'll do it." She says. "I've done a lot of commercial songs – "Woman Like Me" with Little Mix, doing Anne-Marie's "2002" remix, "Trouble" with Dan Caplen. I do things that are out of my box, but I do it because I actually like the songs... it's never to gain more commercial fans. I don't take up every offer though: gotta stick to my guns a bit."
It wasn't always chart smashes and mega-star collabs though. Born Thyra Oji to Ugandan and Nigerian parents, Banks grew up in South London – just off Walworth Road in Elephant and Castle – and has been grafting away for time, revered by her peers for her pairing of technical skill with soul-searching lyricism. Speaking on her journey, she says a career as a performing artist was always on the cards. "I love the studio, but performing is what I live and breathe. I've been doing it since I was a baby – putting tights on my head and pretending it's a long wig, a remote or hairbrush in my hand as my mic. My mum would tell anyone that I knew all the old school R&B songs from Monica to Usher." Music is literally in her blood, with relatives on both sides of the family picking up instruments or flexing their vocal cords. "My mum is talented: she could sing, she could dance, she could've even been a model. All her sisters sing too – she's got four. Her brother could sing, rap, play the guitar. My dad can produce [music], he actually named himself after Quincy Jones. His brother was a rapper as well, he was in a grime group called Essentials back in the day."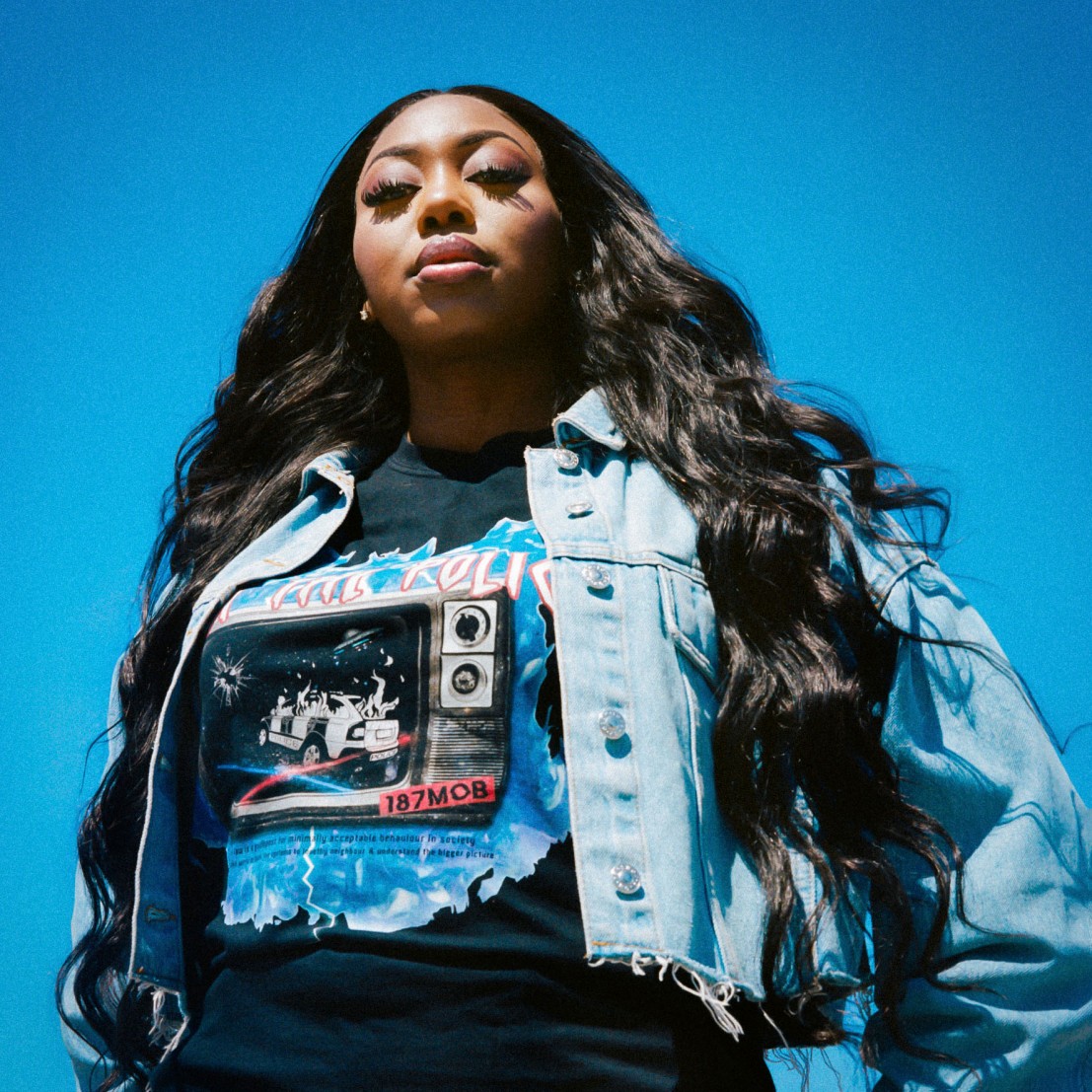 I'm speaking to Banks days before her sold out Hackney headliner. The show itself revealed just how loyal her followers are, the atmosphere electric as fans sang and rapped along word-for-word to old gems "Bangs" and "Day Ones", through to fan favourites "Clap" and "Chat 2 Mi Gyal". On the night Banks also brought out popular Hackney locals NSG, alongside drill stars Russ, rapper Tion Wayne and the rap/afrobeats artist Kida Kudz. Banks says she "lives for this shit. I love interacting with fans. I love seeing people's reactions live and them vibesing with me and us having that real life exchange."
In person Banks is friendly, open and self-assured. If you ignore the professionally-applied makeup and the stunning waves cascading down her back, it's easy to forget her rapidly-rising profile and famous friends and fans. One such fan is the iconic Bajan singer Rihanna, whom Banks met days before our interview: "Yeah, it was crazy." She beams. "I was literally just messaging Giggs about it because it was at his birthday [that I met Rihanna] and we were in his section. I was like partying, having a good time and she's like "Oh you're lit!". She came and started dancing with me, and after my friends were holding composure the whole time they just started screaming "OMG Rihanna!". It's nice to meet people like her. She's so big but she's humble and she could just feel the vibe."
Banks admits she's not normally starstruck, but seeing RiRi made her double-take. "At first I caught a glance and was like "That's not her" then "Ohmygosh, OMG it's Rihanna". I didn't expect it but I think I've learnt how to play it cool and that's what's made people wanna just chill. It was especially great 'cause I was going through a lot that day. Then God was like "Girl, Rihanna said you're lit. You're lit, period. Period. No-one can't tell you nothing." And it gets better the more celebrities I meet, people I've looked up to, to actually be in their space." As Banks' fan base grows, she's also being recognised in public: "It's crazy. It happens and I'm like "OMG, me?" Yeah, it's nuts." She says. "But I always think to treat people how I would want to be treated. Like the vibe I got from Rihanna -- I pray that in the future people get that with me.." Nevertheless, she realises that many people will build their own expectations of her before they even have a conversation. "I meet a lot of girls who are like "I didn't expect you to be that nice" – so what, you expect me to be some bitchy celebrity or some girl who thinks she's too nice?" She laughs. For Banks, the idea of being an aloof VIP is simply not appealing. "That's not the aim man, it's just the music. I do want to be egotistical for a minute but not 24/7."
In recent years, hip-hop artists such as Chance The Rapper and Drake have given back to their communities, investing millions in public education or gifting large sums to offset tuition loans. I ask if this is something Ms Banks aims to do further on in her career. "That's my aim." She says. "In the end, when it's all said and done, everything is about helping my community. Every single thing. Obviously there's major stuff, like there's stuff in my home countries, Uganda and Nigeria, that I would love to do. A lot of [these changes] are gonna take more work to actually start getting done and be in those positions but I will always find a way. Even if I could fund someone who's helping out there, I would do it. It feels far-fetched now but I'm sure it'll be closer in the future."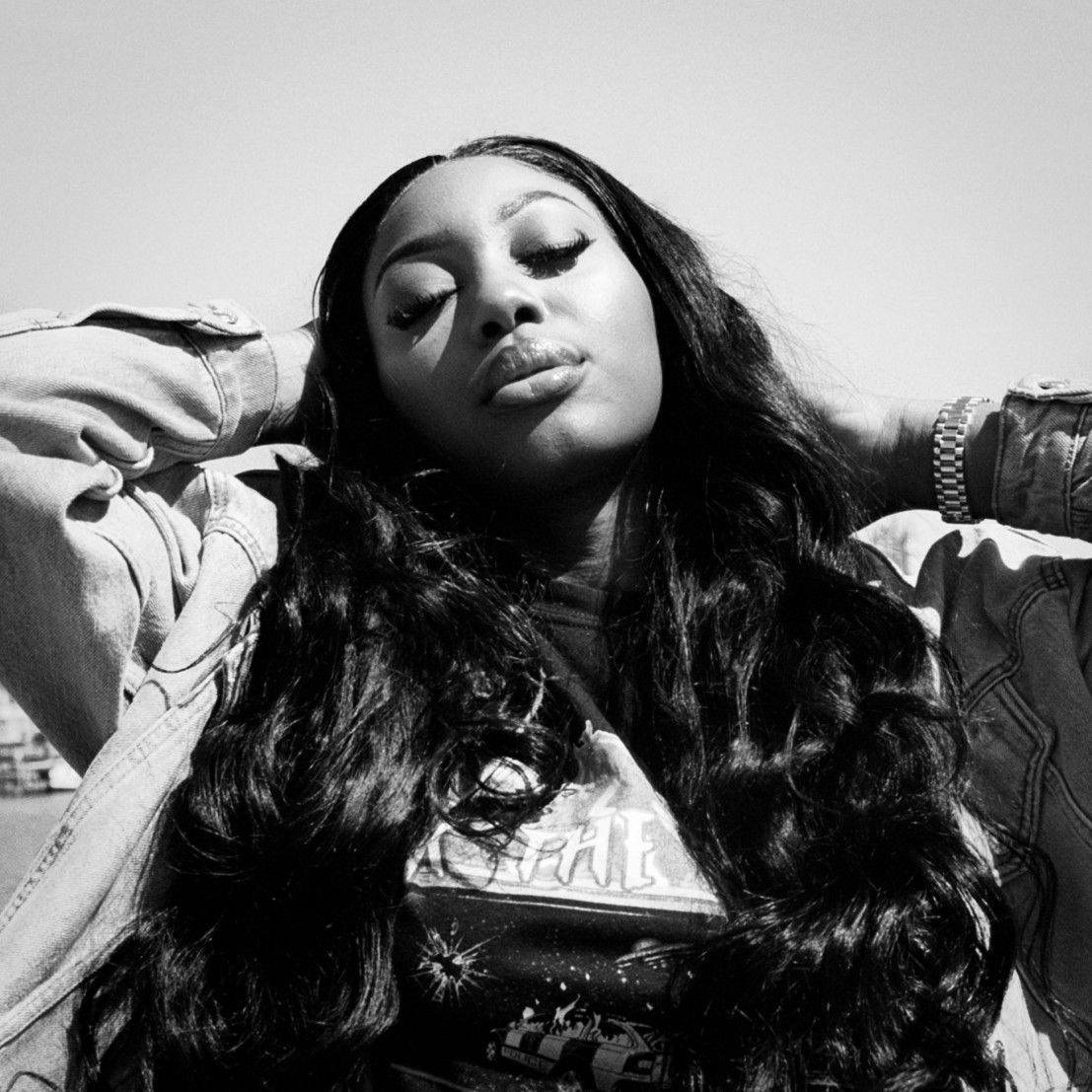 In particular, Banks wants to help other Black people to reach their potential, starting with South London. "For a long time, Black people have been put at the bottom, for whatever reason. If you wanna talk about just being free slaves and not being given land, and every other race being given land? You have to start from the bottom. Our families come over from Africa [to] here to make a better living for ourselves and we're all in council estates [with] all these other people who don't have much money. People with drug addictions, drinking problems, all these other crazy things you get desensitised to because you're coming from a place where you don't really have anything."
After witnessing a number of men suffering from mental health issues within her family, her circle of friends and local area, Banks feels compelled to make a change. "It's become a dream of mine to actually help Black men's mental health. That's important to me 'cause I've seen so many people suffer from it. I'm starting to feel like maybe I'm supposed to do something about this…". She pauses. "When I'm a bit more established in music and have more time. Black men are most likely to suffer from mental health problems in England, a higher percentage. So why is that? Where we're coming from, the things we're doing, the things we've been taught – we're struggling, it's evident. We're like the brothers or sisters that didn't get paid much attention so their aunties always give them a bit extra [attention], because they need to get to the level of confidence of their siblings."
As someone who found school difficult and unengaging – finding, instead, solace in music – Banks also believes our education system is failing to prepare young people for life. "They're my priorities when I'm done with music." She says. "Helping the next generation to be the best they can be, outside of education. People that are creative like me who felt they had no place in school. In school, they don't teach you about like… say if you're struggling with being socially-awkward or with self-love, they don't teach you none of that. I definitely wanna give back in the future... hopefully in the near future." She smiles.
In such a highly competitive industry, the pressure to 'be the best' is inevitable and often intensified for female rappers, who are routinely pitted against each other in a way that male rappers are not. Thanks to the loving encouragement she received from her parents as a child, Banks remains unaffected. "I do wanna be the best, I'm always aiming to be the best. When you talk about the best people in the country, I wanna be the cream of the crop, I want you to mention Ms Banks. But it does not define me." She insists. "God forbid, if it didn't happen I wouldn't die and I wouldn't feel any less about myself. I wouldn't feel like I'm a shit person because there's other things about me that are great: my mindset, how I consider people, the things I care about. I can't be defined by being number one, it doesn't matter, it's not that important. I feel like the younger me was competitive out of not being secure."
Banks expands on the role her parents played in her early development: "A lot of people need the validation of successes and the outside world and 'Look at me! I'm the best' to feel great, whereas my mum's always made me feel great, from young. My dad always made me feel great from young. I've always felt special -- before I was in the industry, before I started doing music. So music is my life… but it's also not my life. I'm still me without being Ms Banks. I believe in aiming to be the best you can be and being great... but I'm never gonna go against myself to be in the top spot. That's not why I came here."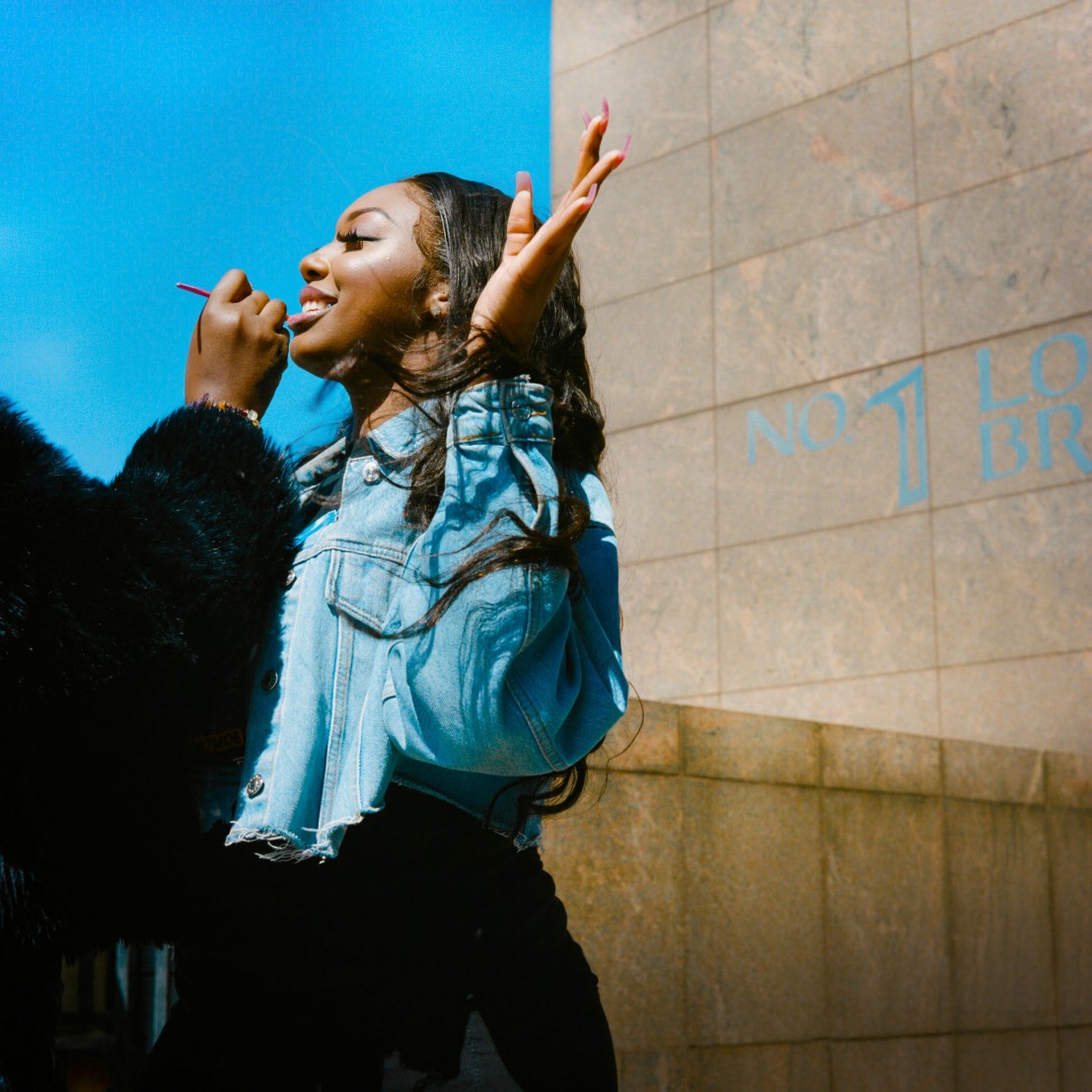 A few days before our interview, Banks confirmed on Instagram that she was no longer in a relationship with British cruiserweight champion Lawrence Okolie. In an interview with Spotify's Who We Be podcast, Banks talked at length about the boxer's ambition, saying of Okolie: "He wants all the smoke – and that's how he wants me to be in music". When I read this quote aloud to her, she replies instantly: "--and I'm not like that." Banks, born under the Aries star sign, elaborates on the differences in their respective personalities: "I feel like Sagittariuses are just a bit more on it sometimes, they're very good when it comes to business and being competitive."
Despite her diplomatic answer, it seems naive to think this wouldn't have caused conflict between them. I ask Banks whether she felt like she had to take on these personality traits. "At some point I did… and you know what, I liked that determination in him [Okolie], to an extent." She admits. "I can be very competitive as a person, especially in my field, but you only really got to compete with yourself. I'm not gonna let the game make or break me. If I was number one and the best in the country, great. And if I'm not, cool, it's fine.Yeah that's it really, there's room for all of us." It's clear that maintaining a healthy mind and approach is important to Banks: "Some people, they're number one all their life and then as soon as they're number two they're having a breakdown because for them it's just not good enough. Why does that define you? You're great regardless. "
Doubling down on her feelings about managing competition and pressure, Banks explains the difference between 'going hard' and letting it consume you. "I'm not like my ex and I'll never be like my ex." She states. "That's what he needs to be like and that's good for him in his field. He's a fighter, I'm not a fighter. But I still believe in going hard – it's not an excuse, people, to be lazy. Go and be the best you can be. It's like a Nigerian phrase, we say 'I can't come and kill myself'; there's only so much I can do and I'm not gonna kill myself to be in a certain position. I'm not gonna sell out, I'm not gonna go against my morals. Some people would do anything to be in a certain position and that's just not who I'm tryna be. "
On 2018's The Coldest Winter Ever, Banks spoke at length about infidelity, revealing a heartbroken yet undefeated protagonist on tracks "Over" and "Made It". Such songs laid bare the betrayal she felt, to powerful effect: "How could I give you all my love and my trust? / you go and trade it for lust / I wonder if you thought of me all of them times that you buss / in other bitches, I'm supposed to be ya missus". Considering the positive public perception of her most recent relationship, surely this material was inspired by a relationship many years ago? Sadly, she shakes her head. "The Coldest Winter Ever was about my relationship [with Okolie]. This is the thing... we went through stuff before we were in the public eye. Obviously it was harder in the public eye but I was still tryna make it work. It's crazy because I've already got out all my heartbreak through the music and now I'm actually really, like, single and it's quite fresh [but] I don't feel to rap about it. It's true, it's not my first rodeo". She laughs "One thing I've learnt…. you go through the same stuff until you get past it."
How do you know when it's the right time to let go of a relationship? "For a long time I was really feeling disrespected, so you just gotta gauge how you feel – the pros and cons. Are you happy, does this person think the way you think? And not saying everyone has to think the way you think – your partner can be completely different from you – but is there a level of understanding. Is there respect?" She says. "For me yeah, obviously I didn't wanna end my relationship, but something inside me kept saying "Ty, you gotta let it go, this isn't for you." Your intuition never has to interfere when you're on the right path – it only tells you 'don't do that', 'don't go there', 'don't take that route', 'don't meet that person'. It never says 'do' because when you're supposed to be going it doesn't need to interfere."
"I'm not leaving my relationship because I'm scared it's not going to work – I'm leaving it because I believe that I can find someone better for me. Better in regards to compatibility, not like a better person than the last because all of that's whatever – we're all human. But someone who is better for me, someone who understands me better."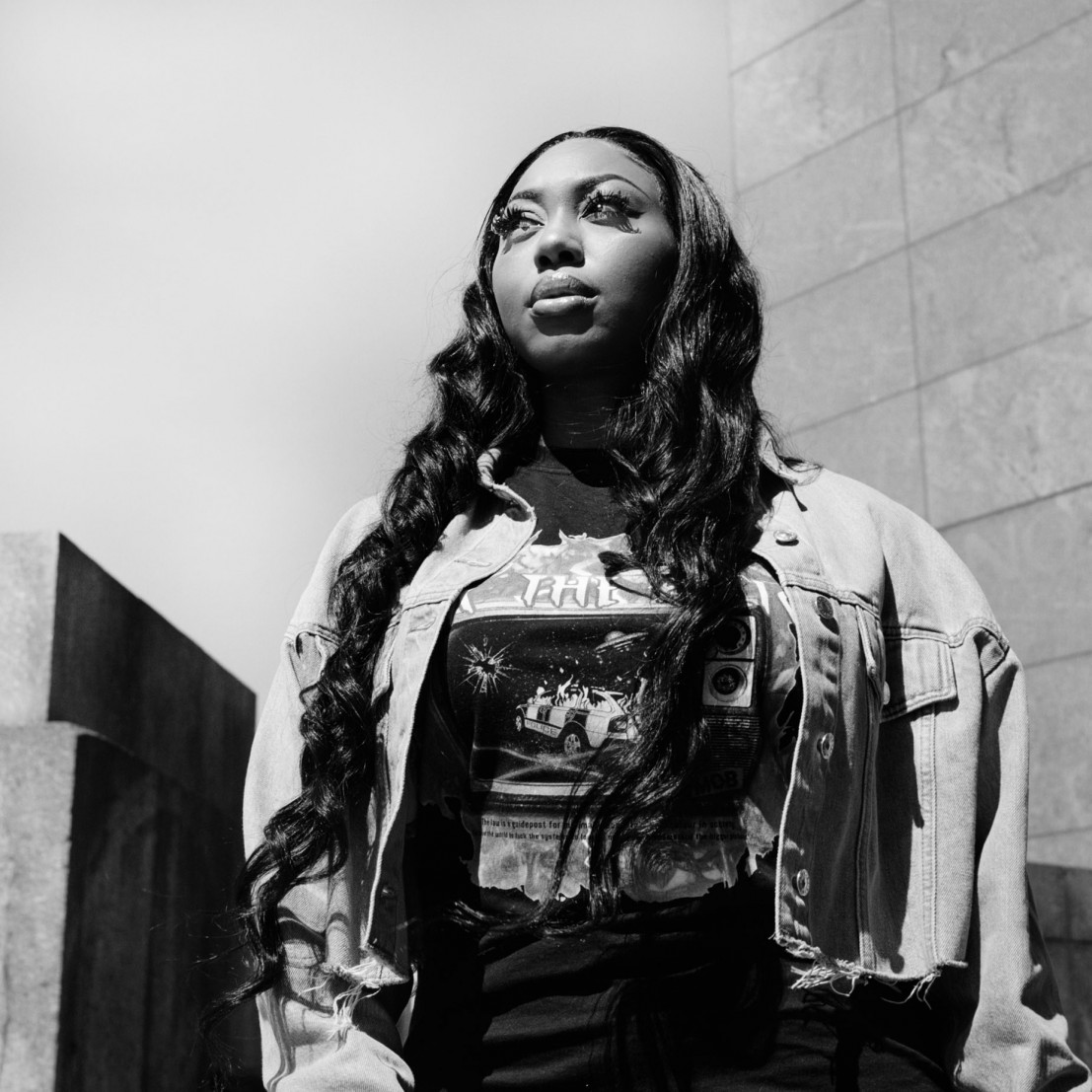 Faced with singledom, Banks seems a little on the fence. "Being single is not what I wanna do but what I need to do… actually I wanna do it a little bit yeah." She laughs. "I feel like I'm doing it for the unknown reason — because your intuition never explains itself, does it?" Banks pauses and adds: "Or sometimes you don't listen to it and you pay [the price]. I already been through too much." While a relationship break-up is always hard, the realisation that her ex was still affecting her choices and emotions was difficult for Banks: "I was getting angry because I was doing something based on someone else's actions... I'm doing all this stuff but it's not what I really wanted to do? I feel like I'm resisting trying to avoid them so much that it's starting to anger me." Letting go of these expectations of herself and taking the time to put her spirit 'at peace' has helped Banks to move forward. "I'm not gonna lie, there's people in my life that have hurt me really bad and it's taken me a long time to get over." She shares. "But, in the same breath, they no longer have any control over me. I'm not triggered by them, they don't draw any emotion from me so I already know I've won – 'cause you can't pull my strings anymore, no matter what you do. And that's the best place to be in: we give people power by holding grudges."
Growing up on a council estate in Elephant and Castle, Banks watched the people around her struggle from a young age. Living in that environment can understandably make success seem impossible, yet Banks managed to make it. "I always felt like I was destined for greatness." She smiles. "I always wanted to do music. Like I made a lot of mistakes but for me -- I feel it's so important when you're bringing a child into the world to be in a good place." After witnessing her young mother work hard to keep her family afloat, Banks is determined to be in a better place before she raises a family. "Even now, in a good space, I still don't feel it's good enough for my [future] child. When they come, I'm gonna be like 'Babe, I built an empire for you and I made sure that you was born into a happy space. I know myself and I can be a good parent to you.' I want my child to come into a happy family."
Banks also warns against the temptation of less-than-legal pursuits to get rich quick. "Some people are just rushing to make big amounts of money and they don't give themselves a chance to be a graduate. Before they know it, they're doing stuff and getting illegal incomes and putting their freedom at risk." She states. "I love being outdoors... I could never be in a jail cell. I was never gonna go that way, I always knew. I didn't know how I was gonna get there but I knew I was gonna get to a place where I could have a job that I love and a legit income. And love myself!"
Although they've faced a number of challenges as a family, Banks is still very close to her parents, and thankful for the role they played in her adolescence. "I've gone through some phases with my parents, but in general my family is very loving. I've got a good relationship both on my mum's [side] and dad's side." She acknowledges that her teenage years were difficult, confirming "I really gave them a run for their money. I was misbehaving, I was out on the roads, I was very boisterous. I used to chill with a lot of gangs, fights every week – I was really rough." As a teen, Banks turned to smoking as a way to relieve her stress and cope with past traumas. "I was very anxious at one point l…. when I was younger I used to smoke a lot of weed" she admits. "I thought I was just having fun but I was [running], I wasn't dealing with stuff I'd been through. They always say when you smoke before 16 your brain is still developing. I started questioning my decisions: 'am I doing this because I'm paranoid?'" The rapper emphasises that she isn't anti-Marijuana: "Obviously big up to the people that use it recreationally and for creativity, I'm not fully against it – go Amsterdam, have a bit of fun. But when I stopped smoking I was just anxious all the time and I realised I had an issue."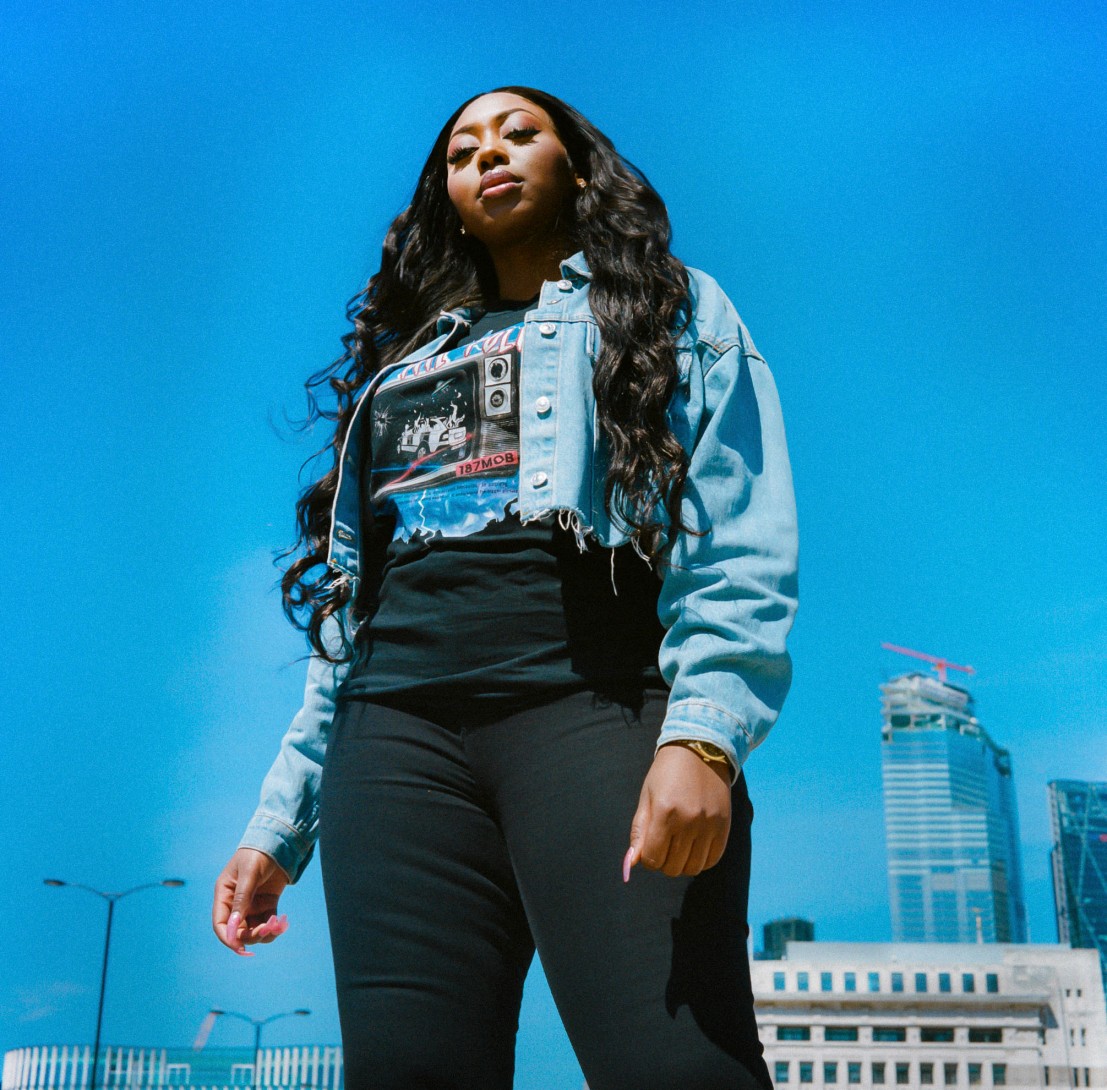 Reflecting on where she is now – that inner-strength so acutely resonant – she says she's not exactly sure what changed. "I'm sure it was a lot of stress, [me] staying out and stuff but yeah they've been through it with me." When she was 17 years old, Banks moved out of the family home, though she still relied on her parents for help. "If I didn't have any money my mum would give me money to be okay; my dad would like come round to my hostels, bring food for me. I'm blessed, man! Good parents, you know what I mean? I always say [being a parent] don't come with a manual. I feel like if I'm the result of their work, they done good!"
Banks notes that there was a little skepticism, from her dad especially, when she started making music, and recurring conversations about getting a 'proper job'. But that all changed with her increasing visibility. "When he saw the rate it was going he was so supportive." She says. "And now my dad and mum are, like, my number one fans. My dad plays my music to everyone and shows he's proud of me. My mum is so supportive on socials – she posts me all the time, she's always tryna give me her input. Even though sometimes she annoys me – it's like 'you're not my manager'" She laughs. "She genuinely wants the best for me, y'know."
One of the challenges that Banks' family faced was the abuse she experienced from a family friend, when Banks was a young girl. On her Warm Up Sessions video for SBTV, Banks used her freestyle to spotlight sexual and physical abuse I ask Banks if it's hard for her to talk about those experiences. "Not really... I didn't mind." She states plainly. "I felt like certain people in my family kinda felt some way because I was putting my biz out there, but it's my story. Banks admits that she's an open book when it comes to most things – even issues that many of us would struggle to share with our closest confidante. "I can tell someone I met today my life 'cause it's no one else's secrets but mine. I live by transparency. I ain't got time to lie... I ain't got time to hide stuff and I'm not ashamed." Like many survivors of sexual abuse, at the time Banks believed that she was somehow responsible. "When I was younger, going through certain things, being abused, I used to feel like maybe it was my fault – but it was never my fault. It took me a long time to get past that and understand that… so I'm not ashamed at all. At all."
With her community never far from her thoughts, Banks is aware that there's a stigma amongst her extended friends and family about mental health and trauma. "It's like a sense of weakness – but [talking about] it's not a weakness. Suppressing trauma is a weakness, abusing drugs is a weakness, 'cause you're not dealing with your real problems. These are the things that cause issues in the future. So I would rather be honest about my story and tell it than it kill me, 'cause I'm a bad bitch." There's a brief pause where Ms Banks looks to Dolly for confirmation that she is, in fact, a Bad Bitch. "This life can't kill me, that's it! And someone that's been going through what I've gone through might hear it and it might encourage them to tell their story and seek help." Indeed, in another interview, Banks revealed that she received DMs from a number of girls after her confessional Warm Up Sessions video aired: girls said the video had made them cry, as well as want to heal and get past their own situations. "Yeah that was a really emotional time" she admits.
As we've been talking, it's clear Dolly didn't know the details about Banks' childhood. Turning to her, Banks moves to reassure: "I'm not surprised you don't know [about the abuse] 'cause I don't tell everyone babe, like 'OMG I was like abused'. I barely even speak on the negatives 'cause I don't wanna give myself time to focus on it. But that's why there's music there and I'm glad I have that because that's my therapeutic place: that's my therapy, that's my place of respiration, that's my place I go and say everything that I've been through." For her own sake and others', she's adamant that she won't "hold hate" towards people: "I forgive, I may not forget but I've deffo forgiven. I've realised in life that when people do things they're fighting their own demons. It takes a sick person or a hurt person to do certain things."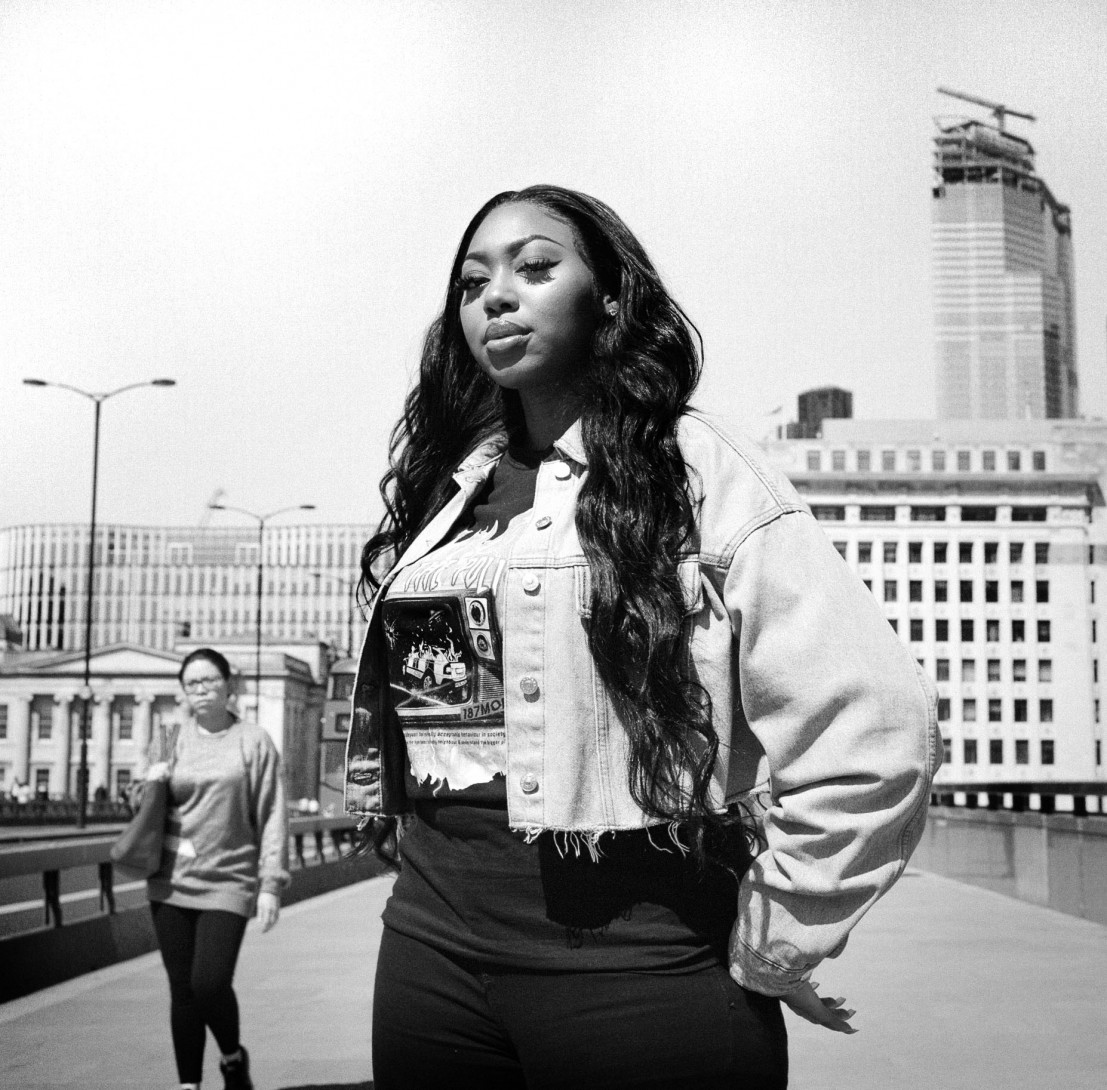 It's clear that part of Banks self-care strategy involves letting go of negative experiences – however painful. Refreshingly, she brings this same approach to her social media accounts, choosing to Tweet only positive content. "I don't need to speak about having a bad day or [that] it rained and my hair got wet. I don't need to go on there to complain" she insists. "I've got friends if I really wanted to and even then I wouldn't wanna burden them with it. The only thing I've got for you guys [on Twitter] is the advice I give to myself, my music and a few laughs - and that's it." She admits that this is a natural way of thinking for her, rather than a conscious practice: "I thank God I learned about positive thinking from a young age because that's what saved me. I've always said my aim is always to be at peace."
This doesn't mean the rapper turns a blind eye to problems in the world, though – the political often finds its way into her verses, Banks weaving lines about war and racism around "pussy popping" and sex. "Even in that song "Know u Know" when I mentioned Syria - I'm literally talking about having an issue with my partner" she says. "He's acting up but 'You know I know what you're doing' type of thing. This stuff is so trivial, I don't wanna be dealing with like boyfriend drama, baby mama drama, when there's real things going on in the world."
Banks is keen to eschew the typical bravado audiences expect from rappers in favour of a deeper message. "As an artist if I'm expressing myself I have to be saying something, talking about something, it just doesn't feel right to always be talking shit and not actually be deeping what's going on." Perhaps linked to her awareness of world issues, Banks also has an interest in spirituality, something she believes may surprise people. "I think, from how I rap, that people don't know how I really am. The things I say in my verses are actually me - the old me, but it's still me. If I didn't get to express how I actually am in my music I think I would act like that all the time. The boisterousness of it, the fierceness - I'm not Ms Banks 24/7, I get time to kind of express that and then I'm done."
Looking ahead, we turn to Banks' new album, slated for Autumn release The Coldest Winter Ever was arguably her most soul-baring record to date, but the new LP will see Banks ditch the vulnerability in favour of a fiery persona: "I think this vibe is more turn-up. I wanna name some of my alter-egos – I'll figure it out. It's very like fierce, in-your-face, bossy. If you're tryna feel empowered and feel like that girl, the next tape is gonna be the one for you." With such broad ambitions, both within and outside of music, I wonder what success really looks like to her. Given the number of challenges she has already overcome, barely into her twenties, what is the end goal for Thyra Oji? "When I retire I want to help the community, travel the world, taste food, that's all I really wanna do!" She laughs. "I don't really care about anything else, just to be happy. I don't expect life to be perfect, I'm just doing me."
"The end goal for me is just to spread good vibes. As long as I'm spreading good vibes I'm always gonna be happy; as long as I'm uplifting women I'm always gonna be happy. As long as I'm making girls feel like they can go for their dreams I'm always gonna be happy. I feel like growing up I was very hard, I learnt how to be streetwise. I had to really deal with people… and yeah I've got that side of me but really and truly I'm like this girl looking for peace, for real love, positive vibes. I don't really want no drama."
Ms Banks new album is due Autumn 2019.