Most crucially perhaps, it requires a certain initiative and degree of 'Kiwi ingenuity' specific to the small island nation. Remote and sparsely populated, the need to get more creative and adopt a DIY ethos has proven its worth over the years in New Zealand's ability to churn out a consistent stream of high-calibre artists. Acts ranging from Aldous Harding to Crowded House and The Chills have successfully traversed the large expanse of sea between New Zealand and most other English-speaking countries, indicative of the curiosity and sense of adventure often associated with the nation. It is against such a backdrop that the latest lauded Kiwi act, Miss June, cut their teeth.
Calling 'home' Auckland, New Zealand's most populous city at 1.4 million people, it is in the last 12 months that Miss June has really acquainted themselves with the international music scene. As well as engaging in a two-month international tour from the end of September to mid-November, which saw them visit Europe, the UK, Canada, and the US, the band also signed to New York-based label Frenchkiss Records (Bloc Party, Diet Cig), released their debut album Bad Luck Party, and won plaudits from the BBC's Jack Saunders to the New York Times. As if that isn't enough, the band, which alongside vocalist Annabell Liddell includes Jun Park on guitar, Chris Marshall on bass and Tom Leggett on drums, are ending the year with the announcement that they're going to be supporting My Chemical Romance's 2020 comeback gig in Auckland alongside eminent emo heroes Jimmy Eat World. An announcement that Liddell says, upon being asked to play, she "cried and screamed and said "yes!". A fitting response not just to that request, but to the last year in general.
Despite the whirlwind of events that have characterised 2019 for the band, the journey to get to this point, however, has been somewhat more protracted. Forming in 2015 for what was only intended to be a single show, Miss June released their debut EP, Matriarchy, the same year to local acclaim. Unrefined and intelligent post-punk, it quickly started turning heads in New Zealand's music scene and, compounded by the band's incendiary live show, marked them as an act to watch. Multiple singles have since paved the way, and by the time their debut was released, a decent portion of its songs were already fairly well known among Miss June fans. Although Bad Luck Party wasn't available in its entirety until September of this year, for anyone that had seen the band live, there would have been plenty of familiar favourites among the tracklist.
On the gestation period of Bad Luck Party, Liddell explains how: "The record was a process, two years of songwriting and one of recording. We never started out as a band trying to sound like anything specific. For us, it was always what felt creatively authentic, and all of us are different in that regard".
"A few of the songs on the setlist had been there for a while, like "Twitch", she continues. "I wrote that song three years ago, and we'd really road tested most of the album before recording it, as you do with a first album. You know, they say you have your whole life to write your first album, so a lot of songs off the album had kind of been road-tested. But I think the difference was really just the fact that we were playing these songs that we'd released as singles and not really registering that they'd been overseas. Having a crowd sing your lyrics back to you is really cool, and the thing with releasing an album is that people listen to it and really get to know the songs, so it sometimes feels a lot more fun to play".
"We never started out as a band trying to sound like anything specific. For us, it was always what felt creatively authentic." - Annabel Liddell
A highlight Liddell pulls from their recent tour as proof of this growing interest in Miss June abroad was of a fan they met in Glasgow, Scotland. Described by Liddell as the "Scottish version of (Red Hot Chili Peppers bassist) Flea", she explains how, after seeing them in Glasgow: "He caught the train the next day to Edinburgh to see our show and comments on every single Facebook post we make. It's just sweet, that's the sort of stuff I love". While not discounting the value of the band's fans back home ("Because New Zealand is such a small place it's easier to gain a loyal following. We've definitely got fans that have been with us from the start and that's been lovely"), the increase in international fandom is clearly, and deservedly, a point of pride.
Recorded in Auckland with producer Tom Healy, who also plays guitar in Tiny Ruins and is described by Liddell as a "fifth band member" ("We just kind of hit it off with him. And when I say hit it off, I mean really hit it off. When we finished the last session of recording I was devastated"), Bad Luck Party is a rousing collection of post-punk and indie tunes, paying homage to influences ranging from contemporary acts like Priests and Gauche to Kiwi heroes such as Bailter Space and The 3Ds. Led by tracks including the excellent "Twitch" and the anthemic "Enemies", it exists as a culmination of the band's efforts to date, and a reference point for other peers to try and aspire to. Liddell's lyrics are a particular standout, her direct and unfiltered style the result of an in-the-moment writing process.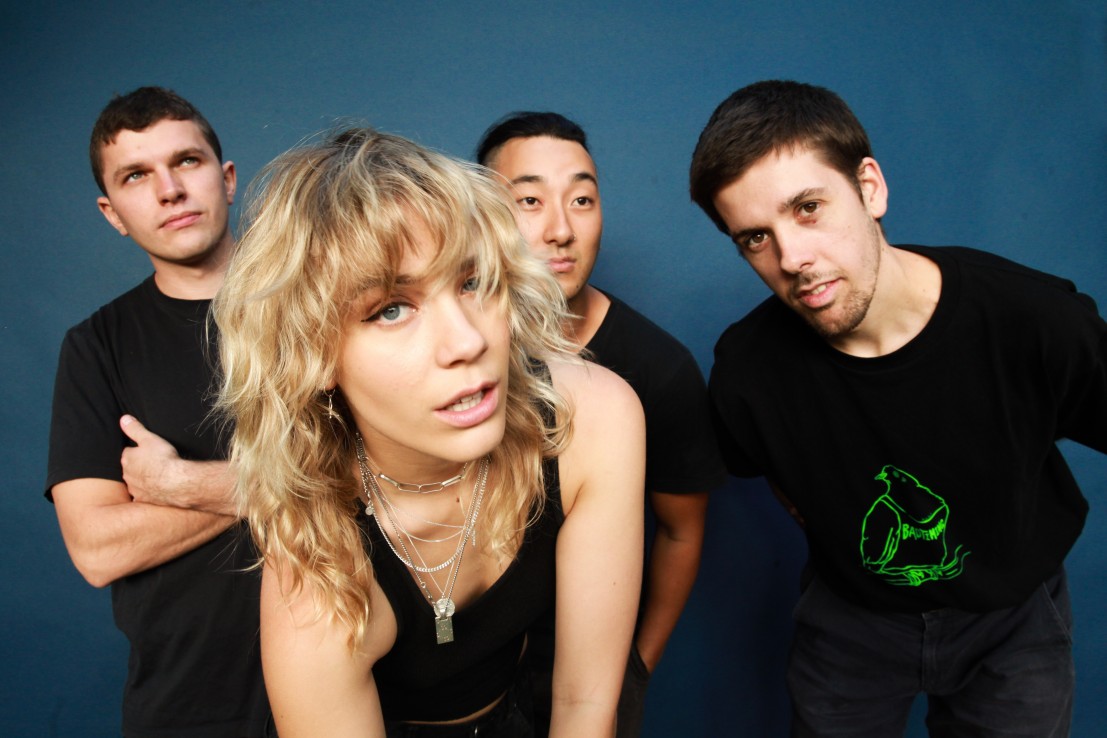 "I write a lot of lyrics daily on the go on my phone. I also use the voice recorder thing on my phone and voice record a lot of memos. Usually when I play, if I'm having writer's block, I'll go and scroll through my notes and see what jumps out. I'm very much a write-on-the-fly sort of person. I've never sat down and written out the lyrics to a song and thought about my word choices or anything like that. I just sing whatever comes to me and whatever vibe or mood I'm feeling and let it develop on its own the more I play it and the more the band plays it. Right up in the recording process even up to the last vocal takes of our songs I was toying with lyrics".
Another key feature of the album is its profound live aesthetic. Raw and emphatic, it's a direct reflection of the band's actual live shows, which is itself a spectacle sharing much with modern punk bands such as Big Ups. At times it appears as if a show of endurance, each band member seemingly testing themselves to see how far they can push themselves from track to track. Forged out of playing live with regularity around Auckland and New Zealand, Liddell acknowledges the centrality of these experiences for the band: "We are a live band at heart, and that plays into having those gigs readily available. When we started we would play anywhere for anyone, we just wanted to play".
We are a live band at heart. When we started we would play anywhere for anyone, we just wanted to play". - Annabell Liddell
"Unfortunately what we've seen recently is the mass closure of music venues. I think everywhere around the world is seeing that", Liddell continues, alluding to the increasingly dire reports on the state of live music. She qualifies however how, even today, "in Auckland there are heaps of shows going on all the time".
When discussing the band's upward trajectory, it becomes increasingly clear how essential their grounding in DIY has been for their overall ethos and approach to music. Even after signing to a major label and benefitting from some of the support that can provide, Liddell explains how it "still feels very DIY". "We don't have roadies and we don't have a driver so we did all the driving and loading when we were on tour".
"I feel like New Zealand is very different from a lot of other countries", she adds. "Most bands here are DIY, we don't necessarily have the presence of major labels. We have Universal and Sony, but most guitar bands here are DIY. I think that's pretty rooted in anyone making music in New Zealand from a young age. Jun was really anti labels from the start, he was really into Chance the Rapper releasing stuff all on his own. But we had to move with the times to do what we wanted to achieve, and getting a label and a team on board was becoming more and more of an option that might be good for us. It still feels pretty DIY though. We are pretty self-sufficient. We toured a long time around Australia and New Zealand before this tour so we kinda know how touring works. Same with recording, we recorded with some of our best friends. The thing is with DIY, it is do it yourself, but it's also do it with your friends and do it with people you trust and that you've known for a long time, and that's definitely something we live by".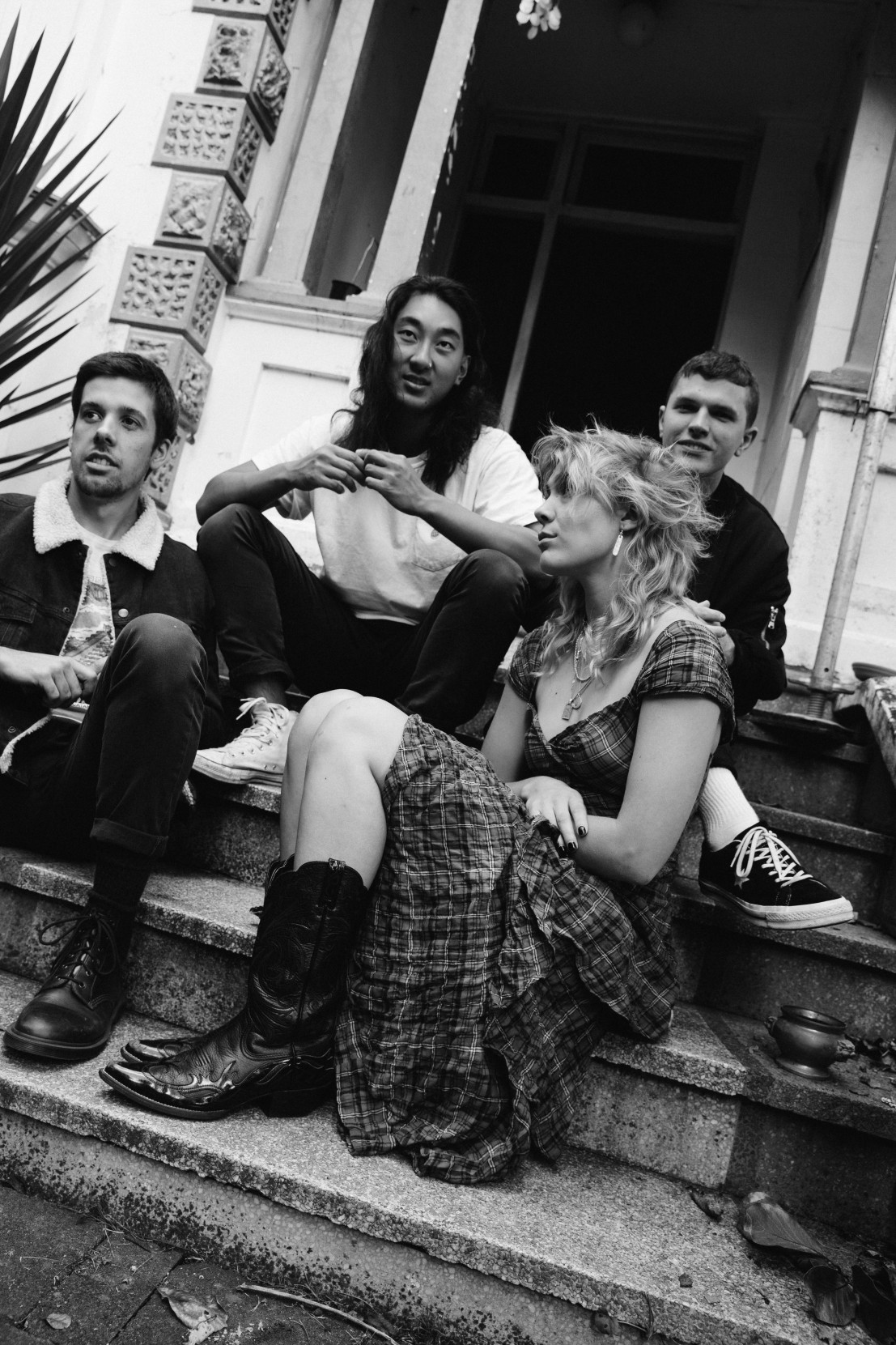 This mantra can be seen in action with the recording process, in particular, the inclusion of the aforementioned Healy. Essential to not just the sound of the record but also to the dynamics of the band during those sessions, Liddell talks about the time spent recording with great fondness. "That's the attitude we took to those small room sessions, like let's have some fun and see what kind of sounds we can make".
The choice of designer for the visual elements of the record also reflects this idea of operating within a tight, local community. Designed by Erin Forsyth, a New Zealand-based artist, the cover art depicts a scene of native fauna and flora, most of which are now extinct, in a slightly macabre, comic book-esque style. While stating most of their music isn't political, Liddell makes explicit the message behind the album art. "We really wanted to touch on a lot of themes of climate change, an incredibly pertinent issue for our generation and all generations, and so there's a lot of themes of that throughout the cover".
Listening to Liddell talk about the community and DIY ethos of the band is hardly surprising, again given how closely associated these characteristics are to the stereotype of New Zeland culture. However, it's important to be wary of continually resorting to this as the single founding of the band's characteristics, and it's certainly a disservice to Miss June to associate their ethic purely as a systemic one. Although perhaps influenced by the initiative inherent in Kiwi culture, there is an internal work ethic that has enabled them to survive and push themselves as an act. Nowhere is this typified more than in Liddell's juggling of studying for a medicine degree alongside band duties.
A notable reason behind the extended period of time between the release of Matriarchy and Bad Luck Party, Liddell's experiences studying for her degree are notable in some of the band's output, most clearly in the song "Twitch", in which she describes her first time operating on a live body. The intensity of undertaking such studying alongside the band, however, did require an otherworldly work ethic and commitment that is highly commendable and prepared Liddell well for future projects. "Working and writing is something I've previously been able to do. I was working when we were doing album number one, so I'm not afraid of that".
"The thing is with DIY, it is 'do it yourself', but it's also 'do it with your friends' and 'do it with people you trust and that you've known for a long time' and that's definitely something we live by". - Annabell Liddell
Although the balancing act has proven fruitful to date, Liddell is aware that some stage, something may have to give. With issues such as being able to schedule in tours around shifts a potential sticking point, she's quite frank about the possibility of the two not being able to sustainably coexist beside one another forever. "This is something I'm figuring out. I definitely want to work as a doctor, the only difficulty is scheduling. Medicine isn't a degree where you can be like "I want this day off". You request leave months and months in advance".
While it's easy to fixate on the story behind her dual ambitions, Liddell is, without doubt, a team player, and is quick to heap praise on her bandmates throughout our conversation. From stories on the road ("My highlight is when Jun ate some spicy chicken at this restaurant in Louisiana. Everyone at the counters was like "you sure about that?" and he was like "yeah, yeah" and he was crying and he vomited outside of the restaurant. It was hilarious") to highlighting their undeniable musical abilities ("Tom is one of the greatest drummers in New Zealand now, he's in a fantastic other band called Wax Chattels, and it's been so beautiful to his transition as an artist"), it's hard not to draw parallels between the tight, DIY music community surrounding them in Auckland and the internal dynamics of the band itself. Even under the pressure of their first extended international tour, the overall impression is of a close-knit, familial vibe.
"The dynamics of our band from the start have been ever-evolving. Because we've been a band for so long we went into it kinda family vibes. We have arguments and scraps and things but you can't hold anything against anyone". Liddell adds: "Be up-front and work through any problem as a team. I love the boys and they're literally my family. It's just like travelling with my family".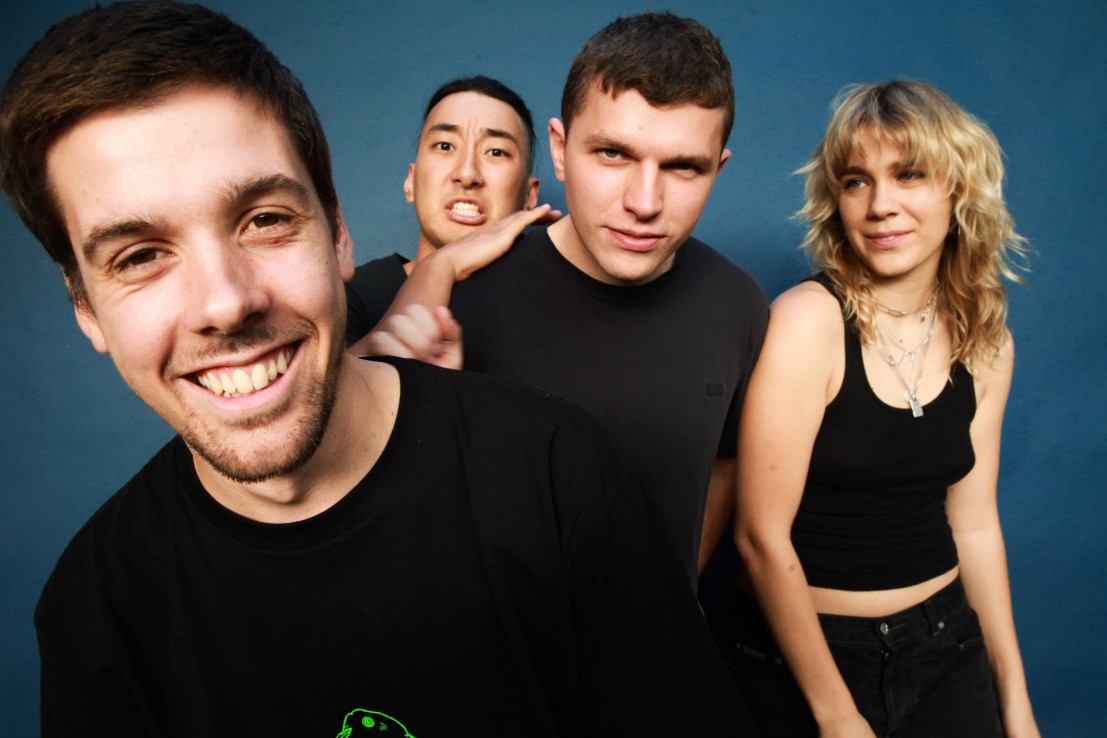 Particularly striking about this dynamic is the randomness of their forming. Recalling the band's formation, Liddell says: "I played in this band called Girlfriends, and then my two other bandmates went to South East Asia without me. I didn't go because I was studying at the time, and they said: "oh you just do the gigs, you'll be fine". I had never sung, I only played guitar in that band but I wrote all the music, so I knew all the songs but I kinda knew that I might have actually wanted to do something a bit different. I had a week or two before the first gig and I was like "shit, I'm going to need to get people who can learn this super quick". So I went to jazz school and got three musicians. I was like "who's the best drummer in the class?", and got Tom, Chris, and Jun, and we're still the same four-piece, which is crazy".
I suggest that perhaps her bandmates' studying and focussing on music helped ensure the band was all pulling in the same direction, though Liddell is quick to point out that a lot of people who studied music in that class went on to do other careers. The unlikelihood of their situation isn't totally lost on her, and she's ready to accept that things could well have turned out very differently.
"I truly believe in serendipity. The fact that we are still the same four people that had gotten together on such a whim. A week before a show I met them and was like, "learn these songs". And now we're like fully collaborating on music and touring. It was one of the best things that ever happened to me and it was such a fluke to find them. But it works, and I like to think I've got a good eye for people". Considering the tightness of the group, she adds confidently: "I don't feel like much could break us".
"Because we've been a band for so long we went into it kinda family vibes. I don't feel like much could break us". - Annabell Liddell
Back home now, with a handful of shows in Australia and New Zealand lined up over the Christmas period, Liddell is clear on what the band has got lined up until around March. It's after that point that things are currently a little hazy. Work on album number two has begun, with a lot of the lyrical content and a few melodies written on the road, though as Liddell explained, there is a lot resting on her next steps in regards to becoming a doctor. With things winding down in the meantime however and now seeming like a viable point of reflection, I ask how Miss June has shaped up against where she foresaw the band being at this point in time. "It's definitely exceeded my expectations", she responds quickly, leaving no doubt as to how she feels about Miss June's career to date. "In saying that, I always hope for the best and want the best. I feel really happy, it's really exceeded my expectations".
Alongside the recent slew of Kiwi acts making waves internationally, such as Soaked Oats and The Beths, Miss June has managed to surpass such expectations while retaining the culture of DIY and community of home. Again, this isn't lost on Liddell. Her love for where she's come from and the culture as she experienced it is evident throughout our conversation, potentially emphasised somewhat by her pleasure at returning in time for New Zealand's exceptionally beautiful summer ("We're very fortunate to come back to this country").
For this reason that it is perhaps her pocket-sized description of Miss June as "just little Kiwi kids driving around in a van playing music" that resonates the most. Humble and understated with more than a whiff of independence, it mirrors the environment the band grew up in, and leaves you in no doubt as to where they call home.
Bad Luck Party is out now via Frenchkiss Records.