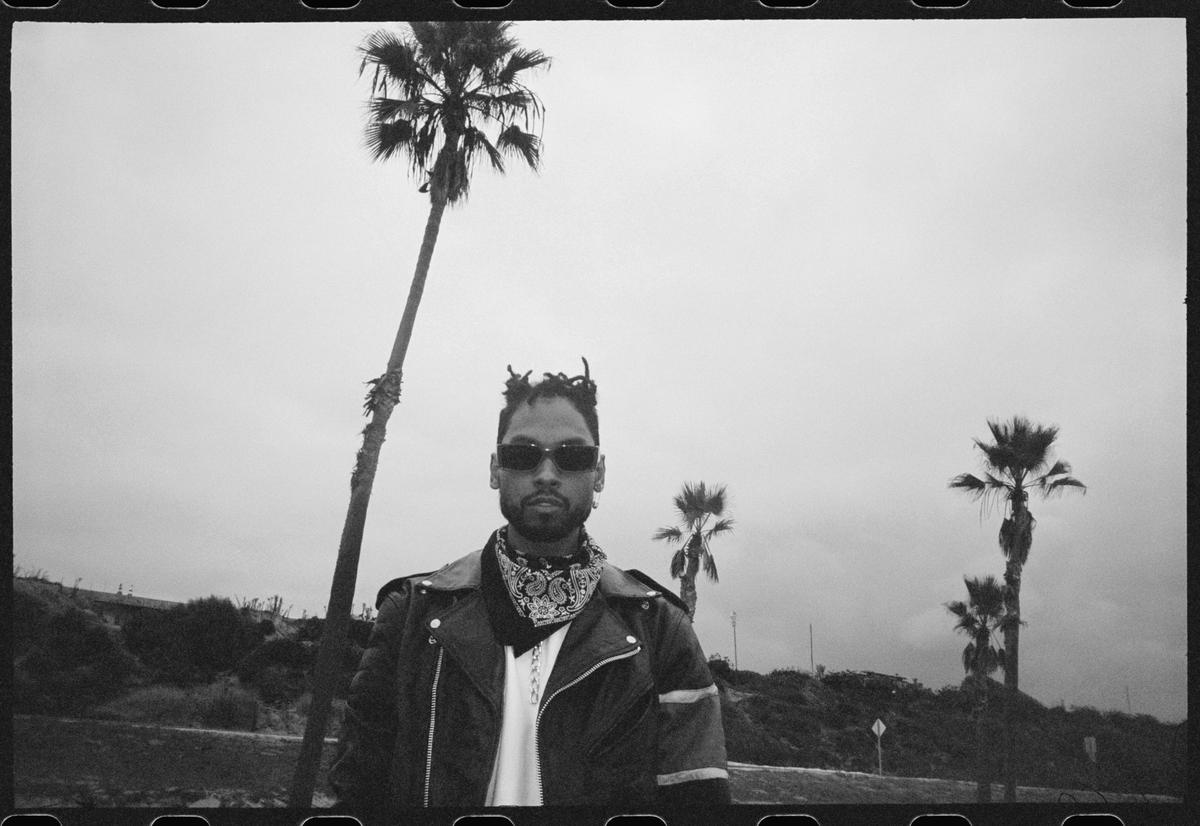 Reformation
06 April 2021, 10:17
Almost four years since his blockbuster album War & Leisure, Miguel is back at the helm of his own ship — and re-imagining himself beyond his sex symbol status.
Miguel isn't going independent. But — after the visibility his Gold certified album, 2017's War & Leisure, afforded him — it's time to come back down to earth.
Following years of walking the line between recluse and celebrity, the Mexican-American artist's last LP turned him from a proverbial mystery into a face familiar enough to pop up on shows like The Voice and Rhythm And Flow, dressed to the nines and experiencing what regular people would deem success.
But as so many artists will tell you, success isn't defined by red carpets, awards and record sales. Miguel had to take some time away to remind himself that. Time in which he got married to his long time partner Nazanin Mandi, experienced the passing of two grandparents and fanned the flames that originally ignited his polarising career. In his words, "I was updating my operating system."
The last time his operating system needed a check-up was after his debut album, 2010's "All I Want Is You". Wrestling with immediate success, he took back the power with a series of three EPs he called Art Dealer Chic 1, 2 and 3. From painting the artwork to producing the music, he composed an album's worth of music independently and gave it away for free. He did it with his own money and to make a point—"create and share, that's all that matters."
Miguel isn't blind to the position he's in. He knows having the opportunity and safety to make comments like that comes from years of commercial success and a label that helps fund his art. But even at dizzy heights, there are some things that have remained paramount throughout his creative process. "Give it to the people and let it be what it's going to be," he says. "The real value is that you got to give something honest that could mean a lot for someone else."
In the throws of success once again, he's retraced his steps back to the Art Dealer Chic series and progressed with Art Dealer Chic 4. It's a four-track EP that knock-door-runs on heaven's door and kicks open the gates of hell. It's allowed Miguel's creativity to run rampant and opened up a space to release songs like "Triangle Love", a riotous anthem six years in the making, as well as his 2019 single, "Funeral", a brutal and twisted introduction to a less predictable, more provocative character.
"It's a reflection of the past three years of my life," he explains. Working alongside his label, RCA, he's crafted this new effort into something he could never have released before. Going deeper and bearing his faults and struggles openly, he's weighed the things in his life that matter, taken the time to understand what role people expect him to play and allowed himself to take control of the sex symbol image he's often associated with.
"I'm a grown ass man," he tells me from inside his West Coast home. It's decorated in images of brutalist architecture, a subject he's been studying as of late ("It's tied to socialism somehow and that intrigues me.") Equipped with the same societal frustration that drove him to clench his fist and go political on War & Leisure, for him this latest body of work had to portray a life that is completely transparent. He's faced battles with mental health that he'd never had to before and these things form the foundations of his new music.
BEST FIT: How soon after War & Leisure did you realise you wanted to come back to the Art Dealer Chic series?
MIGUEL: Man, I don't even know if it was a distinct moment. It was more that life was happening and I was naturally revising my belief systems. When that happens, you just go back and reflect. I think priorities were shifting too. I got married, a couple of my grandparents transitioned and just a few things that let me know life was telling me, "okay, it's time for you to really consider your priorities and clarify some things." That naturally brought me back to why I did ADC in the first place. I guess in revisiting that it all started to make more sense.
The E.P includes "Funeral", a song that's been out for over a year already. How long have you been working on these songs?
There's one that's taken around six years just to get the sample cleared, "Triangle Love". I've been waiting to get that song cleared for so long. The final approval actually had to come directly from the actors in the Closer movie scene. So Clive Owen and Julia Roberts had to hear it and approve it which is a trip. It's one of my favourite films in terms of dialogue. The writing is so good and the situational conflict acting is pretty bugged out. You got to watch the whole film... Not with your significant other though.
Back in 2013 at the Billboard Music awards you said you were going to start working on editions 4, 5 and 6 very soon of the Art Dealer Chic series. Why didn't you?
That was probably more to do with creative inspiration. Between Kaleidoscope Dream and Wildheart I was experiencing new priorities and different trains of thought. Wildheart for me was very important. And for whatever reason, after Kaleidoscope Dream I was on tour. The lead up to Wildheart didn't really allow for the timing. Then in between that and War & Leisure, all of a sudden I was really paying attention to current events and what was happening in the world. That was interesting for me. It just didn't dawn on me to explore at that specific time.
Life is sort of interesting in that way. You do your best to pick a point in the distance you want to reach and however you may imagine the path, inevitably there are new different obstacles that come between you. Then you find yourself changing as you get closer. Luckily we haven't veered off course too far. Actually I think we're right on course.
War & Leisure went Gold and your single "Sky Walker" even went triple Platinum. What did you learn from seeing a dizzier height of success?
The most valuable thing I learned is how important it is to focus on the process and being in love with the process as opposed to what the result means. I think across any medium or industry, when you lose sight of the learning you get to do in the middle of it, that immediately impacts your value, energy and mental effort. You chip away at the value of that if you're only looking at what the result could do. Now, I try my best to stay in a place of just creating. Again, that's what's led me back to ADC.
And you think it's better you've come back to this project after War & Leisure?
I'm happy to be back in this place. War & Leisure was a win in exploring awareness and applying my creative process in conversation that I'm not necessarily used to. It was a fun challenge. There are other smaller challenges in there too. Like, if I could make a song where I'm not really singing in the whole song. That's how we came up with "Sky Walker". We wanted to see if we could talk about politics more and take current events to the music. That's why you've got Cole's verse in "Come Through and Chill". Those things are still there, they're just not in the main field of vision.
Art Dealer Chic 1, 2 and 3 were released completely independently but this time you're working with your label, RCA. How's that process been?
That was fun wrestling with. I had to tell my label, "if you really want me to be 100% behind this, you have to let me go."
The great thing about that is I think we found a good balance. The awesome team that I have at RCA are there to support me and to be completely honest I wouldn't even be able to talk to you if it was completely independent. I'm the type of person who would just put it out immediately. I'm not thinking of the set up or the rollout and the things that make a big difference in people knowing what's going on. So for that I'm happy to have their support.
Those first three offerings were me taking my time, my money and my creativity and saying to myself that I was going to do it. That's why I just gave it all away for free and let people do whatever they wanted to do with them. Unfortunately and fortunately, there's so much music coming out all the time. It's hard for me to keep up even with the shit that I love and the things I want to know about. I'll have no idea this amazing record dropped a month earlier or even a year.
Back at the Billboard Awards 2013 you mentioned releasing clothes along with more Art Dealer Chic E.Ps. Now you're a mentor on The Drop and running a clothing label so is this something you'll do again?
I'm at this point where I just want to make stuff. I have ideas to make things and I'm always doing my best to have a reason why I'm making something. Along with the music, there'll be clothes and they'll all be sustainably and ethically made. I'll be building different systems of applying creative ways to address the issues in fashion in terms of how they affect ecosystems, the earth and us as human beings.
I guess I've always looked at even music in this way that's like, "What's missing? What's the alternative?" That's always where the creative process starts for me. I look for the gaps and see what I can fill in.
And how does it feel to be recognised and brought on board for The Drop?
I've always guested on shows like Rhythm And Flow or The Voice here in the States. I've never had the inspiration to do unscripted TV though. In retrospect I've always been unsure if I'm the right person or interesting enough.
What I can say for sure though is that I have a real passion and a unique point of view in terms of expression through clothing. I've always loved the people who have an eye and a unique perspective too. So being able to take a platform and amplify young voices, and voices who are creating from a unique lifestyle, it's a special opportunity. If I can amplify those people that's time well spent to me.
When you couple that with the opportunity to educate the audience and talent on how impactful changing our business practices and consuming practices are in respect to fashion. The kind of talent we have and the experienced professionals that have been so enthusiastic to jump in and help teach and be involved has been really dope. As an executive producer on a show it's been incredible to collaborate and help bring this idea together.
Writing, producing, acting and now mentoring... Do you try to wear as many hats as possible or is it all coincidental?
That's always been a theme for me. Just building my confidence in saying I have something to offer has been a journey. Just to be one hundred percent transparent, that's what Art Dealer Chic was always about. It's for investing in the thoughts, beliefs and actions that really reinforce that belief in yourself.
I've been doing a lot of work over the past three years and I guess it all culminates in applying that belief to different practices and creative facets. I'm really excited we get to do it with The Drop.
On the topic of helping people to succeed, has the way you measure success changed since your first albums and EPs?
I measure success as doing… Let me think of the right way to say this.
Success for me is more so achieving what you desire without losing who you are. What comes with what you desire you'll never understand until you get there. The real challenge is: can you maintain your sense of who you are, what you believe in and everything else in the midst of the challenges and changes amongst the ancillary situations? Can you be steadfast with those while everything around you starts to change? That's the challenge.
In terms of War & Leisure or any of my projects, they're successful because I express myself. I don't consider any of them more or less. The only time I fail is when I do something that is not 100% true. I can say wholeheartedly, everything I've put out is me and a real reflection of who I am. Some represent just a small part of me and others are massive pieces. I think the best answer is as long as you are proud of what you've done, that's success.
Again, I'm just here to share whatever I've learned. I've been there and I've done that and it takes work.
Within Art Dealer Chic 4 you wrestle with this on "So I Lie". It's a song where you talk about self worth, staying silent and imposter syndrome. What thought process led you to being more lyrically vulnerable?
What do I believe in? What's worth sharing? What's exciting? I came into this whole project questioning what doesn't exist and why it doesn't exist. I had to ask myself how I'd do it differently.
Since my first album, each of my offerings has been me trying to fill a gap while staying honest and true. I think the most valuable thing I can offer in this time of my life is transparency. There are ideals of cool and sexy and this and that... I'd love to be all of those things. But what else is interesting to share with the people that give me their time and not waste it? That's why I'm starting with that song. That song is about acknowledging that not everything is as it seems.
We live in this world where everyone's putting their best life out there and nobody wants to be a downer so I get it. But the reality is life isn't always sunshine and trips—it's not always ideal.
Asking myself if people care is what led me to interesting conversation with my friends, with my life and with my family. Those conversations start to show in the music. Jay Z has a lyric that says "You can't heal what you don't reveal." I feel those words so much.
You bring up people wanting you to be sexy. Do you ever feel like people expect that from you? Or from your music?
It's a good question, I don't know. Yes. I think there's always going to be... [Pause] Sorry, I just want to answer this right.
There's the macro reality and then there's the expectation. Let's break it down into two parts.
Whenever you start in an endeavour you build a reputation, and reputation is something that's formed over time. I do deal with what I understand as my reputation. I think the important work is just sharing as much of what is real in real time now. To change your reputation or what's expected is literally just about time and consistency. I do believe that there are pressures to be that guy inside and outside of the music. That's not always my mode though.
Operating systems upgrade on your phone damn near every week and I think as human beings we do well when we analyse our operating systems and upgrade them to make the tweaks where necessary. But maybe it's not about upgrading, it's just about optimising. I feel like I'm coming to a place in my life where I'm there and that doesn't always include being sexy. My life is just not like that.
I have a family of my own which comes with a whole new set of considerations and that has its impact on the ethos of what I'm pulling from and considering. I value friendship and survival so much more now. If I'm going to be an artist that shares in real time then things from every facet of my life are going to make it into the music.
I feel like you assume that mode on "Funeral". There's differently a huge sonic difference between that song and the other three.
I created so much more in that "Funeral" world and the fun part of storytelling is that songs like "Funeral" are maybe before their time. When I put the video out I realised, "Oh, this is a big jump from skywalking on my haters." It's a big gap in time and tone that maybe doesn't make sense straight away.
But Art Dealer Chic and what comes will help fill in the gaps so that it's less of a new beginning and more of an evolution. I included that song in the EP almost as a bonus.
So there's more coming?
Absolutely. It will continue. Art Dealer Chic to me is a way of having a conversation with my fans. It's one of the most valuable ways to bring people closer. I'll keep releasing Art Dealer Chic music for the rest of my life. There will always be an Art Dealer Chic volume to come out. I just don't see that changing. It's a thematic belief that I want to have this moment with my fans.
And what is it inside Art Dealer Chic 4 you're most excited to share with people?
"So I Lie" is a hard one for me. I want to put out different versions of that song. There's a reason why the song lyrics don't exactly match the melody of the music: it's a play on this expectation that we're all supposed to be okay. That puts a lot of pressure on all of us and makes it harder to do the hard work that real experience requires.
In "Thinking Out Loud" there's this line that's so simple but so real. It's, "Sometimes you have to fall back just to move forward." And that's been a real one for me. It just means a lot and I want people to hear it.
Art Dealer Chic 4 is out 9 April.