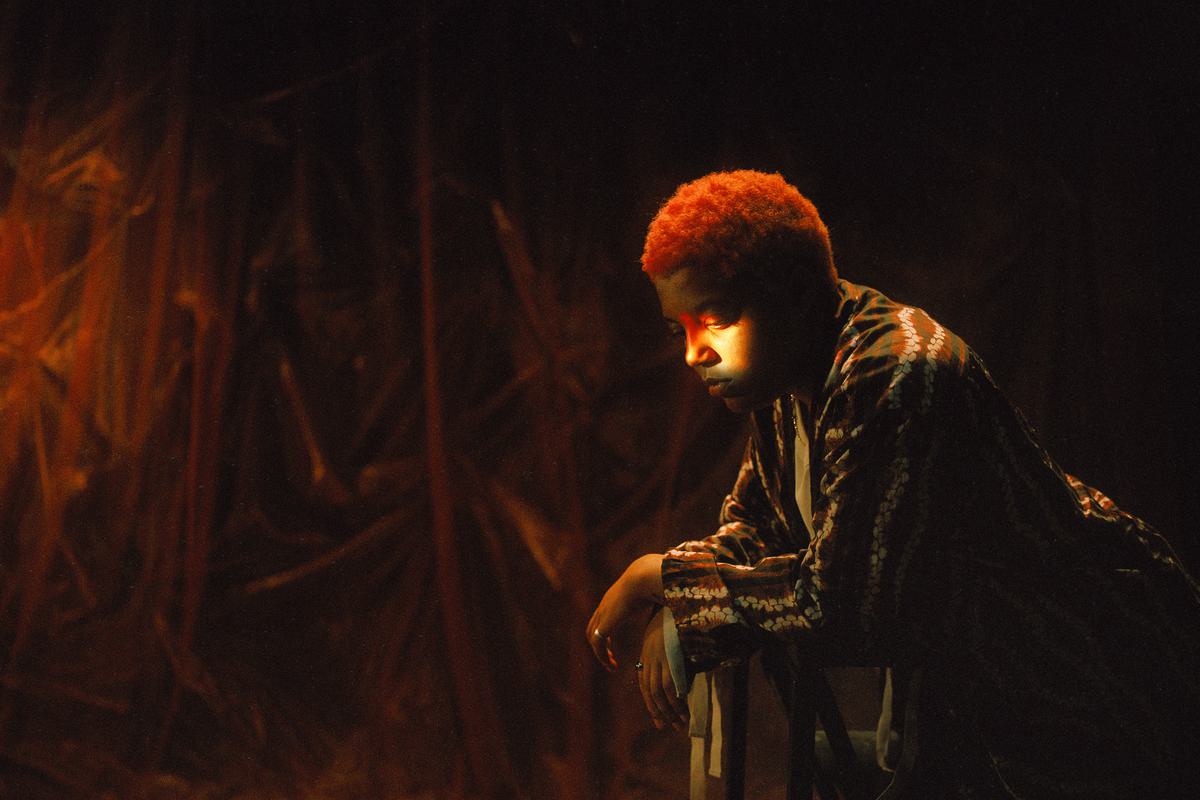 Loraine James tunes in to her softer side
31 August 2023, 22:00
On new record Gentle Confrontation, Loraine James offers a more personal take on her kaleidoscopic approach to songcraft. She tells Blessing Borode about letting warmth and comfort be her guide.

There's an architectural quality to the music of Loraine James: minimalist arrangements frequently morph into spasmodic outbursts as she attempts to map the unpredictable happenings of her inner world.
Whether it's the claustrophobic structure of concrete pavements or the liquefied membrane of her thoughts, via her tailor-made mutations of electronic music, she constructs tangible environments for her stories to take shape.
The opening breaths of Gentle Confrontation, James' third album on Hyperdub, is cinema for the ears as she dangles us over a precipice erected by disquieting strings. Fitful drums fill in the gaps to our questions of what's to come while signalling the beginning of yet another expedition through the nocturnal realm of the 27-year-old North Londoner. She temporarily disables any notions of comfort with a rough sheet of atonal synths before proceeding to deliver the lines, "I feel very tired / I feel very bored" in a monotonous beat poetry style.

Breaking down her creative process, James tells me there's rarely a methodical approach when constructing an album which is usually made up of her meandering thoughts that duplicate into sonic cacophonies, "I never have an idea of what an album is about so I always will let my thoughts flow," she explains. Within this selection of tracks is a contemplation on matters close to her heart as it also marks the 20-year anniversary of her father's passing which she addresses on "2003". Assuming a more melodic presence than on her previous albums, any trepidation she may have had around her vocal ability has melted away: "I think over time in each record I've slowly used my voice a bit more, I guess it's slight confidence," she explains.
"2003" samples from Lusine, one of her favourite teen-hood musicians, hearkening back her time at post-secondary school era where she also discovered the versatile sound of Aphex Twin, DNTEL, as well as Telefon Tel Aviv – whom she samples in later parts of the album. It was a season that birthed an eagerness to develop her understanding of electronic music. "When I was that age, if there was an artist I liked, I'd always check if they had other aliases and other projects," she tells me. "Death Cab for Cutie's lead singer was in The Postal Service and that was how I delved into electronic music. I'm not really a fan of The Postal Service per se but that indie, electronica thing was the bridge between me liking Indie and rock and discovering this new world of electronic music."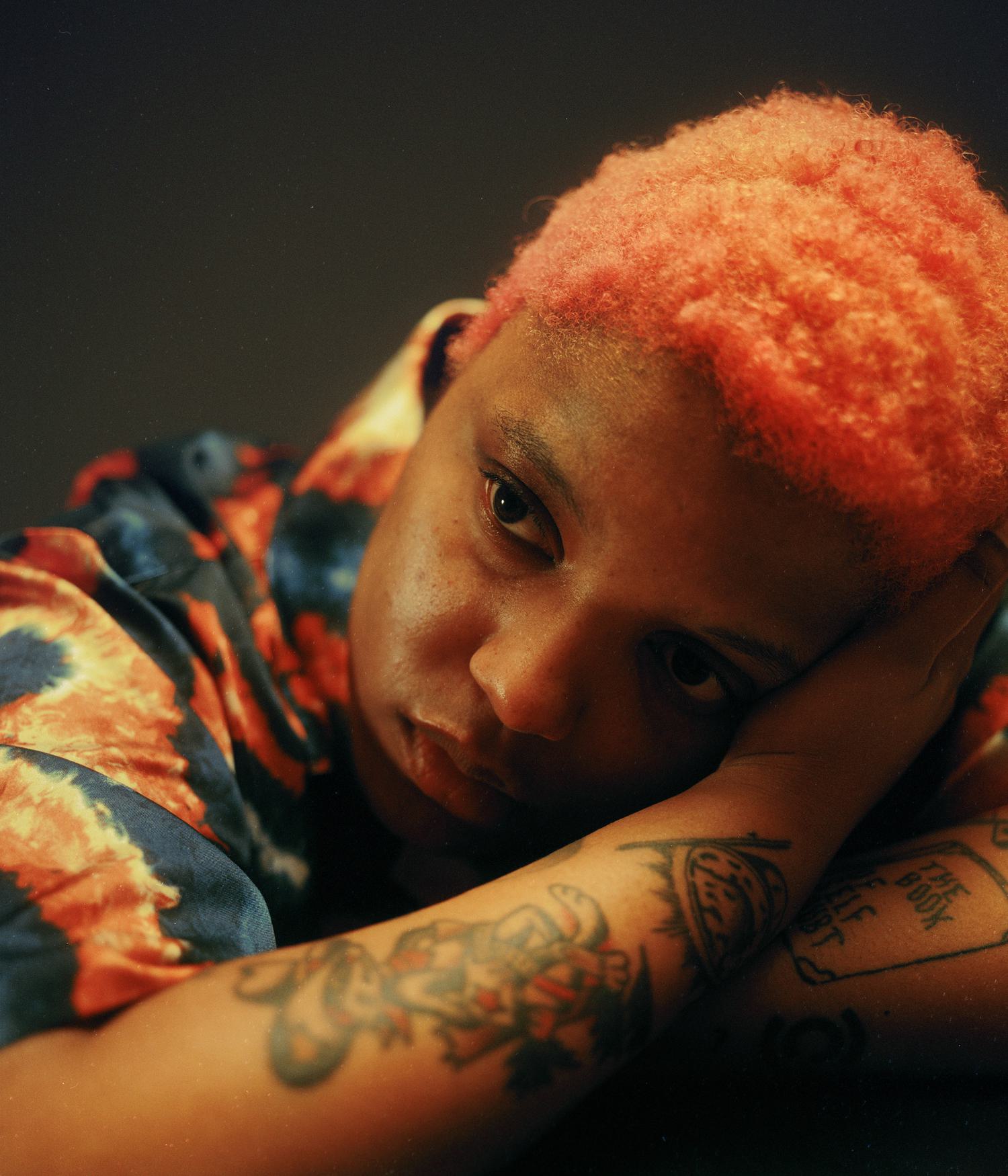 Although she tried her hand at sampling these musicians in early production experiments, being able to merge their sound with hers on Gentle Confrontation is a full-circle moment for James. She credits them for schooling her in creating complex rhythms through beat splicing. "I feel like a lot of the melodies in my music are quite soft and warm, and that's inspired by these guys in particular," she explains. "I love having warmth in the madness of the drums."
James' affinity for rhythm stems from her mother and grandparents who filled her upbringing with soca and calypso, while she developed her own taste for the likes of Linkin Park and others she crossed paths with while scrolling through MTV Rocks and Kerrang! TV. For the most part, her elastic soundscapes are rooted in some element of rhythm, communicating a sense of disorder as a way to counter the conventional notions of how rhythm is digested in the sphere of dance and electronic music.

"I like to make stuff that's really quite stiff and undanceable, sometimes in a troll-y way," she says. "Percussion really tickles my brain. I love making stuff interesting by experimenting with panning because I think it adds a certain kind of emotion. There's so much to play with and I really enjoy messing around with texture and rhythm."
James has set out to make a number of projects in the past but Gentle Confrontation is her most experimental feat yet. Take the track "I DM U" where she abandons her palette of programmed drums and invites black midi percussionist Morgan Simpson to deliver a thunderous performance on a live drum kit. Like much of the album, the formation of this track evolved from an extended jam session where James eventually landed on a solid idea that became the central melodic loop. The intention wasn't to create an era-defining body of work rather, it was to spend more time in a state of playfulness and curiosity as she journeyed through wormholes of plug-ins and mindless loops.

Under the veil of autotune in "Let U Go", which features Chicago-bred producer and artist keiyaA, James offers up another mouthful of melodies over a languid motif created by a pedal she gifted to herself. "I'd never used pedals or anything external in my work before," she explains, "and I was playing around with that and it became 'Let U Go', so it was a lot of discovering and trying things out. It was deffo the funnest time I think I've had making the record with just trying stuff out and seeing how it sounded." With its seamless key changes and zigzagging melodies, James is certain this track is something neither herself nor keiyaA would have made as individual artists – stepping into a space of collaboration erased the limitations of a comfort zone.
"Speechless" is an offering dug from an archive of tracks she and West London artist George Riley had made two years ago, among a selection of other sounds. The sub-aquatic threads of melody and rogue percussion seem to extend its shelf life along with their shared desire for truth-telling within their music. Elsewhere on the record, RiTchie from Arizona rap trio Injury Reserve – who James also opened for during their London show some years back – lends his smooth-toned reflections on "Déjà Vu".
Add in Contour, Eden Samara, Marina Herlop and Corey Mastrangelo and you get just one variation of James' constellation of collaborators. She says she would have been satisfied with the outcome regardless of who she invited onboard. "It always takes left and right turns," she explains. "There are a couple of people that could be on it but at the end of the day I'm always really happy with it."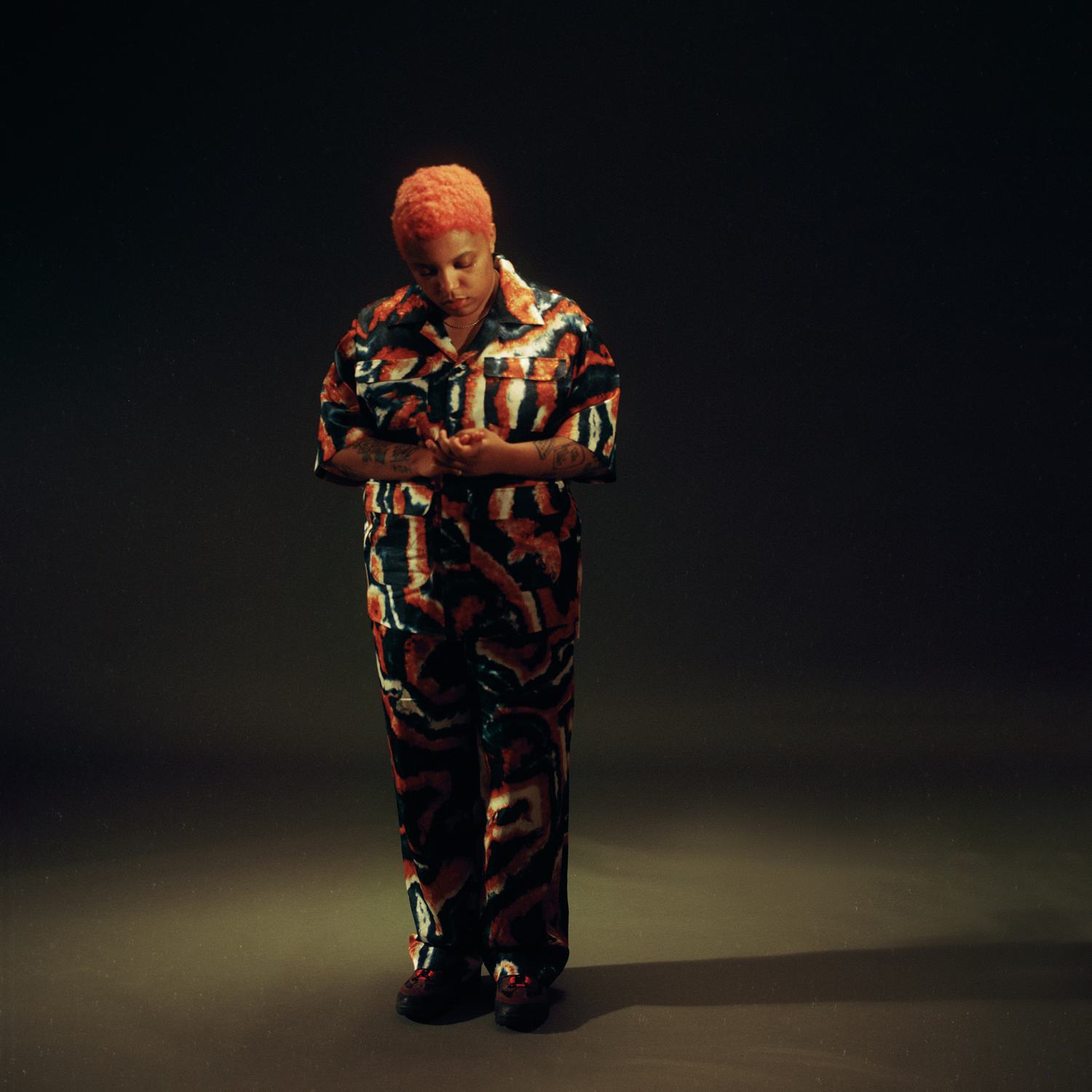 Gentle Confrontation explores the realms of melody in greater depth than any of James' previous work. It's a full-sensory passageway through the thought forms that arise within her, bolstered by her crafty ability to manipulate texture. It's a skill she consciously nurtures with time by taking stock of how she's been able to communicate her feelings in past projects. "Sometimes I listen back to stuff I did seven years ago and it's interesting to see there was a certain feeling I was trying to present," she says, "and I could maybe fill out that space a bit more; even if it's layering a synth by an octave or something to make it warmer and more full."
She tells me that listening to pop music has also been a necessary teacher in her growth as a sound producer in knowing when to cut and trim; "Why is it there?" she always questions.
Field recordings are another of her favoured tools, as evidenced on "Dèjá Vu" where she bottled the gushing sounds of the wind during her stay in the Netherlands, then fed it through a plug-in to create "some witchy hi-hat snare thing." "There's not much that you can do with wind," she says. "Well, it depends… that was me clicking around on plug-ins but it was a happy accident."
There are moments where the album draws us into a sustained meditative state and other times where our earbuds are eroded by the acidic explosion of synths or moments where a track dips in texture to make room for a percussive flare up. Much of these instrumental layers are rarely in their natural form and arrive with a thick skin of distortion, often mirroring James' environment and her desire to create a space of warmth and intimacy. There's an elemental feeling that arises when taking in the album and she speaks of being inspired by portions of the sky she would gaze at from her flat in Enfield: "I don't really focus on the elements, I focus more on warmth and feeling warm and comforting."

"I always feel like the first version of something is usually the most real."
(L.J.)
James also utilised the idea of fluidity in her approach to the drums, veering away from the rigidity of programmed percussion in order to introduce an overall groove to the album: "I was listening to a lot more R&B stuff like Amerie's first album, a lot of Darkchild's stuff and I was trying to mimic some beatboxing on Timbaland's 'Let U Go'. I was tryna do a Loraine James but a bit different with this one."
Most of the recording took place at home which James prefers over the sterility of a studio set up. The vocals for the title track were recorded in an Airbnb rental in New York. With the owners still living in the space, James recorded in a raspy whisper to avoid any noise disturbances. Pleased with the outcome, she used this as the final cut but it was mainly because she's not a fan of re-recording her vocal takes. "I always feel like the first version of something is usually the most real," she tells me. "I'm always like 'Oh that's the situation I'm in? Ok, that's cool I'll just do it quietly'. I hate redoing things because I feel like the goal moves further away when you keep doing stuff over and over again."
Creating an environment of ease facilitated the songwriting process, where she channelled emotional lethargy and contemplated on her own tendencies and shortcomings. James feels as though her albums are becoming more and more autobiographical as sounds become timestamps of moments in her life. "Cards with the Grandparents" is a sentimental offering lodged in the centre of the album. Sounds of shuffling cards and aged voices underpin an electric piano loop, preserving the closeness of their relationship and the ritual of playing a game of cards or dominos, after a night of watching dry tv soaps. It'is a signal of comfort for James which now exists beyond the fleeting domains of memory. Although, when she first captured the recording of her grandparents, she didn't initially intend for it to end up in the album; it usually ends up in a sound library for later use.
"I got a recording from a live set I played last year," she says. "It has the music, obviously, but it also has the crowd cheering, so in 'Try For Me' the second half of it there's a couple of woos in there and that's just from someone cheering or something and then there's a bass sound that I created out of this glitchy section from that set. It was fun to use something in a different way on tracks because I haven't really done that too much."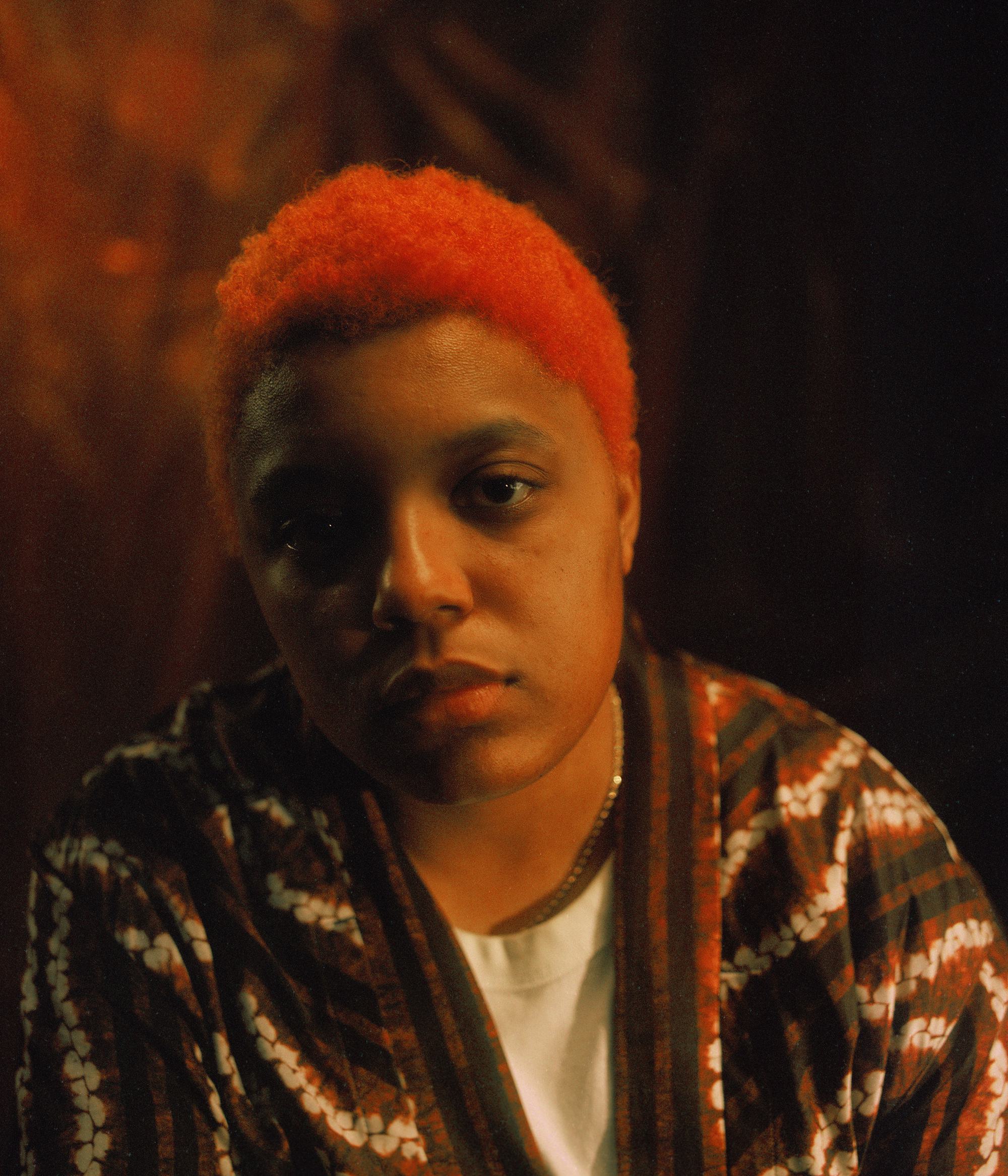 Electronic music has evolved beyond the four walls and unfinished scaffoldings of raves as musicians are constantly finding new ways to test the boundaries of how this style of music can be received when it comes to place and setting. Back in January, James caught a live show of her peers Space Afrika at King's Place who were accompanied by a live orchestra and special guests. Up until recently she hadn't considered playing with an orchestra but it got her to start thinking about the kinds of unconventional spaces her sound could exist in.

"I've played in the woods before, I've done a gallery performance, I've played in a church. I definitely didn't play as hard as I usually would [in those spaces]. I change how I play depending on the space I'm in. Sometimes when I go to soundcheck I'll go back and maybe change a couple things or I'll just decide in my head, 'Okay, I'm gonna play this slower, I'm gonna be a bit more intricate with things. I'm not gonna randomly glitch stuff so much.'"

The bold and cinematic potential of Gentle Confrontation suggests that there are no limits to the spaces where James could erect the sounds of the album. Every time she leaps off the landing and into the unknown of the creative process, it also marks another cycle of self-discovery. Whether in the form of an extended instrumental or a staccato grime-esque delivery of verses from her heart, weights are always lifted off her shoulders when she turns the page of a new project. She still battles with pre-release jitters, wondering how her audience will receive her latest experiments, and the stakes are a little higher with this, her most personal project to date.

It's a foreign concept to remain the same person as time unravels its arms and James is inspired by the possibilities of her own evolution. Gentle Confrontation is something we must sit with to truly digest, she explains, but in the meantime she's ready to explore another layer of her artistry that may include another alias and a brief detour from the entity that is Loraine James.