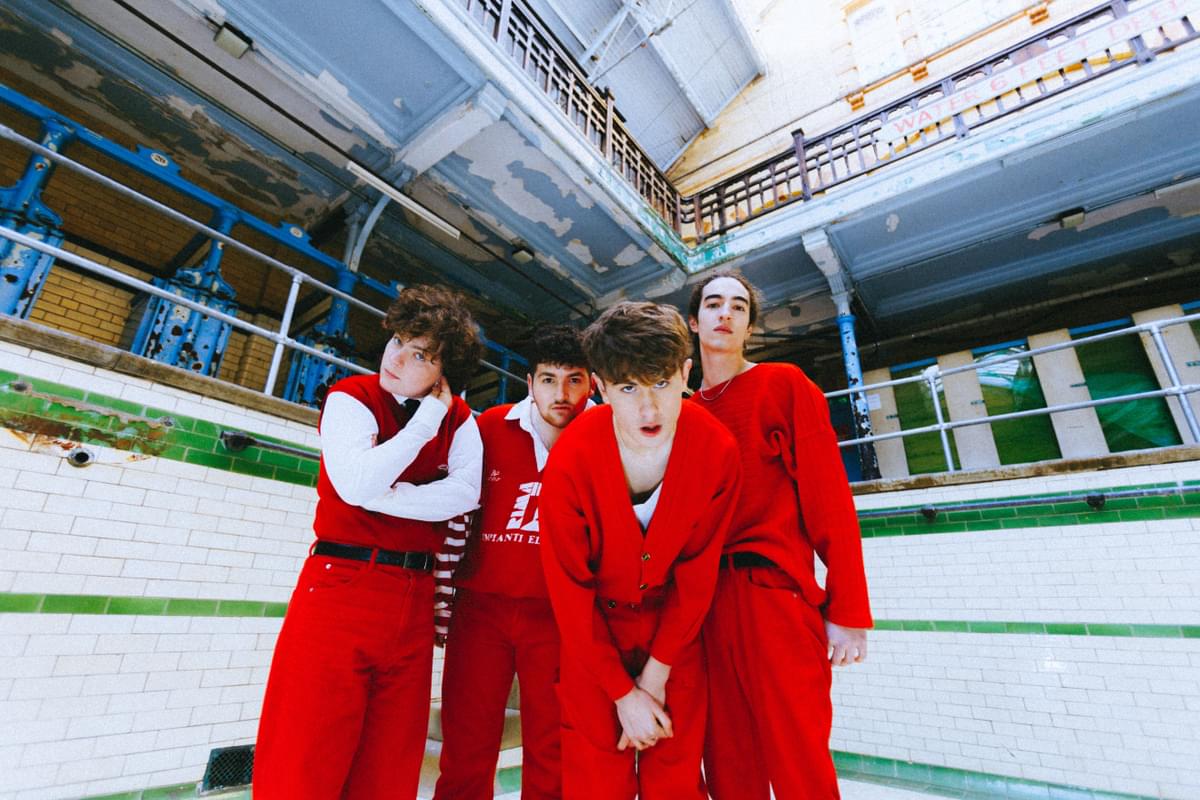 L'objectif are a class act
08 February 2022, 11:00
As the word 'l'objectif' floated across his vision every day, inspiration hit Saul Kane.
"I made up the name whilst being completely distracted in French [lessons] in year 8," the lead singer of the Leeds-based band reveals. "I just thought that a band being called a goal or objective would be cool, but it sounded cringy in English until I thought: 'French is just cooler, isn't it?" Kane wasn't wrong to think that French was a cooler alternative, and with the addition of drummer Dan Richardson, it proved to be a serendipitous choice. "Later when Dan joined, he was like: 'I'm French by the way' and that's how it came about – it was fate," Kane reveals.
The band aren't far from those school days; in fact they're still in them. Currently studying for their A-levels, the 17 and 18-year olds are juggling both the demands of music and school. Consisting of Kane, Richardson, Louis Bullock (drums), and Ezra Glennon (bass), the quartet formed during the initial lockdown just over a year ago.
When I first sat down with Kane, their October tour was fast approaching as well as their mocks but Kane saw the bright side of things. "At least one of our A-Levels is music so we could say that we were learning some stuff on tour. I don't know how we managed to balance practise, exams and actually tour itself. It ended up alright. The headliner was part of the tour as well, and we made a setlist half an hour before we played so that was the only thing that was quite worrying," Kane laughs.
Hitting the road on the day that bassist Ezra Glennon finished his final exam, L'objectif supported The Magic Gang on tour and played their first headline gig at The Fiddler in London. "By the end of it, we were proper into it. I think it was the best we've ever played. We could do it with our eyes closed. At first, we had the jitters because we were supporting a band that we already knew about before any of this had ever happened. By the end, we wanted it to carry on. It was a good taster and it couldn't have gone better really," Kane says.
"Travelling to play music around England is as good as it sounds – it's great. Especially when you're with your mates, it's very exciting," he confesses. "We're not used to it at all. It's our first year being in a band and we've had people who we're massive fans of come up to us and say, 'we love you guys'. It's been sick, it's been amazing." If you listen closely, you can feel the bubbling jealousy of their classmates all the way from their French lessons.
All hailing from Leeds, L'objectif have a sound reminiscent of 2007-era Mystery Jets and The Maccabees with precise guitar riffs and passionate drums. Kane's vocals have a David Byrne twang as well as a laidback quality to them. Kane's seriousness about music started at a young age of twelve when he initially formed a duo with Bullock. The two stole the show only a week after making the band.
"Our first gig was this mini festival a week after we started the band where we entered a competition. Me and Louis had just met, and I really wanted to do it. We didn't know how to play our instruments that well. Everything was going wrong. [I thought] my guitar was broken before we played – it wasn't actually broken, I just didn't turn up the volume. We were really nervous, and we thought we bombed it but we ended up winning it. That was the success from the beginning that kept us going for the next few years until we got signed," says Kane.
The perfect Gen Z origin story; L'objectif have Twitter to thank for being signed. Listening to BBC Introducing coverage on BBC Radio 1, bands across the country were encouraged to put themselves out there by responding to a tweet, one where label executives were sifting through profiles to see what talent was out there. Next thing L'objectif knew, Will Street of Chess Club Records was in their email inbox looking to see what else the band had up their sleeve.
"It was the first thing that popped up when we were speaking to Will at Chess Club. He said we were the first band that responded to the tweet. We spent all that time writing the music, hoping someone would hear it and be like, 'This is good' and for it to happen like that was amazing. It was awesome. I FaceTimed the boys straight away like, 'You will not believe this'. They all couldn't believe it."
According to Kane, who calls their music "indie-ish with a bit of a twist", their sound is constantly evolving: "I don't want to be that guy who says I don't think any of our songs sound the same. I would like to think that. I think it's all got to sound in a similar vein so you can tell that it's us, but they're not the same. Each song has different inspirations."
Kane names The Pixies, Portishead, Stone Roses, Tame Impala, The Last Shadow Puppets as well as countless others when listing inspirations, and with music being as accessible as it is, no wonder it's difficult to pin down the exact sound. Their sound goes beyond bedroom indie and possesses the same energy found in the likes of Sam Fender and Circa Waves. They're pushing forward with an emotive guitar driven sound.
L'objectif's debut EP Have it Your Way was a product of lockdown number two: "It was mainly me in my bedroom because it started over lockdown. It was the best time to record music for me because I've never had time to," says Kane. "I've always been writing songs on my guitar, but to actually sit down and produce it as if it was going to be released [was great]. The bones of the songs will always come from me because it's my creative direction. Other songs that we've done in the past have taken on a new life when we play it live. The band are all great musicians and when we go into the studio and during band practise there is definitely collaboration. I'd go in having written something and we'd end up writing something completely different."
When talking about the future, Kane seemed focussed on building on the good they've got: "We've taken the first step by releasing the first EP and getting our name out in the world. [We want] more people to hear about us, play more shows, write more music, more of what we're doing now. When we finish our A-Levels in the summer, we want to play some festivals. We haven't had that experience of playing all the time. In the summer, I don't care about anything else. I just want to play and just do it. We want to hit the ground running. We have that time to do that. Bigger and better basically."
Same Thing is out now via Chess Club Records
Get the Best Fit take on the week in music direct to your inbox every Friday