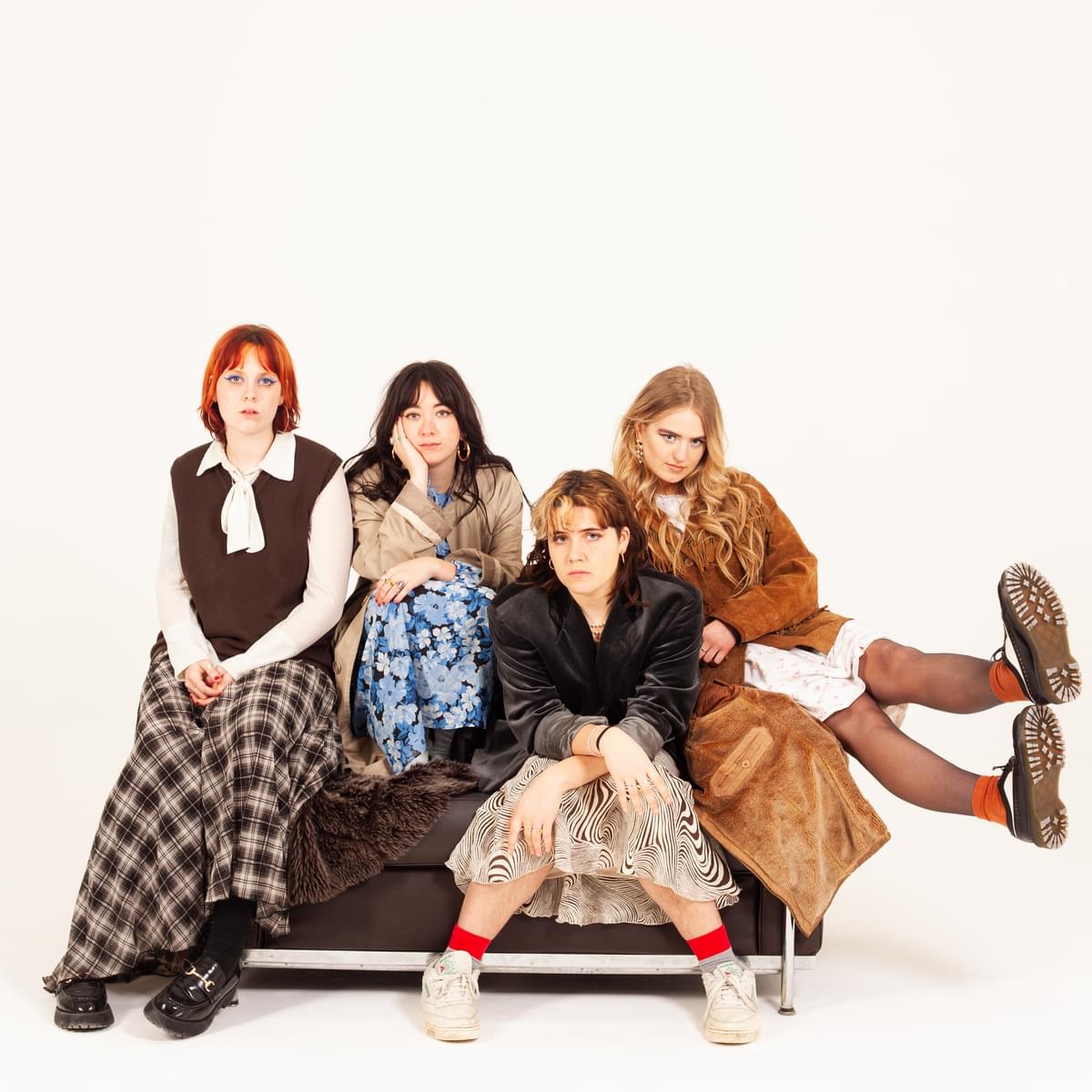 On the Rise

Lime Garden
01 September 2021, 09:22
Brighton four-piece Lime Garden are defying labels to produce one of the freshest sounds you'll hear this year.
Name changes can be complicated, even stressful sometimes, but for Brighton based band Lime Garden, it was a sign of success. "It's the name of another more famous band who still use it and that's why we had to change it," explains drummer Annabel Whittle. "We never thought it would be an issue or that we would get big enough to become an issue so we were happy with changing it," adds guitarist Leila Deeley. Speaking from their Brighton house, the duo join singer, synth and guitar player Chloe Howard as well as bassist Tippi Morgan. The latter was easily enlisted into the band after becoming Whittle and Deeley's housemate. Now all living in Brighton, Lime Garden are on track to becoming the next genre-bending band.
Forming in 2017, it took two years of jamming and Arctic Monkeys covers for the foursome to hit their stride. "The first couple jamming sessions were…quite bad. We were musically confused. At that point, we all had our own genres," says Whittle. "We were covering Arabella by Arctic Monkeys - and no shade, great tune - but it didn't sound good. We all come from quite different musical backgrounds that it took so long to find a sound that really resonated with all of us. For the first two years, it was trial and error and a hodgepodge of everything," recounts Deeley.
Previously studying music in Guildford, the musical confusion seeped into their gigs in the early days ("We'd play a set with an '80s synthpop song then a Cuban sad song and then a rock/heavy track"). The then-named Lime sneaked onto the local scene which gave them the rose tinted glasses of rockstar life long before their now emerging success: " [Our first gig] was actually really fun because we somehow wrangled our way into [playing with] one of our college friends. They had a more established band at the time and we asked if we could play. They actually let us and it was sold out. We thought 'that's it, we're rockstars. Everyone loves us.' We literally rehearsed for three months and said 'I think we're ready for a gig now.' I guess we learned on the job and thankfully had our more embarrassing phase in a different city."
Grimy back rooms in Guildford and London rooms gave the band a real taste of early band life, but after the first two years, things began to fall into place. The experience of gigging combined with experimenting with electronica opened up a common ground of sound between the girls. Then came the first UK Covid-19 lockdown where each Lime Garden member found themselves shut up at home. "Luckily, I think that really helped because we all changed the way that we wrote. We started sending each other different stems and doing it electronically. I think it made it more modern and thought-out because we could spend as much time in our personal dens," says Deeley. "Rather than jamming something and rushing it and feeling like you have to get it done to gig it," adds Whittle.
Now with four singles behind them, their latest "Sick and Tired" has been released under So Young Records, a label the band have admired for years. Unfortunately, their record label signing wasn't as glamorous as they expected: "We signed it in March when we all had Covid and were really ill. It was quite depressing. We were on Zoom and they sent us champagne but we were too ill. I had a bit of a glass and suddenly felt like I was in this orb. Tippi actually spilt it all over Annabel's bed," recalls Deeley.
As I speak to the band, Whittle and Deeley are still flying high after their first festival performance at Latitude. With Covid-19 interrupting concerts and festivals for nearly two years, Lime Garden are still trying to grasp how quickly they've grown. "Because we've just released a bunch of singles over lockdown, there's been no difference in visually seeing people at our gigs until this past week when we played a gig in London. Then we went to Latitude and we could see the scale of our growth which has been overwhelming and really weird because we haven't slowly built it up," Deeley tells me. Whittle adds: "[At Latitude] there were all these young kids singing along. Pre lockdown, it was only ever our pals at the shows. Having not seen that and having it all happen at once was insane."
Dancing around the label of alternative indie, the band's tight production with hints of disco and infectious riffs class them as hard to pin down. This makes them even more exciting to watch as they continue to release "slinky, wonky pop" as Deeley coins their music. They combine elements of dance, electronic and indie especially drawing from the likes of Courtney Barnett and Talking Heads.
Riding the final waves of college life, parallels can be drawn between Lime Garden and the iconic new wave scene of the '70s but the influences behind the band's sound are much more varied than that: "Individually we all come from different stuff. Chloe is really into hair metal and pop. Tippi loves psych stuff. I grew up listening to a mix of stuff. I was an emo for a while so I loved my emo music. I like electronic and indie stuff. It's coming from all these different backgrounds. It adds to the hodgepodge," explains Whittle. Deeley brings "a lot of indie and '70s psych" to the table as well as "the Rolling Stones, Black Sabbath, and dad rock bands."
"Sick & Tired" as well as "Pulp" speak to the meeting of minds that are carrying their own unique music listening experiences with them. For "Sick & Tired", they "wanted to make it melancholic that slowly blossoms up and be a bit more bounce-y, a bittersweet kind of sound was what we were aiming for." Whereas with the dance vibes of 'Pulp', they wanted "to get people hyped again. Even though we wrote it in 2019, we spent ages working on it. We wanted to release it as stuff was beginning to open up. It was timed perfectly. We didn't know the government was going to open up everything. Great timing."
Now with multiple singles under their belt, their first festival performance behind them and a record deal to boot, there hasn't been a better time to be Lime Garden. Their infectious slinky pop grabs the term genreless by the horns and rides it like a kicking bull. All the while, Lime Garden are fun in their coolness and humble in how they've gotten to where they are, a perfect recipe in succeeding in an industry that is becoming more fluid in how it describes music.
Get the Best Fit take on the week in music direct to your inbox every Friday