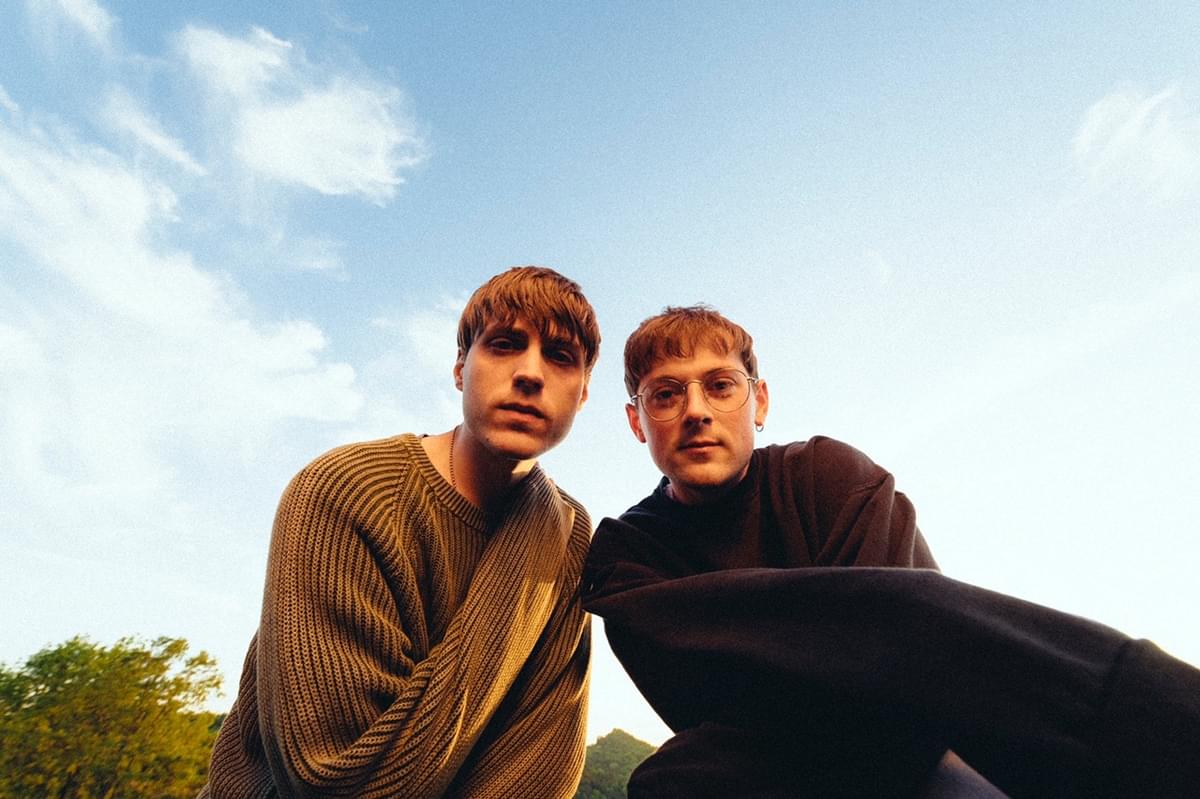 On the Rise

Joan
09 July 2020, 08:45
Despite playing shows around the world, there's no place like home for Alan Thomas and Steven Rutherford of synth-pop duo joan.
Arkansas-based duo joan are more than content sticking to their small city's surroundings, suburban greenery and the wide open spaces they find themselves encompassed by in the United States' Midwest. Little Rock has a population approximately 200,000 people; notably it holds the headquarters for the American Taekwondo Association, the Arkansas River Trail plus the natural beauty of Pinnacle Mountain which is just north west of the city limits and pretty hard to miss standing at more than 300 metres. Notable people? Well, there's the Clinton family and, of course Evanescence's Amy Lee. As Rutherford and Thomas continue their rise, they may also find themselves edited into Little Rock's history too,
Growing up in the heart of the bible belt, Alan Thomas remembers not being keen on the popular Christian music around town. One exception was the work of rap/rock trio dc Talk who put out their fourth album Jesus Freak in 1995. "They were doing something really interesting and different," Thomas tells me - a feat which has stood the test of time considering the record has been lauded as one of the most influential albums in modern Christian music's architecture. But the first album he remembers distinctly going out of his way to purchase was Afroman's The Good Times. That meant driving out to Fordyce, the "super small town" where his mom grew up, with his Uncle Christopher: "I was so excited to go to the local Walmart, which is all they had there or had," he laughs adding that he "[got] the censored version... so every other word is just silence."
"I remember growing up listening to just straight-up rock and roll like AC/DC, Zeppelin and all that," bandmate Steven Rutherford adds. It was a common interest for him and his brother who would go on to play in bands together. The family dynamic for Thomas saw his mom's love of pop country, dad's idolisation of stars like Prince, Bob Segar and Michael Jackson coalesce with the influence of his uncle's taste: "He was listening to Boyz II Men, Usher, some hip hop and RnB stuff, but then also boy bands and Britney and this was also the stuff playing on the radio.""
In what I'm sure may read like the script for the opening scene of a coming-of-age film where a music loving teen is about to embark on their wildest dreams, Thomas tells me that, "on Sunday nights in America… there was this geared-towards-teenagers radio show and I would just put it on, on my boombox above my head on the headstand above my bed and I'd just go to sleep listening to this radio mix of all the Top 40 stuff."
While they were yet to meet in these formative years, Thomas says if you were looking back at the duo's CD collections, "the similarity would be pop music." Rutherford's first record was either an Aaron Carter classic or a N*SYNC staple. "It might have been No Strings Attached actually," Rutherford recalls, "whenever I bought that one it came with a poster and I put that sucker up." The boybands of the early 00s are a constant reference on the band's upcoming EP cloudy which covers new ground as they streamline and polish their already scuff-free pop.
The power of pop music became even clearer for Rutherford while studying music at college. "I remember being on YouTube every day, that was my way of finding new music," he tells me. Listening to a song and then clicking through to a related song and then onto the next became a routine. "I really love pop songwriting and really pop production and just how it's such a specific sound, but it can be so many different things," he adds.
That eureka moment of realising that pop music can be both precise and all-encompassing is something referenced in joan's music. An early influence for Thomas was his high school emo phase. Indebted to the likes of Dashboard Confessional's Chris Carrabba and cult bands like Thursday and Saves The Day, he admits his first forays into songwriting werem "dramatic, my life is way worse than it is, love songs… those songs were awful and when I say awful I mean terrible!"
For both Thomas and Rutherford studying music at college offering a turning point. The granular analysis of sound which they bestowed upon themselves resulted in the questions they often find themselves asking when they're first putting pen to paper for a new joan track or trying to crack the sound of the snare on their latest mix. "Even when I'm listening leisurely I find myself studying [music] like a science book," Thomas explains. "Why is that snare so interesting to me? Why does it hit as hard as it does? What compression are they using? Just trying to think through how can we take little tidbits of information from things that we love and make joan's music slap harder? Why does that hook make my arm hairs stand up?"
There is definitely a gleam of genius behind this thought process; Thomas remarks "I think it all goes back to me being less about genre and more about wanting to emulate the things that affect me personally."
A few false starts, side projects and beginnings as different kinds of career musicians had to happen before the stars aligned and the duo came together to start writing and recording as joan. For Thomas a folk-inspired grunge-y five-piece The Running Back was his main artistic output while studying before moving to Nashville to try his hand writing for film and TV licensing. Moving back home he began working with a group of his best friends as a band called Canopy Climbers, while Rutherford's band with his brother had become an outfit called Brothers + Company, in which he was the sole songwriter with the band's lead vocalist Jake.
Things were going slowly - touring is difficult when your bandmates have full-time jobs that they can't take a sabbatical from for three months to play shows across the country. Something had to give and it did: "Right about then I was coming to that realisation that this was probably not going to be a career if I didn't find a career outlet," Thomas reveals, but then…"cue Stephen!"
Kicking around the same small scene for a number of years, their paths had crossed numerous times, they were buddies. Rutherford says "when joan started we naturally fit together both tastes and how we went around writing. Thomas notes their almost symbiotic relationship when it comes to music making.:"The things that I was really good at Steven let me lead in, the things that he's really good at I let him lead in and then we found this really easy counterbalance for each other. It works perfectly and we don't fight. It's like I trust you with this, you trust me with that, let's just keep moving forward."
The pair officially released their debut single "take me on" with a little help from independent label 20XX back in 2018 - but it was the demo of "i loved you first", a track later re-released, that first had tastemakers filling their inbox and Chad Hillard, of 20XX and Hillydilly, jumping at the chance to help the duo hit the ground running. Their would-be managers, Jonny and Colin at Big Life Management, also reached out upon hearing that first demo, formerly titled "with somebody else", with a desire to see the band play live. They were among the first to see their debut show - opening up for their friends in a band called Knox Hamiliton at Rev Room in Little Rock. "I consider that the day that everything changed," Thomas declares. "We had a team and from that team they got us international and rest-of-world booking and a lawyer and all of a sudden we had this little village behind us. It was no longer just me and Steven in a bedroom, it's people believing in it."
"That was all between our first and second song," Rutherford adds. "We released 'take me on' which was January 2017, basically had to write six more songs to fill a thirty minute set, we were hustling to get this show ready and then we met these managers."
They hustled a handful of those songs into their first EP portra. Hectic schedules with dates stacking up both in the US and internationally gave the boys an even greater respect for the peace of Little Rock when they returned. "It feels like we're almost retreating back from city life," Rutherford says, "it's a place to actually come home to and you can slow everything down and it doesn't feel so fast. We're on tour every single day for two months straight, constantly doing something, we're in a city every day, in a new place every day and then we can home sit outside and just chill. It's not music-centred and it's not big city centred."
"Most people are like 'you're from where, we would've assumed London, New York, LA or anywhere – fill in the blank big city'" Thomas adds. "They all have their merits, but we get to do what we love in a place that we love and that's something really special. Time moves slower in Arkansas."
In the spirit of moving forward they started a new partnership with Photo Finish Records, "Mike [Marquis] is also one of our booking agents at Paradigm [and] since we met him, there's always been a special connection there. So, it was really nice to connect to people who were like 'no!' , let's freaking go, let's put a lot of joan music out this year."
Rutherford knew that hindsight wouldn't be so helpful if they had signed a long-term deal early on and things had gone sour. "I feel like we've deliberately taken our time on label stuff, because it's tough to know what the relationship will look like," he explains. "You can sign a deal and six months down the road the relationship is completely different."
Some of the cloudy EP, released next month, outdates the existence of joan as a band; recent single "magnetic" was originally released by Thomas' old band Canopy Climbers. "It signifies where joan started in me," Thomas explains. Rutherford remembers being in the room when the first version of the song was composed, and it was his suggestion to potentially revisit the track for their new band as early as 2017. At that time Canopy Climbers live was about to be Thomas, Rutherford and a laptop packed with tracks. Sound familiar? That's joan's live set-up. "It's funny what the crossover was," Rutherford says, still gushing over that original recording when he was just a fly on the wall. The joan version has been overhauled with new lyrics which document the success the pair have won in this fruitful partnership - a far cry from the track's former status as a swan song for a struggling band.
For the EP, joan found a kindred spirit in producer and engineer Andy Seltzer, who not only helped to rework "magnetic", but came to the pair's aid by hitting restart on "cover girl" a staple from the their live set. "It's maybe been one of the longest amounts of time we've worked on a song," Rutherford explains. The song was written way back when they were coming up with tracks to fill their early live sets and comments on YouTube videos from these shows see fans asking for its release as far back as 2017. It was Seltzer's idea, Rutherford remembers, to "start over on it and see where we get to" and the new "cover girl" was born. Thomas offers up a poignant reminder to me that "not everything stays the same forever!"
The process of growth and accomplishment is something that Rutherford explains was ever present in their creative process. With opening EP track "try again", Rutherford recalls, "every step of the way recording it we just found a little nugget that would make the song that much better. Even down to recording final vocals we were working things out and questioning ourselves…We were adding more and more to it until we got to the mix. There were so many steps to it, but by the end it just felt so cool and new for us too."
An album is on the cards at some point, but the duo won't be rushing into creating that career defining opus quite yet. "Writing six songs as opposed to fourteen is a different headspace to be in," Thomas says. "We've considered the last three years as like intro-ing ourselves to the world. Single by single we're telling a bit more of the story…. it's really special that we can create something in a bedroom in Little Rock and it goes worldwide."
The cloudy EP is out on 6 August via Photo Finish Records
Get the Best Fit take on the week in music direct to your inbox every Friday