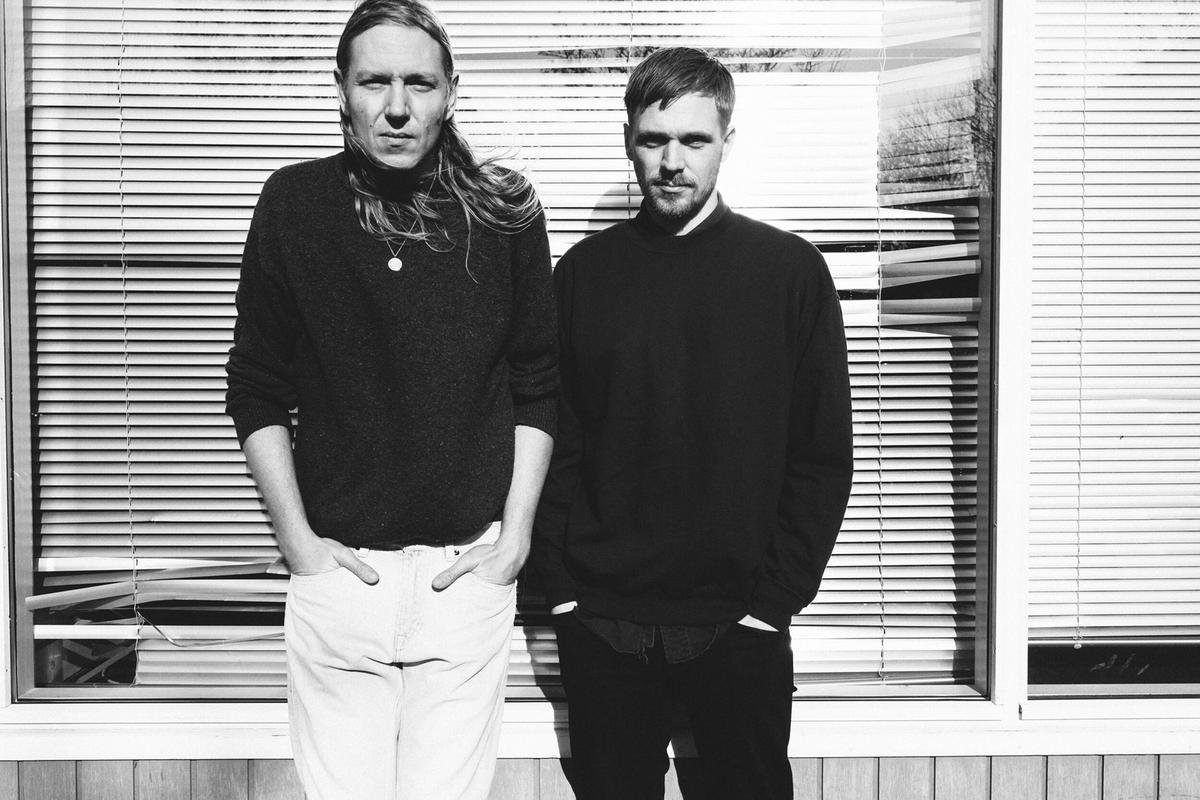 Cancer: "It's the greatest tragedy of my life"
23 September 2014, 09:30
Throw together a member of When Saints Go Machine and a member of Chorus Grant and you not only have the beginnings of a wonderful Danish super-group (and they are indeed super) but a new friendship forged in difficult personal circumstances, songs that reflect that tough time and a name that makes you sit up and take noice.
Nikolaj Manuel Vonsild, singer with When Saints Go Machine, and Kristian Kristensen, guitarist and singer with Chorus Grant, met for the first time a few years ago and instantly became good friends. Out of that chance meeting was born Cancer; a band that, rather than being a composite of the duo's other groups, has immediately forged their own identity with a handful of intimate and warm songs which blur the lines between electronica, blues and classic indie pop.
With mini-album Ragazzi set to drop on 29 September and an appearance at our friends Ja Ja Ja's club night at the Lexington on 25 September, we took the chance to talk to the duo about the record and, of course, the buzz around that name...
I can't avoid it; it's a screamingly obvious place to start just like I'm sure many other interviewees have done, so I ask Nikolaj and Kristian just where the name Cancer comes from. "It comes from the disease, of course," says Nikolaj. "But it's something I experienced up close. It's the greatest tragedy of my life, losing someone close...one of my parents, to cancer." As Nikolaj was going through this traumatic event, the When Saints Go Machine man met Kristian. He continues: "At some point I met Kristian and we started making music, and at the same time I was going through a lot of weird stuff, you know?" The reason for the choice of name becomes more apparent when Nikolaj explains that it was a way to be able to continue to process his feelings when everyone else wanted to stop talking about it and to move on: "I started thinking about this whole vacuum that occurs when someone is ill, or someone dies, where everyone is able to speak and people are just open – and are basically humans," he explains. "At some point that vacuum closes again and you're supposed to return to normal life and stuff, and it's weird that – at least in this part of the world – we're not able to communicate about sadness and all of the bad stuff, and it feels like we're not supposed to. So that was kind of the reason and I also found myself at a place unable to share and communicate with people..." So writing songs was a way to continue this? "Yeah, and then you just communicate with the rest of the world if you're unable to communicate with the people close to you."
I say that the choice of name is interesting as the word, although imbued with so much weight and resonance, is almost meaningless as it completely fails to capture everything about cancer...the emotional impact, how it affects family and friends, rearranges lives - and all that is before we even touch on the medical side. Nikolaj picks up on the subject again: "The reason for the name...it's not that we want to piss anyone off. I think that searching for some kind of balance in your life, searching for some kind of happiness you have to understand that it's equal amounts of the opposite, you know? There's also a lot of beauty in all of this; suddenly I had a loving parent and stuff that I wouldn't have had in a sense if this person wasn't sick."
When I suggest, then, that Cancer the band is addressing all this in song, it's Kristian who tackles this subject: "I think you could definitely say that, in a sense," agrees the Chorus Grant singer. "What Nikolai and I talked about a lot in the beginning of our friendship was what he and his family had been through, and we shared thoughts and ideas about how that is, the tough stuff and the really dark stuff but also finding a way to talk about the love and support...the things that somehow blossom in these tough times." He states that Cancer isn't about just facing up to the bad times: "Our songs are not specifically about dark matters concerning the disease, but also the light and the love and the beauty of relationships between people. Friends, family...all of this!" That's something Nikolaj agrees with: "And it's not only supposed to be about Cancer, that's just the experience I had."
Moving away from the name, I ask the two men how and when they met: "We met about three years ago, in an airport in Norway," says Nikolaj. "Which is also kind of a special thing," adds Kristian. "I hope you have this in your life too; you end up spending a lot of time with the people you were friends with as a child, and some people tend to hold on to these relationships even though they...." I ask if he means that sometimes you end up staying friends with people from childhood out of some strange duty, rather than because you continue to share the same interests and thoughts about life? "Let me start over!" laughs Kristian. "It's a beautiful thing meeting a person as an adult and realising how much you have in common, and introducing yourself to them as the person you are now without all the baggage of history!" So not quite as sad as what we both were hinting at? "Haha, yeah just when I said that I realised it was a really sad thing....there is beauty in that too, having friends from childhood, and I don't want to seem like I don't appreciate that because I do very much..." "And you don't want to share this interview on Facebook after!" interjects Nikolaj, joking at his friend's expense.
Kristian continues on this theme of friendship, and how it translated into making music as Cancer: "It's very important for me; meeting someone new who shares the same interests and complete dedication to writing songs. Songs about things that matter...and that was a really wonderful thing and something I didn't consider to be possible, actually." This meeting made Kristensen re-evaluate the way he made music, and he came to the understanding that it wasn't something he had to do on his own: "When you make music, it can be a sort of solitary endeavour. You're sitting in your own little space and there are perhaps not that many people around you; one should try to remember to meet new people and for me, meeting Nikolai has been a really great thing...as a person, but also musically." Kristensen states it was a fairly instant leap into writing and playing together: "We started making music right away; with Nikolai's history in When Saints Go Machine I knew him of course as a Dane and had seen him in concert and stuff, and knew he was very dedicated as a lyricist and music maker – it was a great thing." As much as they enjoy working together, Nikolaj reveals they still try to bring music to Cancer from solo writing sessions: "We still work by ourselves but we meet up – we play around and figure out what we want the sound to be like and then we talk about what we've written the day before and try to finish the song off." Kristian expands on this idea: "What we've found out is that it's a really good thing to have the ideas being born when we're together, and then we can work on them separately. But the actual thing, to sense that we're both excited about the same thing, creates a process where there's a feeling of ownership, if you will, from both parties from the very get go and not adapting to someone else's mindset. It's a great thing to start off with the same mindset and do it together."
Turning to the Ragazzi mini-album, I ask what song indicated that the duo were on the right path, taking into account the record amounts to just about all the songs they'd written so far. Singer Vonsild explains: "When we did the mini-album, they were the only songs we've written so all the songs we've done are on Ragazzi! The first one we wrote was 'Hot Snake Dead Boy'; it's sort of got a country-ish vibe to it." The first song we got to hear from the record was the fragile 'Same Color As Digital Photography'. A gentle ballad, acoustic guitars and Vonsild's beautiful falsetto creating an intimate, almost half-finished mood...it sounds lovely; an elastic bass underpins the live recording – but that title! I ask the guys where it comes from. Nikolaj laughs, explaining: "It's kind of funny; I was looking at a lot of digital photographs and they all had this blue tone to them, so the answer to the title is blue! Afterwards, I read this article about digital works, and it's actually true – they analysed hundreds of thousands of computer screens, and to everything there's a blue tone and it's sort of like you're living huge parts of your life looking at a screen, so I was looking at a screen when writing the song!" It's fair to say 'Same Color' has a certain, ahem, bluesy vibe to it but that's not the case with "Body on the Bones", a song explicitly about cancer. A live session performance shows Vonsild and Kristensen playing the song with consummate ease, like they've been in a band together for years; "Body On the Bones" is a more electronic-tinged affair, with twin vocals fleshing out Kristensen's shivering guitars and the groove created by Vonsild's synth work, and I ask the duo if it was important that they created songs that were able to be played live: "I don't think so," says Vonsild. "It just so happens that the other guys in the live band are really good musicians! And that's a huge part of all the stuff translating well into a live setting. I think that a lot of music – I mean simple music like this – it's kind of simplistic in a way and I think a lot of that translates well into a live setting. But it's not something we've been thinking about. We just like to play the music, and play it live, rehearse it....but we recorded Ragazzi live and just dubbed a few things here and there, so we know that we play well live."
I say to Cancer that, despite knowing the background of the pair of musicians in When Saints Go Machine and Chorus Grant, those first two tracks didn't indicate to me much influence from their respective bands; it did feel like something completely new and free from the past. Nikolaj takes this on board, but disagrees somewhat: "I know Kristian will say something else, but I don't think so...of course we wanted to do something else, but to me it's like 'a dig in the same pocket'. If you're into music in general then you want to explore, so it had to be different to the other stuff – maybe that's a weird way of trying to explain it, maybe Kris has a better answer?" Kristensen takes over, saying: "I dunno if it's a better answer...I'd say yes that it is important and it was important to find some sort of third path, if you will. I feel like it wouldn't have had any value as a partnership and a joint work if it was just another version of what Nikolai does usually or what I do usually. So, to me I find it very important that it's its own thing, and in that, that it's not reminiscent of Saints or Chorus."
As we discuss the future for Cancer and Nikolaj reveals this is the duo's main focus, Kristian interrupts with some more thoughts on the sound of the band: I must admit...having found this third path and this other room outside our regular spaces," he begins, "I find we've really accomplished that in a great way. But at the same time, people who know our stuff say to me it's the perfect mix of the two...it's obviously 'him from that, and him from that' and I guess maybe it's the perfect blend of it." Amusingly, just as we seem to have settled on a definition, Vonsild chimes in again with a note of dissent: "I don't really like that; to me, it's just a new band and equally, to me it's just as important as WSGM – it's not a side project, it's another project." Okay...so about the future? "We are planning to release more material and we're writing a lot of new songs," says Nikolaj. "We just needed to put this mini-album out at a point when we were not really busy!"
As we discuss the recording process for Ragazzi, Kristensen reveals a slightly frantic moment after the band agreed to play a rather high-profile slot at a well-known Danish festival: "We were booked to play Roskilde this summer," he reveals, "and it was obviously something we were really interested in doing. We slowly realised that to play as big a stage as that, we were expected to play around sixty or seventy minutes of music...and when we started meeting in the rehearsal room we realised the length of Ragazzi was thirty two, thirty five minutes...somewhere around that. So we needed to write double the material for Roskilde!" The solution was simply to write intensively: "So we really pushed the writing process along. It went really well and the response was good; I felt it was a really big deal that we'd written so many new songs, performed them at a festival and it seemed like 'of course we'd be able to do that!' I think if people had known we were in situation where the last song was written a couple of days before the show ...that would have been really something. But that's what really started the writing process!"
As the subject of playing live has been raised, I can't end the interview without asking Cancer if they're looking forward to playing the forthcoming Ja Ja Ja club night on 25 September: "Very much so!" exclaims Kristian. "It's a great thing for us, we're very excited about it!" Unsurprisingly, Nikolaj agrees: "It's funny, here in Denmark some people expect a lot from you because you've done other stuff that people know about, and also you might just have a small audience from just what you've [already] done. I like going abroad where you don't have anything; you start from scratch, and I just like that. I like that you don't have a backstage in the UK...sometimes it feels easy here at home, so just to know that the music is the most important thing [at Ja Ja Ja], that's good."
Cancer headline Ja Ja Ja's September Club Night at the Lexington this Thursday night - tickets on-sale now here. Ragazzi is out now on Tambourhinoceros.