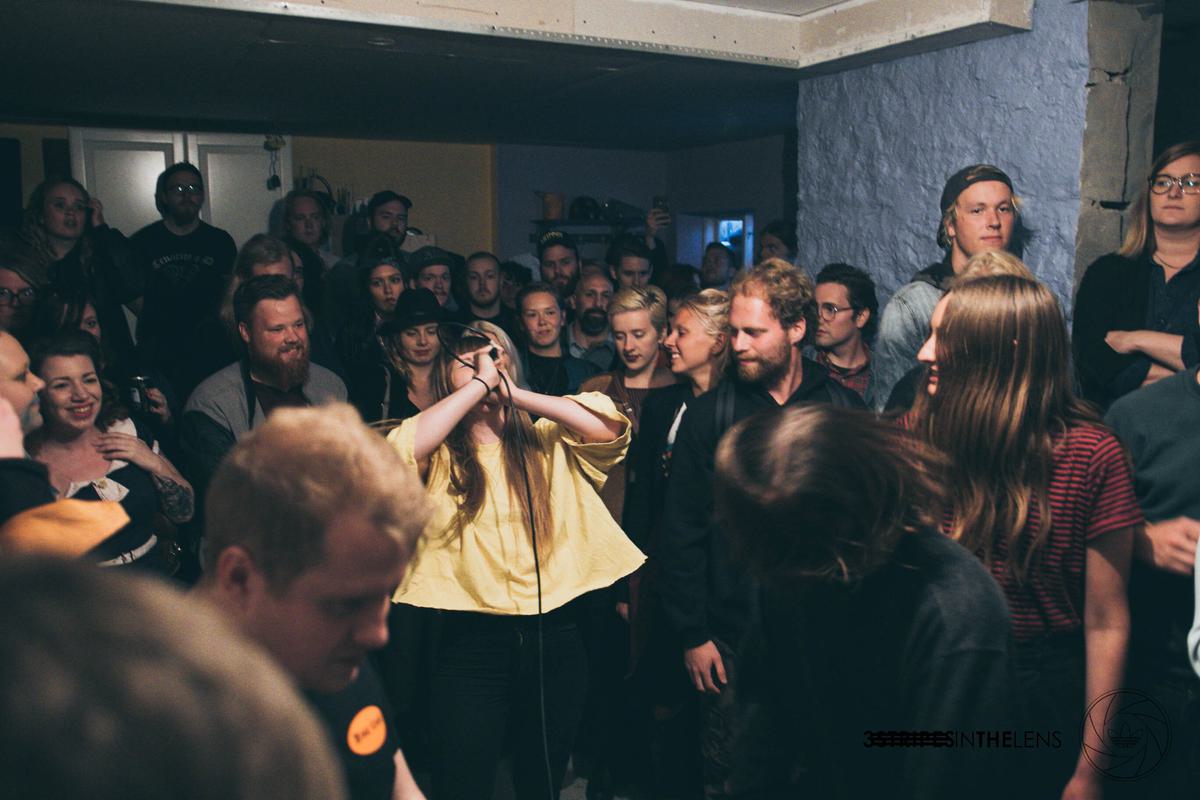 Icelandic band Dead Herring makes a beautiful mix of powerful punk and violent performance art
12 February 2018, 12:00
In the remnants of a closed and derelict pizza shop in Neskaupsstaður, Iceland's easternmost settlement, a trio of blonde and innocent-looking young musicians take to the stage.
The guitarist starts strumming, plucking, and playing sludgy riffs; the drummer beats the drums in a manner that goes from a slow and heavy metal tempo to machine gun bursts of energy; all the while the singer stalks and prowls through the crowd of two dozen festivalgoers, growling, hissing and shouting into the microphone lyrics that are at best barely intelligible. Then she jumps into the crowd with frantic energy, punching and kicking, pushing and being pushed like a feral beast.
During an instrumental segment halfway through the set, an additional singer, guitarist and bass player plug their instruments directly into the soundsystem and join into the (barely) organised chaos. Layered and laddered guitar riffs crash against each other, the drumming becomes steadfast and powerful, and the singers take turns screaming raw animalistic emotion into their mics, audibly tearing their vocal cords as they double over, collapse on the floor, only to continue spasming and headbanging until the exhausting 20-minute show comes to a close.
Despite having seen at least hundreds of shows in 2017, the aforementioned impromptu off-venue show at last summer's Eistnaflug, Iceland's annual metal festival, was in this humble journalist's opinion one of the very best shows of 2017, expertly mixing aggressive performance art and tight instrumentals, completely unafraid of embracing experimentation.
Since then the band has played sporadically, adding more songs at each show and fine tuning their sound, and repeating the meld of Dead Herring and fellow underground band World Narcosis, and recording and releasing debut LP Drowned in Rock. The 14-track album features seven rapid-fire songs shorter than a minute, and only three songs lasting longer than two minutes.
This gem of underground Icelandic art has so far only ever performed at shows attended by a very tight-knit community of locals... Until now. The band is embarking on a UK tour this week, playing shows in Glasgow, Edinburgh, Leeds, Stoke-on-Trent and Brighton. As such, we reached out to singer Ylfa Þöll Ólafsdóttir and drummer Ægir Sindri Bjarnason, asking them questions about the realities of the Icelandic underground scene, their sound and album.
BEST FIT: How was the band formed and the name picked?

ÆGIR: The name came up as a stupid joke when me and guitarist Kristján were traveling together, but the name didn't have a band until a few months later. I remember going to a black metal show with four or five bands, all of whom played for much longer than my attention span could take that evening, and I desperately wanted to play and attend shows again where each band would play for less than 20 minutes and keep you focused the whole way through, giving no time or space to get distracted.
YLFA: Ægir asked if I wanted to do vocals soon after they started playing together. I had been doing high-energy art performances with lots of screaming, but you can only do so much aggressive art, it always goes wrong at some point. I wanted to scream and be violent during performances on a regular basis, so being a frontman in a powerviolence group sounded just perfect for me. I had been in the punk scene as a teenager but disconnected from it; now it's really good to be back in this scene. Me and Ægir met at these concerts at [celebrated but now closed down alternative venue] Kaffi Hljómalind back in 2008 when I was 15. The hardcore punk scene was really vibrant at that time for younger audiences, with lots of all-ages concerts in venues that didn't serve alcohol. Now the only all-ages venue is R6013, in Ægir's basement, where he's been letting some younger kids come and vent their anger.
ÆGIR: Yeah, and they're very happy to finally have a space for that. But Dead Herring was born out of an urge for short songs and quick sets, but, through playing together and feeding off each other, has developed into being a vehicle for whatever weird shit we feel like doing.
BEST FIT: What is powerviolence?
ÆGIR: I don't really know. To me, powerviolence meant 'short bursts of aggressive energy' or something like that. That was our starting point, but we've never sounded like a typical powerviolence band. We do frequently employ short bursts of aggressive energy though.
We like to keep ourselves guessing about what comes next so we generally don't really put restrictions on our songwriting, and we're interested in a lot of different music, so there are a lot of different influences that come into play very naturally. If the energy feels right between us, that's pretty much all we need to go on.
There's a pretty active scene in Reykjavík with several different hardcore and punk bands, most of which I feel like have their sound a little more narrowed down; or at least they themselves maybe know what they sound like? It's a small scene though, so shows are often fairly diverse, otherwise it would probably always end up being the same pairs of two or three bands playing together over and over again, which does happen, but the coolest shows in my mind tend to be the ones that reach across a broader spectrum.
BEST FIT: What bands do you think people would be surprised to find out influenced Dead Herring?
YLFA: The lyrics on 'Drowned in Rock' are often inspired by Frank Ocean's lyrics on 'Blonde' and 'Orange'. And we have some Linkin Park-inspired guitar riffs. Personally one of my favourite lyrics of all time is "Firestarter" by The Prodigy and "I Wanna Be Your Dog" by The Stooges.
ÆGIR: Yeah!
BEST FIT: It certainly seems like a lot of genres that wouldn't play on the same ticket in larger cities do frequently do so in Reykjavík; death and black metal, trashcore and dark wave, powerviolence and mainstream rock. Do you think this is a good thing, or just something born from necessity?
YLFA: It's born from necessity and it can be a very good thing, like in Norðanpaunk. The variety brings a unique energy where you continue to get surprised. It's exciting to not be in the comfort zone of one genre.
ÆGIR: "Yeah. For those that don't know, Norðanpaunk is an annual gathering of the Icelandic underground scene. It's held during Iceland's biggest holiday weekend in the beginning of August, in a miniscule town in the North of Iceland. It's a celebration of the vibrant underground scene, with a lot of music that doesn't really fit in with the more mainstream festivals held over that weekend. Half of the attendees play in the bands and the others find different ways to take part; reading poetry, putting up art workshops or cooking free vegan meals for everyone. Even the security and nurses on-site are volunteers doing their part to support the scene.
It has a really beautiful communal vibe and a relatively flat organisational structure, so those that want to have a hand in shaping what Norðanpaunk is have a chance to do so.
BEST FIT: Do you think it challenges musicians as artists, being exposed to and performing with so many bands outside of their genre?
ÆGIR: Absolutely.
YLFA: Definitely. It makes sense for us because we like to be a bit all over the place when it comes to genres.
BEST FIT: What other genres belong in this scene you perform in? Do you keep seeing the same faces in the crowd at all of the shows?
ÆGIR: I think last year's Norðanpaunk line-up is a pretty solid account of the diversity that belongs in the underground scene here. There are maybe only 70 bands in the scene, but the number waxes and wanes as not all of the bands are necessarily active at the same time. Almost everyone is in more than one band and they just take turns playing shows and doing stuff.
YLFA: The same faces are there but there is also a stream of new ones.
ÆGIR: That's one benefit of playing shows that aren't confined within a certain genre; it gives bands an opportunity to blast their nonsense onto new unassuming faces from different parts of the scene.
BEST FIT: What can you tell me about 'Drowned in Rock'? What were the central ideas that went into the songs and lyrics?
YLFA: We were working on the album for about nine months, but the songs were created really fast, in a month or so and they had strange working titles that we still use between us. The lyrics are really chaotic with some are in English, some are in Icelandic, and others are in both languages. They are pretty much a stream of consciousness of ideas I was thinking about at that time. They are mostly connected to art research I was doing around electricity and fire. There is also some trauma in there; my mind was really a clusterfuck at that time, so the lyrics are like that too.
I mostly like lyrics that make sense to scream. One song is just a collection of stuff I've said to myself about jaywalkers while driving, like: "Viltu deyja? Hafðu það! Þú ert ógeðsleg manneskja, heimska fífl..." ("Do you want to die? Take that! You're a disgusting person, dumb fuck...") I like lyrics that are simple and to the point, about some kind of power and violence.
BEST FIT: Only three songs on the album clock in at longer than two minutes. What significance do "Sólaranus" ("Sun Anus"), "Hauslaus" ("Headless"), and the untitled 15 minute song hold for you?
YLFA: 'Sólaranus' is a text by Georges Bataille and the themes in that text are all over 'Drowned in Rock', so it made sense to have one title referring to it. 'Hauslaus' is a good song to scream, it's about not being able to think straight and wanting to but not really. It has the line: "Ertu í jafnvægi? En jafnvægi er leiðinlegt." ("Is your mind in a state of balance? But balance is boring.")
The 15-minute song is the one I like the most. There are no lyrics or poetic thoughts in it, just pure vocal noise. I like that listeners don't understand what I'm screaming in the other songs, because the lyrics are more for me than them, but I don't need that on this song—I just need to be loud.
ÆGIR: 'Dauður draumur', 'Sólaranus' and 'Hauslaus' exemplify another part of the fast songs / quick sets mentality; writing short songs that are so short that a 2,5 minute song feels long by comparison.
The long unnamed song is definitely influenced by our fascination with breakbeats and electronic music, and Ylfa's experimentation with throatsinging and the like. We once played a show where we only played a version of that song for some twenty minutes. Afterwards the sound guy went on to compliment Ylfa and said something about her cool use of reverb and vocal effects; there was nothing of the sort being used.
BEST FIT: And finally, can we talk about the album cover? I'd love to hear the thoughts that went into it!
YLFA: The process of making the artwork in the end was really fast and trashy. I took a video with my phone of my hands doing a motion that indicates fucking, covered in expired bottle of ketchup I found in the fridge. Then I took a photo with the same phone of the video playing on my laptop. It fits with the content on the album, fast and a little scary. Ketchup is more terrifying than blood because it gives you that mixed uncanny feeling; it kind of looks like blood but it also really doesn't. The hand makes you think of a bloody asshole, or an asshole on the inside but what you see is a childish hand gesture covered in ketchup. So it's gross and uncomfortable. And it's fun, like the album.
Dead Herring's tour with World Narcosis runs from the 13-18 February, with shows at the 13th Note in Glasgow (13 February), Leith Depot in Edinburgh (14 February), The Meatlocker in Leeds (15 February), Pilgrims Pit in Stoke-on-Trent (16 February) and the Pipeline in Brighton (18 February). Follow them on on Bandcamp and Facebook.