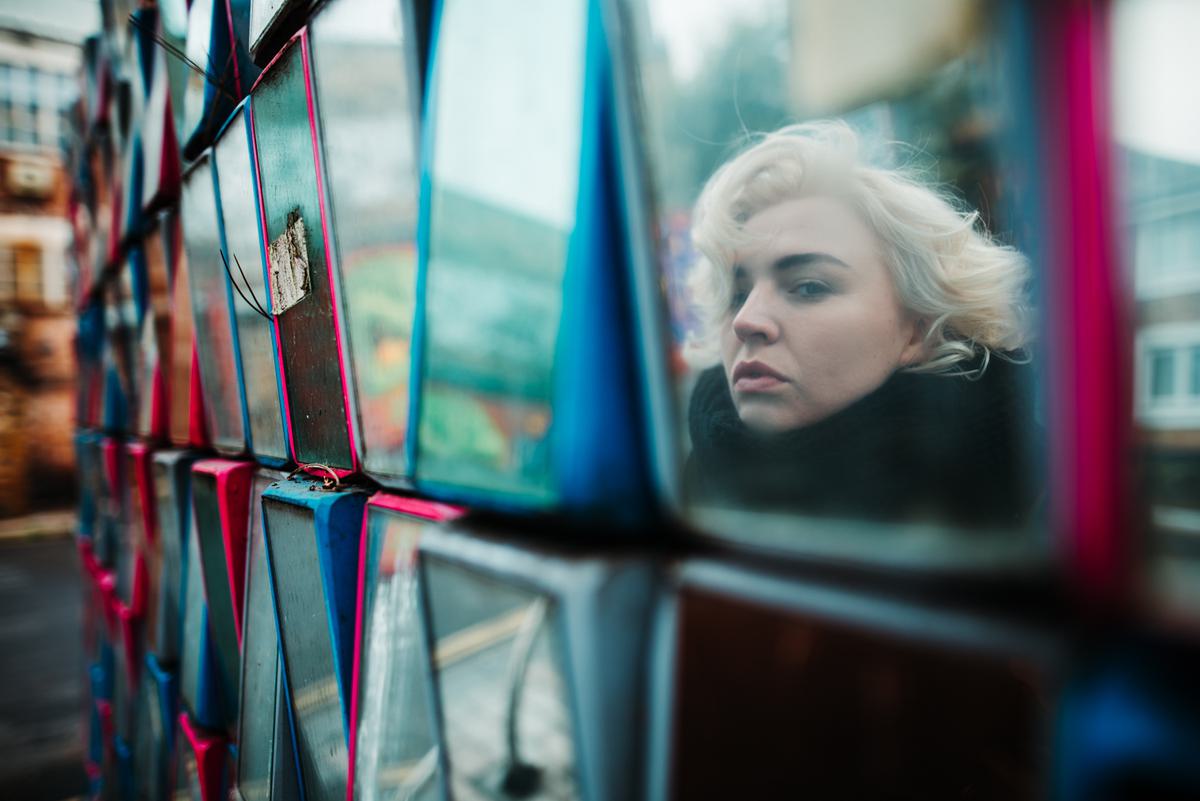 How Rebecca Taylor found her self-esteem
21 February 2019, 12:30
After more than a decade of playing the role of someone else, Rebecca Taylor seems almost manically excited to get to be herself. She wants it all now – fame, money, praise – but finally, for all the right reasons.
"Naturally, I was always going to do this. I had to," Taylor tells me. "I was going crazy, and now, it's really fun to be free. The knot in my stomach has gone".
Compliments Please, the album Taylor has made as Self Esteem, is something she is really proud of. "I wake up and I respect myself because I know I've made this banging album." What about the records she made as one half of Slow Club? "It's not that I didn't respect what we were doing, but I always compromised. To truly know I've done everything I wanted to, sonically and visually…" she trails off, and looks relieved. "It's taken me years. I didn't realise how unhealthy the compromise was for me. It's no one's fault – it's just part of being in a band – but if your voice is constantly representing someone else, if you're constantly dulling it down or changing it, it gets to you. And to finally not be doing that – it's the most enjoyable thing of my life so far."
The first track of her new album, "Feelings (Interlude)", sums up this position. An American drawl speaks slowly over a spacey backing track: "…when you're in a band everybody doesn't really want the same things you want / And so you keep on doing the same old thing / And other people like doing that but you tryna go up, further / So you gotta make a decision and not worry about somebody's feelings."
The profound sentiment recalls Beyoncé's sampling of Chimamanda Ngozi Adichie on "Flawless", but on this song it's actually an Uber driver from LA. "I constantly record things," Taylor says, "and my manager and I had to painstakingly go through my Uber account to find her name, because it was three or four years ago! But I was so married to the idea of using it, I just had to find her." The driver, Kelly Jones, was tracked down. "In America generally, I find people just ask you more about yourself," Taylor says. "I was there on a Slow Club tour, and I wasn't really feeling happy. I was on this long Uber ride and I just ended up telling Kelly about how I wanted to do the solo thing. She's a singer herself and has been in bands, so she just got it.
"I still loved Slow Club and I was proud of it but too many things weren't right for me. For example, I didn't want to travel as much as we were travelling – my mental health was not responding to this lifestyle anymore. And we never really spoke about how we felt in the band."
Perhaps this is why Taylor's voice now bursts out of her so loudly and strongly on Compliments Please. Slow Club wasn't quite cutting it for Rebecca, because she wasn't getting to do what she really wanted to vocally. "I'm very ambitious and I wanted more from the band. I still felt that one day my big break was going to come, and I felt like it didn't. So I called a spade a spade and said, 'I love this band, but I need to go and try all the things I'd quite like to try here but I can't.'"
This might be confusing to Slow Club fans who witnessed Taylor's voice in full flow on 2014's Complete Surrender. "It was a turning point," she admits. "Around that time I had been through an awful relationship, and I'd come out the other side on an almighty high. I wrote a lot of that album off the back of that and I felt really galvanised, and we were starting to do television appearances as well – and I liked it. I wanted to push even it further into that fame, but that's not what the band wanted."
She had a knot in her stomach from constantly pushing the band to achieve more and trying to get them out to a wider audience: "It sent me crazy, and not in the fun way. I'd still turn up and do a Slow Club gig, or an album – whenever and if ever the time was right though," Taylor adds.
"I've always responded more to grooviness, to rhythm, and to the body moving between the beats – folky indie wasn't right for me."
Self Esteem is certainly more poppy than Slow Club. "Slow Club started because we both loved Bright Eyes, but over the years I never actually listened to folky or indie music, or any 'cool' bands like that. I've never listened to Bob Dylan. It became a problem." Perfectly suited to her vivacious personality, Taylor proclaims a love of Destiny's Child, Kanye, Rihanna – "and I fucking love Little Mix." She continues: "There's this new shorthand for pop music that everyone is listening to but back in the day no one admitted that they listened to pop music. Everyone went and stood at a Klaxons concert but secretly listened to pop."
She has no guilt anymore: "Basically, boy-girl harmonies don't get me hard at all," she says. "It's always quite heteronormative – the girl always harmonises with the boy, and the boy gets the main bit. I'm a drummer too – that was always a hard thing to be in a guitar band, because drums had to be a pocket of the music. It couldn't overpower it in any way." This new found freedom has led to the loud, poppy, and fresh feeling of Compliments Please. "I've always responded more to grooviness, to rhythm, and to the body moving between the beats – folky indie wasn't right for me."
In indie music, the role many women are pushed to play is the nice girl with the nice voice holding a nice acoustic guitar. "I can't do that anymore, it makes me ill," says Taylor. "There's a smallness that is expected of women, physically and metaphorically, that I've never been able to achieve. And I tried so hard, especially when I was younger. And it's still very there, no matter what you want to say about movements or feminism or anything. It's just still second nature to loads of women. It's constant."
Taylor describes not even knowing what "self-esteem" meant when she was younger. Everything her and her friends did and wore was for men. Over the years, she gained more self-esteem without even realising it, and working under that name is an affirmation of such growth. A major change has been about fashion – not necessarily what she wears, but how she feels about it. I compliment her love of power suits (as seen in the videos for "Your Wife" and "Rollout").
"I'm bisexual, so I feel very comfortable in hyper-feminine clothes," she explains, "but I also feel comfortable looking super masc. I'm always trying to find that middle ground. It's probably a primal thing, where I want to officially look attractive to both sexes at all times – and the power suit is the perfect middle ground."
"We opened the floodgates and all these creative resources came out, all the things I couldn't do before, all the frustration. It could have been completely unlistenable...but...people like it, and get it."
She describes a boyfriend who broke her "baby heart" and how she felt like she had to look perfect the whole time after that to get back at him. "We're all only ever doing anything to get back at someone," she jokes. Ultimately though, fashion is fun to her now that she doesn't care about a man's opinion of it.
We talk about her aesthetic in her music videos, which I tell her are "hot but weird". "Your Wife" finds Taylor pristine and bright blue-eyed, taking a giant bite out of a greasy chicken leg, and then using it as a microphone. "I know my body is built for men and I've never been comfortable with that. So yeah, I always want to be gorgeous and sexy but I always want to make things weird just to ruin it for them," she says, laughing.
Taylor was concerned that Compliments Please might have been "too much" but then berates herself for saying this, annoyed that her confidence dipped for a moment. "We opened the floodgates and all these creative resources came out, all the things I couldn't do before, all the frustration. It could have been completely unlistenable or unwatchable. But the most amazing thing for me has been learning that people like it, and get it."
The record explores love, lust and relationships – what Taylor describes as her "bread and butter" – but with a beautiful twist each time. "I actually wrote most of this album quite happily in a relationship and thought I had totally disproved the 'theory'," she explains, referencing the ides that breakups create the best art. "But then we did break up. And I wrote 'Rollout', 'I'm Shy' and 'In Time'… so the theory is proved, I need to be painfully stressed to write songs!"
She came out as bisexual in 2013. "It was quite late, really," she says. "I'd had relationships with women, but not long-term ones so it always felt silly and I convinced myself in a way that it wasn't real.
"I remember singing lyrics that Charles [Watson, Slow Club co-founder] had written about women and I never wanted to change the gender and that was my way of expressing myself. And now I look back and think… wow, you were totally bi."
The track "Girl Crush" calls out performative bisexuality, saying that love is love, and crushes are crushes – just crushes, not girl crushes. "There are songs like Katy Perry's 'I Kissed A Girl' and like that collaboration song 'Girls' by Rita Ora. That's fine, I respect those artists, but those songs are problematic as fuck."
Where does Self Esteem go from here? Taylor tours the record in March and says she's aiming for the 'hot ticket in town' vibe. Having recently moved back to London she's even more excited to be playing venues like Village Underground. While everyone else her age seems to be getting tired of the big city and moving out to seaside towns, Taylor couldn't be happier to be back after living in Margate for a few years. "I got what I got from Margate, but being on the go all the time suits my personality more," she says. "Honestly, I just don't need that much help to sit on my arse all day and watch TV, and Margate is very quiet and not that collaborative – so I had to pull myself out of that".
She's creating constantly – a comedy with sketch group Seldom Differ, the Compliments Please album release, a mini in-store tour and a larger venue tour in March. Oh, as well as developing three musicals. "I just love musicals. They're what I want gigs to be: fully immersive. I feel like if you're going to stand on a stage you should really stand on it, let the light be on you and perform."
Next on her list is playing Glastonbury, being on Later… with Jools Holland and playing as many other festivals as possible. "I need to get over these things though, because they might not happen," she says. Her description of chasing fame is astute: "I feel like fame in the UK is so stupid now because it got ruined by Big Brother and X Factor and stuff, but I still love it.
"What I want more than fame is to be respected as a songwriter… but I also really just want to be given loads of free shit over Instagram."
Compliments Please by Self Esteem is out on 1 March via Fiction