Before that – as the story goes – they were three inseparably-close friends, entertaining themselves as the first (and hopefully last) generation condemned to Zoom High School."Our listening habits get really synced up—we essentially would live together so we'd go through these phases and get really into stuff at the same time," says Lowenstein.
The listening habits in question include everything from grindcore terrorists Melt Banana to Brazilian composer Milton Nascimento to the mysterious surf-noir legend Charlie Megira. They're a referential band with an encyclopedic knowledge of underground music—and yet their music never veers on simple pastiche (the sly name-that-reference of "World of Pots and Pans" is the closest Horsegirl ever get to Losing-My-Edge-style namedrops).
The band is too inventive, too curious and exuberant to be dismissed as a nostalgic revivalist act. They know when to dial it back—"like Stereolab vocals, for example—Nora and I sing at the same time, but we know not to be, like, "buh buh buh buh buh," laughs singer and guitarist Penelope Lowenstein. "We want to make sure we're doing our own thing and combining a lot of different aspects rather than just imitating one in particular," adds Reece.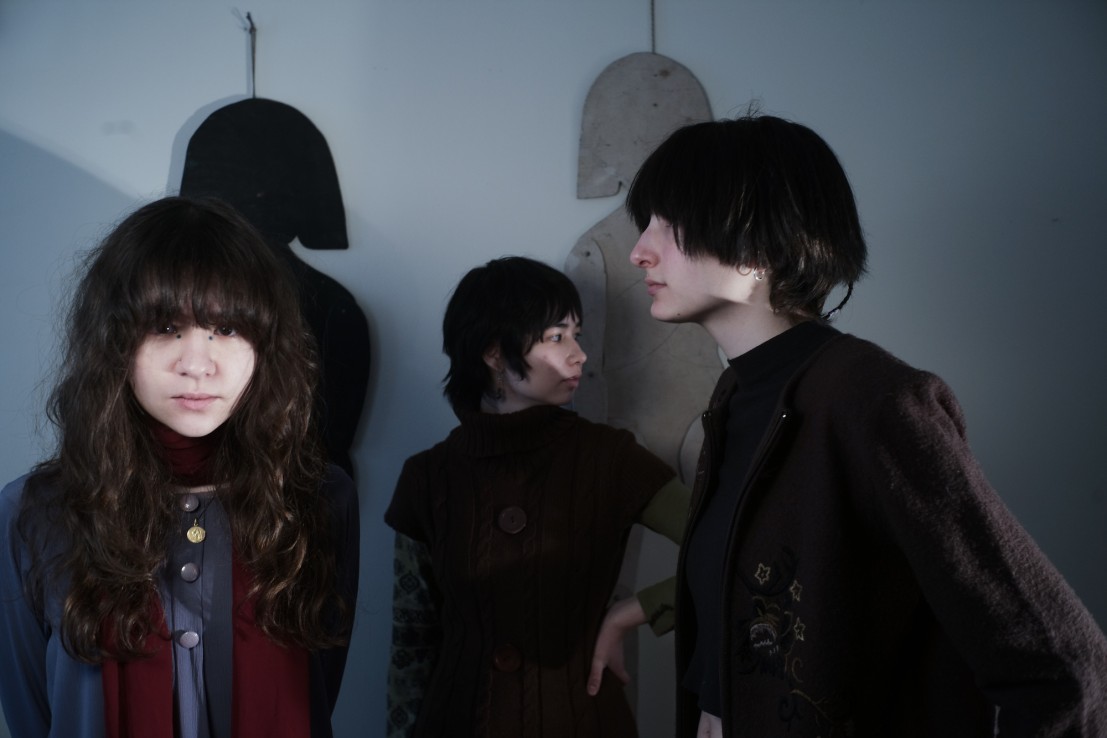 They're exceedingly successful with their intent—lead single "Anti-glory" is an infectious, pounding anthem whose chorus is, unexpectedly, a jagged and somewhat spooky no-wave breakdown; songs such as "Dirtbag Transformation" and "Option 8" explode forward with the dizzy, sweat-soaked joy of Crooked Rain, Crooked Rain-era Pavement, but their austere and commanding vocal lines evoke something colder and more cerebral like Cate Le Bon. But ultimately, Horsegirl are entirely their own—synthesizing, iterating, and interpreting their influences only so much as it will vault them forward into thrilling new territory. Their forthcoming debut Versions of Modern Performance is an undeniable triumph, brimming with breathless moments of invention: the weightless octave-jumping melody that earns "Beautiful Song" its title; the blissful, early-summer burner "Billy".
The photos in Horsegirl's first major press kit are crucial to understanding their vibe. The noise-pop trio is not breaking into an old factory like Red Red Meat or swimming in an abandoned quarry like Slint. Instead, they are in what appears to be the small, clean kitchen of an office space, or perhaps a modest apartment (it's actually their friend Eli's). Lowenstein and co-guitarist and vocalist Nora Cheng are perched on the sink; Reece stands between them. Press photos are generally the first opportunity for a band to begin posturing and constructing their image; Horsegirl take a refreshingly humble, chilled-out approach. Earlier photos find them curled in a stairwell or cloaked in houseplants. That Horsegirl seem to be exclusively photographed inside—in stark contrast to the majority of their forebearers—is important for two reasons: it (a) signals their ability to subtly utilize and invert the tropes of '90s guitar rock and (b) emphasizes the prevailing sense of home-spun domesticity that defines both their aesthetics and ethos.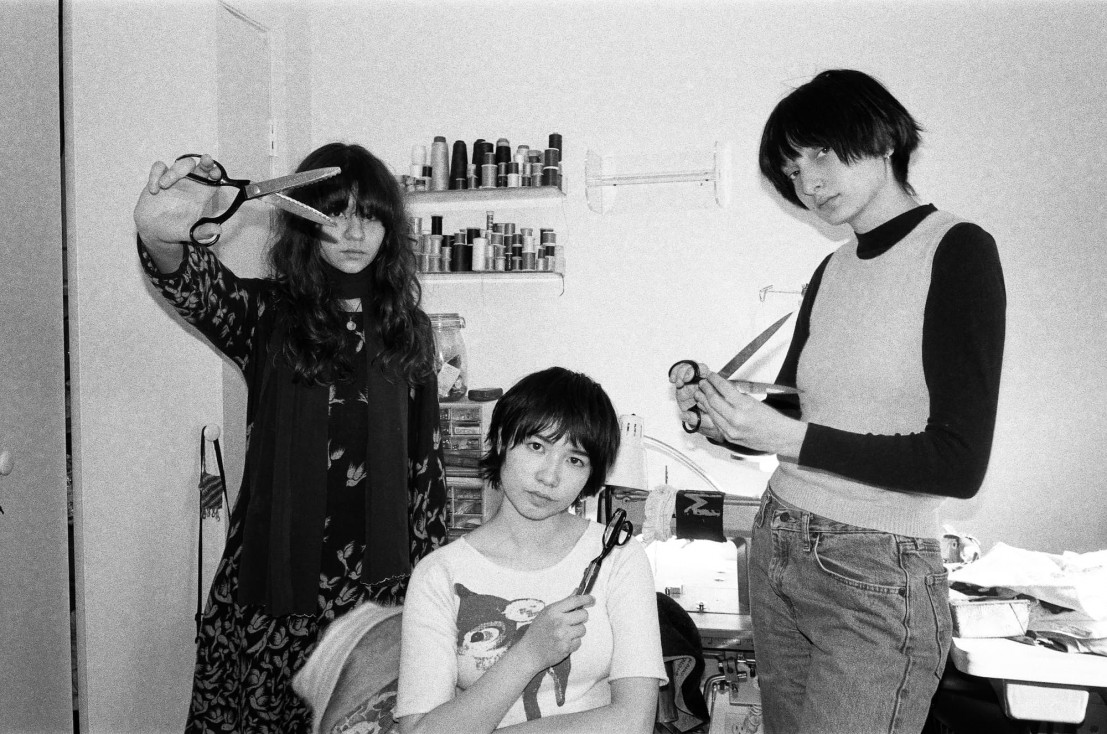 The craft scissors (pictured above) are telling, too. I ask what raw material the Horsegirl sound is built out of and Lowenstein confidently replies, "construction paper," to which the other two quickly agree. "Or maybe the very normal gray clay, the kind you just take and throw on a wheel." It's an apt image: the hypnotic, circular drones of their first single "Ballroom Dance Scene" evoke the slow grinding of a pottery wheel; likewise, on Versions of Modern Performance, formless blocks of raw material are spun into surprising and intricate shapes.
"We're starting from nothing. We like to start from a very minimal place and are careful not to overdo anything," Lowenstein says of the trio's songwriting process. "When there are only three instruments, every part of the song has to be good – otherwise a third of it is bad." The album's raw, unadorned production emphasizes the trio's muscularity and deceptively simple arrangements: "We're a live band first," Reece tells me – the sound of three artists sincerely engaged in their craft. Lowenstein continues: "We don't want to overproduce anything. Nothing we can't do live. Nothing gets cleaned up too much… We just loved how the songs sounded when it was just three people in my basement."
Horsegirl, like their music (and their press photos) are entirely pretension-free. Even the term "Part-Time Punk" – a phrase that friends of the trio (and diehard Horsegirl-heads) will recognize from band members' Spotify playlists and Instagram bios – dispels any claim to self-serious authenticity. "There's a really idealized version of a punk, and I don't think any of our friends fit that really dramatic archetype," Reece explains. Lowenstein picks up: "We once worked ourselves up about not being punk: oh, we're not real punk, we're just talking about it, we're faking it, but no, punk is just one ideal. 'Part-Time Punks' is our way of going, We don't need to fully 24/7 be punk. We like these ideas and are integrating them into our lives in a way that makes sense." It's a deceptively profound idea: to be a Part-Time Punk is to liberate yourself from a singular rigid ideology or aesthetic, to acknowledge that your tastes and beliefs are mutable, evolving, inconsistent. "We're part time punks and part-time posers," Reece laughs.
The inclusive, optimistic humility that radiates from the trio in conversation more or less represents a political sentiment that defines the scene from which Horsegirl are emerging. The Chicago Hallogallo community is preternaturally supportive, a tight-knit web of young (mostly 22 and under) multi-talented artists and musicians eager to reconfigure themselves into various formations: side-projects, zines, radio shows, etc. The ongoing existence of this scene is a victory in itself—the actualized fantasy of any teenager enchanted by the promise of the "underground" or the "alternative".
It's all impossibly romantic, and Horsegirl are exemplary alumni, quick to divert attention back to the others. "Everything we talk about in having a punk mindset—it is so beyond just us three. It's all of our friends. It's how all of us think, and we wouldn't have gotten anywhere without them." As Horsegirl continue to charge forward, this principle which is paralleled in their honesty-first, less-is-more sonic palette, remains intact. "Aside from the "Anti-glory" video, everything you see from us is very much made entirely by teenagers," Cheng notes. The punk is part time. But the earnestness is forever. DIY then die. What else is there to do?
Versions of Modern Performance is released on 3 June via Matador