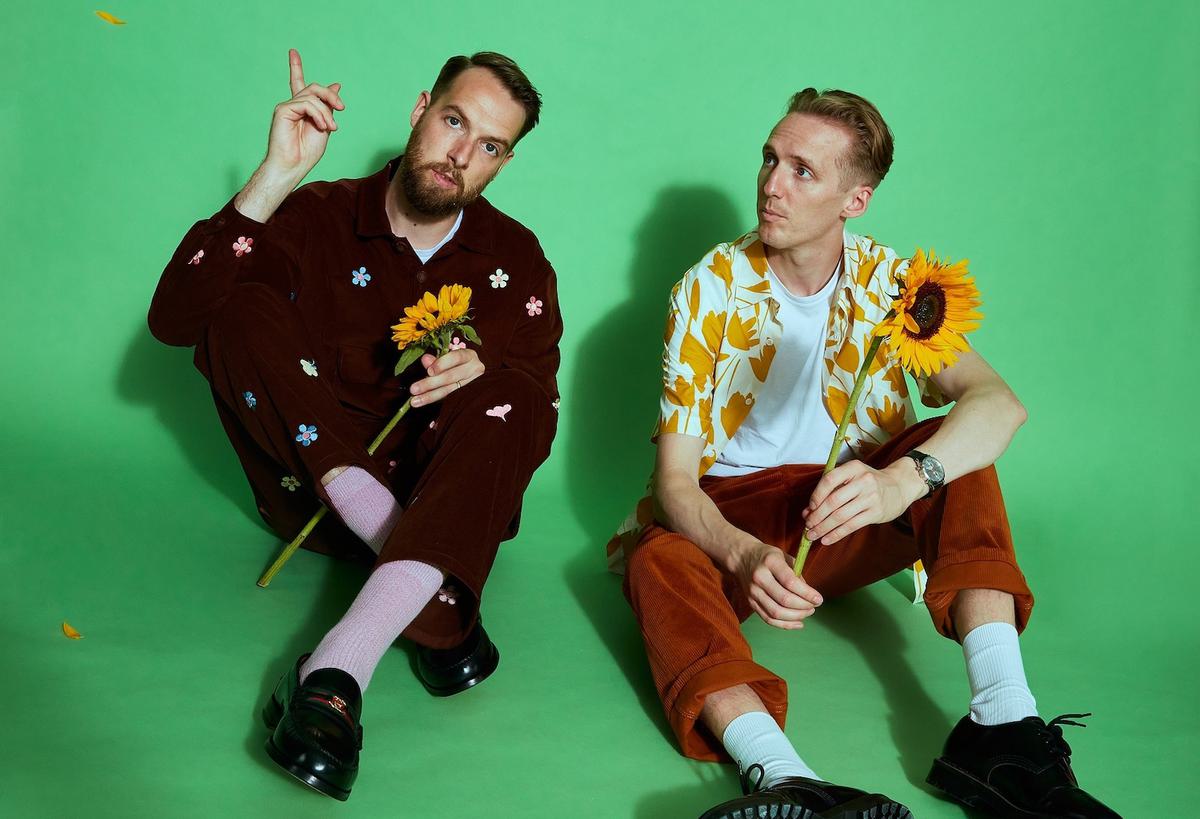 HONNE somehow found the bright side to the end of the world
11 November 2021, 09:14
Persistently positive and incessantly innovative, the London duo wanted to cover new terrain once again on their third album. LET'S JUST SAY THE WORLD ENDED A WEEK FROM NOW, WHAT WOULD YOU DO? is sophisti-pop with no hooks saved for later.
At the start of 2020, HONNE asked themselves, "if the world ended a week from now, what would you do?" Little did they know we'd all be dramatically contemplating that question a few weeks later. While some people hoarded supplies and banned physical contact, HONNE saw a different seven days. Filled with love, thankfulness and "one last blow out show", they set out to create a record that paints a world worth flashing before your eyes.
The idea for LET'S JUST SAY THE WORLD ENDED… all started when they wrote that line. "It was pre-pandemic and a completely hypothetical question at the time, but two months later it took on a whole new meaning," says singer/producer Andy Clutterbuck. It brought up a lot of questions for both of them: Who would you want to spend your last days with? Do those you love know that you love them? How would you spend your last days? The 11 songs on their new album answer those questions. "Basically, if my wife didn't know I loved her before, she definitely will now."
Andy has been with his partner for over 14 years. "It actually started right before I met James. So in many ways he's seen this entire relationship happen and been a part of it." Jokingly referring to it as "some weird love triangle", their tight friendship lays the foundations for an open space of expression where singing about love isn't as tacky as it is valiant. "It means all the moments I've written about, he's seen them too and can understand." And while the idea of devoting your final week on earth to your partner is endearing enough to make you well up, Clutterbuck's creative partner has a different plan.
"I'd want to fly to the stage wearing a jetpack," laughs producer and multi-instrumentalist James Hatcher when we get back to the topic of their final show ever. Fireworks, confetti and every artist they've ever collaborated with are also on his list of demands. "It'd be total beautiful chaos." Balancing each other out and finding the beauty in something perilous is a theme that's run through Honne's music since their 2014 debut, "Warm on a Cold Night". What followed was three albums, a mixtape and numerous E.P.s all to critical acclaim. Forging an instantly recognisable sound, HONNE have been dragging the most funky and soothing genres into their musical world. On LET'S JUST SAY THE WORLD ENDED… they've taken on pop head on—a desire that's been bubbling under the surface since that debut single was released.
"If you were to ask 100 people which of our albums is their favourite, most of them would say the new one. It's just much more accessible," says Clutterbuck. They never went into this record planning on making a pop record, in fact some of these songs came out of the same trip to Los Angeles at the start of 2020 which spawned "no song without you", the title track of their stripped back and blissful mixtape released that same year. "We came back with "WHAT WOULD YOU DO?", "COMING HOME", and "no song without you". We didn't know when we'd put the other two songs out but we knew we had to release them."
Their 2020 mixtape was well-received, revealing a whole new side of the duo that had always leaned on production and layers of instrumentation to build their discography. That being said, that wasn't what they'd call an album, in fact they'd use a different word. "It felt like a sidestep," continues Clutterbuck. "We changed lanes a bit to explore a more psychedelic acoustic path that we felt hungry to go down. But [the new album] feels more like the next step on from our first two albums. More of a logical progression."
Following their melancholic and dusk debut Warm on a Cold Night, they experimented with more visceral, jazzy soul sounds on Love Me / Love Me Not. Now onto their third record, the songs are their most addictive yet. Luckily, the recipe for memorable and well thought out pop music courses through the DNA of the album without losing the group's indelible production style.
"There's something special about a pop song that can do something different," responds Hatcher when I ask him what attracted them to pop music. "I feel bad saying this but there's a lot of pop music that sounds like someone has gone into the studio and just treated it like a business, thinking "how big can we make this song?" For me, the best pop songs are the ones that are secretly deep and have so many layers to them."
Citing Stevie Wonder and Bon Iver among others ("I can't count the amount of times I've woken up on a flight with a Bon Iver song playing in my headphones, looked out the window and thought, "wow, life is so beautiful," remembers Hatcher), it's no surprise that HONNE, a genre-fusing group in their own right, are perfect candidates to enter the feel-good world of pop. But does that mean becoming another cog in the business side of things? On the contrary, it's something they've intentionally averted. "There are definitely some artists who have a big machine behind them—bringing the songs together," says Clutterbuck. "Having huge financial backing to make it a success. However, more than ever before there is a place for artists like us, who make a lot of the music at home and rely on people finding the music somehow, sharing it with friends and spreading it organically. And that feels less like a business to us."
Listlessness is definitely something neither member of HONNE suffers from. They've amassed a large fanbase with little backing from any radio stations. The pair found immediate success after their debut single was released on SoundCloud. Within days, total plays were in the thousands and a record deal soon followed. Clearly HONNE's success is earned, but they'll be the first to tell you their continued livelihood as musicians has been propped up by fans spreading their music far and wide. Most interesting is their swarming Korean fanbase. After their debut single infiltrated the music blogs of Seoul, their debut album went six times Platinum over there, leading to three consecutive sold-out shows which saw them play to nearly 10,000 people. That success in Asia afforded them the opportunity to see the world, allowing them to explore more sounds and work on collaborations other artists couldn't.
Suddenly, they're writing with BTS leader RM on "Crying Over You" for their second album and producing his most streamed song on Spotify, "seoul". Despite having gorged on their synth-heavy sound throughout all their releases, their ear for hooks and pinpoint production was clearly undeniable and a large part of why their collaborations with pop royalty have been so successful ever since. But what would you expect from two self-obsessed music nerds?
Honne have often been labelled as perfectionists due to their extremely polished sound as well as their own confessional fascination with each MIDI note, recording and dial. That impossible goal of sonic perfection has a lot to do with their almost naively positive characters. Smiling throughout our entire interview, joking about how involved they are in each other's romantic relationships, and even finishing each other's sentences, James Hatcher and Andy Clutterbuck's fairytale was always going to make its way onto this album. And if it wasn't clear enough in the songs, their tight embrace on the album's cover art really sets the scene.
"It's more to do with our personality types and our personal lives," explains Hatcher. "We're both very happy, positive people with a lot to be grateful for, so it comes naturally to write music that is aligned with that. Andy has been with his wife for 14 years now, so that's something he wants to write about and celebrate. That's not to say that we don't go through bad times, of course, and that's where more withdrawn and self reflective songs, like "THREE STRIKES", come into play."
"Although you could describe this album as 'pop music', we're not aiming for that massive polished pop sound. Our perfectionist tendencies are more about injecting character and charm into the music." - Andy Clutterbuck
A song that explores an alternative reality where Clutterbuck is at the mercy of a partner's strange games, it's a sobering song in comparison to the endearing and gushing stories that precede it on the album. Vocal powerhouse Khalid carries the song, turning what could have been a momentary halftime break into an emotional valley the album needed to mellow out to explore. Originally just an instrumental, the pair sent Khalid the track over two years ago, and he proceeded to record a note-perfect vocal over the top and sent it back to the guys within an hour. The song then came back around during the sessions for the new album, with Khalid adding finishing touches.
"Khalid actually told us something interesting." Hatcher pauses as he puts the story together in his mind. "He had messaged us years ago saying he loved the songs. We ended up linking up and going to his show at the Hoxton Square Bar & Kitchen in 2017. After the show he told us he was regularly bringing a song of ours called "No Place Like Home" to producers as inspiration for his sound." That venue can barely fit more than 200 people in it. Now playing to hundreds of thousands of people headlining festivals, Khalid is just another slice of proof, HONNE are hot property in the world of pop.
"I am definitely a perfectionist." Clutterbuck is the first to raise his hand when I test their pop-producer credentials. "I can spend hours just fiddling with one sound to get it just right. James is less so. So we have a good balance when we meet in the middle. Although you could describe this album as 'pop music', we're not aiming for that massive polished pop sound. Our perfectionist tendencies are more about injecting character and charm into the music. Having lots of little sounds, pitching parts up and down, making it sound like parts were recorded to tape etc. It might be pop, but it's got to be unique, quirky and interesting at all times"
In order to zero in on that universal sound, the melodies that make radio stations weak at the knees, they brought in some heavy hitters. Sam Smith, Arlo Parks, Joy Crookes and longtime collaborator/piano extraordinaire Reuben James spent some time in the writers room with them. ""BACK ON TOP" was probably one of the hardest to write. It's a bit of a crazy story actually, but we started writing it with Reuben James and Sam Smith, thinking it might be a Sam Smith song. But we absolutely loved it, took it home and wrote the rest of it. That part of it only took a day in total, so in terms of the bare bones of the actual song it was incredibly easy. But figuring out where to go with the production took many, many attempts. And of course Griff added her magic later on too which was the cherry on the cake for us."
If you look at each of HONNE's interviews, one question always comes up. Who would you love to collaborate with? With production as notorious as the songs they create, HONNE are highly desired studio partners across the industry. What's perhaps more surprising is that they answer the questions differently every time. One name they were desperate to get on this record and were successful in doing so, is Arlo Parks. "She is crazy talented," says Hatcher. "The way she writes is so poetic and, in my opinion, she's one of the best storytellers in music right now. And to top it off, she's lovely too."
She lay on the floor of Clutterbuck's flat scribbling away lyrics as he and Hatcher beavered away at the music. "We recorded "NOW I'M ALONE" in a day. At that time, it was a one- sided story and it wasn't until much later on that we added the perspective of the other side sung by Andy. It was wonderful. Ten out of ten, would recommend." Sofía Valdés ended up being the other voice on that record mingling with Clutterbucks, although Parks' fingerprints are clearly all over the sun-soaked chords of the song.
"This record definitely feels the most daytime, bright and sunny. It's a mix of everything that adds up to it feeling like this. Hip-hop inspired beats, slightly jazzy harmony at times and positive lyrics with bright vocals." Hatcher and Clutterbuck are aware that their discography up until now may be better suited for a midnight cigarette than an afternoon party in the park. There was no intention to make a record that filled that gap. But somehow the 11 songs that ended up on LET'S JUST SAY THE WORLD ENDED… are more than likely to receive the radio airtime all their previous records could never pick up.
For both of them, moving forward with a fresh perspective for each album is crucial. "For many reasons, but the main one being to keep Andy and I feeling excited and fulfilled by what we're creating." If there's one thing they've learned from their two albums and the mixtape it's that their fans are devoted to HONNE in all its forms. "So we should just write what comes natural to us and hope for the best!" Yet another wholesome outlook that seems to keep working in their favour.
So after releasing a mixtape, a remix of that mixtape and a full album within the space of just over a year, what does the future look like for the duo if the world doesn't end? "Well, my wife is pregnant and due in a couple of weeks," chuckles a proud Clutterbuck. "We definitely want to take a bit of a break from releasing music after this one," continues Hatcher. "Without touring we've had so much time to actually make music." Having just explained how much they love that process of creating songs to me for an hour, spending some time away from that might seem bittersweet. But LET'S JUST SAY THE WORLD ENDED… is their most addictive album yet and begging to be played in front of thousands of people. Now it's out in the world they're ready to pick up where they left off, spreading feel-good sophisti-pop to the masses.
LET'S JUST SAY THE WORLD ENDED A WEEK FROM NOW, WHAT WOULD YOU DO? is out now.