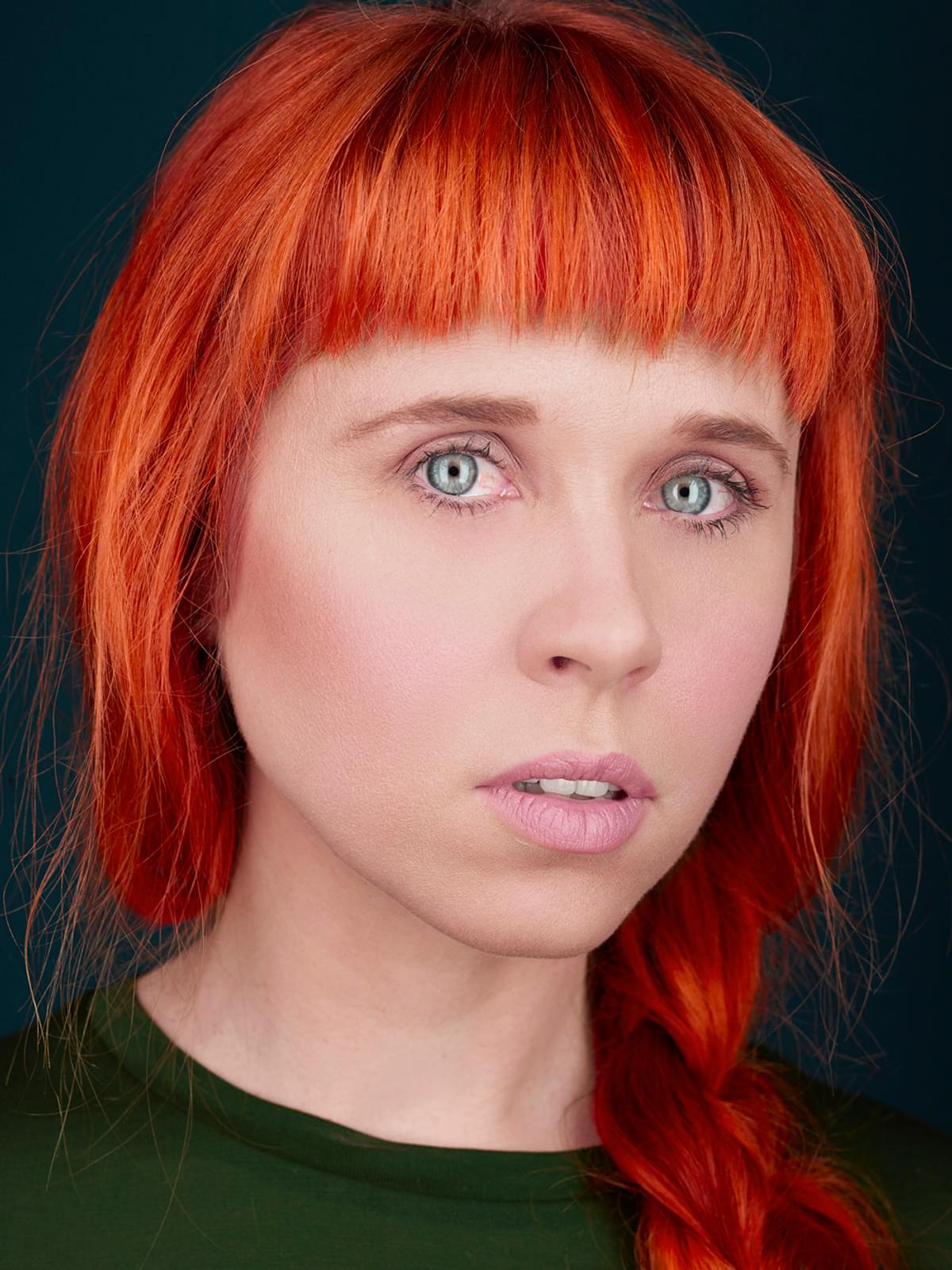 Sonic architect Holly Herndon on bridging the gap between the cerebral and the danceable
14 July 2015, 09:00
We talked to San Francisco-based electronic composer, sound artist and researcher Holly Herndon and found out more about her cutting-edge practice on second album Platform.
It has been nearly two years since the release of your debut album Movement. How have you evolved as a composer and a performer in that time?
It's funny, as a lot of the material on Movement was a few years old when it came out, so I consider myself to have changed dramatically. Since then I've been challenged to write for ensembles, and become more ambitious in the processing I do, and just generally in how many ideas I try to pack into each track. I've also finished a Master's program and begun a PhD, and have been surrounded by so many amazing artists and engineers. It has a direct impact on your confidence and the kind of things you attempt to pull off. It's a cumulative and educational thing, you also learn a lot from playing live; the more you play with things the more you learn, so long as you are open to developing as an artist.
Can you explain the processes that directed the composition of your latest single "Chorus"; in particular, what was the thinking behind your use of samples from your daily browsing experience?
That's a good example of a cumulative process – as "Chorus" was a track I had been playing in my live set for a year or two before it was released, and people really responded to aspects of it. I saw "Chorus" as an opportunity to test the water, and basically ask permission to take my music a little further - and abstract away from the straighter club rhythms I was playing with before. Every time I tweaked it, people seemed to like it more!
The sampling from my browsing experience was heavily inspired by my creative partner Mat Dryhurst, who developed a patch for a PAN presentation in New York that allowed for you to browse the internet and automagically create these odd sound clusters of your experience - he called it "Dispatch", or cheekily "net-concrete", and it really seemed to fit so well with what I was exploring with the laptop as this personal instrument, and personalized experience. I used that patch to generate a huge palette of sounds that could be sculpted into something, and everything just sounded so good, and so reflective of the new coherence of our daily online experience. He deserves a lot of credit for that work. I referenced the inherent and chaotic movement of that palette to restructure the composition, so in a way the whole piece is tied to that flux, which I think is quite new, exciting, and universal.
How did you grow from a country girl from Tennessee into the slick, avant-garde electronic music composer we know?
Again, just through being open. I still don't see myself as slick, and don't anticipate ever being too comfortable in my position, but I have always been curious and willing to try things out. I was always super intimidated by technology. It is similar to a lot of musical cultures, in a sense, where it can at first seem super impenetrable, but once you dive into things you begin to realize that the basics are not rocket science, and that as long as you have a good grounding in what you are doing, it is ultimately ideas that distinguish you from other people. I have never been the pretentious type - I am from small town Tennessee and don't really have an austere or dry take on the world, and in a way I think that is a really useful way to be flexible in my life and practice. I really hate the idea of projecting a polished or effortless image, I have accomplished what I have through a lot of hard work, anxiety and curiosity - and I think that is important to clarify. I've only met one or two geniuses in my life, everyone else has to just work their ass off and be open to participate and explore as much as they possibly can.
Do you remember how you infiltrated the Berlin club scene? Did you immediately get a sense of belonging there?
Well, initially I would go to drum and bass parties, as the girl from the host family I stayed with used to like to go there, and it was a pretty light and welcoming environment. Berlin clubs used to be even more open and liberating than they are currently, there was no pretense at all, and it kind of blew my mind to be somewhere so welcoming and friendly and also so alien and futuristic at the same time. I definitely felt a sense of belonging, learned fluent German, and really tried to live that life for a few years. There were dark and confusing times too, but ultimately it was huge learning experience.
Can you tell us more about the band you joined in Berlin before moving back to the States?
When I was super young I joined an electroclash band, called Electrocute. Electroclash has been quite poorly represented in a way, it's origins in Berlin were actually quite radical and exciting at the time, very punk and creative, and thrown together, as opposed to the slicker aspects of what was happening in New York. It was a big education, I got to go on some big tours, and the nature of the music meant that I lost a lot of inhibitions about performing - it was definitely very expressive and silly - but again I see it as an important part of my learning curve. I'm happy that at such a young age I was open to try that out, and I met some remarkable and intelligent people at the time.
The music you make now is covering a lot of ground between dancefloor-friendly tunes and more experimental stuff with no beats. What is the thread that links it all together?
Me, I guess. I'm actually terrible at emulating things - like I couldn't make a straight techno track if I tried, honestly, so from early on I just kind of followed my own frequency. I really don't see any distinction between [the different strands of] the work I do, and I often switch off when work becomes too easily quantified - I understand the need for utility music but it's just not my thing. My big challenge, which I'm exploring more now, is integrating all aspects of my work into one style - I think I'm getting better at that. I want to hear rhythmic songs with insane breaks and contortions, so I'm going to try and make them as best I can.
Your work evolves within contexts as different as fine art, academia, and nightlife. What is your experience of this plurality of spheres? Do you have a preference for any of them?
No preference. The thing is, there is a core of interesting and curious people in each of those fields, and I resonate most with those people. I don't care if you work for a water company or a white space gallery, if you are open and doing interesting work then you are in the minority in any sphere and I am open to work with you. I've been fortunate to meet a lot of amazing people from different worlds, and don't ever want to limit what I do to one field or another. I work with concepts, and those can be realized in so many ways, and I know firsthand that the more conservative factions of the creative world are far more restricting than the most curious aspects of other worlds. Ultimately it's about good, intelligent people.
What is your aim during a live show? Do you wish to make people dance, feel, think?
You know, it's hard to say. Ultimately I want for people to be aware of where they are, and be provoked to respond to that. I don't want to make wallpaper music, and go to great lengths to fracture the more absorbing aspects of my set - I don't like this idea of people "getting lost" in music, I somewhat idealistically like the idea of music waking us up. I did a piece with Reza Negarestani and Mat about exactly that a few years ago, in fact, where the whole point was to break the hypnosis that occurs when people enter a performance environment. We were playing a lot of tricks, like I closed my laptop, received applause, and then continued playing, using the recording of the audience applause as a palette for the piece. Just to remind people where they are, and the odd consensual codes that exist in these environments are also raw materials to be experimented with.
No matter how exciting laptops are as instruments, live shows involving people standing behind their computers can be quite dull…how can laptop musicians make their performances more embodied and engaging?
You know, I did a lot of research into this, and although gesture is a very powerful technique for generating empathy, gesture is also received by the brain in far more subtle ways than we give ourselves credit for. We register intent, even remotely - which is one of the reasons why DJ culture thrives even over podcasts shared online. Some of the most empathetic and rapturous experiences most of us have had have been in an environment listening to pre-recorded material a DJ is playing, and people rarely spend their time watching her physical lifting of records, or at least if they are doing that they are perhaps missing the point of the experience.
I think the big challenge is that the whole setup of live performance is expecting for laptop performance to be somehow similar to classical live performance, which in my mind is very conservative and a huge missed opportunity. The ability to sequence allows for performers to do so much more other things with their hands, and I've been recently talking to friends in the project Amnesia Scanner about this, who use this ability to be able to control intelligent lights, and add a dynamism and artistry to the performance that they couldn't do through trying to satisfy the expectation of gestural affect. Gatekeeper were also amazing at this kind of thing, but it's still very early for people. There is no right way to perform, it's just the traditional experience has been around so long that we have come to expect a particular engagement.
What is your relationship to your laptop? Are you worried about the issue of our intimacy with technology in the context of increasing chances of surveillance?
Yes! In fact my new project is dealing with this specifically. I won't divulge too much, but I think it is very interesting that we live at a time where we are the most invested in these highly personal devices, and are also discovering the vulnerabilities that are being exploited in that process. You want to try and be an optimist about how much people are willing to invest and embrace these technologies, but there are serious consequences to living in a time when anything you do ought to be considered public, and compromised somehow. This is a very important new politic in everyone's practice.
You are now following a doctoral program in composition at Stanford University. What is the journey of a PhD made of? Do you get to do any tutoring?
Yes, I assist on a number of classes, some technical, some aesthetic, and am also teaching my own class in the aesthetics of experimental music post 1980 that I'm very excited about. I take a lot of classes and am always developing work, and am in the process of refining my main research topic, as I still have a few years left. It's a wonderful opportunity.
What is it like to work at Stanford's Center for Computer Research in Music and Acoustics?
It is a remarkable place. There is no place quite like it, honestly. I've never been in a place with such a technical and artistic pedigree that is also so open and supportive. I'm literally surrounded by some of the most intelligent people I have ever met, and yet everyone is open to collaborate and support each other.
It is an educational in life, in a sense, where you learn that there needn't be a correlation between serious or intelligent work and dryness.
Holly Herndon's latest album Platform is out now on 4AD.
Get the Best Fit take on the week in music direct to your inbox every Friday