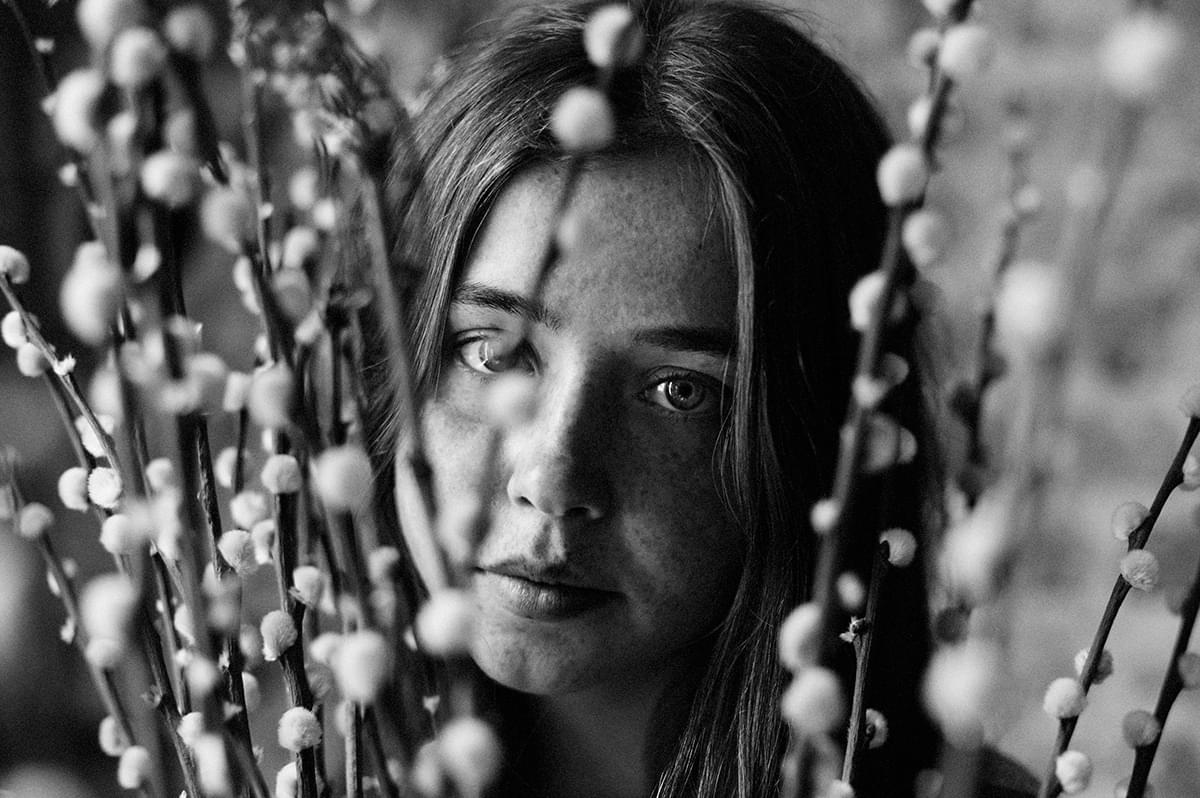 Becoming Young
04 August 2015, 10:30
A young Flo Morrissey sits opposite me, shoes kicked to the floor and hands wrapped around a mug of herbal tea, its sweet scent pulled from the room through a cracked window. "I know it sounds strange because I wrote them," she says, "but as I get older my songs make more sense to me."
Morrissey speaks with the wide-eyed whimsy of a bohemian child and the wisdom of someone well beyond her years. It's a tired trope perhaps, but lyrics like "Show me that I have become / Something that is parallel to when I was young" don't too often come from the mouths of twenty-year-olds. Morrissey agrees: "I feel annoying saying it but I do feel older than my age."
She may have only just released her debut album, but its opening track "Show Me" was penned when she was 15. Titled Tomorrow Will Be Beautiful, the entire album is a self-fulfilling prophecy. "I feel like I've grown into my own, I understand myself more. When I was 15 lyrics just came to me," she explains, as if removed from the creative process. "I feel like I'm more in control of my emotions now. I understand songs like 'Show Me' more. I feel more connected to them but for a while it was like that song was too close to me."
Morrissey is nothing if not a romantic. A bittersweet nostalgia clinging to her vocals chords, she delivers songs with the gentle falsetto of Billie Holiday, the freedom of old world jazz arrangement and the sweeping elegance of cinema's Golden Age. "I love film scores - though I'm hopeless at finding the time to watch enough films - and I wanted it to be that cinematic kind of record. I've been obsessed with Philip Glass lately and the work of Hans Zimmer. Frank Sinatra and the classics as well. I've never felt compelled to do that kind of stripped back folk thing; I wanted the album to be more than that."
"I know it sounds strange because I wrote them but as I get older my songs make more sense to me."
And of course it is. There are elements of bluegrass, jazz, mellow psychedelia, pop grandeur and pure Americana too. " When I perform live on my own it's different, but on the album, with the strings, it just brings the raw essence of the songs together. I didn't want to over produce it either, but I think we found the balance of giving the songs what they needed to breath, and keeping that - and I hate this word - 'organic' element."
Lyrically speaking Tomorrow Will Be Beautiful is a heartbroken affair, full of sorrow. Across its ten delicate songs, Morrissey sings of fighting, crying, betrayal, regret, bitter memories and goodbyes but it's also a hopeful record.
"Something I've realised recently is that I write my best things when I'm feeling good. This idea of the sad creative... you don't have to be this kind destructive, depressing character to be a singer songwriter. That's why even though my songs are seemingly sad, they do have a sense of hope - or at least I hope they do! That's why I called the album Tomorrow Will Be Beautiful. I don't want to be a depressing girl with a guitar. That's not who I am. But it took me a while to realise that. I needed to make myself realise that the ordinary could be beautiful, and sometimes sadness can lead to happiness."
"The ordinary could be beautiful, and sometimes sadness can lead to happiness."
Is it easier to write sad songs? That's a pretty age-old debate. "I think it's a reflection of the fact that as you get older, inspiration doesn't necessary come as easy. When I was 14 and you know playing endless A minor chords I thought it sounded amazing and I had so many ideas, but as with everything in life, you kind of have to work at them a bit more as you get older. It gets trickier; you start to overthink things whereas ideas should just flow. Perspectives change I suppose."
The London-born Morrissey relocated from her family stronghold in the capital to producer Noah Georgeson's studio in LA to record the album. "It didn't really seem like a bad idea to go to the sun for two and a half months," she tells me. "It was a really amazing experience but LA is kind of lonely too." Having grown up with nine siblings in a big family unit, it would only be natural that the longest time away from home would begin to feel oddly quiet but Morrissey isn't the only one who has spoken of the loneliness of Los Angeles. "I did miss my family but it was good to get out of my comfort zone" she admits "[and] everyone there has there own thing going on. There are so many creative people, it's almost like everyone is too busy looking for their own thing. And I should be careful saying this, because there are loads of amazing people there, but there are also a lot of people who are always trying to get something out of their friendships. I think that's why it can be lonely, but it's almost like sometimes I wanted to be on my own. It was cool but it was definitely tricky being there on my own."
Talking with an artist of Morrissey's calibre and style - possessing the kind of free spirited warmth of Joni Mitchell and her UK counterpart Vashti Bunyan - it feels inevitable that our conversation would turn towards the Hollywood Hills and Laurel Canyon. "Its funny because it's only now that I'm getting into that kind of stuff. I know it doesn't really have that much to do with it but I've always dressed the way I have. It wasn't from looking at photos from the '60s and '70s. I have just been doing what feels natural to me and realising that there is a similar essence of that in the past.
Morrissey's implication being that her musical output is an inherent continuation of something, but not something consciously contrived. "I've always loved Joni Mitchel, but have never really been a die-hard fan. I appreciate her so much more now but when I was like ten I preferred male musicians for some reason. I was listening to people like Devendra Banhart, Anthony & The Johnsons, Nick Drake and Jeff Buckley. That was more my style."
"I have just been doing what feels natural to me and realising that there is a similar essence of that in the past."
Morrissey may have been born in London and her album may have been made in LA, but her heart clearly belongs to Paris. "Working with Noah was a dream come true," she says when we touch on Georgsson's work with Banhart, and her shared management with the eccentric singer/songwriter. "It was a gamble but I had such a good feeling about it. Then I did one song in January with Philippe (Cassius) Zdar. It was a different experience but I loved it all the same.
"I love France. I want to live in Paris. It's so close to London, firstly, and I just feel a lot more relaxed there for some reason. They take their time with things, everything moves a bit slower. There is such a creative aspect to things over there, and everything is so romantic. It's so cliché but it's like a fairy tale. Even if it's raining, it seems fine in Paris. Nothing worries me there."
Delving further into Tomorrow Will Be Beautiful, Morrissey explains, "I really wanted it to be this timeless thing that gradually pieces together. I think with my songs, on the surface, they're not easy listening. By that I mean they're not immediate, they tend to make the listener slightly confused and they're not sure why. I'm not really sure why either."
"This Japanese guy wrote about my songs - that's actually how my manager found me - and he said something like 'your songs seem like they should fail but that's what is so brilliant about them - teetering on the edge of failure means they're unpredictable.' It makes people think oh wait, where's this going? Which is kind of how I think life should be. It's kind of like pushing people's buttons without meaning to. I feel like I don't make it easy for myself sometimes! Touring with Tobias Jesso Jr. was good actually for that reason, he just has a lot of life in him, and sees that life can be like a game and that everyone needs to loosen up a bit."
Morrissey's cast of tour partners speaks volumes about her music, and erudite character, not to mention her thirst for knowledge and for family. "I was with The Staves and then Ibeyi in the States, then Tobias. It's been interesting to see how I've developed in each place, what I've learned from all of them because all of them are so different. Ibeyi work so hard, they're very head strong and they never complain. And they're my age as well, which was really refreshing because I hadn't met anyone my age that was doing a similar thing. Then The Staves are sisters which was nice for me because obviously I'm part of a big family so I liked that connection."
"Tobias kind of looks like my older brother so that's like a nice thing too. And Ibeyi are twins, so basically it all felt like family."
I imagine there's some mild chaos being one of nine children. Despite the chaos of touring, does Morrissey find some refuge in life on the road? "I'm excited about visiting new countries though I wish I had more time to explore, to get inspired by the different places. Japan, Iceland, Kauai are all on my wish list."
"I left school at 17. I knew I didn't want to go to University. I don't think my parents would have let me leave if I'd just been sitting around all day doing nothing, but I'd been putting music out there from a young age. They were really supportive. It was a quite risky, I can see that now, but I'm glad I left. I was just really set on music."
"I've always really known the way I want to go."
Tomorrow Will Be Beautiful is out now via Glassnote. Flo Morrissey will perform at End of The Road Festival, joining Sufjan Stevens, My Morning Jacket, Saint Etienne and more on the Saturday.
Get the Best Fit take on the week in music direct to your inbox every Friday