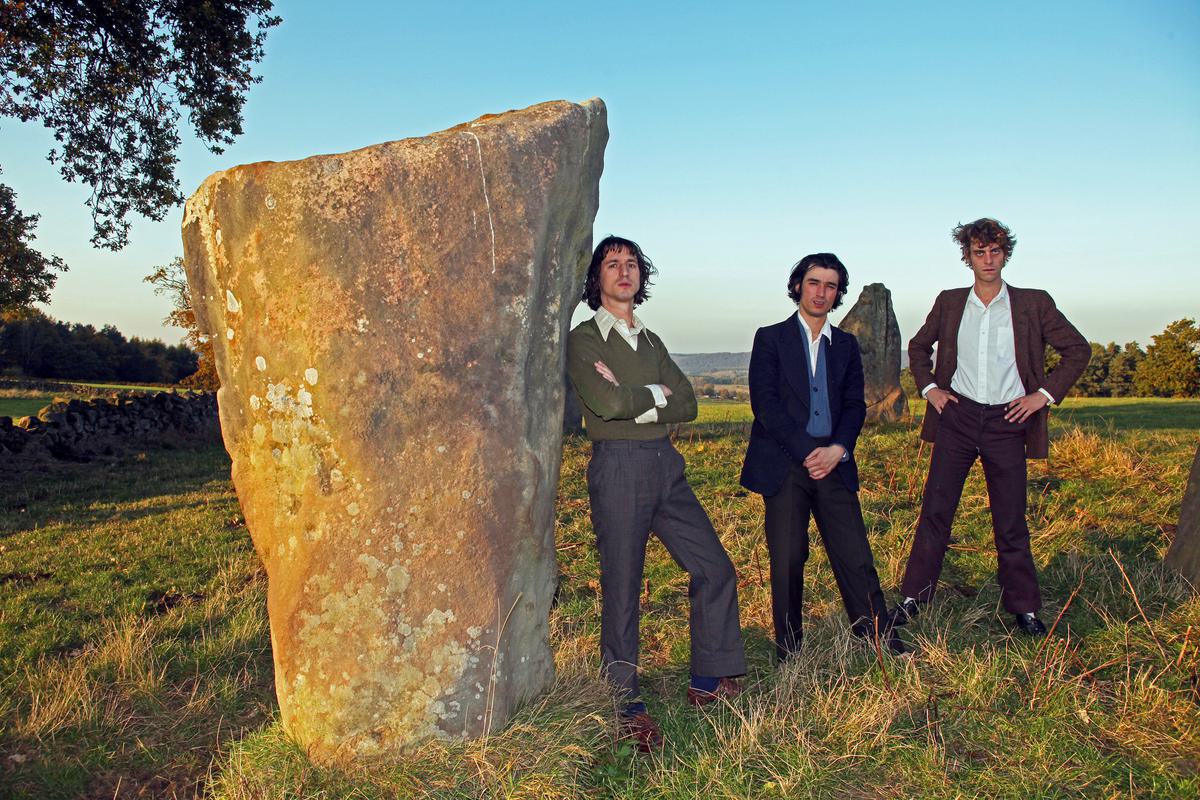 How Fat White Family clawed their way out of the gutter to make record number three
09 April 2019, 08:30
Formed in a squat in Peckham, Fat White Family are no strangers to the hard graft. Down a core member and forced out of London through circumstance, things weren't getting any easier the third time around.
After the band dropped 2015's Songs From Our Mothers, many of us thought they wouldn't make it to a third album. Heading for ultimate hedonistic self-destruction via an intolerable amount of drugs, it was clear even from the outside that the band were one wrong move away from collapsing in on themselves.
'It was a deeply ruined set of individuals' front man Lias Saoudi confirms as he nurses a cup off coffee in the Social's upstairs bar. He's warm and approachable, wholesome in his black and white wool knit. It's jarring to remember that this is the same guy who used to frequently slather himself in shit in Dadaist revolt, 'The main problem was really inter-relations in the band' He explains in his northern drawl, 'Saul [Adamczewski, guitarist] especially…we'd fired him at that point….'
With strained relationships and addictions reaching fever pitch, by the time it came to a homecoming show at Brixton Academy no one could stand the sight of each other and an otherwise momentous occasion was underscored by a certain sadness. Inevitability, everyone parted ways - Lias and his keyboardist brother Nathan escaping the UK altogether, while Adamczewski threw himself into numerous side projects.
"Nathan went to Mexico for two months to kick… I wasn't a junkie really, more like everything else, although I was dabbling at that point, but I went to South East Asia for a couple of months and just wondered round. When I'm on my own I do a lot of writing, I need prolonged periods of isolation, otherwise I just get distracted and spend all my time putting out fires or wiping people's arses. A lot of stuff on this album came from that period."
Despite Saoudi's desire to piece himself back together, focusing on therapy via writing, it wasn't long before he was being dragged back into the nonstop merry-go-round of collaboration and recording. Adamczewski was working on the Insecure Men album with Childhood's Ben Romans-Hopcraft, and wanted Lias to quit the orient and come down to the states to put lyrics to his melodies. Lias agreed and flew down to New York to attend the sessions at Sean Ono-Lennon's studio.
Working together in the mellow setting, the pair found a happy equilibrium: "It was really easy for once, we had a good system there. I'd sit and talk with Saul about what he wanted the song to be about, he'd give me a direction or whatever and I'd sit in one room just doing lyrics and he'd be in the control room working on the tunes, if it [was] good then I [could] clock off and enjoy myself, it's pretty nice up there at Sean's…"
"In retrospect now, it was always going to happen, but at that point, with the beef that had going on for so long, everyone was still a bit traumatized, we'd all been fucking horrible to each other in one way or another" - Lias
The set up was so healthy and well adjusted, with everybody getting on again, that it even began to heal the deep-set emotional words caused by Saoudi and Adamczewski's deeply dysfunctional relationship (Saoudi once likened it, in a 2016 Guardian article, to the abusive dynamic of Ike and Tina Turner, saying that he was '… definitely Tina Turner'), 'We started talking about doing Fat Whites together again, in retrospect now, it was always going to happen, but at that point, with the beef that had going on for so long, everyone was still a bit traumatized, we'd all been fucking horrible to each other in one way or another.'
Although their relationship was in a good place, Lias admits it was too soon to rely on Saul being a permanent fixture in Fat Whites again. The unhealthy dynamic of the band had been always been an enabler for Adamczewski's self-destructive habits, namely heroin. Maybe it was best for everyone's emotional well being if he just left and focused on Insecure Men, where he could still play his music, write his songs and keep himself (semi) above water?
"It was like why would you bother coming back. If you could find something else that works for you and is easier and more manageable and not have to deal with all this fucking history… it was such a head fuck being in Fat Whites. So we're sitting their thinking, maybe it won't happen, maybe Insecure Men will take off and he'll do one, and I wouldn't blame him if he did, y'know?'"
So Lias and Nathan set about plotting the future of the band. There were two main issues that needed tackling in order for the Fat White Family to move forward. First of all, they needed to get themselves away from any temptation, although they'd all pretty much kicked heroin for the most part, they couldn't risk - not when there was so much on the line - falling back into bad habits. Second of all, Lias and Nathan needed to become self-sufficient songwriters, since they could no longer rely on Saul, who had written (pretty much) all the music to Lias' lyrics on all the Fat Whites output thus far.
An impromptu move to Sheffield was the answer for the both problems, allowing them to escape all the social distractions (and the drugs) and focus on their creativity: "[I thought] If we could build a moat around our drug problems and keep ourselves secure long enough, [I was] sure we'd be able to make another album…so we went off to Sheffield and I think it was really important for me and Nathan to have that time, we couldn't depend on Saul anymore so we had to up our game, start writing more melody and more songs."
Drawn to the city for its cheap rent and safe distance from London, the Saoudis moved into a house together, bought a stand up piano for 50 quid and set about working on the songs for Serfs Up. ' Nathan use to sit in the living room, smoking what turned out to be an intolerable amount of skunk, which eventually sent him around the bend, obsessively playing all day…it didn't sound like Fat Whites, it just sounded like some weird trance.'
It made for a new working dynamic when principal songwriter, Adamzcewski, re-entered nine months into the process, fresh from touring with Insecure Men. "Usually with a Fat Whites record, [Saul] would have the template for the album already in his head, with a whole body of references before we'd even start and it would all be under his jurisdiction even if it was a song I'd written, but this time it was the other way around…Saul had to work backwards for once and integrate our ideas into a bigger project, so this the first album that is the really the whole bands album, it's equally me, Saul and Nathan."
"I think we needed other people to soak up the megalomaniacal trinity of Me, Nathan and Saul...it was a lot more open house this time" - Lias
A rough sketch of the album was finished quickly and the boys headed for Norway, to pay a visit to their old landlord Simon Tickner (previous proprietor of the Queen's Head, where the boys lived during Fat Whites' genesis) who now lives a peaceful existence by the fjords. During their stay, they had something of a revelation, "We decided we were gonna build a studio and then whatever money we get from the label we'll invest into getting out own shit, since then at least we're safe, it means in the future we're not completely beholden to record companies if we want to work."
"And there's a greater sense of achievement when it comes to recording this way," says Nathan with a certain laid back swagger (he arrives part way through the interview, his bus was late) "…there's also less risk and no clock…this way's just easy as fuck."
The boys returned to Sheffield, invigorated by their scheming, and decided to use any money given to them by Domino for equipment, making the studio a tangible reality - they even found themselves recording next door to famed producer Ross Orton (something of a local legend, known to those outside of Sheffield as the producer of Arctic Monkey's AM.) The album was really happening. Lady Fate, you could say, was on their side (for once).
They even roped in some of their talented friends to help out, such as Insecure Men's very own Alex White and Ben Romans-Hopcraft. Although their musical prowess allowed them to add new dynamics to the songs, their presence was also an essential element in keeping the group grounded: "All these guys are really proficient…they operate at a higher level to anything me and Nathan could ever do, particularly on a technical level, they're really great at harmonies and conducting themselves in a studio," says Lias, "I think we needed other people to soak up the megalomaniacal trinity of Me, Nathan and Saul, these extra players were essential in keeping the balance and injecting some new musical life into the thing…it was a lot more open house this time."
Serfs Up sounds hopeful. While the sleazy country-rock of Champagne Holocaust or the doomed disco of Songs For Our Mothers had arrangements baked in nihilistic dread, the new album replaces haunting guitar drones with uplifting melodies and delicate strings. Stand out track "Oh Sebastian" is ripe with ethereal, dainty strings reminiscent of a moving film score. You'll probably find yourself asking what has happened to our favourite gang of sleazy misfits? Why are they sounding so…optimistic?
"Because it's not soaked in smack," Lias says with a laugh. "Naturally, the music we were into, it's just richer. There's less of a need to smack people over the head when you already have a name for yourself. What would be the point? We've already done that. It had to be something else, after the last one, which was very dirgey, we thought it would be funny to go down a more pop-y angle, as a next step.
"I wanted to do something which was less specific...like the relationship between language and the subject, just trying to reflect the way that people never seem to settle on anything long enough to ever figure it out" - Lias
But of course, it wouldn't be Fat White Family without that injection of irony. Despite the infectious chorus of "Taste Good With The Money" or the childlike earnestness with which Adamczewski sings the lines of "I Believe In Something Better", there's always a certain cynicism bubbling just beneath the surface, whether it be tackling the unfair distribution of wealth and the tragedy of Grenfell, or telling a story from the point of view american terrorist Ted Kaczynsk. Sonically, the tunes may be sweeter but it doesn't mean you're being let off any lighter.
"I think it's probably more aggressive in a subtle way," Lias explains. "I wanted to do something which was less specific, as that's how I see things to be, like the relationship between language and the subject, just trying to reflect the way that people never seem to settle on anything long enough to ever figure it out, and the longer you look at something the less sense it makes."
The punchy pop melodies and skilful lyricism notwithstanding, Lias describes the album sessions as, "really brutal, working out the damage done in the past was hard," prompting a walk out from Nathan during the first few days of recording.
"Nathan had a mental break down at the start of it all… he decided he wasn't going to work with Saul anymore, and was like 'If Saul, doesn't go then I'm going' and we had this massive falling out…there was this terrible cloud hanging over this whole thing. We didn't have any choice if we had the money and the time, we'd be like, 'Nathan has blown a top here'...it seems to be connected to all these things that happened in the past, and a lot of it's to do with drugs…if we could we'd put it back six months but because of the position you're in it's like you have to do this by the time, or money's going to run out and you're back to the job office, no album, so we had to press on under this cloud of disdain.
"But in the sessions themselves you try to get a party going in there, you try to make it as fun as possible, drink a little wine, maybe do a bit of coke later on…we just try to have fun and get through it."
In a way, this record, like the band's debut, is a story of self-preservation. Trying to survive against all odds, despite numerous setbacks and lack of money. Speaking of which is the financial situation just as dire? By way of explanation, Nathan produces a £40 bus fine from his pocket: "That's how bad the music industry is these days, I can't even afford a fucking bus.:"
It's truly a disgusting revelation, that a band so notorious as Fat Whites, who are signed to a label as big as Domino, can hardly cover the rent. Lias tells me that he pays himself a hundred and sixty pound a week and that's pushing it. It must be so disheartening: they must want to give up, working so hard and living on a shoe string? "It's slightly frustrating," Lias shrugs, "but part of this band's strength was that we could always go lower than everybody else, we were always resilient, it didn't matter how many times we got fucked over or fucked ourselves over we've always been able to…. to limbo right through.
"I think that's proved us well in the long run, I don't think we'd still be here it if wasn't for that period of training…of utter destitution in the beginning."
Serfs Up is released on 19 April via Domino