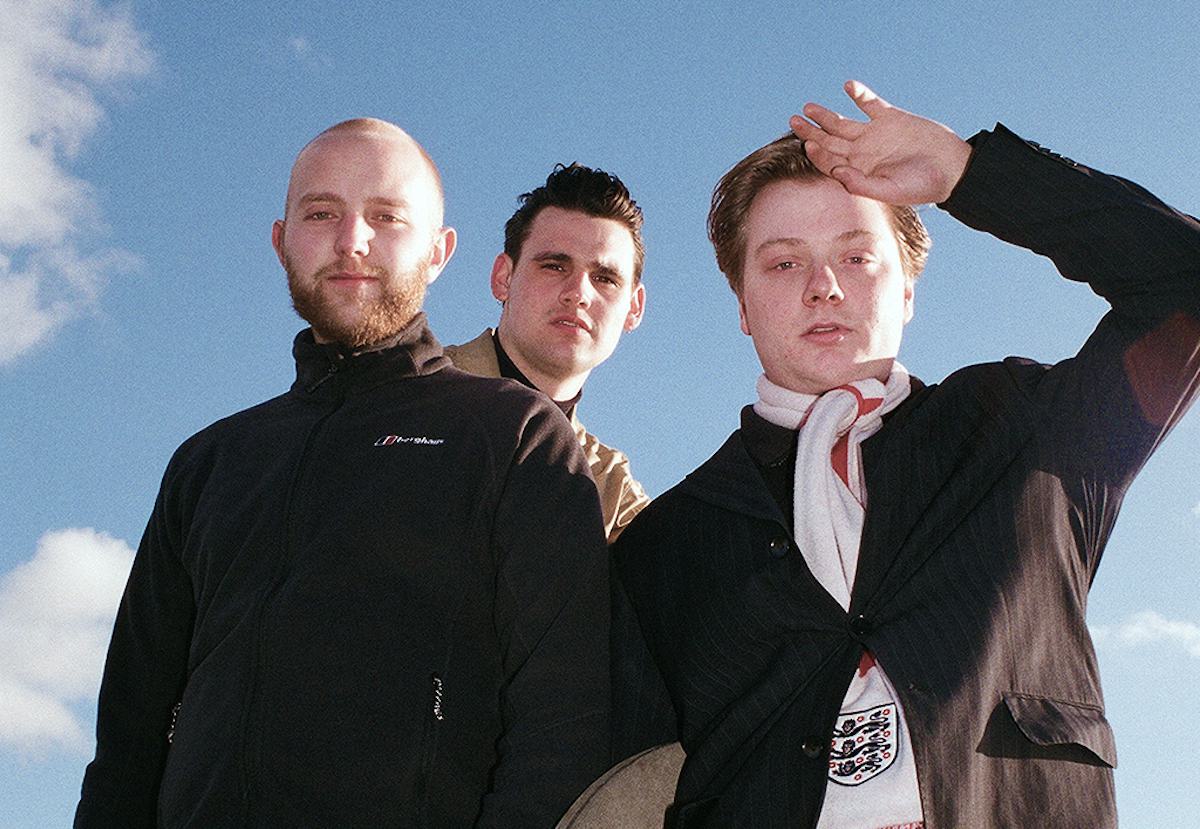 Famous are beginning to produce some of Britain's most exciting and ambitious alt-pop
18 July 2020, 08:48
Despite playing music together under the name Famous since October 2016, the London-based group only has one singular performance of theirs up on YouTube and it's quite something.
Titled "Famous – Rooftop Concert", the jarringly filmed 11 minutes, uploaded only in March 2020 by their label Untitled (Recs), shows the trio playing atop an anonymous London building; performing not to hordes of spectators but to a handful of indifferent onlookers who cast perfunctory glances upwards to the flailing frontman before getting on with their day. While the spectacle itself is oddly compelling, it's Famous' sound that really stands out.
It pirouettes effortlessly from pulsating indie rock to claustrophobic disco before collapsing into melancholic pop balladry; packing in gigantic power chords, crystalline synths, moody piano, intricate bass and intelligent drumming - all topped off by a visceral lyrical delivery that flits between aimless mind-chatter and exaggerated epiphanies. The blatant parallels with The Beatles Rooftop Concert from '69 reverberate throughout the video and can feel hackneyed, until you realise the last song performed is unapologetically called "The Beatles".
The whole thing is almost unforgivably ambitious - but feels magnificently self-aware.
Video-chatting with the band - vocalist Jack Merrett, bassist George Gardner and drummer Danny Sanders; Sanders - summarises what the cryptic performance meant to them: "The video was a consolidation of our mini-album England, the changes in the band and almost a year of gigging and working out this new line-up. It was showing what we had done before and then putting forward what we were now going to do next."
With such a broad and dense sound, it feels easier to define what Famous aren't before tackling what they are. Gardner clarifies the band's recently slimmed-down line up. "For a long period, we were a six piece with Tiernan Banks on guitar and with two synth players, Joscelin Dent-Pooley (AKA pop artist Jerskin Fendrix) and James Ogram," he explains. "We are still very involved with all three of them. It was just a matter of Jerskin Fendrix taking his music more seriously, Tiernan Banks is now with deathcrash and James Ogram is focusing on his directing [Aside: he directed the rooftop video] so they were doing their own thing ... But what we have landed on now, we feel comfortable with and it's working really well. It doesn't feel like a break-up at all."
It's clear that the trio that now comprises Famous aren't simply those left behind, but instead are three fiercely ambitious twenty-somethings with deep inosculated roots. London-born Merrett and American-born Gardner have been playing together since they first met at secondary school in southern England over a decade ago and Gardner met Sanders, originally from Scotland, at Leeds College of Music in September 2015 where they were both studying jazz, realising they aren't seeking to be strict jazz session musicians – but free creative forces of their own. Sanders and Gardner were sharing a student house in October 2016 when Gardner and Merrett started Famous and Sanders joined shortly after in December 2016.
Their name "Famous" wasn't simply a glib reference to Kanye West - but an attempt at levity. "Music is a big part of my self-worth and self-esteem and this drive to achieve something can be kind of painful," says Merrett, "so we chose 'Famous' to kind of poke fun at it a bit and have a by-word to express that feeling of longing to be validated."
The "drive to achieve something" stalked the inchoate band as they understood better what they weren't, rather than what they were with Merrett explaining,"I've been making music with George and with others since we were 13 and we had always been playing around with it, but I think there was a realisation when we started Famous that there was something more to be done with this 'being in a band' thing that was a bit more free and fun and less anachronistic. That's the nebulous thing we have been trying to unpick."
While figuring themselves out, they traversed long-distances. Sanders and Gardner regularly drove four hours each way from Leeds to the rest of the band in London to rehearse and play gigs before driving back for lectures in the morning. After two years as a long-distance band, moving in together was sweet relief. The three of them and Joscelin Dent-Pooley (still in the band at this point) found a place in Tottenham, North London and got to work on their debut, the mini-album England, that was released on blossoming London-babel Untitled (Recs) in 2019 and produced by Dave Mountain of The Attic Sounds in South-East London.
Across its six tracks - and loosely centred around a permeating Blakeian mythology that yearns for a united 'England' that Merrett admits probably never existed - you begin to hear who Famous really are. They write rich and devotional millennial pop sermons that encompass the Old Testament of ABBA, the New Testament of Kanye West and the transfiguration of David Bowie's Apocrypha.
The songs use and abuse the band's jazz sensibilities to know when to switch up, moving from frantic saturated arrangements to tender sonic soliloquies. Songs such as "Forever", "Jack's House" and "2004" rumble as often as they reflect, a quiddity that Merrett labels "sad but fast". However, beyond the ambition and the musical nuance, the strongest feeling the record evokes is an unabashed love of pop music.
Opener "England 2" that has Merrett manically singing "Could we build a new kind of Jersey / on the hood of a MINI Countryman" is a homage to Bruce Springsteen, a pivotal musician in his life: "One of the most formulative musical listening experiences I had, like the most emotional, was my dad playing me Bruce Springsteen as a kid … It's all this rendezvous under the boardwalk, all these waitresses and flick-knives. The whole mythology of him. I loved it. So when I came to this 'England' thing, my mind immediately went to how Springsteen was able to mythologise New Jersey."
"Surf's Up" is named in honour of The Beach Boys' 1971 masterpiece which Famous believe embodies something of their own approach to music with Merrett observing, ""I think Surf's Up is an album that has moments of complete pop optimism and nostalgia, but it just feels wrong … There's just this darkness."
"We have a long plan stretching out over some years that we are working very hard on," Merrett concludes. "But mostly we are just loving making new music and I'm just really excited to keep going...We are in a liberated place with the music."