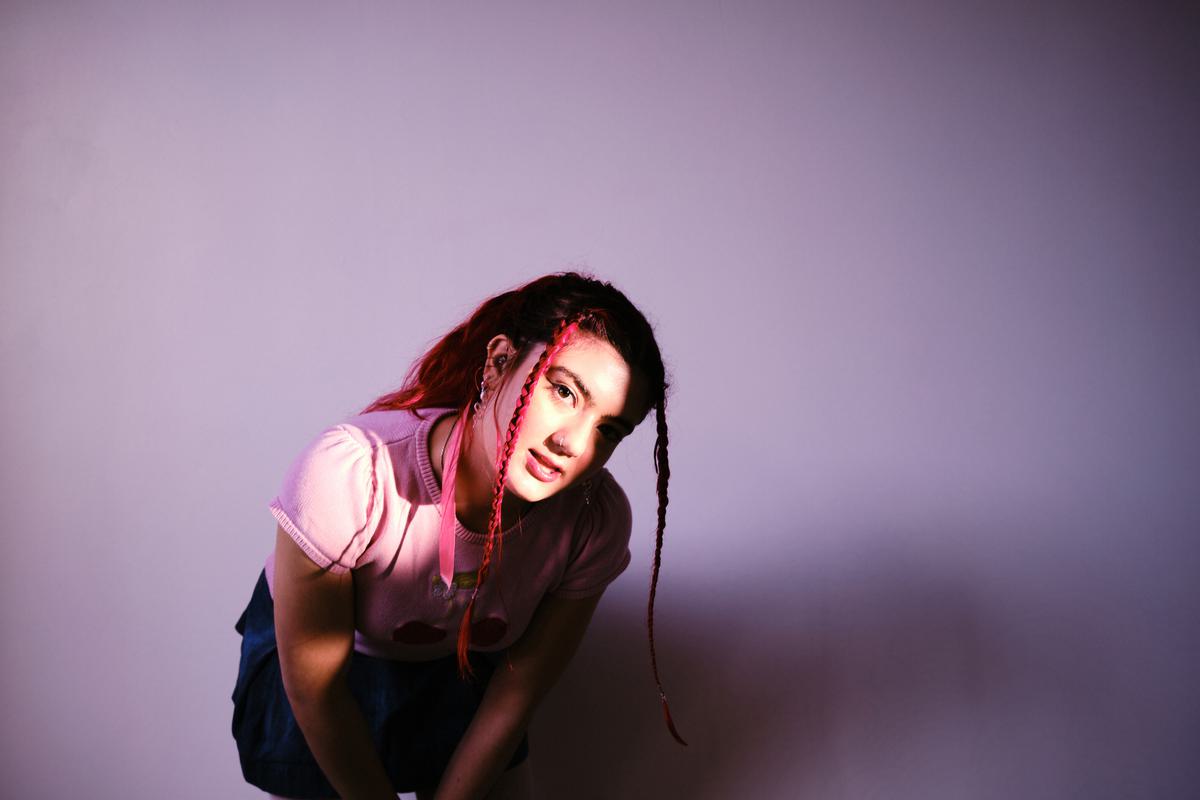 On the Rise

Eaves Wilder
20 March 2023, 03:00
Fuelled by a love of Courtney Love and Kathleen Hanna, Eaves Wilder's music helped liberate her from sadness, she tells Olivia Stock.
"Thanks for getting me up so early, I've been sleeping like such a teenager recently," a flame-haired Eaves Wilder grins.
It's eleven in the morning and the 19-year-old is clutching a very large Starbucks cup like her life depends on it. Raised in North London by music journalist turned author parents (How to Build A Girl author Caitlin Moran and Guardian writer Peter Paphides), Wilder was never destined for the quintessential nine to five – instead, embracing the creative environs of her upbringing and leaning fortuitously into her musical talents from an early age.
Her parents met in 1992, freelancing at Melody Maker. After bonding over a latent love for Crowded House – which they both agreed wasn't cool enough to brag about – Moran (then 19) and Paphides (23) began interviewing bands together; hearts and pens both set on transcending their modest backgrounds for the lustre of the metropolitan musical elite.

Though there's no doubt Wilder has benefitted from being the daughter of such artistic high-fliers, she insists it's more so creatively than commercially. Raised on a diet of Camp Rock, Gender Theory, and her father's (50,000-strong) record collection, Wilder learned how to play the piano from watching YouTube tutorials and by was writing her first songs aged 8.
"My mum was home-schooled and my Dad basically failed his GCSE's so neither of them really placed that much value in traditional education," she giggles, slurping on her coffee. "I used to doodle pianos in my workbooks and tap away on them to practice instead of listening to my teachers. Making music always made way more sense to me than school."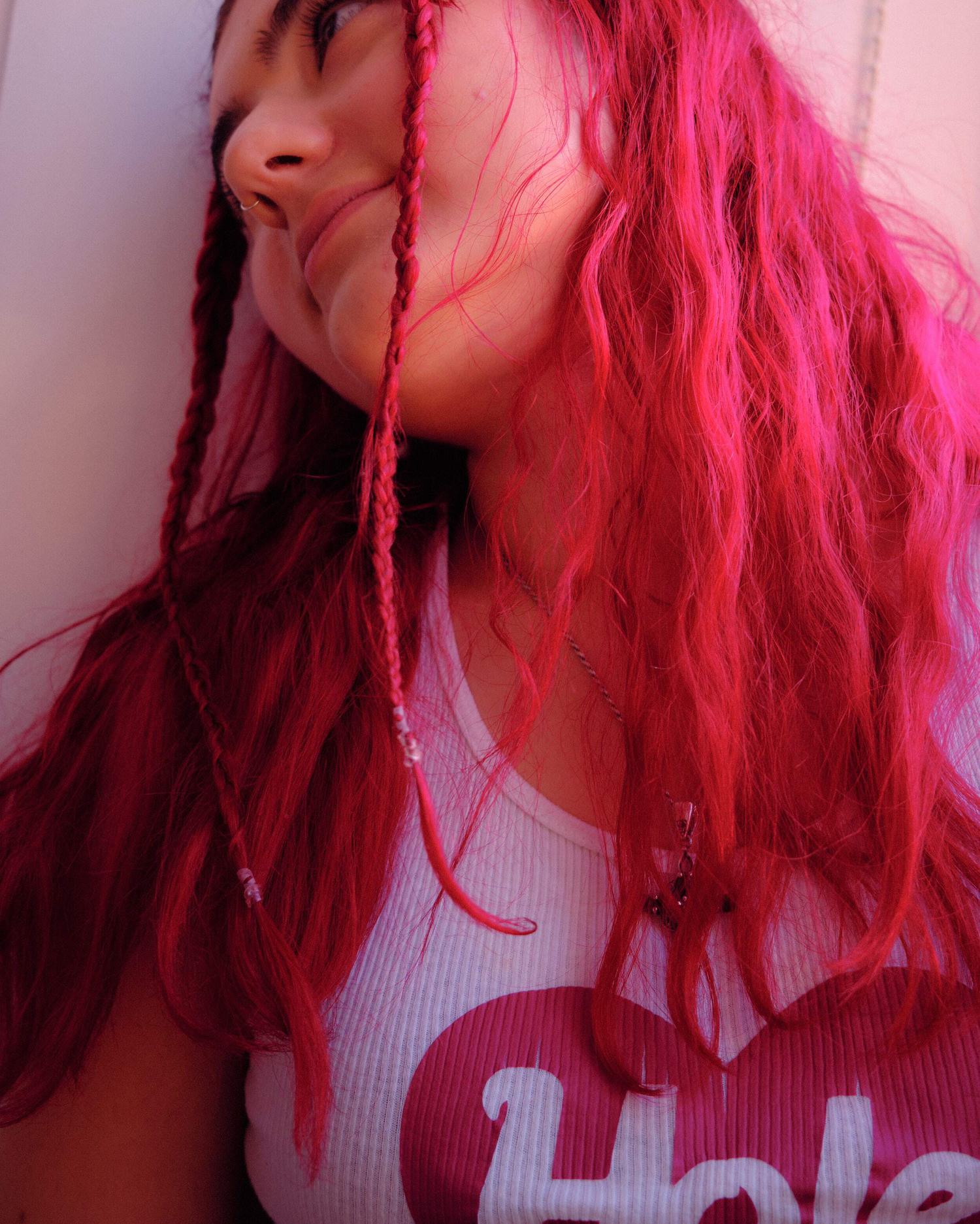 Finding her voice wasn't quite so painless. Overwhelmed by shyness, Wilder took to filling secret notebooks with scrawled lyrics and singing only when the house was empty. "I was very much the kid with the toy microphone, stomping around the place and shouting lyrics, but as I got older the whole thing just became super embarrassing to me," she admits. "I joined my school choir when I was ten – mainly because we got a free trip to Disneyland – but I just mimed the whole time."
Her bedroom was a sanctuary where Wilder evaded the social horrors of school and silently honed her craft. Like many timid teens, she also found solace on the microblogging platform turned internet hellscape Tumblr - a discovery she credits with the volant decline of her mental health. "It was full of these totally unrealistic, glamourised ideas about mental illness and I grew up on that," she muses.
By the age of twelve, the young musician was losing her identity to a struggle with anorexia and found her bedroom refuge traded for cold, empty consultant rooms and underfunded hospital wards – a scene described in Moran's memoir, More Than a Woman, as "a tiny rescue boat in a sea filled with drowning children."
"When I became mentally ill myself and started going to Child and Adolescent Mental Health Services (CAMHS), I realised how wrong that all was," Wilder tells me. "Everything about it was so ugly and horrible. It's not pretty or cool, at all. Eating disorders are all about being as small as possible and I don't mean just physically – but taking up as little space as you can in a room and not drawing any attention to yourself.
"And the smaller you get, the smaller your life gets. And because your life gets so small, it becomes only what you're going through."
Desperate to cling to a semblance of self beyond her illness, Wilder penned lyrics on these dark disparities and set musical goals to help her pull through: "When I decided to recover, music was my North Star. My mum found some of my old CAMHS reports a few weeks ago and between all the fucked-up stuff, I'd written goals like 'practice the My Sweet Lord riff on guitar' and 'learn the solo from Uncertain Smile by The The.'"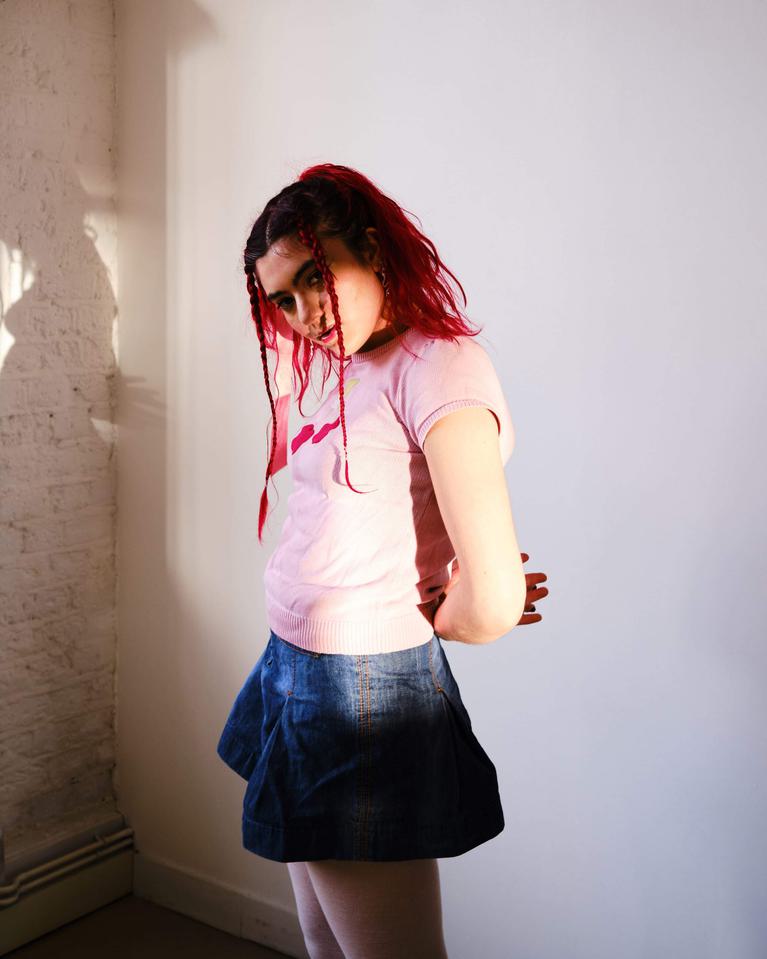 Thanks to formidable courage and her commitment to musicianship, Wilder made a full recovery and confesses some bitterness towards her former self's desire to take up less space. "I realised then that I wanted to make music that makes me feel big, bigger than whatever the thing is that's getting me down. I love Lana and I love Billie, and all the people that have done that aesthetic, but I never want to be a sad girl again."
A feminist revelation was underfoot (much to her mother's glee), incited right back in Wilder's childhood bedroom slathered with posters of her idols. "I call it my God wall," she announces proudly, shuffling her screen to show off the display in all its fairy-lit glory. After being discharged at thirteen, she recalls having an epiphany when looking up at the wall and realising there were no women on it. "Well, except for Amy [Winehouse] and Lily [Allen]," she quips, "and as much as I love those two, they didn't exactly make me feel good about wanting to become a musician because they both got in so much shit and looked like they weren't enjoying most of it. It really bummed me out so I went on a mission to make the God wall more inclusive." Little did Wilder know that her feminist forays would be the catalyst for elements of her own sound to begin slotting into place.
"Finding Courtney Love and Hole totally blew my mind!" she effuses. "It was the first time I'd seen a woman musician that wasn't trying to be likeable all the time, and men are afforded that constantly. They're allowed to do it and even make whole careers off it."
Wilder stumbled upon the pickets of riot grrrl, and in particular, punk provocateur Kathleen Hanna. "She changed everything for me," says Wilder. "It was so subversive how she was saying these really dark and aggressive things but like a cutesy little girl. On 'New Radio', she sets up this pretty scene of a girl at a picnic and then just starts screaming. Nobody was expecting that!"
The discovery encouraged Wilder to find her own voice – one that she had buried deep down since her early teens – and to lean into her sweet, lispy lilt in a way that was empowering rather than infantilising.

"I wanted to make music that makes me feel big, bigger than whatever the thing is that's getting me down – I never want to be a sad girl again."
(E.W.)
At sixteen, Wilder studied production at music college and set to work on her first single, "Won't You Be Happy" – a bright, fuzzy psychedelic pop cut soaked in shoegaze. One of only four girls on the course, she soon encountered her first bout of music industry misogyny: "Most of my classmates were standard music tech nerds but there was one complete dick! He was trying desperately to be my producer which was super patronising considering we were on the same course," she winces, "and told me people will only listen to my songs because I sing like a baby and they'll find it sexy."

Blood now at boiling point, but quite aware aggression was not in her nature, Wilder hatched a plan to steal his favourite jumper – her own small radical act of violence. "I also wrote down all the things about him that sucked and burnt it. My friends and I were so fed up with not being taken seriously, but also scared to even walk to school because it was around the time of the Sarah Everard case." Channelling their collective fury in the way she knew best, the affair inspired two songs from her debut EP – released this week – "I Stole Your Jumper" and "Morning Rain", while also rousing Wilder to reflect on her own privilege.
"My family aren't religious but the closest thing we have is the way we talk about musicians," she explains, "there was always music playing somewhere growing up and my parents' work meant people were constantly coming and going." She recalls running into Bob Stanley of Saint Etienne on the stairs to the family loft, where he was staying at the time, and coming down for breakfast most mornings to a table of gossiping musicians. "We had Martin Carr from the Boo Radleys come round and Stephen Duffy from The Lilac Time," she recalls with a giddy grin, "I don't think I realised quite how insane it all was at the time."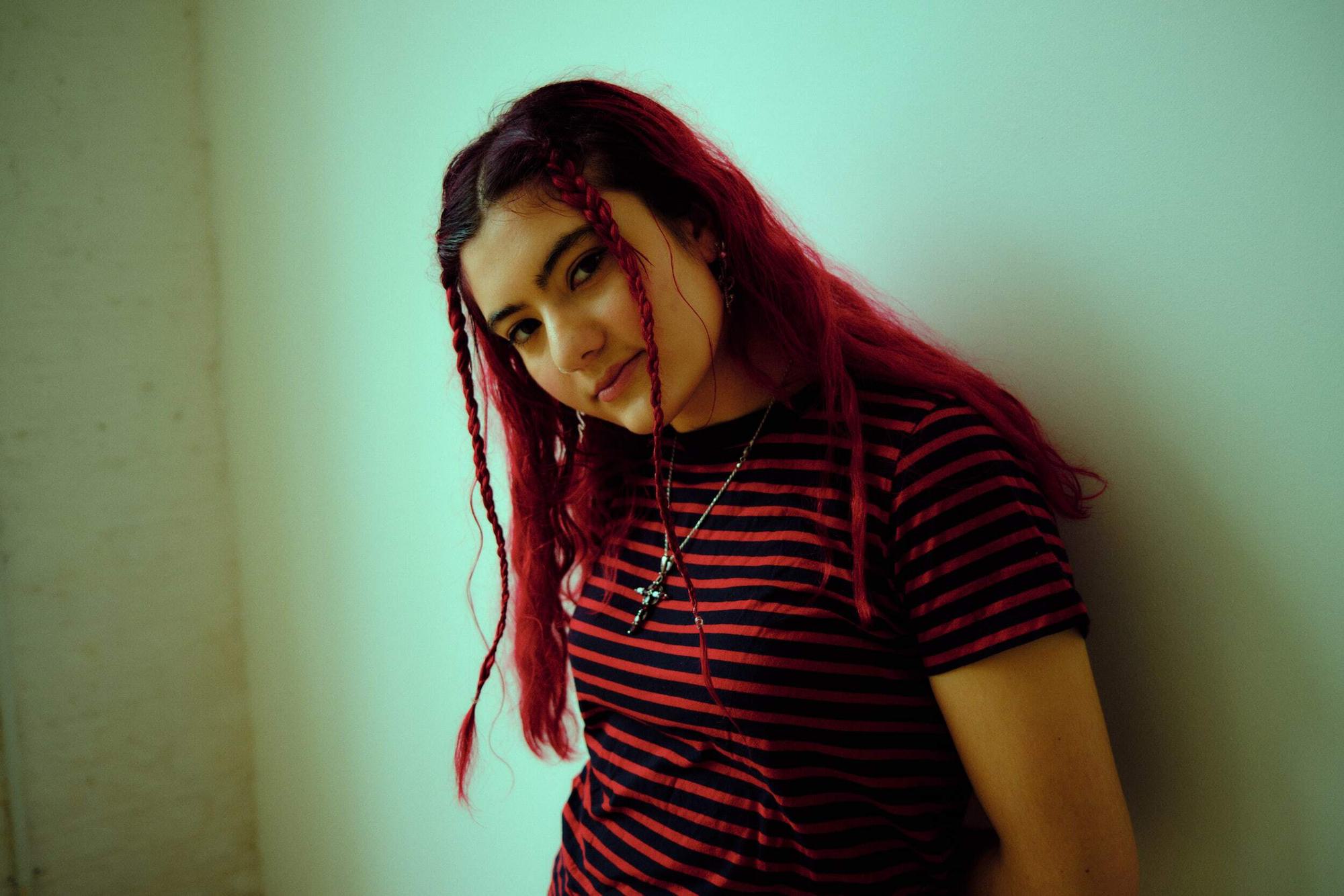 Wilder might have grown up with parents in the industry, but making it on her own terms was always on the agenda: "From the start, I didn't want to use my parents as a way to weasel in," the young musician affirms, "I really wanted to make it of my own accord."
When she turned 16, behind an anonymous email, Wilder got to work reaching out to labels, managers, and producers from the hallowed music directory. "I remember my rule was to send five emails a week," she laughs, "and by probability, someone should reply… That's how I made contact with people like Stephen Street, and eventually my label."
Immediately ensnared by its warm fuzzy wiles and pertinent themes, Street (best known for his work with The Smiths, The Cranberries, and Blur) would get back to her that very same day, and eventually go on to mix Wilder's debut single. It was a truer testament than any to the standalone strength of her writing. "My parents helped so much in that I grew up in an environment that worshipped music, but I knew that I wouldn't be able to be proud of myself if I did end up doing well. I would never be able to give myself full credit if I knew that I had used them in any way."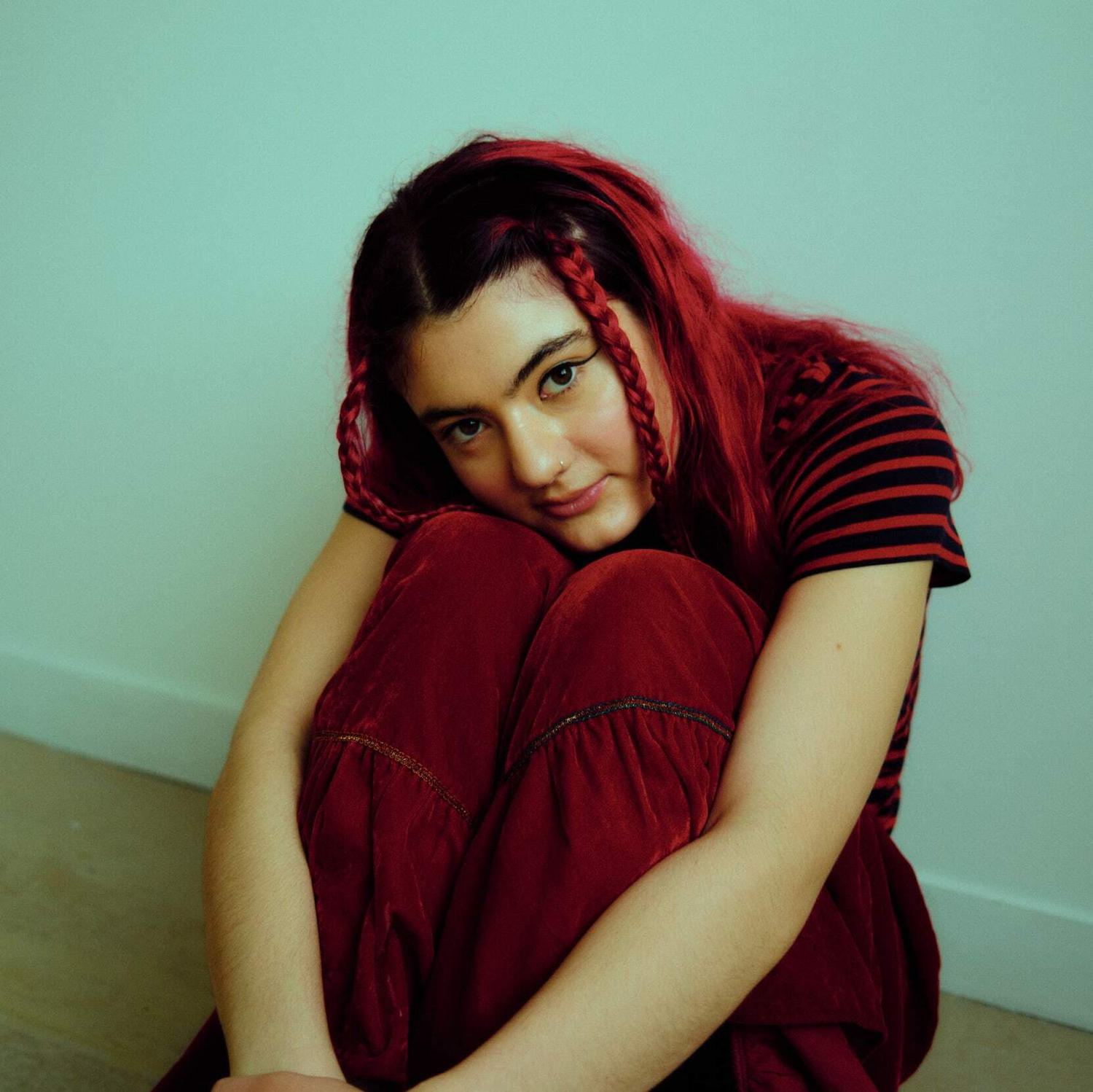 Wilder signed to Secretly Canadian last year – something she waited until she was eighteen to do because she thought it was uncool to have her mum sign her record deal for her. It didn't take long for her forthcoming debut EP Hookey to begin to take shape – a four-track homage to both silky hooks and her habit of bunking off school ('playing hookey').
Most notably, however, it's an invitation into Eaves' post-adolescent world – one previously only archived in scruffy notebooks and half-baked demos. Alongside "I Stole Your Jumper" and "Morning Rain", recent single "Are You Diagnosed?" lambasts the UK's dismal mental health provisions while "Connect The Rooms" evinces that everything would be easier to deal with if isolated teen girls could break down the walls between their bedrooms. It's an emblem of closure on her turbulent girlhood and of setting those experiences free. "I wrote these songs when I was fourteen or fifteen, but I wouldn't have allowed myself to release them unless I was really over whatever I was talking about," she smiles. "I think I'd feel like a hypocrite otherwise. I just wanted to create something that if I'd heard it back then, I would have been like 'she gets it' – someone else understands what I'm going through."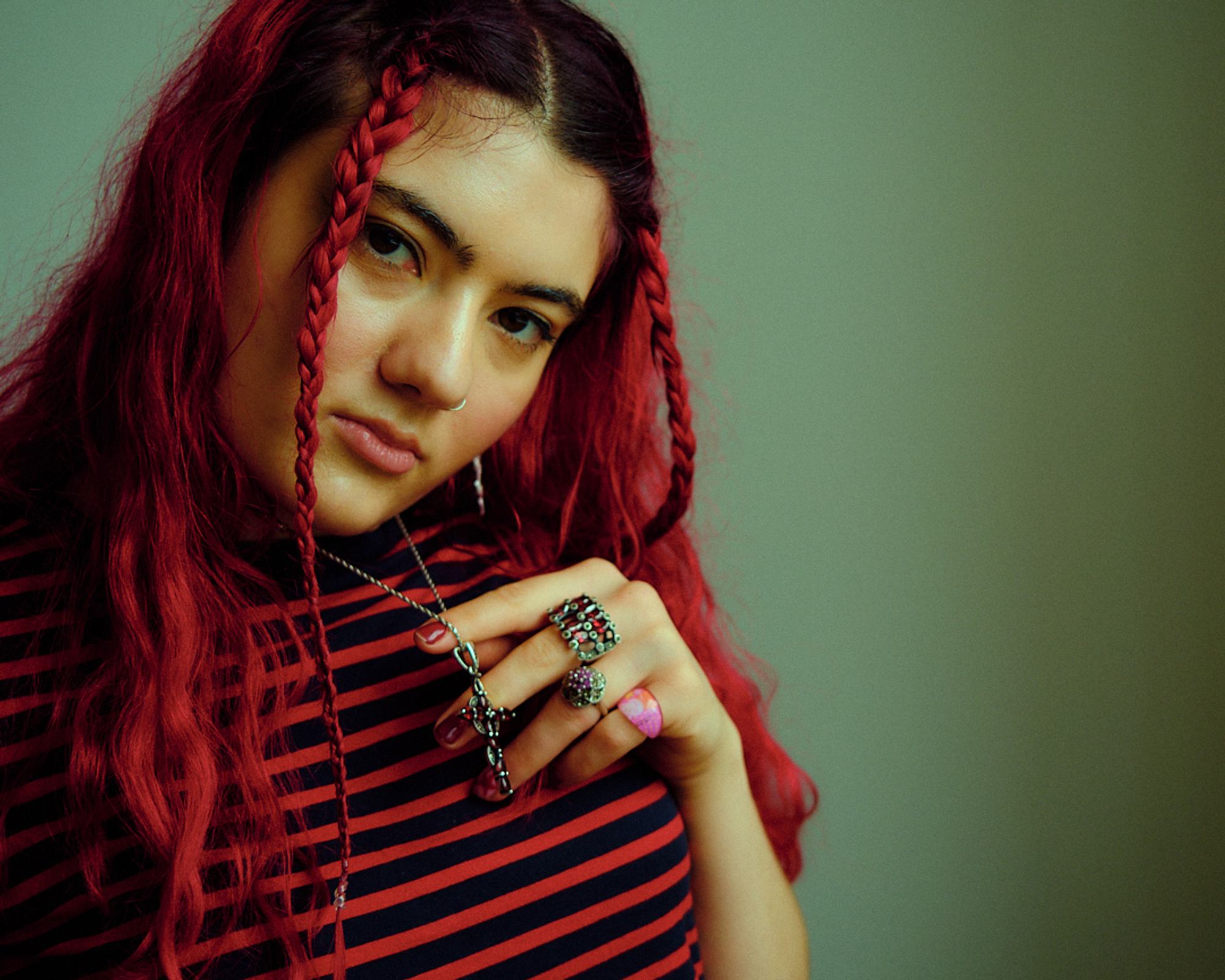 Hookey is ultimately a project that owes as much to Wilder's courage as her knack for woke, witty verses and effervescent melodies. "Most of my friends don't know anything about my mental health struggles because I've never really liked talking about them in person. But you can talk about whatever you want under the guise of music and that feels really powerful… Eaves Wilder is like my alter ego," she concludes with a mammoth grin.
With the EP release and her twentieth birthday both fast approaching (an occasion she'll be commemorating with a bumper set at Boardmasters), Wilder is ready to take up as much space as possible – and this time nothing will be getting in her way.