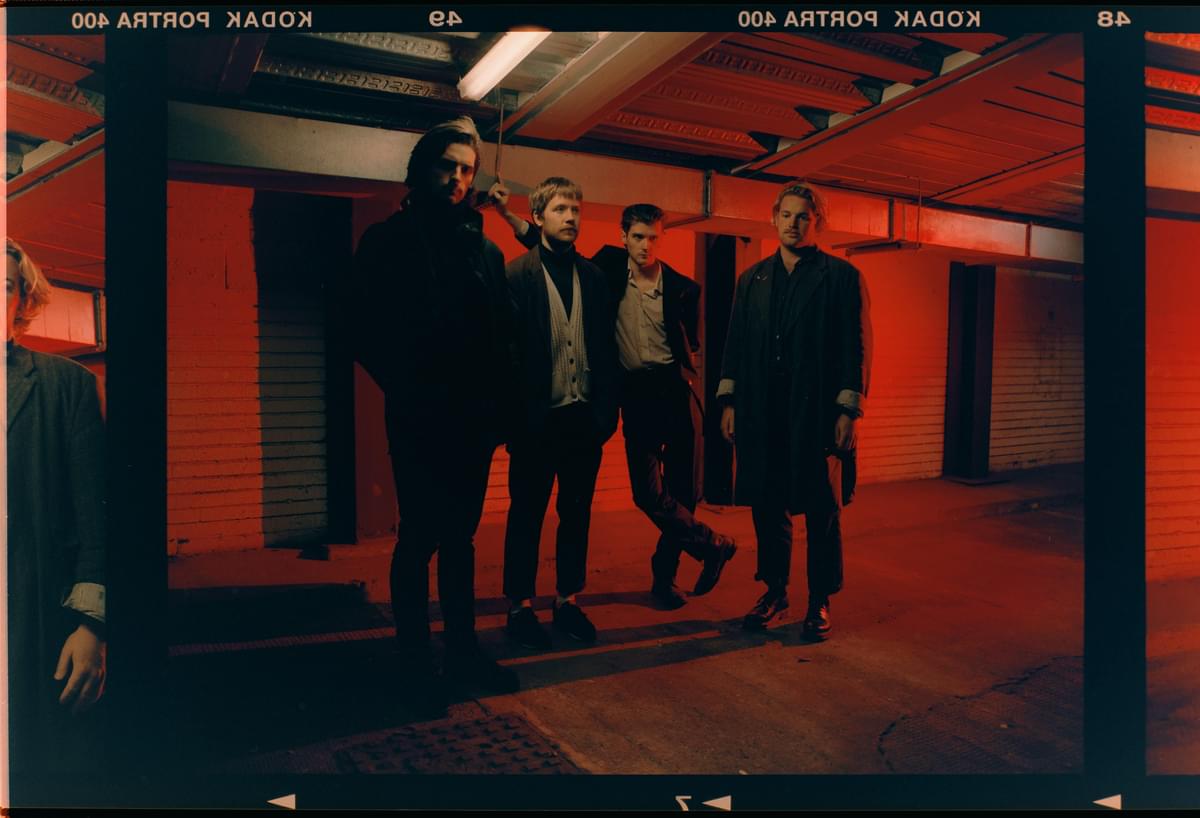 Do Nothing's Chris Bailey accepts that we are all stuck in Glueland
08 March 2021, 09:30
Obtaining their name from "a slogan a member once saw on a cap", Do Nothing have all been playing music together since their early teens, and frontman Chris Bailey believes that their strong childhood bond has proven to be useful through hard times.
"It's helpful to be in a band with your mates. When shit gets really bad, and you feel like you suck no matter what, it's nice to have people around who know that it's not always gonna be like that. If you play with session musicians that are basically strangers, then you'd probably feel less comfortable flailing around," Bailey says, "but we don't freak out anymore when we play shows because we've done so many. Right now that problem doesn't exist because there are none!"
The eclectic nature of alternative scenes melding together, or each major city having a certain sound, is something that is to be taken with pride for a band like Do Nothing who grew up in Nottingham. Artists such as Amusement Parks On Fire, Sleaford Mods and Kagoule have all helped put the midlands city on the map, alongside many of the city's venues such as Rock City and The Bodega. The capital on the other hand is something Bailey is less fond of: "We play there a lot but honestly, London just scares me. It's obviously a great place for bands and people thrive there – I've always found it intimidating but that might just be because I'm a fucking wuss," he laughs.
With only a handful of singles to their name, Do Nothing went from playing support slots at modest venues around Nottingham to bagging a spot on the lineups of Dot To Dot Festival and Y Not Festival. Enigmatic singles such as "'LeBron James" and "Gangs'" became heavy in circulation on BBC Radio 6, and comparisons to self aware, artsy post-punk bands such as Talking Heads and The Fall has also given them more appeal to listeners.
Whilst Bailey had previously felt like he had "finally come into his own", rather than imitating other artists, he fears that being away from the stage will be a regression of sorts. "I'm using this time away to really explore new exciting directions which is nice. At the same time, I'm just mentally kicking myself to make sure I don't forget what we were about before," he says in regards to writing from his home studio. "Without performing to an audience consistently, it feels like you're abandoning a certain vibe. Hopefully though, experimenting around means I can create stuff that's more carefree and jovial. It's hard to do that when you're sitting around all day imagining what it will sound [like] live without being able to actually do it for now."
One of the biggest highlights on their journey to success was an unexpected opportunity to support their musical heroes, Interpol, in Russia. After performing at the Ditto stage on the beach at The Great Escape Festival, they were approached by two international promoters who offered them the prestigious support slot for the following month. "It goes to show the benefit of mingling at things like this; you never know what's going to happen," Bailey says.
The band precariously went back and forth through their emails, receiving conflicting information about whether they were actually playing or not – worse case scenario, it could well have been a scam straight out of "LeBron James", but thankfully, it wasn't. Although even leading up to their biggest show of their career things still went wrong: "I ended up flooding the backroom as I was trying to press my suit in a shower which apparently leaked into the floor below. On top of that the crew around us were stressed-apparently Interpol crew had lost loads of their equipment in Portugal. It was all fucking crazy." Luckily, the sheer size of the audience worked in their favour as thousands of fans surged through the gates to get a good spot, even if it wasn't necessarily to see them play. "By that point the adrenaline kicked in and we weren't scared anymore which is...quite handy really," Bailey says with modesty.
With many of the songs from Zero Dollar Bill having been tested out on the road long before its release, the biggest difference with Glueland is not being able to showcase its material to a captive audience. Recorded in Bristol with producers Ali Chant, and in Cardiff with Tom Rees (Buzzard Buzzard Buzzard) over last summer, Do Nothing opted for recording each of their parts individually, rather than as a live session. This allowed them to explore more with their sound, adding plucky synths, groovy laden drum beats and razor sharp guitar melodies that tie all of the songs together. Charlie Howarth's bass tones sound even brighter and catchier this time around. "We had everything we wanted from the studios at our disposal. It's nice to have the benefit of enjoying the recording process rather than it being a chore."
Like many artists in the post punk scene, Do Nothing are avid fans of experimental rock outfit Swans. In Glueland, songs such as "Knives" and closer "Great White Way" channel frontman Micheal Gira's sense of dread but are repurposed in a more accessible manner. When asked what era of this band's history has the most impact on their work, Bailey cites The Seer and subsequent releases, as opposed to their earlier post punk material.
"Admittedly I got into them pretty late but since listening to The Seer, I've been listening to everything they've done. I think it's nice to get into something super long form – I get the same kick out of it that I would from super repetitive dance music," he elaborates. "I think when you're jamming with other people, that longevity comes out more naturally, but it feels less like that if you're on your own and just copying and pasting out a previous section."
Conceptually, the EP title is a historical reference to how horse bones were once the main ingredient of glue in commercial factories. "It's such a dark fact because horses are so nice and pretty. If you tell a kid that, you're guaranteed that it's gonna ruin their day," Bailey laughs. As a literal meaning, Glueland itself is meant to be a "weirdo limbo land" where no one can escape from their problems, inspired by the film Citizen Kane.
Do Nothing's latest single "Uber Allies'' deals with coming to terms with your insecurities. As Bailey elaborates: "You can act the way you want and try really hard with that but often there's a lot in life you can't change, so it's meant to be about the inevitability of that." Instrumentally the track is less abrasive, invoking a more disco punk sound that feels rough around the edges, with lyrics that strike out clearly: "How come tomorrow's always shining like a swordfish? / If you ever really lovеd me, why'd you stab me in the back?"
As with their previous material, the imagery evoked in Bailey's idiosyncratic lyrics can often be difficult to make sense of in your head. However, as with the territory of abstract art, the takeaway is intended to create a vibe rather than provide obvious clarity. This is evident with lines from the title track: "I'm going round in circles like a little baby eel / In a glass of water all the way to Glueland."
"Let me be clear, the lyrics aren't always autobiographical," Bailey explains. "I read stuff like Kurt Vonnegut and Albert Camus as well as watching a lot of documentaries that influence how I write. Sometimes the characters I think up are all theoretical and barely even exist. But I'd never want to prescribe a meaning to someone directly. I want to give people enough room to put themselves in the character's shoes and gain their own meaning from it." In other words: to us the ideas discussed in their songs might appear random on the surface, but Bailey assures us that they're all in the same universe, of sorts.
As our conversation winds down, we meander onto the topic of documentaries and how the medium influences his writing style. "For me it's all about the realism and things happening in real time. I respond to it a lot really. When you watch a documentary about a serial killer it's always scarier than something made out of fiction because you think 'fuck, that could have been me!' It's all about looking at perspectives – I suppose you could say that I am a pinch of salt fisher."
Glueland is released on 12th March via Exact Truth
Get the Best Fit take on the week in music direct to your inbox every Friday