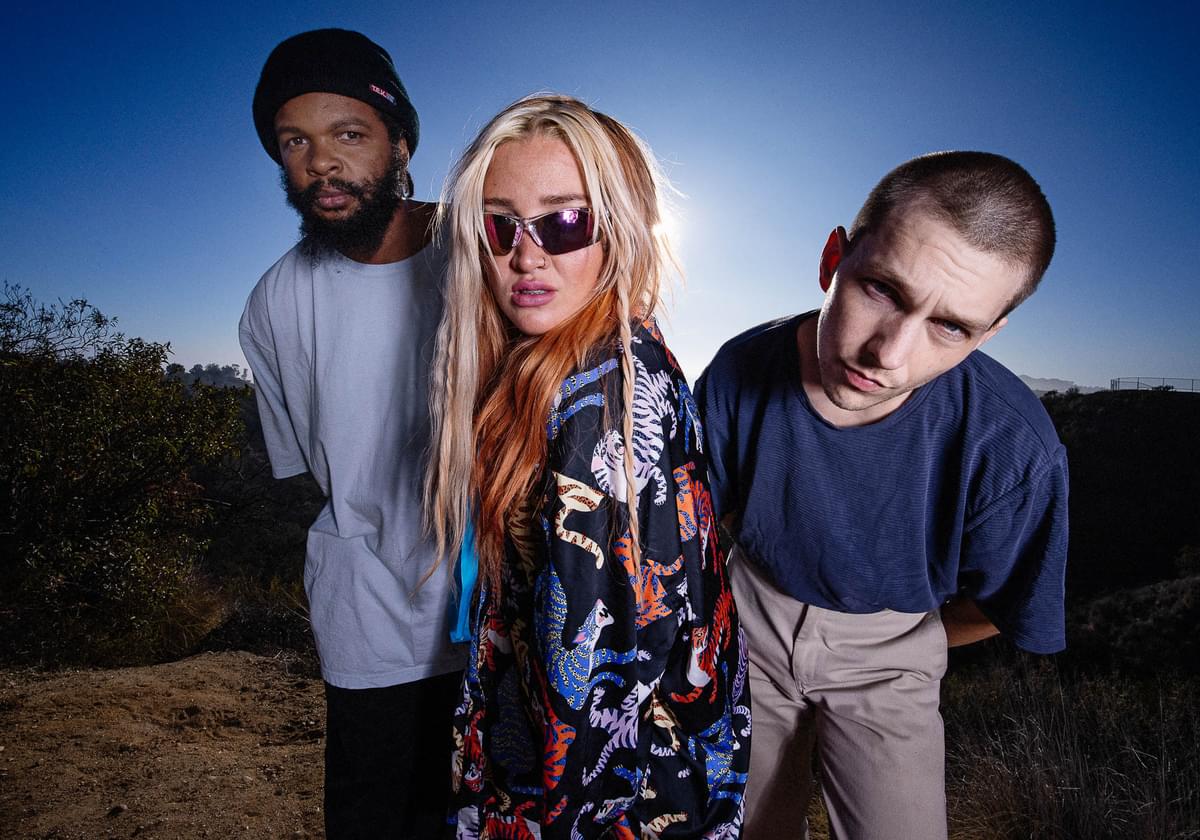 Dehd find beauty walking the uneasy path between order and chaos
25 April 2022, 09:30
I'm catching the Chicago indie rock trio—Jason Balla, Emily Kempf, and Eric McGrady—after a week of European dates that will kick off a three-month-long tour, which itself was preceded by another three months on the road in the fall. They're busy, calling me from the lobby of a London hotel that looks vaguely like a Rainforest Cafe, and throughout our conversation they admit to a weariness with the publicity routine—a process that can be by turns exhausting, frustrating, and humiliating.
The band are acutely aware of this: the discrepancy between image and reality, between art and commerce. Their 2020 breakthrough Flower of Devotion was often given the treatment of a debut album due to its sudden critical and commercial success, despite the band having consistently released excellent projects for half a decade prior; its publicity cycle found journalists asking and sensationalizing the same tired questions—yes, Balla and Kempf once dated; yes, they sometimes sound like Roy Orbison—while the band was more interested in moving forward. So Balla and Kempf (effectively Dehd's spokesteam; McGrady prefers to sit out interviews) have every right to be jaded as they gear up to face another onslaught of Zoom conferences.
And yet, less than 20 minutes into our call, we are peacefully reading to each other our respective Co-Star "do's-and-don'ts" of the day. This morning, I am not supposed to do "makeover scenes" but I am supposed to do "keepsakes"; Emily is not supposed to do "charged silence" but is supposed to do "supplements." "I actually have my special vitamins with me," she laughs. I ask her if Dehd subscribes to wellness culture. "Well, Jason doesn't do that stuff. I do. I pick certain things and then I just stick with them. I feel like it's part of a self-care thing where I'm like, I'll buy this expensive rose oil because I want to believe in it." Jason shrugs. "I'm the opposite way—I have my coffee, and my silence, and that's pretty much it."
It's tempting to think of Emily and Jason as perfect reciprocals, a yin-yang dual-frontperson archetype that traces from the Beatles to Outkast: the spacey, mystical, idealistic one (Andre 3000, Lennon, or Emily) and the strategic, practical, realistic one (Big Boi, McCartney, or Jason). They tend to describe their process this way, finding balance through Jason's pragmatism and Emily's intuition. When I ask how much Dehd leaves "to the stars'' while making music, Emily quickly responds, "all of it"; Jason thinks for a moment, decides "probably 60 percent," and then corrects himself to 65 percent.
But ultimately such pigeonholing is reductive, a ploy of the same publicity machine that retrofits narratives for easy digestion. With Dehd, it is not so cut-and-dry. Their songwriting process (like life itself) is a messy process of discovery. "Eric's just holding it down and then we take turns whenever there's a moment of inspiration to yell something into a microphone," Balla says. Kempf explains, "All three of us have intuition that we put in conversation with each other, in both the writing and then the editing down. We listen to each other, give each other space, give the music space."
Space is crucial to Dehd. There's an elemental quality to their music: a handful of drum beats here, an unadorned guitar chord here, a synth drone there. Dehd's stripped-down music embodies a certain platonic vision of rock and roll in which the modest and mundane become completely transcendent. In spite of—or perhaps because of—their sparseness, Dehd songs are often unyieldingly anthemic: each chorus could easily be both bellowed at a pub and wept to in the bathroom. Their music is lean but powerful—"scrappy" is the word Kempf uses. It's intellectual—at one point, Kempf and Balla both share their hypotheses on the ideal process of post-production ornamentation—but it's ultimately an instinctual pursuit: they'll always go with their gut. Balla explains, "We realized that Flower blew up because of the record itself: the decisions we made and the taste we had. Things are on a different scale now, but the reason why we got here is us. So let's just double down on that."
It couldn't have paid off better. Flower of Devotion had no shortage of inspiring moments, but its follow-up Blue Skies is often utterly life-affirming. It's a crash course in everything Dehd do well: galloping ragers ("Bop"), steamy, narcotic slow-jams ("Palomino"), wistful, moonlit torch songs ("Waterfall"). But it's also an advancement of their craft: the melodies sturdier, the lyrics sharper, the palette richer and more sumptuous.
This is reflected in the album cover, which trades Flower of Devotion's stark black-and-white masks for a fluorescent butterfly icon so vibrant it is almost hard to look at. Blue Skies flushes with color: a smear of synth strings opens the record before giving way to the sparkling "Bad Love." Over a bed of glowing reverb, McGrady takes the lead on the nostalgic burner "Hold" (which incidentally utilizes the "Fix Up Look Sharp" beat to poignant effect). "Stars," released late last month, races forward through the sunlight until suddenly, it lifts above the clouds into a blissful half-time outro. On "Window," a graceful guitar figure unfurls to reveal Blue Skies's most triumphant moment. Dehd has a flair for writing melodies that feel instantly classic; "Window" is their best yet.
Dehd have always been a strikingly confident band—they found their sound early and have refined it since. As the Dehdheads multiply, the band seems appreciative of, but unaffected by, their rising profile. "We just write songs and play and have fun. Obviously it's nice that people are paying attention because we've been doing it for a long time and it's like, oh, I can pay my rent. But that's not what it's for," says Kempf. The three musicians formed sometime around 2015 in the sweaty haze of Chicago's perennially-fertile DIY community (what Kempf calls a "reverby-winter-basement-fuzzy-fucked-up-good-feeling" scene), and the midwestern city's humility ("Chicago's not trying to impress… it's like a weird paradise you have to earn by surviving the winters," Kempf says) shaped their attitude.
Balla describes playing self-booked tours and noise shows: "It was about doing it because it's all you could think about. That was really revelatory for me—no other expectation other than just making, discovering stuff, tinkering with it. I think it's that spirit that has remained throughout. We try to do everything ourselves. It stays in our hands, because that's why we like making it."
While talking, both Balla and Kempf are almost compulsively profound, habitually punctuating their thoughts with moments of great wisdom as if they can't help it. "The beauty is the thing that exists between the proper note and whatever else it becomes," Balla says regarding live performance. Kempf muses on describing one's own work: "The capitalist machine goes, "What does this music mean?" And I'm like, I don't know! Sometimes I don't know what something means for 5 years—we're all always chronicling our emotions at the time and figuring them out later."
This particular belief in the value of retrospect extends to their approach to music-making, which prizes lengthy, uninhibited jam sessions that they later shave down into shorter songs. "A lot of what we do is editing," they both agree (Blue Skies was once 21 songs). The procedure—of losing oneself and then refining the results—is a commitment that requires trust and patience, a willingness to be messy, and a faith that it will all turn out OK. It is chaos, and then it is control.
On "Dream On," Kempf and Balla weave a latticework of melody as they sing atop each other. The effect is exhilarating. I ask how these moments arrive, and Kempf tells me, "We like the singing over each other because it's very human, I think. It's very typical of life. It's messy. Not everything is in these neat little boxes, perfectly organized and poetic and rhyming. Sometimes you're talking over each other and it's sort of chaotic, out of anger or out of excitement."
"On a weird technical level—though I think it has metaphorical implications—we both operate on different rhythmic structures. I love things that overlap—where my thing starts is not necessarily on the "one". There's a see-saw, this filling of opposite space that gets emptied by the other person. The singing is a product of how we write songs," says Balla.
This is what lends Blue Skies its distinct sense of empathy and flexibility, and ultimately what makes Dehd's music so galvanizing. It is raw and tender and unafraid: life is messy and mysterious, fraught and contradictory. It often just takes time.
We close by discussing whether their music is like a piece of shit transformed into a diamond or a diamond transformed into a piece of shit. Kempf contends, "I feel like we take beauty and then chisel it down into scrappiness, but to us the scrappiness is the most beautiful thing." Balla laughs: "That's funny because I'd answer the exact opposite. For me, the weird stuff and the noise becomes the diamond, so…" For a moment, they struggle to understand each other. Then Kempf laughs too. "This is classic how we talk. We're saying the same thing. It's an infinity loop where the scrappy becomes the beauty and the beauty becomes the scrappy. There's no ending or beginning. It's just a paradox." They'll figure it out later.
Blue Skies is released on 27 May via Fat Possum
Get the Best Fit take on the week in music direct to your inbox every Friday