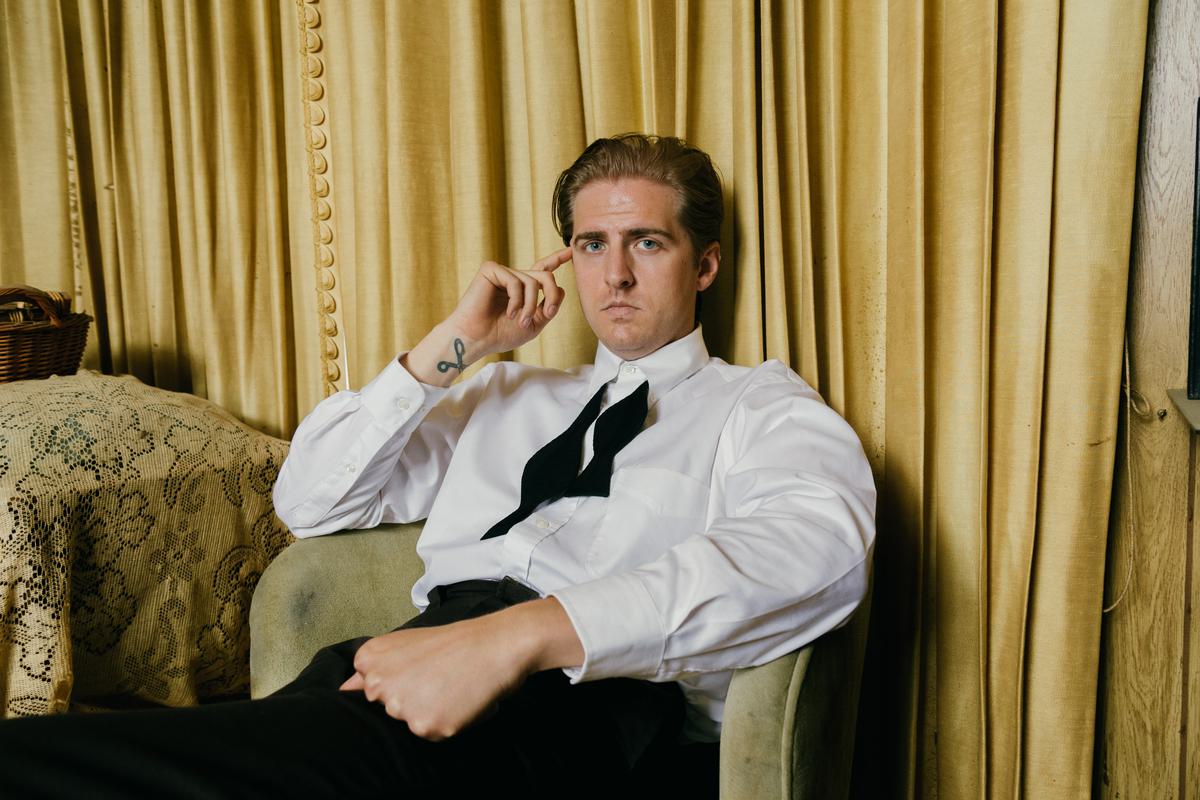 On the Rise: Christian Lee Hutson
03 January 2022, 08:00
With production from his friend Phoebe Bridgers, LA-based Christian Lee Hutson uses introspection and self-dialogue to adorn his musings on the intricacies of modern life.
Six years after his second album, Yeah Okay, I Know, Christian Lee Hutson released Beginners, a thoughtful, refreshingly honest folk-rock record, in May 2020. Those six years saw Hutson juggle imposter syndrome and disheartening audience numbers at his shows. "I was just kind of all over the place. I was like, 'fuck should I be doing this?'," he explains over Zoom.
He recalls playing "shows in a wine bar to two people who would be polite, but it became disheartening after a while." Later, he adds "it was a lot of trying to work more on the songs over a longer period of time, making sure I really believed in them. I recorded a bunch of these songs 3, 4, 5, 6 times, in wild, different arrangements and recording styles."
Hutson began playing guitar when he was 12-years-old. He describes how "completely consumed" he was with music from an early age, and how he "would be sitting in class thinking about the ways that my fingers could make a chord." "I wondered if I could learn to play this song or that song," he explains.
He didn't always receive support from his family, though: "[My parents] were kind of upset when I started playing music. I went from being a pretty good student to failing all of my classes. So they were freaked out by it… for a long time. They came around, but I mean, I'd dropped out of high school. Music was to blame for that."
The first song Hutson learnt to play was Elizabeth Cotten's "Freight Train", and whilst he always felt drawn to folk music, there's still that feeling that he "occasionally wants to fucking rock out too". "I think I felt for a long time that I didn't really see a place for myself to do that. Or that you had to have drums for it to hold anyone's attention."
Although his parents were less enthusiastic about his music career, his friends gave him the confidence to push through the perfectionism and believe in his album as a finished product: "I was showing all the songs from my last record to friends as I was making it. They said 'it's as good as itself. You don't need to overcomplicate it'. And that gave me the confidence to be like, okay I can just kind of sit there with a guitar."
Of course, fellow artist and friend Phoebe Bridgers produced Hutson's third album, Beginners, and he's previously described their relationship as having "the same musical shorthand". Bridgers and Hutson frequently collaborate, with Hutson co-writing a song for the self-titled EP by Boygenius, and contributing to Bridgers' second album, Punisher.
During our call, Hutson reflects on how they first met, calling their relationship "rad": "we just immediately clicked and started writing songs together. We have a very similar sense of humour, and shared language of the kinds of songs that we like, and what we like about song writing. And, yeah, I mean, she's my best friend. She's like my chosen family. You know, she's one of my favourite humans on the planet."
On 'Northsiders', Hutson takes us from a gentle, crooning sound and heaps of nostalgia right through to a powerful penultimate verse. To Hutson, the track represents his time in high school, and the friendships he had back then. "I wrote it probably 10 different times," he says, adding later that it's "a collage of memories and places that I went to and conversations that you have when you're in high school. The funny things you believe. You're feigning maturity most of the time. I really wanted to be old and seem like an adult."
His most recent single, 'Strawberry Lemonade', turns that nostalgia on its head, and pokes fun at the way popular culture romanticises and repackages the '60s. "There's just one decade in the last 100 or so years that people will not let die. It's just all of the art and culture from that time is constantly, I mean… for good reason. My friend was saying something to the effect of 'these boomers are so obsessed with their youth that they've got to just repackage it and sell it back to us over and over again'. And I thought that was a funny take."
Hutson describes playing music as "cathartic", particularly in the context of the pandemic. He mentions "a compulsion to do it", explaining "if I'm not playing music, I'm very anxious, high frequency. I'm just jittery and am overwhelmed by the world. And I just need to move really fast through it so that I'm not aware of anything that's around me. Working on a song, playing guitar, all of that slows time down. Which is not something you'd typically want during a pandemic".
This year, he released a collection of cover songs called The Version Suicides, featuring a diverse range of artists including Shamir and Julia Jacklin. On The Version Suicides, they reinvent classic songs such as Shania Twain's "You're Still The One" and The Cure's "Just Like Heaven".
The idea stemmed from the fun Hutson and his friends had creating covers at parties: "A few years ago, I'd be hanging out with my friends and we'd try to do these quiet Elliott Smith versions of Sum 41, just like these things that you would think sounds so fucking ridiculous for it to exist in that way. And I'm always surprised by when you take a song, like a pop punk song and play it in that way. I'm like, 'Oh, actually, it's a really beautiful song when you break it down'.
"So that was the idea behind some of them. It's a mix of humorous covers, and then sincere covers. 'Just Like Heaven' is one of my favourite songs. It definitely started as a way to entertain myself. In a time where we're just locked in our little studio apartment," he adds.
Hutson finds it "flattering" to be compared to other indie and folk artists including Sufjan Stevens, but maintains an air of modesty: "You think that you sound one way or whatever, and then you don't have a very good grasp on what you actually sound like. Because at the end of the day, when you listen back, you're like, 'God, that's my fucking dumb ass'."
Drawing inspiration from his environment, and the people around him, Hutson describes his songwriting process as "collecting little pieces of things that I've said or friends have said, or things that happen throughout the day, or I'm thinking about my life, or hearing a story of something that a friend is going through, or my parents or my family. Trying to figure out if they fit into some kind of narrative together."
Whilst his lyrics are not overtly political, he's steadfast in his approach to social issues. In September, the state of Texas passed legislation criminalising abortion after the first six weeks of pregnancy, leaving people scrambling to cross state lines to undergo the procedure safely, and significantly narrowing options for poorer people. Two months later, Hutson played a show at Los Angeles' Largo, in aid of Texas abortion funds. "I think it's important that people have safe access to that in America. It's just fucked. The law that they just passed there is horrible. It often feels like 'what can I realistically do?' It's easy to play some songs and have ticket sales go to that."
Last summer, Hutson gave free Zoom guitar lessons to support the Black Lives Matter movement, and different bail projects in the US. He's still trying to understand how he can help and support progressive movements: "It can be very confusing and make you feel like you actually don't have any power to change anything but then you know… you can give a couple of guitar lessons or go play a show. And it does make some kind of contribution."
When he posted on Instagram in November about his upcoming show in London as part of The Line of Best Fit's Five Day Forecast, he jokingly included a photo of English actor Dan Stevens (Downton Abbey, The Guest, Beauty and the Beast). He bears a striking resemblance to the actor, and the first time someone mentioned this was a few years ago: "a friend of mine was like 'oh my god, you look so much like cousin Matthew!'".
He continues, saying "as I went around the world, I would always run into people who would be like… are you him? To the point I've taken photos with people thinking I'm him, saying 'I'm not him!'"
But, has he ever just gone along with it? "I have done that once," he laughs.
In 2022, Hutson will play a series of shows in the UK. "Getting back out, playing in front of people again" he explains, "you forget how special it feels to all be people sitting in a room having the same experience. I've only been to London a few times, but when I was a kid I always wanted to be English. I always wanted to be from an interesting place. Dan Stevens actually got the life that was meant for me!"