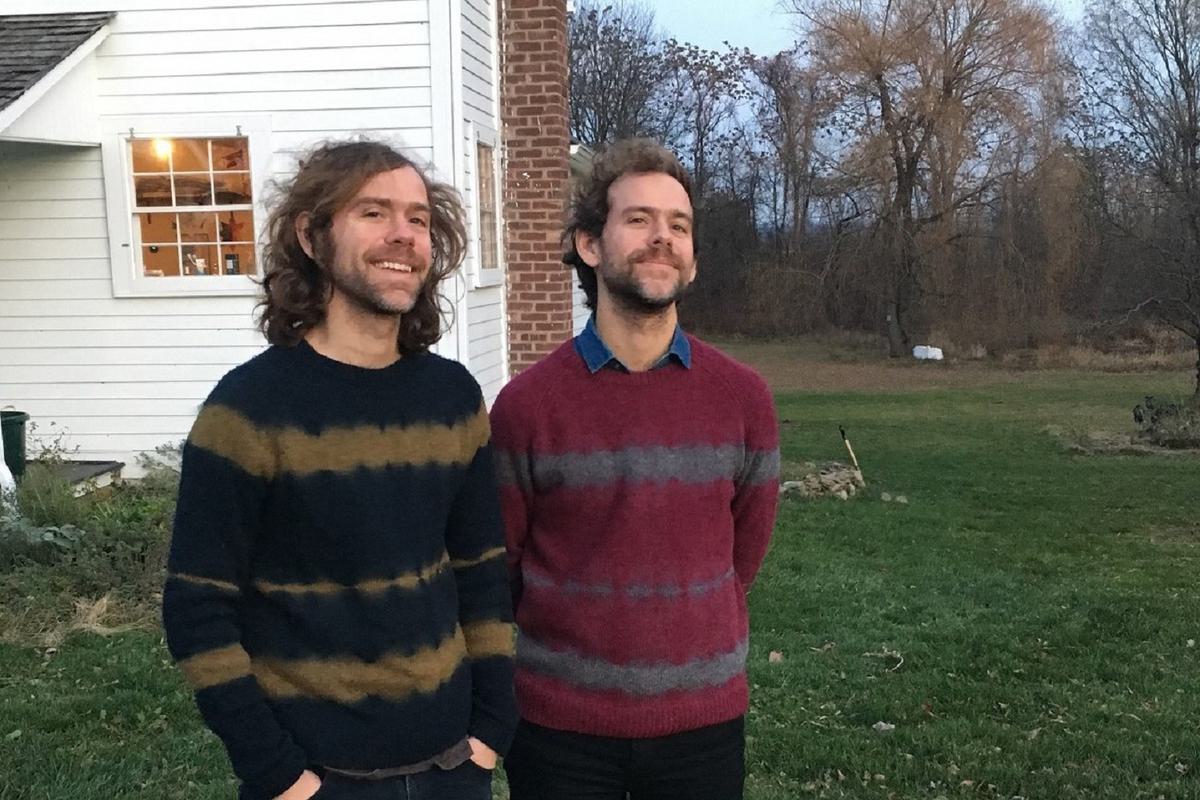 Connected by a Thread
28 December 2021, 10:00
Bryce and Aaron Dessner tell Craig Howieson about the special relationship between two of music's most prolific siblings as the pair team up once again to score the film adaptation of musical Cyrano.
Some bonds are built to last a lifetime. And the familial ties that bind twin brothers, Bryce and Aaron Dessner, are stronger than most.
The soundtrack for the new motion picture version of Cyrano, which is out now with the movie set for release in January, marks the latest in a long line of projects that twin brothers Bryce and Aaron Dessner have worked on together, spanning back to when they shared a bedroom growing up in Cincinnati, Ohio. The soundtrack itself is yet another step into new frontiers for the pair, being the first out and out 'musical' they have worked on. But it sheds a light on careers founded on collaboration, working with Matt Berninger, Carin Besser and stage and film directors Erica Schmidt and Joe Wright to bring the musical vision for the movie to life.
"We are born collaborators," says Bryce, dialing in from the East Coast where he is spending some time prior to flying back to his home in France. "We like collaborating with each other and we like collaborating with other people. That's what's led us to do projects with various people, and film stuff is very collaborative." The relationships that develop between the brothers and those they work with often go far deeper than just a professional exchange of ideas however. "It's kind of like a family to be honest, and the band is a good example of that," Bryce continues.
The band he's referring to, and the means by which most have been introduced to the Dessner brothers' work is, of course, The National. Having celebrated the twentieth anniversary of their self-titled debut this year, the unique fact that the band are not only still going, but working harmoniously together, is not lost on Bryce. "Where historically bands famously implode, I guess in our case because we're brothers, and Bryan and Scott (Devendorf, drummer and bassist) are brothers, there's this bond, and the music is somehow magical because of that humanity of family."
Over the years as The National transformed from a beloved underground concern to an adored arena filling entity, they've never kept those they worked with at arm's length, they actively invited them into their family. "We are the ones who like working with people and learning," says Bryce, before adding, "and we've benefited greatly from having really talented friends."
Bryce, an intimidatingly talented composer with a masters in Music from Yale, has a long list of past and present collaborators, having scored works for Kronos Quartet, the Los Angeles Philharmonic and worked with Philip Glass, Glenn Kotche, Jonny Greenwood and Sufjan Stevens to name but a few. His chamber quartet also acted as an impetus for building a community that would become core to the life of the Dessner's. "Bryce had a band called Clogs that played more composed music," explains Aaron, joining the call from his Long Pond studio in upstate New York. "We started Brassland which was a record label that put out Clogs, The National and other things, but it was almost like a community-orientated record label."
Brassland sowed the seeds for future collaborative endeavours by the brothers such as the PEOPLE (written as 37d03d) collective and saw members of bands on the label's roster contribute to each other's music, with Padma Newsome of Clogs appearing on early records by The National. "Even from the very, very beginning, that was our approach" says Aaron. "We had the idea that we would be stronger and grow faster and in more interesting ways if we had open doors, and I think The National has always been a very open band."
Aaron, who shares a successful history in film scores working alongside Bryce, has also established a parallel career as a producer, working with the likes of Local Natives, Sharon Van Etten, Lisa Hannigan, Frightened Rabbit and, most recently, Taylor Swift. His production work has further extended the family that the Dessner's consider themselves a part of, with numerous past collaborators coming back to feature on current projects. In fact, Aaron's other band - or "a community living through a band" as he puts it - Big Red Machine is a celebratory vehicle for their embrace of working with others.
It's a project he began with Bon Iver's Justin Vernon, Aaron explains, "The Big Red Machine process - that Bryce is a big part of - came out of improvisations. Getting up at these festivals, specifically Eaux Claires first, and then Haven and at Pioneer Works. It's basically an excuse to jam and improvise with Justin and other friends. It's also an outlet, as I had all these song ideas I wasn't using and that I loved."
For Big Red Machine's latest release, How Long Do You Think It's Gonna Last? there were well over 30 artists listed in the liner notes, with the likes of Anaïs Mitchell, Robin Pecknold, Sharon Van Etten, Ben Howard and Taylor Swift all lending their services. It is a testament to the lasting connections the brothers have made with their fellow musicians and the inclusive, open-door policy they have created around themselves. Defined not by size or status, the community around the two now consists of acts in the infancy of their careers to arguably the biggest pop star in the world today.
"We had the idea that we would be stronger and grow faster and in more interesting ways if we had open doors, and I think The National has always been a very open band." Aaron Dessner
How Long Do You Think It's Gonna Last? also commemorated relationships that may no longer be there, but that still hold sway, with "Hutch" being dedicated to the memory of Frightened Rabbits' Scott Hutchison. Aaron and Hutchison became close after Aaron produced Frightened Rabbits Painting of A Panic Attack. Hutchison would also go on to be a vocal source of encouragement in Aaron stepping up to the mic to sing on Big Red Machine tracks "I literally titled a sketch and called it "Hutch" because it was not long after he died" explains Aaron. "It was this dark but beautiful piano sketch, then Justin heard it and sang to it and we wrote the words. It's almost too sad to listen to, but it's also really cathartic in a weird way."
The PEOPLE artistic collective founded by the Dessner brothers and Vernon in 2016 further expanded their extended family while cementing pre-existing bonds. It also provided a much sought-after source of inspiration for the pair. "Whenever I feel stuck musically, I turn towards a collaborative situation, which is really what PEOPLE is for," Aaron tells me.
"These residencies that Mary Hickson, and Tom and Nadine Michelberger have created, are opportunities to come together with other musicians and try something new and plant new creative seeds. It's very easy to get stuck in your own forest of ideas, when you're like 'Everything sounds the same, I don't know what to do anymore.' And then you go and sit with somebody who is making something different and pick up a few things. But sometimes it's dramatic, like when we (The National) made Sleep Well Beast, that was really a product of being in Berlin with all those people at the first PEOPLE festival in 2016."
Fast forward four years and they found themselves in another open-ended collaboration. The Cyrano soundtrack was first conceived as a stage musical, the brothers, working with The National's Matt Berninger and Carin Besser, were approached by theatre director Erica Schmidt, who had a vision that their music could provide the "heartbeat" of the production. "We were a little bit reticent at first," says Aaron of the offer to move into a new medium, "but she's very inspiring, and Bryce went to a reading at her house where they read her adaptation of Cyrano while they played instrumental sketches of ours that we had given her, and it was really beautiful."
The Cyrano stage musical was workshopped via two off-off Broadway proof of concept runs where Bryce and Aaron were able to work closely with lead actors, Peter Dinklage and Haley Bennett, who have gone on to reprise their roles for the movie version. "A lot of the songs we wrote for them, including Matt, who wrote the lyrics," says Bryce. "We were really collaborative when we were thinking about their voices. Peter and Matt have a similar range, but they are different. Peter is more of a stage singer - he sings louder. We very much thought about their voices as we were writing."
"In the theatre, it's this feeling of entertaining the whole time - where you have to sing at the back of the room. In the cinematic environment, there are all the interior sounds and quiet sounds that suit The National's music more." Bryce Dessner
Writing for stage and screen requires two very different approaches, and despite having successfully scored the theatre version, the majority of music was re-worked for the film, as Bryce continues, "In the theatre, it's this feeling of entertaining the whole time - where you have to sing at the back of the room. In the cinematic environment, there are all the interior sounds and quiet sounds that suit The National's music more."
"The truth is that the songs work better in a cinematic environment where you can really be more intimate and can sing quietly," he states, before Aaron adds, "When Joe Wright worked with Erica to adapt it for film, we re-wrote all of the music basically, particularly the score. There are new songs in the movie and there are a bunch of songs that were in the theatre that are not in the movie. The whole thing is a lot more specific in the film, and a lot more directed. It's also more set in this baroque, modern sound world that's a reflection of Sicily where it was filmed. It's quite different, and Bryce orchestrated the whole thing for the London Contemporary Orchestra and for the pianist, Víkingur Ólafsson, so it took on this different sound world. It is related to the stage version, but it feels much more involved to us."
Those familiar with The National, and the latest Taylor Swift records Folklore and Evermore, will find plenty to enjoy on the soundtrack where the brothers, alongside Berninger and Besser, were given a vast amount of artistic freedom. "Both Erica and Joe gave a lot of feedback, particularly because each song has to be in service of the narrative, which was a new exercise for us. You have to move along the plot with a song, instead of just writing a good song" says Aaron. "But they really trusted us to develop the music and write the songs with Matt and Carin. We wanted to make songs that we would actually love, and you can hear Matt's phrasing and you can hear us playing a lot of guitars and pianos and production stuff, but it's in the context of this ornate, arranged world. I think it reflects another side of what we are interested in and what we do, but they did trust us a lot and they are both lovely people and great collaborators."
"Although we often do things separately, we do have different skills, so if one of us is not around, it feels like something is missing." Bryce Dessner
One of the most enduringly endearing factors of the brothers' relationship, despite the now almost inexhaustible list of contributors they could choose to work with, is how often they come back together. Time and distance may now separate them, but it has not become an obstacle to their innate desire to work with the other. "Even from the very beginning, we collaborated," says Aaron. "We shared a room together until we were 18, so it's the most natural thing."
Bryce is quick to add, "Although we often do things separately, we do have different skills, so if one of us is not around, it feels like something is missing. That's why very often, whether it's a song or a film or a composition, we still love to work together." There is a calm assuredness felt from both when speaking with them together or seeing them perform live - a confidence they seem to instill in each other without needing to communicate it.
There is even a track on How Long Do You Think It's Gonna Last? dedicated to and named after Bryce ("Brycie"), on which Aaron gives thanks to his brother for seeing him through his toughest times. "You watched my back when we were young / You stick around when we're old / I'm sleeping sound when you're in the room / You help me stay above the ground." It feels as if they are each other's foil - in music and in life.
"There is always room in what I am doing for what he does," Aaron expands. "We don't need to teach each other anything. Over the pandemic, we've worked on something like 80 songs and almost anything he sends me - like a National sketch - I can add my ideas to it and he's probably always excited about them and vice versa." Aaron goes on to share that Bryce orchestrated around thirty Taylor Swift songs for their recent collaboration, which could have been a painstaking process had they not been so in tune with one another - stating again "there doesn't need to be an education."
The fact they now live relatively separate lives allows their ideas to remain fresh for the times when the invisible tether that binds them pulls them back together. "We live slightly differently," says Aaron. "I live in this recording studio (Long Pond) environment and have engineers around, while Bryce right now is living in France, where he has his own studio with slightly different processes, but we've figured out different ways to make it work."
Bryce also relishes his trips back to Long Pond to work with his brother. "For me it has become a really exciting place that is constantly evolving, so it's pretty interesting to come back. It's nice to see what new gear is around, and usually Justin (Vernon) has been through and there's some new thing he's been playing with and it's constantly interesting in that way." The two also go out of their way to challenge each other, "We both like to surprise the other one with ideas and when you get stuck it can be very helpful when the people close to you push you out of that rut."
Accordingly, the brothers' paths have seen them increasingly embrace the cinematic and visual spheres of musical performance. "We love the process of collaborating with filmmakers and visual artists. I think it's always really inspiring to have something to look at, to respond to, or to contextualise music with the images, and add another dimension," says Aaron.
But despite enjoying their forays into new and challenging avenues, the two are in agreement that, for now, they are looking for another change - searching for something more primal that defined their origins. "Weirdly, I think right now we are very focussed on just making music and songs that we love and trying to elevate that, and also to play some loud rock music, because it's been a while," says Aaron. "I don't think you want to get stuck doing one thing, so if anything, the band - The National - is headed back to an earlier time and making songs that feel evergreen and elemental. When something just works and you can't figure out why it works, but it does, that's what we are trying to find."
This will no doubt come as exciting news for fans of The National who have missed the band's presence both on and off stage over the last two years. And in doubling down on making the music they love with the people they love, their futures appear destined to be spent together side by side.
"It's like having another version of yourself who is better at things that you're not good at, basically" laughs Aaron, before Bryce sums up. "We are very often stronger together."
The Cyrano OST is out now via Decca Records