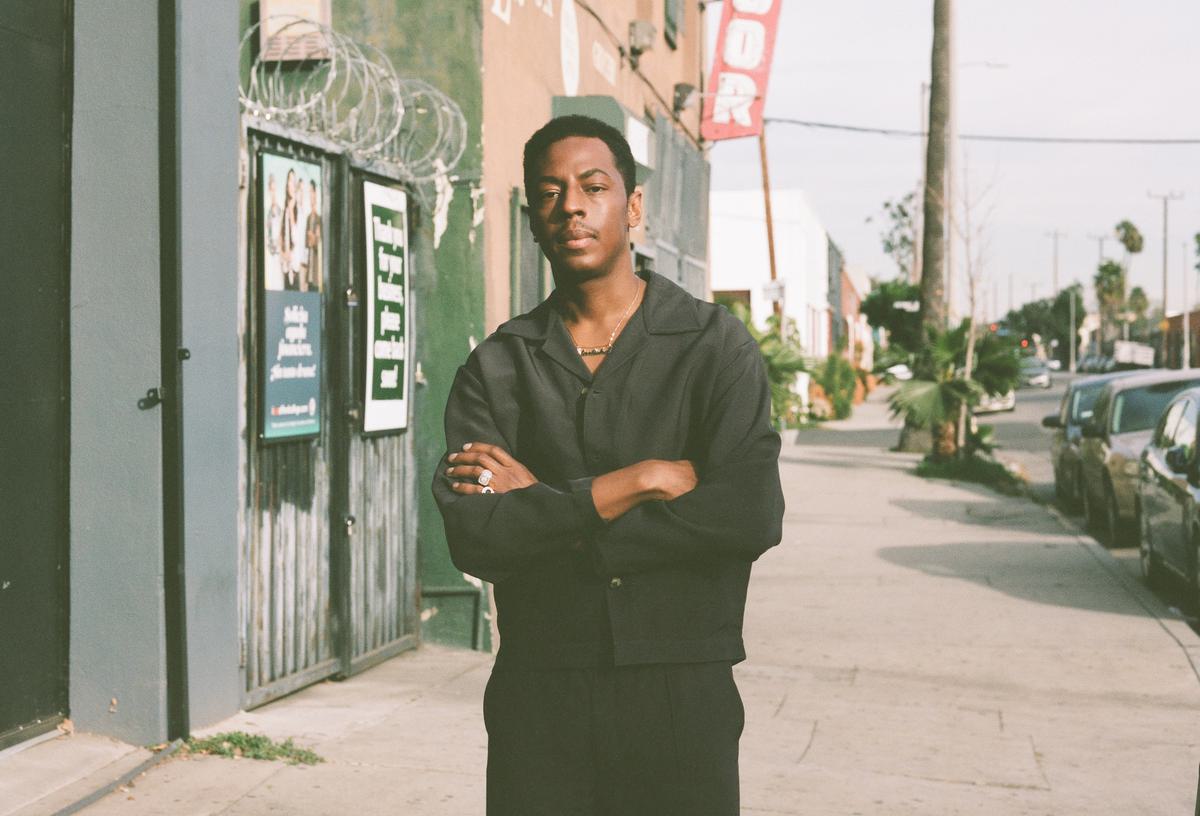 Naeem is putting black and queer voices centrestage in his music
12 June 2020, 08:00
"When I was making this album, I thought that it really did sound a lot like Spank Rock."
We're talking about Naeem's decision to change his musical moniker: "But then I listened back to some of my older songs and I was like, 'Holy shit! Did I really say that?' I'm happy that there's now a line in the sand."
The sarcastic and sometimes vulgar bars that Naeem penned as Spank Rock are part of why he saw such quick success back in the mid-2000s. Bombastic and heavily influenced by international emceeing from America and the UK, his album, YoYoYoYoYo sparked a movement of post-millennial rap that snuck into clubs and raves in Baltimore and beyond.
Born and bred in Baltimore, Naeem put out his first single, a cover of Silver Apples' "You And I" in late March. His interpretation of the song reimagines the composition to zoom in on little things during the fraught times we're facing now - a time where it's harder to focus on the subtle nuances and fortunes of life when we're so connected to the world's traumas online. It's not that he wishes we could bury our heads in the sand, he just wants to make music that offers a safe space while he reflects on his own life and the communities that raised and protected him.
His debut album as Naeem, Startisha, reflects a braver and more politically engaged artist. So why not use his real name? "I'm always asking myself why i decided to start over again. But it just feels so natural and it's given me a lot of energy." Working closely with the team at 37d03d, he's found mentors and gurus in Justin Vernon (Bon Iver) and Velvet Negroni. "I think me and Velvet Negroni are kindred spirits," he confesses in a calm, warm voice. "My music would probably sound closer to his if I could sing better."
If the name Naeem already seems a bit familiar, it could be because there's a song named exactly that on Bon Iver's latest album, I, I. "I haven't really asked him why," he explains. "I was in Minneapolis for almost two years. I actually moved into this building that Justin was temporary living in. He had an apartment, I had an apartment and his best friend Trevor had an apartment.
"We had this really funny Huey, Dewey and Louie situation running up and down the stairs and hanging out. I didn't have a musical relationship with Justin but we became friends. After a year had passed, I remember he was like, 'I'm performing with this dance company. We're doing a song called 'Naeem'.' I kind of brushed it off. I think that my name ending up on that record was him just throwing a puzzle piece in the air and that's where it landed."
"Simulation" for example, sounds like something pulled straight out of Bon Iver's more recent catalogue, which is no coincidence considering Vernon himself features alongside original D O double G, Swamp Dogg. Naeem wasn't familiar with the prolific soul singer before he met him through the Minneapolis music scene, but quickly fell in love with a song of his called "Synthetic World" - an ode to our materialistic lifestyles that disconnect us from what's real. "When we were working on the final details of the album, I was like, "Damn. "Simulation" is my "Synthetic World"".
Four songs later, "Stone Harbor" explores UK garage while Naeem sings in a flirtatious voice that compliments the floor-filling sound. "England has been so influential for me, even from the first Spank Rock record. I remember hearing Dizzee Rascal's Boy in da Corner, and I lost my mind," he laughs. "I don't know much about garage, so I was really excited when my producers Sam Green and Grave Goods made that beat. I think that's really important in music - to reach for something. But if you imitate it too close you're just making someone else's song."
"Maybe some of the issues of being young and queer in hip hop were intimidating."
Signing to a label as diverse and experimental as 37d03d makes a lot of sense for Naeem, enabling him to share creative spaces with other black artists and people who think outside the box, turning Startisha, an album five years in the making, into a genre-bending piece of work. "That whole team is trying their best to open the scene up and create a safe haven for a diverse group of artists." Naeem's choice of label seemingly links smoothly to his choice of album title: so named after an inspirational childhood friend that he hasnt seen or spoken to since he was thirteen. Thus, this album is about giving importance to a black name and offering something different.
"There was this festival Justin put on in Berlin at the Michelberger Hotel a few years ago. They put this group of artists together to collaborate, experiment and perform to an audience. Everyone's name was in the same size font and listed in alphabetical order." It isn't a coincidence that working in this inclusive environment ignited something in Naeem to place his stories and history into his music. "Most people didn't use their band names, they used their government names.
"I could have easily named the album Naeem, but there are a lot of people out there that are just used up. The people who are in power now maintain their power, and I want to do my best to recognise that and change things to make a name like Startisha desirable. To make a name like Startisha fantastic."
Naeem remembers a lot about growing up with an African American name people wouldn't know how to pronounce and the way it disempowered him as a member of society. "People have always told me to change it to make it easier to say right or spell right. That can be really damaging to a person's sense of worth."
This album sees Naeem putting his experiences into the stories he's telling which helps explain why it felt right to change the name behind these songs. "Race issues and stuff like that are all over Spank Rock. The difference in this album is that I really tried my hardest to take those ideas that worry me, and instead of talking about it for the sake of it, I wanted to talk about it from a more personal space."
That added honesty with himself has overflowed into the blunt approach to discussing his sexuality as well. Being a young, black, queer artist in 2006 wasn't unheard of, but that didn't mean the music communities he associated with were ready to accept Naeem or his pals rap about homosexuality. "Maybe some of the issues of being young and queer in hip hop were intimidating," he says. "There's nothing that could make me shy away from who I am but there's this acceptance you see now that just wasn't around back then."
On his second Spank Rock album, Everything is Boring & Everyone is a Fucking Liar, he collaborated with Big Freedia, a trans artist who found her name left off of music she had collaborated and worked on. "People would sample Freedia and then not use her image promoting the song. It could be a Beyonce track or a Drake track, but then Freedia wouldn't be in the video. I thought those things were really strange. The fact that it takes nearly a decade for an artist to be accepted…," he pauses. "It's frustrating. For me, there was never a fear to give great people the platform they deserve."
Present day, artists like Freedia are being recognised as pioneers, playing bigger stages and getting their names respected. "I remember the same thing happened with Amanda." Amanda Blank and Naeem collaborated a lot back in the mid-2000s on songs like the bouncy and crude "Assassin" and the heavy and electric "Gimme What You Got". On Startisha, Naeem brings her back for "Woo Woo Woo", a standout track made up of vocal samples and a lounge drum beat as he, Blank and Micah James trade verses flirting and bragging about sex.
"In 2006 having a white girl rap on my record really confused people. Our first shows in New York city were crazy. People would see her come on stage and just not know why. And then she starts rapping and everyone's like, "Holy fuck". The weird thing is that people wouldn't take those chances on each other, even when the talent is obvious, you know? I am fortunate enough to collaborate with people who are always better than me. Who always have music dripping out of them."
"There was never a time when I didn't want to be queer. I've never really been accepted anyway."
Naeem makes music that tackles queer identity but that doesn't make it queer music. But he knows the importance of addressing these topics, especially in hip-hop. "I love the trajectory and the scenes and expressions and the music that has come out of the queer community. In rap music especially. Back then the journalists weren't trying to support the community. It can box people in and it's damaging. There was never a time when I didn't want to be queer. I've never really been accepted anyway."
Whether it was being black in a majority white private school or identifying as queer, he remembers multiple situations that reminded him he was different. "I went to this underground rap performance in Brooklyn. I had dyed my dreads red or something. But this is in like 2000. So when I walked in I was like a fucking alien. I was shunned." Looking back on these stories, he doesn't speak with any disdain for these communities. He understands people are a product of their society and instead wants to challenge the people and power and media that support them.
Although Spank Rock's lyrics are littered with controversial statements about sex, partying and drugs, he's older and smarter now and he does this better than ever on "Let Us Rave". "In all the music I've ever created, I like to take the James Brown approach where it should always be political. We should always be fun and always be dancing. Be soulful, you know?"
It's a short song at just under three minutes but with the help of Velvet Negroni he rides a beat taken straight out of Lil Wayne's heavy bass book for success in celebration of rave culture. "It's a song rooted in music history. The whole point of it is me fantasising and being back in the hacienda or fucking England. It's not just about drugs, it's about the importance of creating that space of new music, sound, dancing, diversity, people coming together. You can do that with or without the drugs."
Featuring the lyrics "Want the who do voodoo for your benefit? / Please buy drugs from thugs and not the internet," Naeem is opening up the conversation of drug use in a way that doesn't try to sensationalize or glorify a potentially dangerous path, but still celebrates the infatuation you can find through it.
Back in 2006, Naeem stated that he was addicted to the party, not the drugs. I bring that quote up in the context of a new wave of artists dying younger than ever from overdoses is tough for him to comment on. "I don't remember saying that at all, but I still feel that way. It's crazy cause the thing that's been on my mind most this week about drug use and partying is not positive. There's this rapper from Philadelphia that worked closely with my friends. Her name is Chynna."
"Fentanyl killed Prince, you know? I feel very fortunate that this drug wasn't around and that the community was a bit stronger when I was younger. It makes me thankful that my looseness in 2006 isn't happening right now cause I don't think I would've made it either. It's everyone's responsibility to care about life. The drug is to enhance the party, but the party is about life. When you're obsessed with the drug it's no longer an expression of life. You're sacrificing yourself."
Understanding that these communities exist in a different ecosystem to when he was that age, it's hard to wrap his head around. Knowing artists like Lil Peep, Juice WRLD and Mac Miller all died from accidental overdose does it make him second guess his drug use?
"No. Raving has been really liberating for me. I'm happy and proud to do it. I know it's risky, but a lot of things are risky. To be in an environment where I was able to feel alive because of the music, that's what matters. This is the way I accomplished a lot of my freedom and new ideas."
But why talk about it in his music? "Because I understand the importance of growth, I never locked into doing one thing over and over again. Sometimes those things are right for those moments and sometimes those things aren't right. I do way less drugs and I meditate now. I don't mind promoting it or talking about it."
Some people would maybe criticise that behaviour. But that seems wrong to him. "I'm not going to allow an oppressive person or space or institution intimidate me to stop talking about the things that I enjoy."
Despite the venomous delivery associated with Spank Rock and Naeem's firm opinions on drug use, Naeem Juwan is a calm person. A mind that considers every word before speaking and a voice that could calm storms, he's a completely different artist now and Startisha is a testament to this. An album that has more genres than songs and a feature list that's both impressive and inclusive, everything Naeem has to say helps explain why this album sounds like something totally different.
"I think the best music is timeless and that's just a fact. I think that every musician is trying to capture a spirit on record. Once you do that successfully, it should exist there forever." Referring back to those young artists that never got a chance to have their moment, he feels an added sense of purpose in crafting and sharing these songs. Only nine songs long and clocking in at 34 minutes, it's enough to tantalise you with its magic and leave you waiting for more.
"My goal right now personally is to become prolific," he boldly states. "All the artists that I look up to would've been working on their fifteenth album by now and I haven't done that. It's time for me to play catch up."
Startisha is out today via 37d03d Records