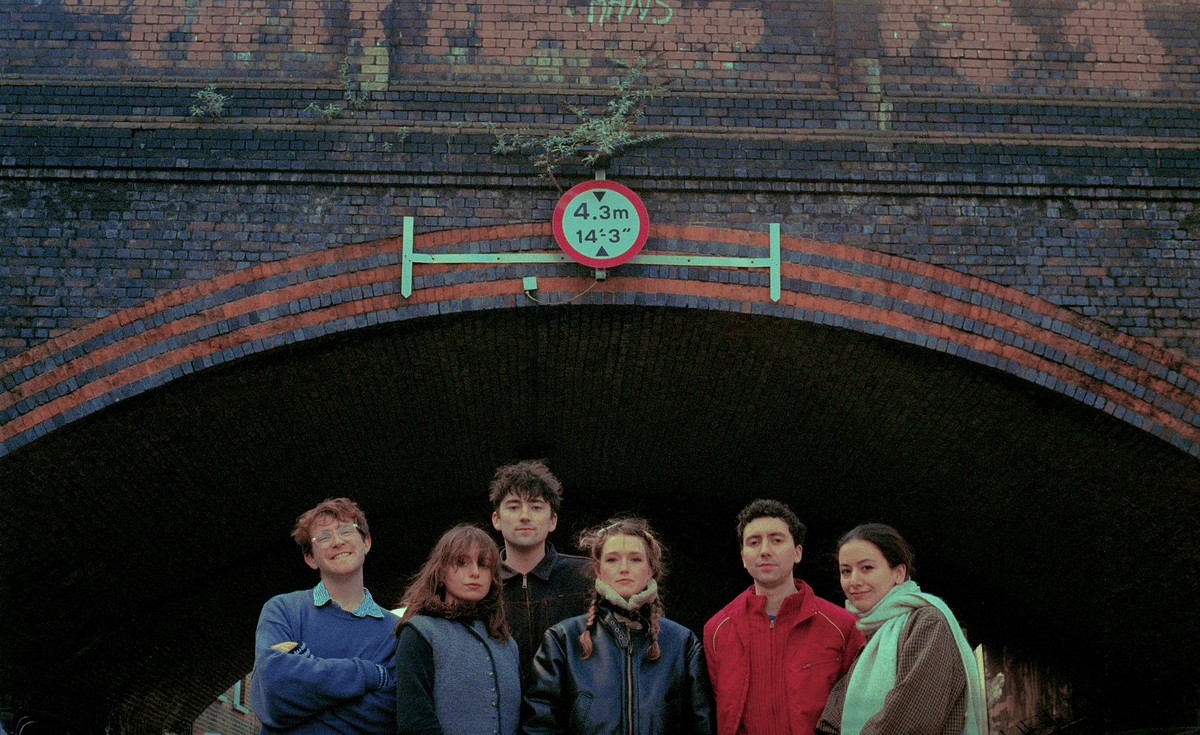 The restoration and reformation of Black Country, New Road
27 April 2023, 09:00
Original Photography by Holly Whitaker
In the aftermath of vocalist Isaac Wood's departure, Black Country, New Road are reassessing how they function in a band and keep their mental health intact.
You can tell Black Country, New Road are a little bit sick of talking about Isaac Wood. After informing flautist/saxophonist Lewis Evans that fans believe they intentionally left an empty spot in honour of the recent vocalist in their recent press shot, he sighs: "it's a wooden post you can't see. Isaac, Isaac, Isaac…"
Band members come and go all the time. Rage Against the Machine lost Zack de la Rocha and reformed as supergroup Audioslave, and Genesis had three lead vocalists in their time. BC, NR seem to have taken both routes.
Originally formed as Nervous Conditions when the Cambridge natives were teens, the group dissolved following sexual assault allegations against their old vocalist. It was a "dark time" for everyone involved, but the band managed to reincarnate as Black Country, New Road, recruiting their guitarist Isaac Wood as their vocalist.
The gamble paid off splendidly, as the septet were lobbed with lofty superlatives like 'best in the world' and 'Britain's most divisive band'. People went mad for Wood's lyricism, which read like the monologue of an exposed nerve. Hyper-charged with obliquely zeitgeisty references, BC, NR possessed impressive narrative mastery: songs could bubble and overflow into a post-rock-klezmer-free-jazz-Arcade-Fire flash flood. It garnered them a serious cult reputation for eye-watering live shows.
But days before sophomore album Ants From Up There was due, Wood announced his split from the band. It was amicable, but devastating. The aftermath still runs deep: when I ask about their wildest dream plan for their future, Lewis jokes: "Make it a whole year and a half with stability."
Band members come and go, but you know Black Country, New Road will stay. Wood's departure has fundamentally shifted the way the band will continue – but their solution might fundamentally shift the way other bands operate too.

Speaking with Lewis Evans, Luke Mark, and Georgia Ellery, our conversation is squished shortly after Live at Bush Hall released on Spotify and just before they leave for their Japan tour. They've all been busy - Ellery is recuperating from touring with both BC, NR and Jockstrap, Evans is making a radio show with a friend in the spirit of "the golden age of XFM", and Mark is currently trying to watch a film a day, although right now he's ten films behind.
On their new live record, three members stepped up to vocal duties – Lewis Evans (flute), May Kershaw (keyboard), and Tyler Hyde (bass). Those surprised that Georgia Ellery (violinist and vocalist for experimental pop duo Jockstrap) didn't sing on the album may not have long to wait. As the question is raised, she admits to be working on new material for the band: "I had some personal things going on, it didn't feel like the right time to me." That leaves only guitarist Luke Mark and drummer Charlie Wayne on their usual duties.
One thing they want to make clear is that Live at Bush Hall is emphatically not an album. The band wanted to make good on their touring promises and came up with some material in a couple of months, but also wanted to take the pressure off themselves. In fact, they originally didn't intend to release it on Spotify, though they're happy fans have welcomed the tracks.
"We didn't want to do it," Evans says, "but unfortunately in music you have to do things you don't want to do in order to get to places, in order to be able to get out to Japan, in order to get out and play big, good festival slots… you have to sacrifice a bit of integrity sometimes."
Continuing, the group explain "we didn't want to put it out on Spotify or do a vinyl release because it's not an album. It's a live performance, so we wanted to stick to video to make sure that that's how it was. Unfortunately, if you do things like that, Spotify get quite upset and you don't get put on the good playlists or whatever."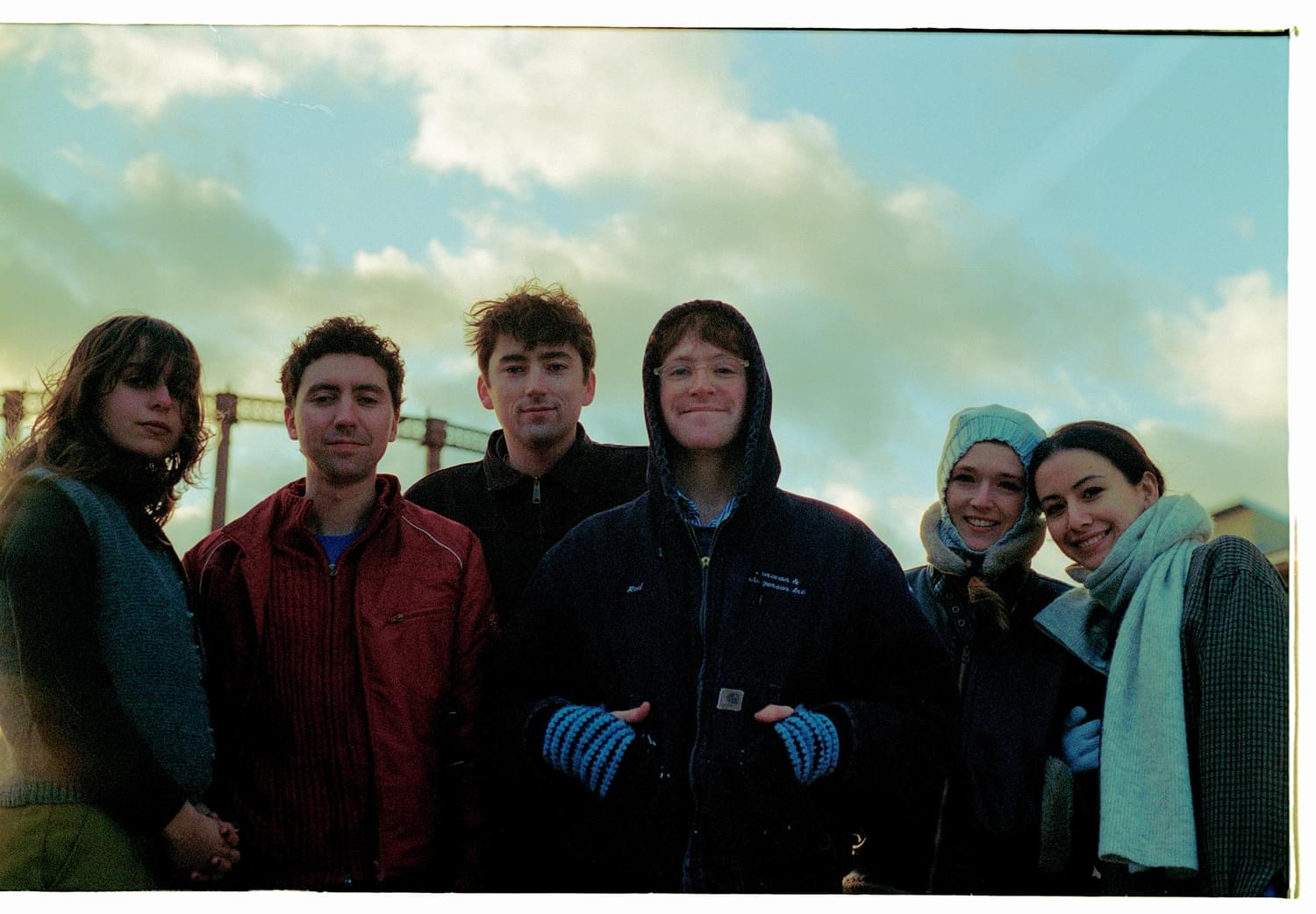 It's also why the band concocted the dream-like, school-play settings of their Bush Hall concerts: a gathering of farmers, a pizza chef's run in with a ghost, and a classic 1980s prom. Instead of pretending their gigs were a seamless cut of the best takes, the band pushed the disjunction between each night as far as it could go.
"What we were trying to do," says Mark, "without explicitly discussing it amongst ourselves, was trying to make the video good enough that everyone who might review it would see it when the video came out, and therefore review it six weeks later when the audio came out. It didn't work, but that's what we were aiming for."
There's flickers of tenderness and vulnerability throughout the film, although its most poignant moment has been misread. Midway through, the band pour a drink for an empty chair reserved for 'Hubert Dalcrose'. This was not, in fact, in memory of Wood, but an homage to American mockumentary Waiting for Guffman, where a Broadway producer fails to fill his empty seat the entire film.
"We just thought it'd be funny to have an empty chair for this playwright that we'd made up," Evans explains. "But when we're sitting around the table, it was kind of obvious that it was a symbolic thing. People could read into it, but we didn't intend that."
Given Wood's idiosyncratic vocal delivery and writing, filling his shoes was always going to be a big job. The solution was simply not to try at all, and new sonic possibilities for the band have flourished in Live at Bush Hall.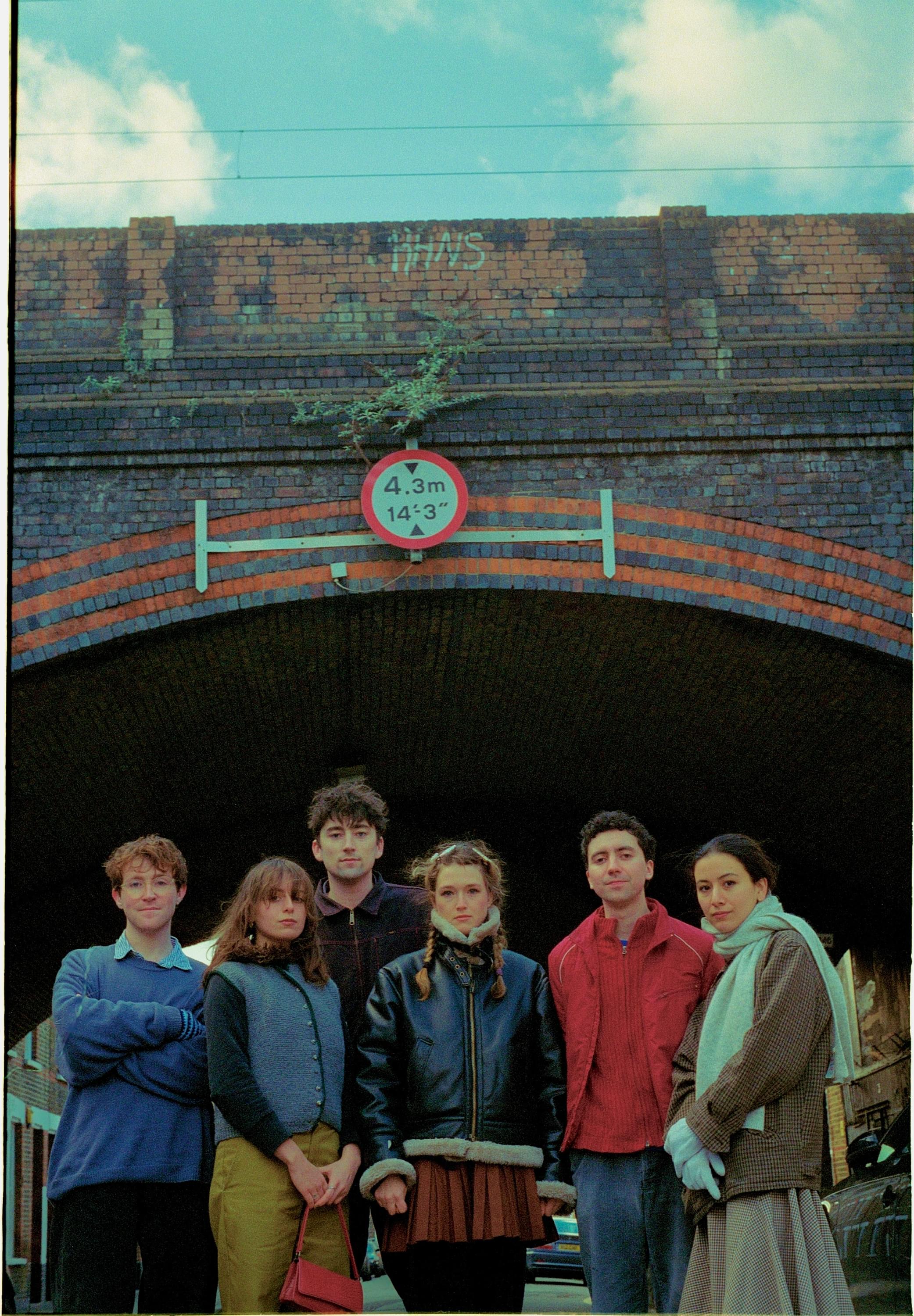 With a few months to pool all their material and make an album, songs came in varying states. Hyde had already written some of her songs; Kershaw's Spektor-esque "Turbines" was so clear that it only needed two rehearsals to get it right. Others, like Evans, had to start from scratch, and he only wrote his first songs at the beginning of that period. "Across The Pond Friend", he explains, started off as a sparse love theme for a TV soundtrack which never saw the light of day, and he's currently writing a song that's somewhere between "Harry Nilsson and The Kinks".
"There's definitely scope for different people's vocals and different sounds that immediately come out when we start writing together," he says. "May's stuff lends itself in my head so much to the folkier style. Personally, when I'm choosing whether I'm going to play the flute or the saxophone, the flute feels more natural on May's stuff. But Tyler's stuff's got this darker side to it, but the light that comes from Tyler's stuff feels tinged in this like… pain-in-your-stomach yearning."
Evans had the added challenge of being the only male vocalist in their current lineup; his wholesome writing style was so different from Wood's that Evans never felt too juxtaposed against him. "As the only male vocalist in the new iteration of the band, it felt like a bit of pressure," Evans admits. "I always felt this weird pressure, especially at festivals when a lot of people, who maybe hadn't bought their tickets to see 'us'… it felt like they think I think I'm a sick singer because I'm singing on the stage, you know? Whereas it's just meant to be a different contribution to the whole sound. But the comparisons between Isaac are not drawn too often."

Ellery also believes that the introduction of female vocals is important for the band's trajectory: "just having female vocals on top of Black Country, New Road, it's been so great to hear. It's really opened us out as a band."
How did they make musical decisions across three different perspectives? It's something I'd always wondered about through their tenure. The band has a reputation for all six members having equal say. Having that much input on what can be very personal material – especially across Hyde's songs – might run the risk of too many chefs in the kitchen. According to them however, the primary songwriter would usually have the final say, and it's the band's collectivist attitude that sees them remain deeply collaborative and cooperative.
"A lot of the time, we'd never comment on each other's lyrics or try and have the narrative of those changed," says Ellery. "But we know each other pretty well and you can pick up on the emotion that one is trying to portray. And if Tyler doesn't like where it's going she'd be like, 'I don't like that.'"
Still, there's room for overruling the songwriter. "It's a complicated thing," explains Mark. "Sometimes we'll do something arrangement-wise for a while and then realise that it actually is fighting against the emotion that the song initially has. Then we have to go back and change it, and often one person will be feeling that and the rest won't, kind of thing. It just takes a bit of time to figure that out, but we only settle on it once."

Now that the band have begun to explore their newest formation, it feels inevitable to ask about the future of their lineup and start reeling out a list of scenarios. Firstly: would you ever consider Isaac coming back? "Yeah, we'll see," replies Evans, "if Isaac were to come back, I think vocals might be a bit of a stretch to be honest." And would Mark give vocals a try? "The plan at the moment is to give it a go. But I think it's good to keep an open mind about it not working if we're all doing it," he smiles.
This is the toughest question to ask: what would happen if someone left? Could you hypothetically replace members like an infinite Ship of Theseus and still keep the essence of Black Country, New Road? Promptly, Mark concludes: "it would have to be all or nothing."
So it's final: BC, NR are friends forever, and it must stay that way. Throughout the conversation, it's hard to ignore an undercurrent of anxiety from the band. It becomes clearer when they explain their new live setup, and it also elucidates the sheer ambition and experimentalism that BC, NR have been championed for.
The goal for the band is to have everyone write enough songs so if someone doesn't want to play, they're not jeopardising the entire band. That's of course, on one condition: "Obviously all the tunes have got to be bangers." It feels like one big safety measure, but Mark disagrees. "It's more just comfortable to know that no one's in a position where their hand is forced and they're like, 'you have to be a performing monkey today'", he points out. "Which is obviously how being a musician works, but there's no reason within our situation that we can't minimise that."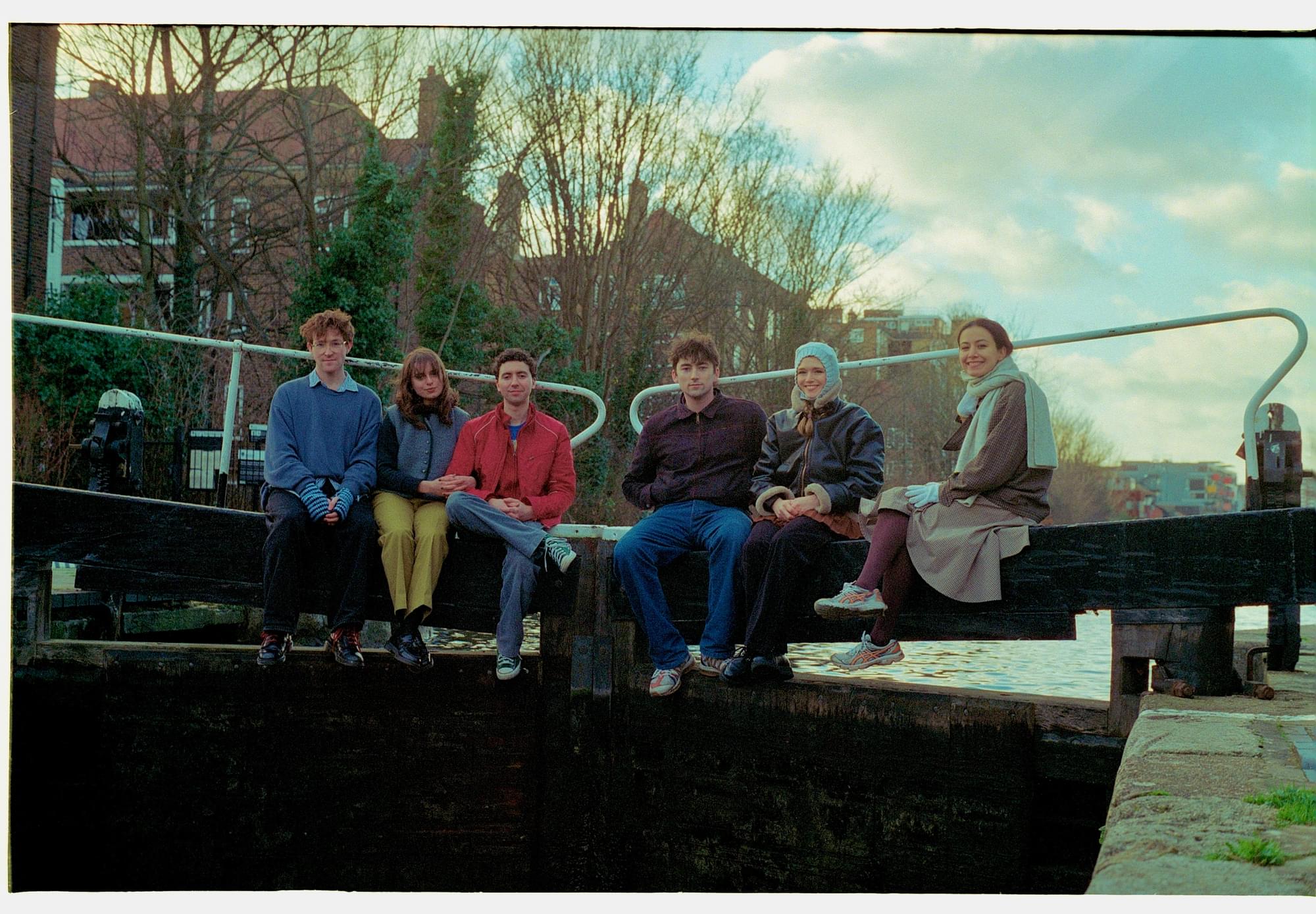 "Hopefully it makes the gigs better as well," Evans adds, "because if someone's feeling like shit, they might not necessarily perform well, which is understandable. I've certainly had some of the best of times and some of the worst of times on tour; you need to make these contingencies a little bit."
"That's what we learned from Isaac, because he was going up every night feeling terrible; feeling like his whole mental health, we were all relying on it, and everyone who works around the band were relying on it. So it's really nice for people who are singing to feel like not everyone's relying on them."
Now, the band are setting their sights forward: make another album, perhaps take a year off, then write a film score together. But as they've learned, they try not to look too far ahead into the future. "As we've proved so often, nothing goes as you think it's going to go," Evans says.
Black Country, New Road have faced some rocky times, but it seems like they'll always survive – and if you have doubts, say their name again and again till you get that it's always been in their bones.

Get the Best Fit take on the week in music direct to your inbox every Friday