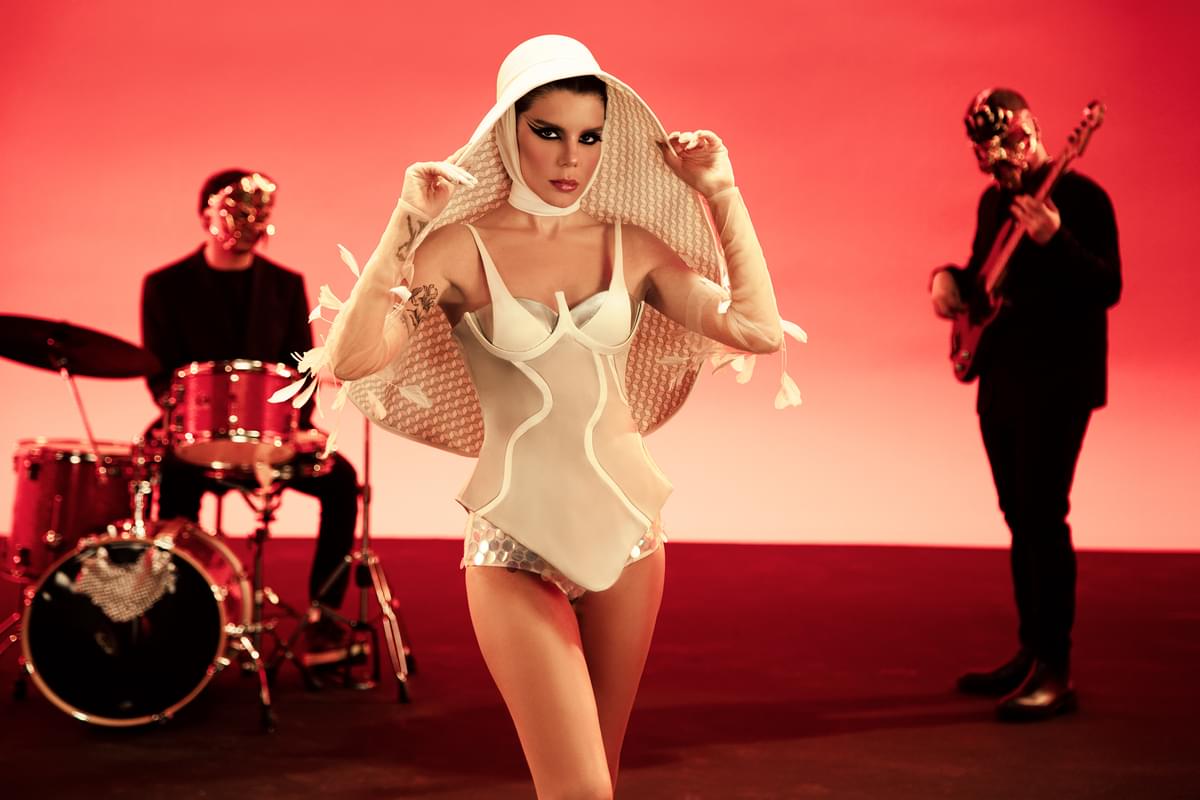 Awakening the Dragon with Gaye Su Akyol
29 November 2022, 17:05
Turkish innovator Gaye Su Akyol is a force to be reckoned with on her fourth album Anadolu Ejderi, or Anatolian Dragon. She talks to Alan Pedder about the political and personal scope of her most alchemical work yet.
Dragons exist in the mythologies of different cultures and religions, but what they symbolise can be drastically opposing.
To the East, the dragon can represent wisdom, strength and supernatural power. Often they are symbols of good luck and benevolence. They are bringers of seasons and granters of wishes. In the West, however, the symbolism of the dragon is more typically something monstrous, even evil, implying fire, destruction and a horrible death.
Born and raised in Istanbul, Gaye Su Akyol is well aware of the city's clichéd position of being where East meets West, and she uses that cultural inflection point to her advantage when it comes to adopting the symbol of the dragon. "It was so interesting to me, this difference between poison and peace," she tells me over Zoom from her Kadıköy apartment. "I wanted to use the mythology as a metaphor for seeing things from different perspectives and to tell my own stories."
Depending on the cultural context, a dragon can take the form of a serpent or a bird, or something in between. For Akyol, the dragon represents the power to change the world, and it's something that sleeps inside all of us. But change can only happen by learning to become our own superheroes and organising around each other. "If you're waiting to get saved, you could be waiting forever," she says. "It's time for people to really open their eyes. We need collective action."
Our interview happens on the morning after the 13 November bombing of Istanbul's bustling Istiklal Street, a few hundred metres from where I used to live, and Akyol is despondent and frustrated. With a general election only months away, there are echoes of 2015 about the timing of the explosion. Then, the blame game and the violence that followed was more than a little convenient for the ruling political power, who went on to win a re-run of an election that had threatened their grip on the country. Now? Well, as they say in Turkey, balık baştan kokar, or 'the fish rots from the head'.
"It's sad to see how these things are so predictable, in a way," says Akyol, eyes closed and massaging her temples. "When you look at different regimes in the world, you notice that these monsters always need an enemy to justify their existence. I just hope that people won't take this shit anymore. We really need people to be more conscious and more intelligent at this point. Not just in Turkey, but everywhere. All of us."
She shakes her head and smiles thinly. "I'm not sure if this is a hopeless thing to ask for."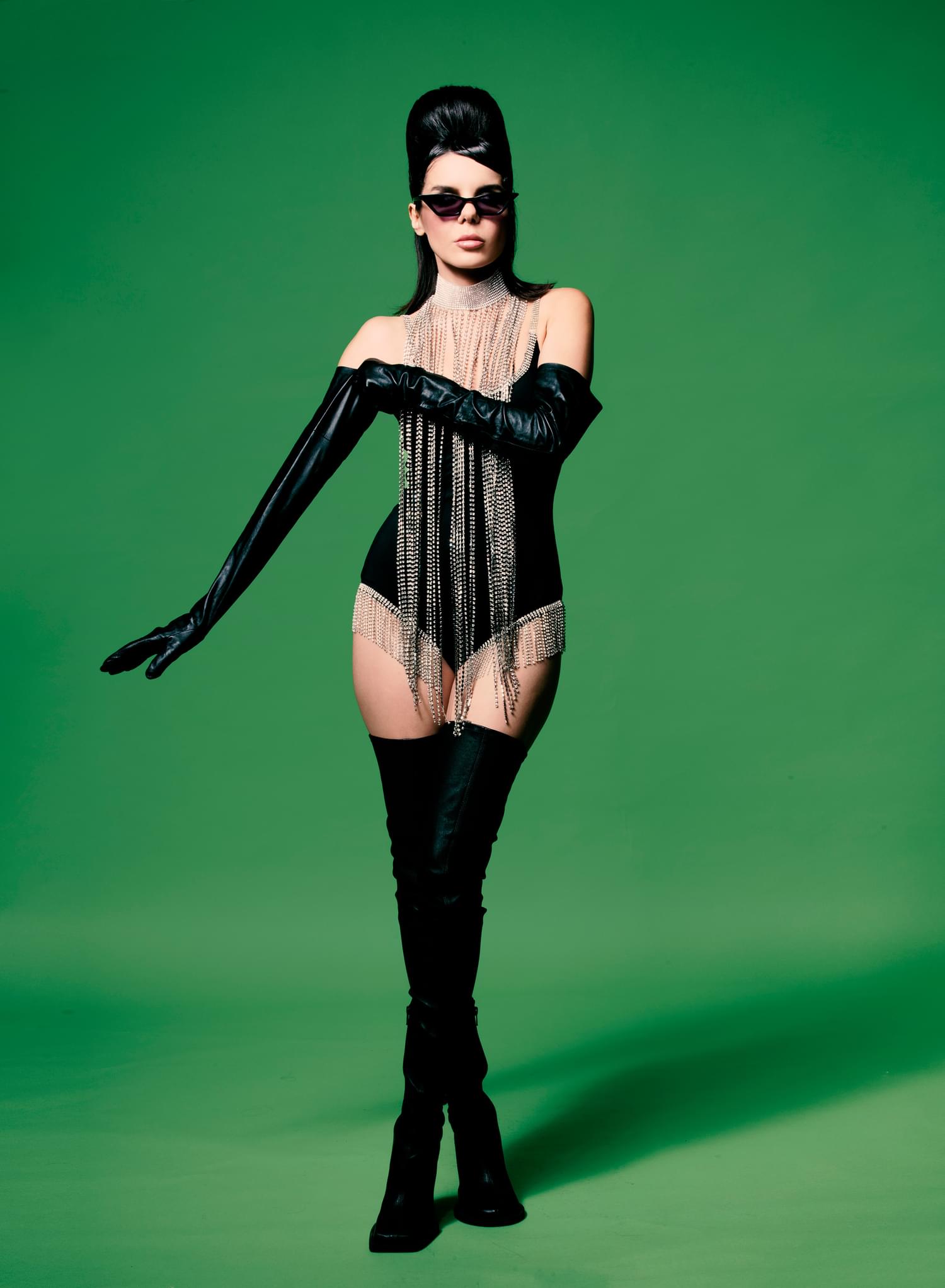 Although yesterday's events have left Akyol once again questioning her belief that things in Turkey can change, deep down her conviction is unyielding. "I just want to live in a peaceful country with human rights, equal rights and free speech," she says. "That's what we are always fighting for."
As the daughter of a well-known Istanbul painter, Akyol may be speaking from a place of relative privilege but the fire in her belly is real. On social media, she's often passionately outspoken about issues of injustice and inequality in Turkish society. The endemic plague of violence against women, the demonisation of the LGBTQ+ community: things are getting worse, not better.
"There's a phrase in Turkish, coğrafya kaderdir, which means 'geography is destiny'," she says. "I don't want to believe that. Because if you believe that then you have to accept a lot of other things with it. To change our destiny, we need to change the reality of our world. Fuck the systems of world politics. We need goodwill and we need good education."
Akyol's deep love for her conflicted country has always been the swinging anchor of her songwriting. Her music is steeped in the classical Turkish music she grew to love through her mother and grandmother, the Turkish pop and jazz favoured by her dad, and the Anatolian psychedelia that her uncle was a fan of. But what sets Akyol apart from others is her willingness – her insistence, even – to shock people out of their comfort zones.
"I don't like to follow the rules," she says, grinning. "With this album, I really wanted people to feel like they were listening to something they weren't used to."
"I think we need to be more courageous to make the genre of Turkish psychedelic music a little richer, a little wider. I got bored hearing the same formulas for production, the same kinds of effects on the guitars and the vocals. Bored of hearing the same songs from the '60s and '70s that have been covered ten thousand times."
Anadolu Ejderi, then, is the sound of Akyol presenting a new side of Turkish psychedelic music. Here, she's doubling down on her rock and roll influences, particularly on the stonking first single "Sen Benim Mağaramsın" (You are My Cave) and the grunge-tinged "Yaram Derin Derin Kanar" (My Wound Bleeds Deep and Deep). And for the first time, she's pulling in new flavours from further afield. African rhythms are recruited into the rousing title track, underpinning its irresistible groove, while "Vurgunum Ama Acelesi Yok" (I Have a Case on You, But No Need to Hurry) finds her looking to the Middle East.
Akyol describes feeling like a scientist while making the album, splicing and fusing her horizonless inspirations to achieve her goal of making music both familiar and foreign. "When I first started to make music, one of the first things I realised was that it didn't really sound like anything I had heard before," she says. "And that's what I am looking for in art. When I look at a new painting or listen to new music, I want it to touch somewhere inside of me. I want it to take my hand and bring me to the joy that comes from exploring something unfamiliar."

As an artist, Akyol wants to be seen as fearless. When I ask if she's afraid of her stories and her reality being whitewashed to fit a Western narrative of Turkey, her look tells me in an instant that I used the wrong word. And when we talk about her support for the queer community, she doesn't hold back in condemning "the Age of Ignorance" that has resulted in the suppression of Pride and a rise in violent anti-LGBTQ+ crimes, like the brutal murder of trans woman Miras Güneş in March of last year.
Thinking back to when I first went to Istanbul in the summer of 2014, it's incredible how fast the rot has set in. The feeling of walking down Istiklal among tens of thousands of queer people and their allies, behind a giant rainbow flag that spanned the whole width of the street, was overwhelming and profound. And a key reason why I moved to Istanbul shortly after; I was convinced I could feel safe.
"I was there too," says Akyol, her tone becoming slightly more cloudy. "It was one of the biggest Prides. We were more than happy. We were so proud of our people, our power, our honour. And we were so hopeful about the future. But things became like a nightmare in just a couple of years."
"That was probably one of the last years of mimicking democracy in Turkey. We already knew it, I think. Because as citizens, you can feel the reality, you can feel what's going on. But sometimes, because of the hope and the wishful thinking, you want to miss the point on purpose."
Ultimately, the thing that Akyol fears most is uniformity. As a graduate in anthropology, she says the idea of a world where people all looked and thought alike is her personal nightmare. "To be able to cope with the harsh reality of the world and all the bullshit politics and fucking boring things, we need to find the joy and the beauty of being alive," she says. "And for me, that's experiencing different cultures and different opinions that make your world wider and wiser."
It's this definition of beauty that draws Akyol back again and again to the cultural heritage of Anatolia, a place she says can feel like a time machine into the past, beyond the Ottoman and Byzantine eras, beyond the time of Greek and Persian rule, to the ancient Anatolian kingdoms and regions that came and fell before them. "People tend to forget this heritage easily," she says. "And that's for lots of different reasons, like the education system and the military coups that aimed to erase entire cultures."
"I adore Anatolia, and the continued destruction of its cultural diversity makes me feel sick. That's why I love to put something of the old songs in my music. To know that there are some parts of my songs that have been found in the soil of the land, maybe even the last remnants of a culture that existed a thousand or more years ago."
Conscious of sounding overly indulgent, Akyol brushes the thought away. "You know, I just love to find the tones and musical flavours of these historical things and bring them into the future. I'm not a romantic who sticks to history. I just feel like if you want to bring something to the future then you have to build it on a very solid idea. Then you can just fly there."
"To be able to cope with the harsh reality of the world and all the bullshit politics and fucking boring things, we need to find the joy and the beauty of being alive."
(G.S.A.)
Since her 2018 album İstikrarlı Hayal Hakikattir (Consistent Fantasy is Reality), Akyol says she has written close to a hundred songs, mostly during the pandemic. Together with her partner, co-producer and bandmate Ali Güçlü Şimşek, she says it took her around seven months to choose the right tracks to put on the album – a painstaking curatorial process that she hopes translates into a journey that people will take the time to listen to in full: "I'm kind of old school in that way."
Once she began to envision the Anatolian dragon, created by the combined powers of all the cultures imprinted on the land, she says the story of the album "just started to write itself." "Art is so cool at that point, and so magical," she adds. "You are not a know-it-all person in the moment. You just put the pieces in front of you and start to see what wants to come out, what wants to teach me something new."
Lyrically, Anadolu Ejderi is wildly rich in imagery, particularly on the nihilistic "Bu Izdırabın Panzehiri" (Antidote for This Pain) with its Olympic swimmer in a razorblade pool and the splendid doomsday of "Kör Bıçakların Ucunda" (Withering on Blunt Knives). Akyol says she's deeply inspired by Turkish women authors and poets like Lale Müldür and Sevim Burak, and by writers of the Beat Generation, especially Williams Burroughs, whose cut-up method was also a favourite of David Bowie's.
"When I'm writing, I love to experience the free flow of the brain and how the conscious and subconscious come together," she explains, likening the last song on the album "İçinde Uyanıyoruz Hakikatin" (Now We Are Waking Up in Reality) to an imagined LSD trip. "But one that's maybe kind of wiser, since it doesn't lose sight of reality even as it goes deep inside the subconscious of the country."
She laughs darkly at the thought. "If Turkey would take an LSD, I think it would write this song about all the things she's lost, the humanity that's gone."
From waking the dragon to waking the sleepwalking people, the journey of Anadolu Ejderi is wonderfully illustrated in the artwork by Rajab Eryiğit, who uses the storytelling tradition of Anatolian kilim rugs to bring Akyol's vision to life. Heavy on symbolism, Eryiğit's work also includes references to Akyol's other artistic practices, as a painter and sculptor in her own right. "I'm very happy to be a part of it," she says. "To me it looks like a tour of Turkish art."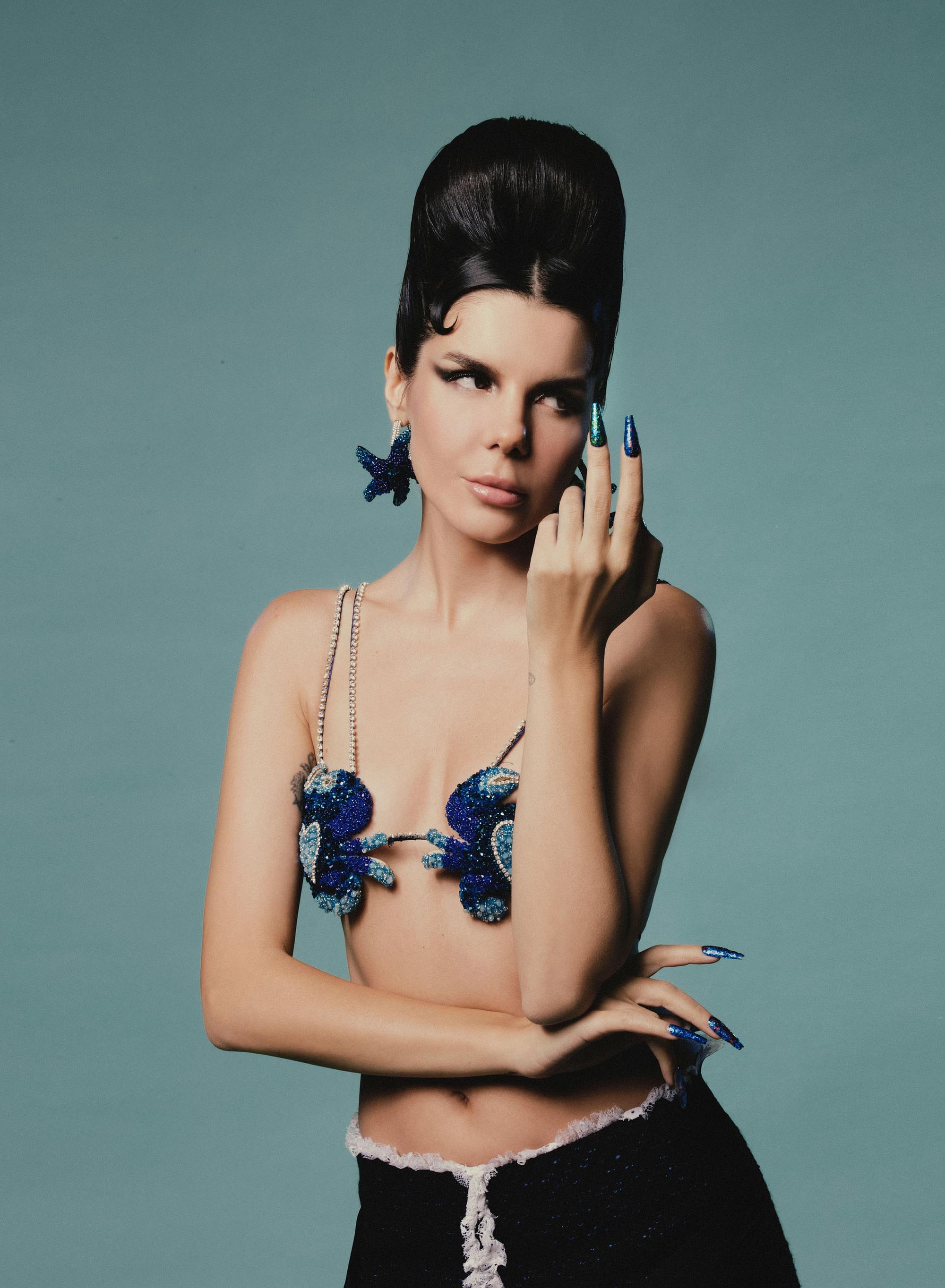 Akyol seems encouraged by early reactions to the first single "Sen Benim Mağaramsın", and not just the ones that are uniformly glowing. "There's a small percentage of people who have been, like, 'Wow, this is not what we got used to, it's not what we expect from you," she says. "And that actually makes me feel better, because you can't make everybody happy when you take risks."
"As an artist, you shouldn't feel like you're making something peacefully. You should be prepared to make something that will make you and other people feel a bit weird."
With enough material leftover to record "maybe six more albums right now," Akyol doesn't plan on staying out of the studio for long. She's already planning a session in December, when she and her band will cut two new songs for a 7" single due next year on Sub Pop, "one of the most inspirational labels that I love very much."
She's also excited to share the news that she's working with Berlin's Komische Oper on a musical of her life story. She can't say too much yet, since it probably won't debut until 2025, only to expect a lot of glitter. "I want to invite everybody to the festival that's always going on in my heart and in my brain, and to bring it all on stage."
As we both know well, a lot can happen in the space of two years, but Akyol is motivated by taking the longer view. "It's not impossible to see a brighter future," she says with a warm smile. "We are kind of in the Dark Ages of history again, but it will pass soon, and we'll look back on these times and think, 'Wow, what was that all about?'."
"I really hope you're right," I say, and she stares back through the screen, resolute. "I think this is more than a hope. It's a universal reality."
Get the Best Fit take on the week in music direct to your inbox every Friday