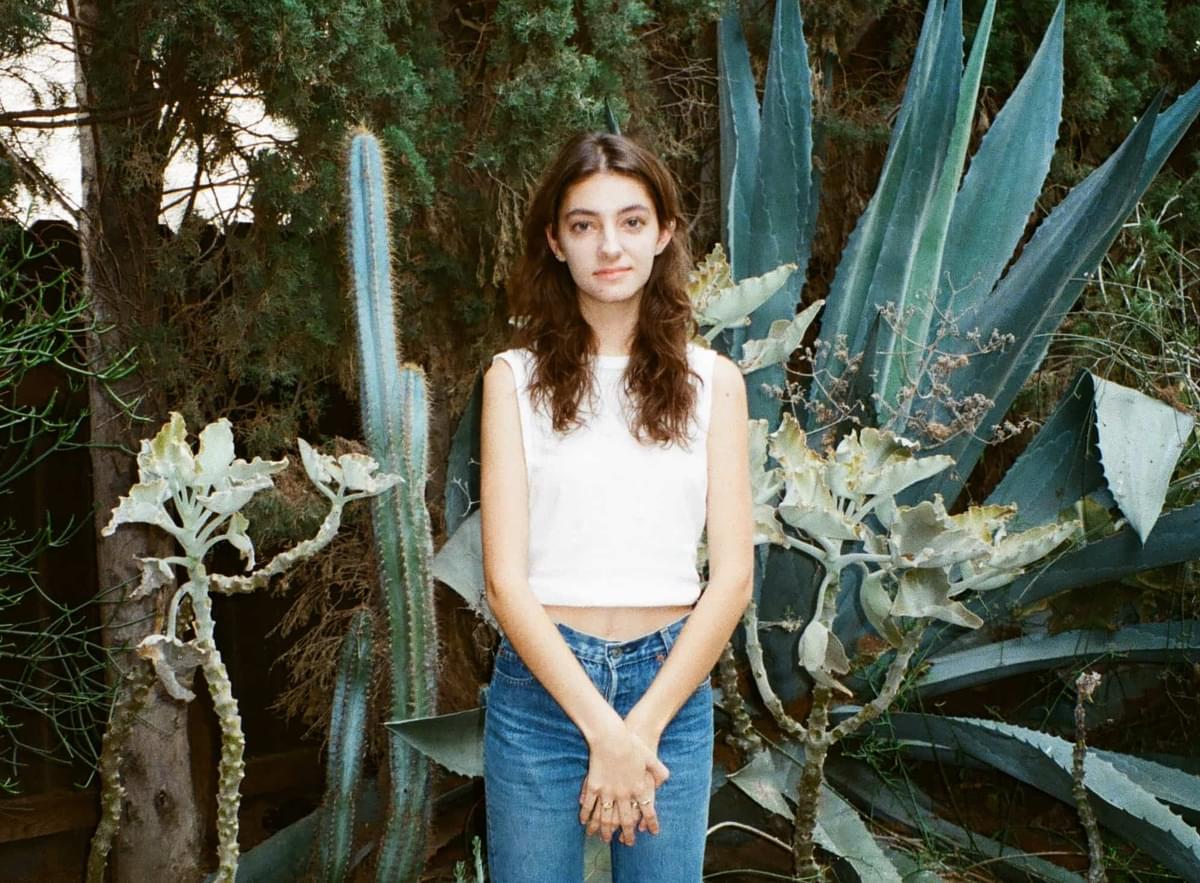 On the Rise

Alix Page
22 March 2022, 13:00
Less than a week after the release of her debut EP, Old News, a collection of coming-of-age songs of heartbreak and vulnerability, Alix Page is on the road supporting Gracie Abrams on her North American tour. "It's surreal," she tells me from a room somewhere in Denver. Tonight, she will play a sold out Bluebird Theatre. For a young artist who emerged during the pandemic without live opportunities, the impact of playing sold-out rooms night after night, almost two years since she released her first song, is not lost on her.
Each night Page updates her Instagram with reposted videos from the show; a sea of iPhone torchlights, young fans receiving her warmly, the occasional cover of Wheatus' "Teenage Dirtbag". Two nights ago, Page played the opening night in Salt Lake City: "The room was really small and I had people [at an] arm's distance from me filming right there… live, the music you record sounds so different and you can see how it makes the room feel. You don't get that until you start playing shows. I feel super lucky." At these shows, hand-written notes, letters and drawings are gifted to Page as she poses for photos with fans at the merch table while Abrams is on stage.
At the beginning of this twenty-show run, Page remembers how she and Abrams first connected: "Honestly kind of weirdly," she admits. It was a relationship that formed from serendipitous encounters made possible by the internet. At the height of quarantine in April 2020, Page posted a cover of Abrams' song "I Miss You, I'm Sorry" on her Instagram. To her surprise, Abrams herself commented and followed. "We became Instagram friends—we'd talk about my cat and the food she'd post on her story." The surreal interactions continued after Page's first ever interview in the All My Friends zine, when she discovered it was run by Abrams' cousin.
Hailing from Southern California, Page was raised up in the suburbs of Orange County. "I didn't grow up going to the beach a lot," she confesses, "but I love that area. It'll be January and the beach is completely empty and it's seventy degrees out and you can go for walks and just being there puts you in a good state of mind creatively."
Despite her intuitive musicality, multi-instrumentalism and perfect pitch, Page does not come from an inherently musical family. "I'm the odd one out in a fun way, but everyone saw that I loved it and was like, 'Ok this is what she's going to do'," she recalls. Though she learned piano first, it's the guitar that still feels more inspiring and versatile; "I'm not quite good enough at piano where I can emulate different textures."
She enjoys playing in alternate tunings, most notably a "weird" tuning used in one of her songs from the EP, "June Gloom". As a swirling theremin-like melody gives way to Page's strumming, it quickly becomes a punchy song that candidly expresses post-breakup clarity and enters into a bruising dialogue with the other person.
Page remains receptive to how the smallest choices can change a song, the way an alternate tuning "opens up the realm of possibilities… even picking versus strumming can be so impactful." She couples the lighter touches with a willingness to explore different avenues; "I grew up playing worship music in church and so I use the basic worship music chords which is funny. I always go for lyrics and melody first and then chords. I would rather hear interesting words than crazy jazz chords personally but that's just the way my mind works." With two acoustic guitars at home, one in standard tuning and one in this alternative tuning, it's whichever one Page reaches for that informs her writing that day.
Even more influential than the Orange Country locale were her high-school years. Page went to an arts high school in Southern California and though she was surrounded by like-minded artistic peers, songwriting was still a more private craft; "I think I was afraid to write songs… I don't know if I had things to say until I was 16." After taking a songwriting class in her sophomore year, she finally had the impetus to write and submit songs, good or bad, for her deadlines. Looking back now, she credits the "right timing of being 16 and hanging out with people for the first time and having crushes. It all collided at the right time for me to be inspired… you're at a prime age to learn about yourself and explore different kinds of art."
Her own experiences resonate with fans - stories of teenage turmoil and curtailed romances, these themes are not worn lightly by Page. With her honest, lovelorn songs she is opening her listeners to the deeply personal memories and experiences that have accrued during her late teens.Of course, there's always a danger of revealing too much, cutting too close to the bone. "Every song on the EP definitely has some bite to it," Page admits. Particularly in a culture where the pejorative 'careful, or she'll write a song about you' is levelled at female artists, writing such honest work doesn't faze Page: "I always think you can't pick and choose what you're inspired by. There have been people I've dated for months and I've never written about and then people I've hung out with twice that I have four songs about. You can't choose. That's what I always go back to and what I try to remember."
At high school she connected with producer Brett Kramer, through his wife Rachel, who was the director of the music program. "I love working with Brett because he always dreams bigger for my songs than I do, which is such a great force to have behind me. It pushes me to write better."
Having settled on her sound and creative direction, the two started working together. Page sent Kramer six songs to work on and out of these he chose two that would become Page's debut single, "Stripes", and second single, "Frank". His reasoning, Page says, was that ''Frank' is the most St Vincent/Clairo indie-pop we could take it and 'Stripes' is the most Phoebe [Bridgers] we could take it, so let's try both extremes, see what feels better and then meet in the middle for the next ones.' I feel like you can hear that completely."
Written aged 16, "Stripes" unfolds a story of a T-shirt bought for a birthday that's never gifted. Opening with mellow acoustic guitar pierced by crisp, reverberating drums, the song comes beautifully full-circle; "I might keep the t-shirt for myself / it's such a shame / I know you love stripes".
Ambient birthday-party sounds make for an interesting interlude; inspired by the bike bells in Bridgers' "Scott Street", Page used a voice memo recording of her drummer's 18th birthday party. "We were trying to think of a way to make that sound unique and jump out from a regular interlude." On a personal note, there's a bittersweet tying of loose ends; "Even the person it was about was like, 'Wow you've definitely made the best out of our breakup.' It was funny to have that conversation."
Having released "Stripes" in February 2020 and "Frank" in August that year to critical acclaim Page began recording her first EP in Long Beach, California the following summer. "Picking those four was a no-brainer for me," she says. "I thought it fit the storyline I had written for the EP subconsciously because it wasn't an intentional "I'm writing an EP" thing, they all just came about at the same time."
The resulting work is a collection of intimately threaded vignettes, moments of nostalgia, pain and heartbreak, scored by rich string arrangements in a song like "Radiohead" and in others, heavier riff-laden songs that hit hard, uplift and reinforce a sense of healing and closure. "I'm super happy the way it flows," Page reflects now.
Her career seems to move from one coincidence to another. Page is due to release new song "Pulling Teeth" next - a collaboration with Mark McKenna, the frontman of Dublin-based band Milk. "That was the weirdest email I've ever gotten in my life. I was like 'Oh, that's the same name as the guy from Sing Street, I love that movie'. I look up Milk. and it's him. I try to hold back when I'm with him because I don't want to be a weird fan girl but Sing Street is literally my favourite movie of all time and I've seen it so many times, read every interview with John Carney - I know way too much about that movie."
Page has an untapped catalogue of songs still to bring to the studio; "some from when I was 17/18 that I never recorded that I think could be fun to revisit and make into a mini body of work before I really buckle down and write a whole album… I think a second EP is pretty realistic.
"I think about that a lot, the pressure to write," she muses. "I'm in a really happy relationship now and it's hard to write songs when you're happy. I've been thinking of ways to break out of that barrier, either write some fictional stuff or pull from older things that I'm still working through and writing about."
Get the Best Fit take on the week in music direct to your inbox every Friday