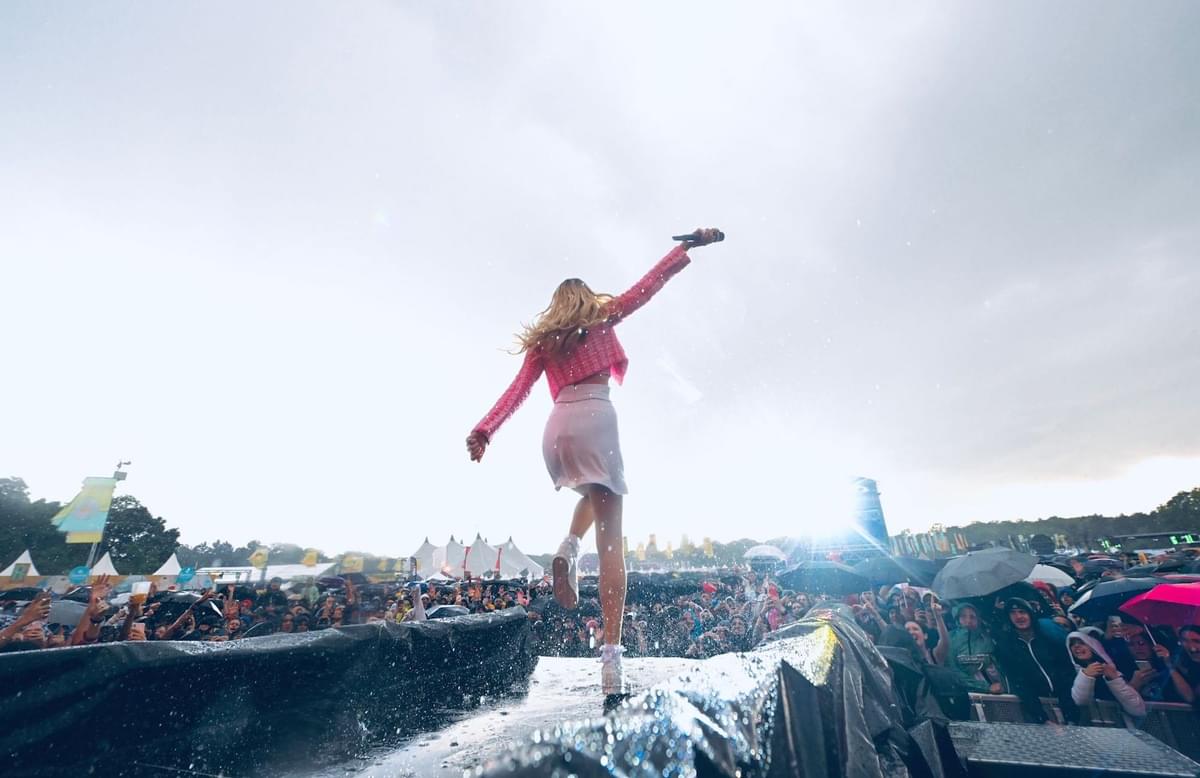 Despite the rain, We Love Green's 10th edition innovates and achieves
09 June 2022, 18:00
More understated than its European competitors over the bank holiday weekend, We Love Green is a no-frills festival for those seeking communal spirit.
It's not entirely fair to compare Bois de Vincennes to the stronghold of Primavera's Parc del Fòrum. The city's cultures, sounds, sights, and tastes are indeed different; but with a percentage of We Love Green's music line-up interchanging across the weekend's events, it creates a unique opportunity for an outsider to catch some highlights of the European festival circuit. From the international, dance-heavy line-up to lesser travelled regional acts, intrigue is high but expectations are mellowed.
Set in the surroundings of Château de Vincennes and its accompanying park grounds in Paris' 12th arrondissement, We Love Green has become a renowned hidden gem as it reaches its 10th year. Once the preferred residence of French royals between the twelfth to eighteenth century and having served as a defence to the city, today, the building is a largely unknown landmark that prides itself on architecture and history; complete with a moat, donjon, and chapel. Walk further down the tree-lined pathway to the festival site, and it's a lite-oasis compared to many other city festivals – clean, idyllic, and far enough from residential housing to minimise the risk of noise pollution.
For all its surrounding history, We Love Green began as a festival intended for the younger generation. "The association's objective is to promote today's music scene in the Ile-de-France region," Sustainable Development and Content Manager Marianna Hocquard tells me, "but expand beyond merely a local lens, going international, discovering the artists of tomorrow while at the same time making the public aware of the challenges of sustainable development." Originally a two-day event with a maximum of three stages in its early years, the event has witnessed an expansion – upping the capacity to five stages and 80,000 attendees in 2019, and this year adding a third day of celebration and engagement with headliner Gorillaz, alongside Jorja Smith, Moderat, and others.
Their approach is dedicatedly green too. On arrival, staff are categorising any litter that has gathered, organic and local food is served plastic-free with guaranteed product traceability, toilets are 'flushed' with sawdust, and behind it all, the festival operates on 100% renewable energy. There are plenty of activations to explore too, whether it's Uber's QR code at the festival gates incentivising their green vehicles for a €10 discount, or the Think Tank lab in the heart of the site hosting iconoclastic thinkers, scientists, and sociologists, ecological awareness runs through the veins of the weekend, all the while feeling subtle enough to dip in and out of, infrastructure aside. "We believe that every innovative project or act of activism starts with a little push and that is the purpose of the Think Tank: prompting this little push," Hocquard continues.
Marred by weather issues, torrential rain and thunderstorms plateau Saturday's events against the will of Koffee's breezy reggae beats previously filling La Praririe stage. As the site is prematurely mandated to close, surface water gushes and mud builds with thousands fleeing for shelter and others being disappointed about the abrupt shutdown. "We came from Rome to see Phoenix, festivals are better with some mud!" one person comments on Instagram, meanwhile the metro is a sad sight for any fashionable Parisian sporting Converse, Crocs, or their latest Birkenstock Boston suede clogs.
Come Sunday, it's left to TSHA to pick up the mood as the organisers attempt to make the site workable. Under the disco-ball lined ceiling of the Lalaland stage, her set mashes together eras, genres, and sounds. She ID's anything from Sylvester's "You Make Me Feel (Mighty Real)" to Beyoncé's "Baby Boy" with a few niche picks too, giving house music mass appeal in a crowd willing to move. A similar crowd also pops up for Shygirl, whose off-kilter club-pop invites sudden moshpits for tracks like "SLIME".
With local artists shining in the line-up too (Angèle, PNL), elsewhere, the response is of mild appreciation for the more 'obviously British' acts (Wet Leg, Slowthai). "Why are you lot so fucking stiff," Slowthai says before he bursts into "Inglorious"; pulling a fan from the crowd to spit Skepta's verse (which she nails, word for word). It's an approach that wins over the crowd and sees him level up the theatrics – stripping down to boxers, preaching the importance of tea and biscuits, and strutting to "Deal Wiv It", before dancing off the stage to Aqua's "Barbie Girl".
By night, the festival is a familiar haven as Bicep, followed by Disclosure, close out La Clairière. It's by no means innovative to see these DJs grace these slots, but that's the charm of We Love Green - self-assured and wears its heart on its sleeve. A homecoming for some and another pit-stop for others, We Love Green proves to be ever-evolving against challenges and circumstances as it celebrates ten years, while being underlined by a sense of euphoria.
Get the Best Fit take on the week in music direct to your inbox every Friday