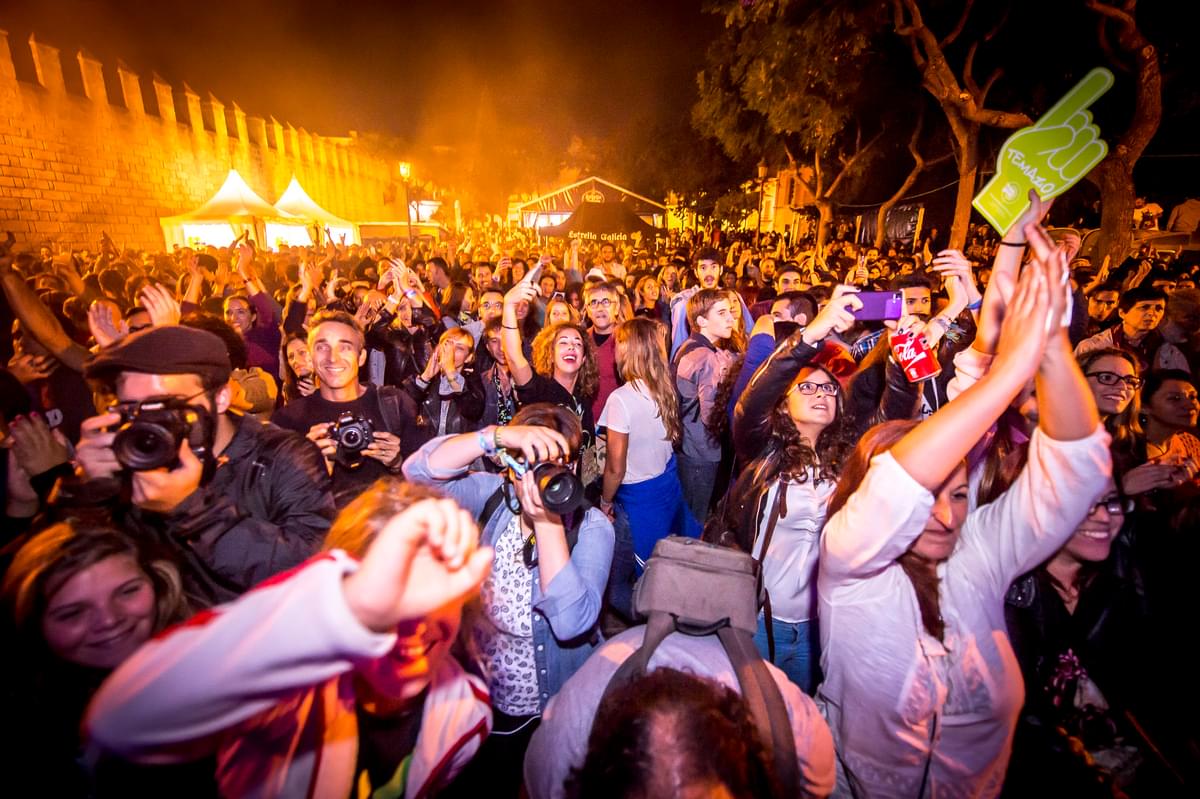 The best music in the world right now is coming out of Spain
21 October 2015, 09:24
Spain's answer to SXSW is called Monkey Week but there's no monkeys and it lasts for three days. We head to Andalusia and find a creative surge in full effect.
El Puerto de Santa Maria is a flat and unassuming city in the southwest of Spain. A sea of whitewashed low rises frame my ride into the centre as we pass vinegar factories, bodegas and the whiff of industry that accompanies ports. It's certainly not the kind of place you expect to find one of the most exciting music festivals in the world but context is everything in this case.
Monkey Week launched seven years ago as the brainchild of a couple of crazy kids inspired by the ethos and execution of SXSW. If it had sprung up in Barcelona or Madrid, we'd be talking about an entirely different - and probably less interesting - enterprise. Drawing together music from across the spectrum, Monkey Week is known nationally as the ultimate showcase event for new music in Spain - a "meeting point for independent music in our country," as the organisers describe it. There's a talking shop for industry, press and artists to network but ultimately it's about watching some amazing bands in an amazing place.
Significantly, there are no monkeys here and it only lasts three days. El Puerto de Santa Maria also sits in one of Spain's poorest areas and the boost that Monkey Week gives the local economy - with a neat 4,000 or so people coming to town - can't be understated.
The highlights
From flamenco to classical, house to metal, garage to ambient; there's a real looseness to the festival's programme that breaks down barriers between the genres. Over three days we saw a lot of music and it mostly great. Of course when you're necking two euro quad-measure gin and tonics from a fishball, everything sounds pretty wonderful. But among the chaos and fun, some real gems stood out, marked by the kind of invention and quality that raises the bar for a showcase festival.
John Grvy
John Grvy [pictured above] is the bomb. Full blooded RNB set against twitching samples and metallic beats, we have here a frontman who pulls from James Brown, Mick Jagger and Abel Tesfaye one minute and James Blake and Drake the next. It's sexual in the way Prince is sexual with a dotted line to Run the Jewels and Zebra Katz.
And if it'm throwing in a lot of references here it's because I'm still so baffled as to just what John Grvy (pronounced "Gray") actually is. The Spanish response to everything that's happening right now in left field RNB and experimental hip hop, maybe? A snarling, dangerous, abstract?
There's a darkness one minute and a generosity and joy the next. He encores by telling us how he was the "only black kid in [his] small town" and used to dance and sing Backstreet Boys' songs in front of the mirror - then delivers the best cover of "Everybody (Backstreet's Back)" you'll ever see.
It's brilliant. We see him play two sets - the second of which takes place in a beaten down 19th-century house. Someone tells me that the owner sells illegal antiques and you can sleep here for ten euros a night. I'm not making this up, I swear.
Lois
We catch three sets from the Trajano! frontman's new solo project [pictured above] over the course of Monkey Week and it's a genuine surprise after hearing his roughly hewn music on record, which pushes lo-fi to the max. Live, Lois Brea Ares delivers deconstructed rock n roll with massive nods to the mid '80s. The Billy Mackenzie vocals rise and plummett with confidence and warmth - and he's no slacker on the guitar either.
Above all, it's inventive and compelling to see the fresh-faced, beaming Ares muddle up influences and spit them out in such an interesting way. That may even be the theme of the weekend for most of the artists we see,
Ramirez
Adrenalised twee finds a home in the deceptively simple psych and folked tinged melodies of Ramirez. I'm told the young Valencian was under the musical tutelage of ex-Posies/Big Star man Ken Stringfellow and his flourishing song craft owes a lot to blue-eyed soul as much as the DIY guitar sound.
We don't get a promised cover of "Thirteen" but there's some affecting moments, especially when Ramirez breaks away from his bandmates for something a bit more stripped back.
Perlita
Perlirlta [above] grab me from the moment they open with a song called "Flash Your Ass". Someone describes them to me a Hot Chip fronted by Freddie Mercury. It's certainly a good starting point if you're trying to nail down their sound but my notes say "garage rock on samplers and synths, Dan Deacon, a lotta funk…" and I'm sticking to that.
It's chaotic for a while then settles into something they might play at the greatest disco you've ever been too. I also wrote down "Dan Deacon Disneyfies the first Air record" which is perhaps a better description.
All their songs sound like they've decided everything should be a 12" extend mix. It's quite fantastic. I can't find any music online so just take my word for it.
Ocelot
Barcelona's Ocellot plays preposterous mathy synth pop, wear glitter-capes and drape macaw feathers along the shaft of their microphone stands. It's distinctly uncool and thefore distinctly cool in a way that music at 1am should be when you're Jaeger'd up ten sheets to the wind. The floor is crunchy with test tubes from the free shots and the band are playing grindy loops that go on forever.
In a drunken haze a bunch of us decide if New Young Pony Club shagged Battles after a night out in Newcastle the baby would inevitably grow up to be Ocellot.
Los Nastys
Los Nastys are veterans of the Spanish garage rock scene, compadres to The Parrots and part of the same Madrid scene that's given us Hinds (who aren't playing this weekend). Like The Parrots, the four piece play scuzzy rock n roll delivered with conviction and effortless, fucked up grace. They know that the moments between songs matter and plough through a set which doesn't give up.
Every song sounds like the last one. They even tune up like their lives depend on it. Outstanding.
The facts about Monkey Week
How much does Monkey Week cost?
Tickets for this year's event were around €60.
When is Monkey Week?
This year's event ran from 9-11 October.
How does it work?
El Puerto de Santa Maria is brilliantly set-up to handle the event, which is spread across a handful of venues - some outside on make-shift stage (next to the stunning San Marcos Castle), others in backrooms of pubs, clubs and bars. There's even a derelict house dressed up just for the festival (known as "The Happy Place").
More than 100 bands will come to town for the event, which kicks off each day around midday - and the music goes on well into sunrise each morning. It's one massive party you don't want to miss and a high point for the region.
Where can I stay during Monkey Week?
The Hotel Monasterio De San Miguel is a vast ex-monastery right in the centre of town with prices starting around the €90 per night mark but there are also some fine Air BnB's in El Puerto de Santa Maria within walking distance of Monkey Week's venues for around €50 per night. Everything from apartments in historic mansions to modern flats near the beach. Our favourite is this neat two bed apartment.
How do I get to Monkey Week?
Ryanair fly direct from London Stansted to Jerez Airport, 13 miles from El Puerto de Santa Maria while Gibraltar airport - with flights via BA from Heathrow, easyJet from Bristol/London Gatwick and Monarch from Birmingham, London-Luton and Manchester - is about 75 miles away.
Our tip
Our biggest mistake wasn't staying for longer and the only lowlight was the amount of stuff compressed into such a short event. Three days isn't enough to see everything. Make up for it by getting there a day or two earlier and getting acquainted with the town first.
Find out more
Check out the Monkey Week website and Facebook page.
Get the Best Fit take on the week in music direct to your inbox every Friday